One of the most thrilling aspects of travel is experiencing the unexpected; feeling as though you've discovered a destination that others haven't yet explored. However, underrated places aren't always far-flung, quite often they're just around the corner.
If you're feeling that familiar itch and craving an adventure read on. Below I've collated some of my favourite lesser-known locations ideal for unexpected escapes.
Istria County, Croatia
Popular with European visitors but lesser-known to us Brits, the Istria peninsula (Istra as it is called by the Croats) is the ideal destination for culture and gastronomy-focused adventures in Croatia. The region's hilltop villages, rural hotels, and farmhouse restaurants are wide-ranging, and the coastline is peppered with secluded spots to retreat to after a long lazy lunch.
Read this travel blogger's guide to the region for help planning your itinerary.
Wye, Kent
A medieval village with a vibrant community feel a visit to Wye offers a snapshot of quintessential British life. Enveloped by the North Downs, the historic architecture, cafes and quaint pubs make it the perfect destination for hikers and cyclists keen to explore the surrounding countryside. What's more, there's a mainline train station in the village which will take you to King Cross/St Pancras in just over an hour.
The Azores, Portugal
Sitting somewhere in the mid-Atlantic between Lisbon and New York, the islands of the Azores are a verdant volcanic haven. Easily accessible from the UK (Ryanair and Easyjet both offer low-cost flights), this enigmatically beautiful archipelago of nine unique and independently minded islands extends over 370 miles and offers the ideal escape for an active family break.
Kittila, Finland
190,000 reindeer, 749 fells, and 1 Santa Claus; the original winter wonderland there are plenty of reasons to visit Finnish Lapland, and the wintery town of Kittila is the perfect place to start. Cross-country and downhill skiing, snowboarding, snowshoeing, and fat biking are just a few of the ways you can explore the surrounding natural landscapes.
Check out my Finish Lapland itinerary for inspiration and help planning your trip.
Ceredigion, South Wales
From the cosmopolitan streets of Cardiff to the rugged coastline of Glamorgan, south Wales offers some of the county's most enthralling landscapes. However, it's Pembrokeshire and its national park that gets all the recognition, and with good reason – the coast here is picturesque, and the beaches are renowned as some of the best in the UK. Book your stay nearby in the lesser-visited Ceredigion and experience the charm of rural Welsh living, from a Celtic bunkhouse to a castle or a shepherd's hut, there are accommodations to suit every traveller.
Isles of Scilly, Cornwall
The Isles of Scilly is an archipelago of Eden-like beauty. Sitting just 28 miles from the coast of Cornwall their unique sub-tropical microclimate has cultivated a landscape that would look just as at home in the waters of the Caribbean as it does on the fringe of the British Channel. Plan a multi-island escape, there are five inhabited islands including windswept Tresco and scenic St Martin's.
Read my Isles of Scilly travel guides here.
Tallinn, Estonia
Bursting with the influence of centuries of rule from Danish, Swedish, Polish, German, and Soviet powers, since gaining independence in 1991 Estonia and its capital Tallinn have developed a strong creative art scene which is fast becoming part of the country's national identity. A UNESCO-listed heritage site the old town offers a fairy tale view of European culture. I visited the town as part of my Baltic Cruise itinerary and fell in love with the wealth of ornate doors that lined its historic streets.
Looking for a road-tripping route with a difference? Check out the guides below:
Ultimate southern U.S. road tripping route – Miami to San Francisco
How to plan a successful golf road trip
The best one-day road trips from Las Vegas
Ten off-beat places to visit on your U.S. road trip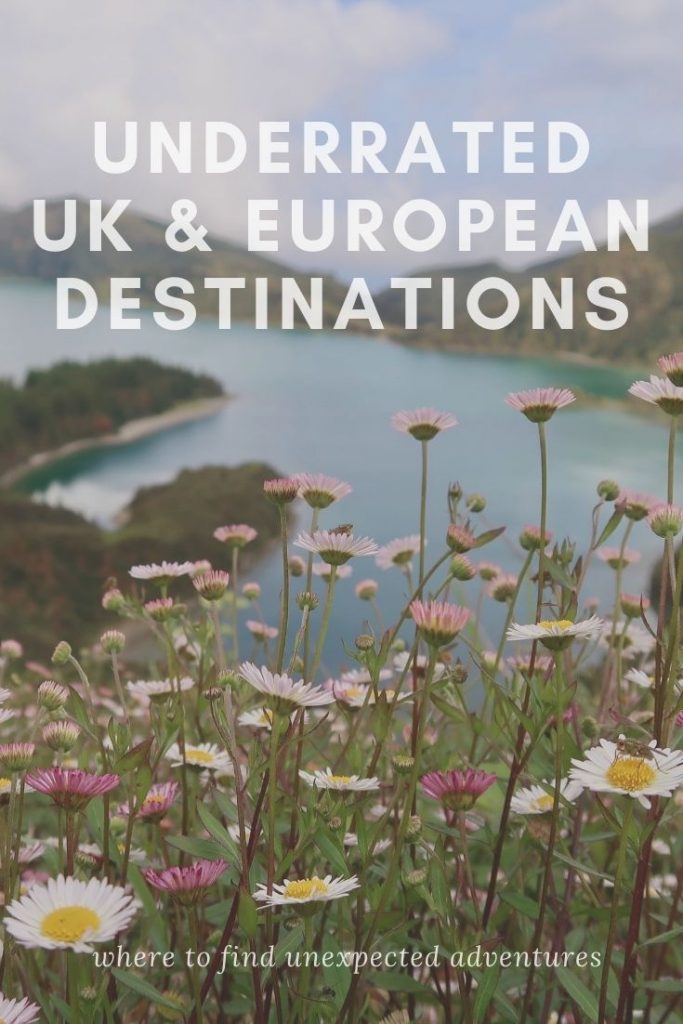 INSPIRED? PIN THIS TO YOUR TRAVEL PINTEREST BOARDS NOW!