190,000 reindeer, 749 fells, and 1 Santa Claus; the original winter wonderland there are plenty of reasons to visit Finnish Lapland in February.
Here harsh weather conditions and long winter nights are juxtaposed by the beauty of the region's wilderness and unobstructed panoramas are in endless supply.
Flying Business Class with Finnair from London to Lapland (via Helsinki) I recently spent a long weekend exploring Pallas-Yllästunturi National Park. Dubbed the 'closest place to heaven' by locals, the 1000 square metres of protected forests and fells are at the heart of Finnish Lapland's indomitable appeal.
Lusting after a memorable winter escape? Watch the vlog below for a snapshot of my Lapland adventure and scroll down for my ultimate itinerary for Finnish Lapland in February.
DAY ONE:
Fly from London to Lapland
Depending on your departure city and flight schedule getting to Lapland is pretty simple.
I boarded a flight from London to Helsinki and then caught a connecting flight north to Kittilä where I would be based during my stay. Total flight time was around 4 hours.
There are 15 regions of Finnish Lapland to explore but unless you have limitless time and resources it is advisable to select one and make the most of your visit by soaking in the must-see sights.
Breathe in the Cleanest Air in the World
The first thing you'll notice when you step off the flight and onto Lappish ground is that there's something different about the air. It smells cleaner, almost as though it has been filtered and then perfumed notes of pine forest and babbling streams added in.
After an evening flight north to Kittilä I arrived around 10pm and set off towards my accommodation. Stopping off at Lappish restaurant Sarakka for supper I enjoyed my first taste of reindeer, a rich, flavoursome meat well worth sampling during your stay.
Resources:
Restaurant Sarakka – website here
Apartment style accommodation with private sauna at Yllästar 3 – find more details here
Notes:
If you are connecting through Helsinki and have time on the ground Finnair Business passengers as well as those with status through the Finnair Plus and Oneworld programmes can enjoy free access to the Finnair Lounge at Gate 22.
Travellers who do not qualify for free access can pre-purchase access for a maximum of three hours, for more information see here.
DAY TWO AM:
Snow sports in Pallas-
Yllästunturi National Park
These Landscapes are a Haven for the Adventurous
In the Finnish language there are over 300 words to describe snow, so it will come as no surprise to learn that the majority of Finland's winter activities make the most of the season's ample snowfall.
Cross-country and downhill skiing, snowboarding, snow-shoeing, and fat biking are just a few of the ways visitors can explore the country's natural landscapes.
Visiting Pallas-Yllästunturi in February offers endless opportunity for an active escape as nowhere else north of the Alps can you find such a vast network of trails set up for self-sufficient visitors travelling off-the-beaten-path.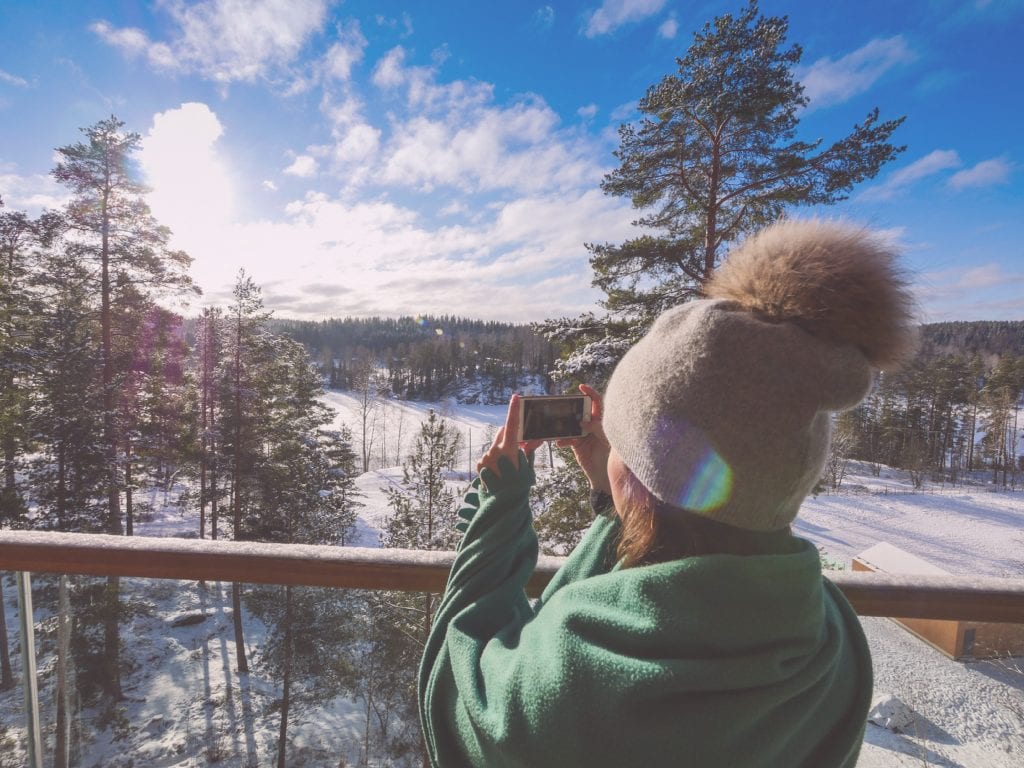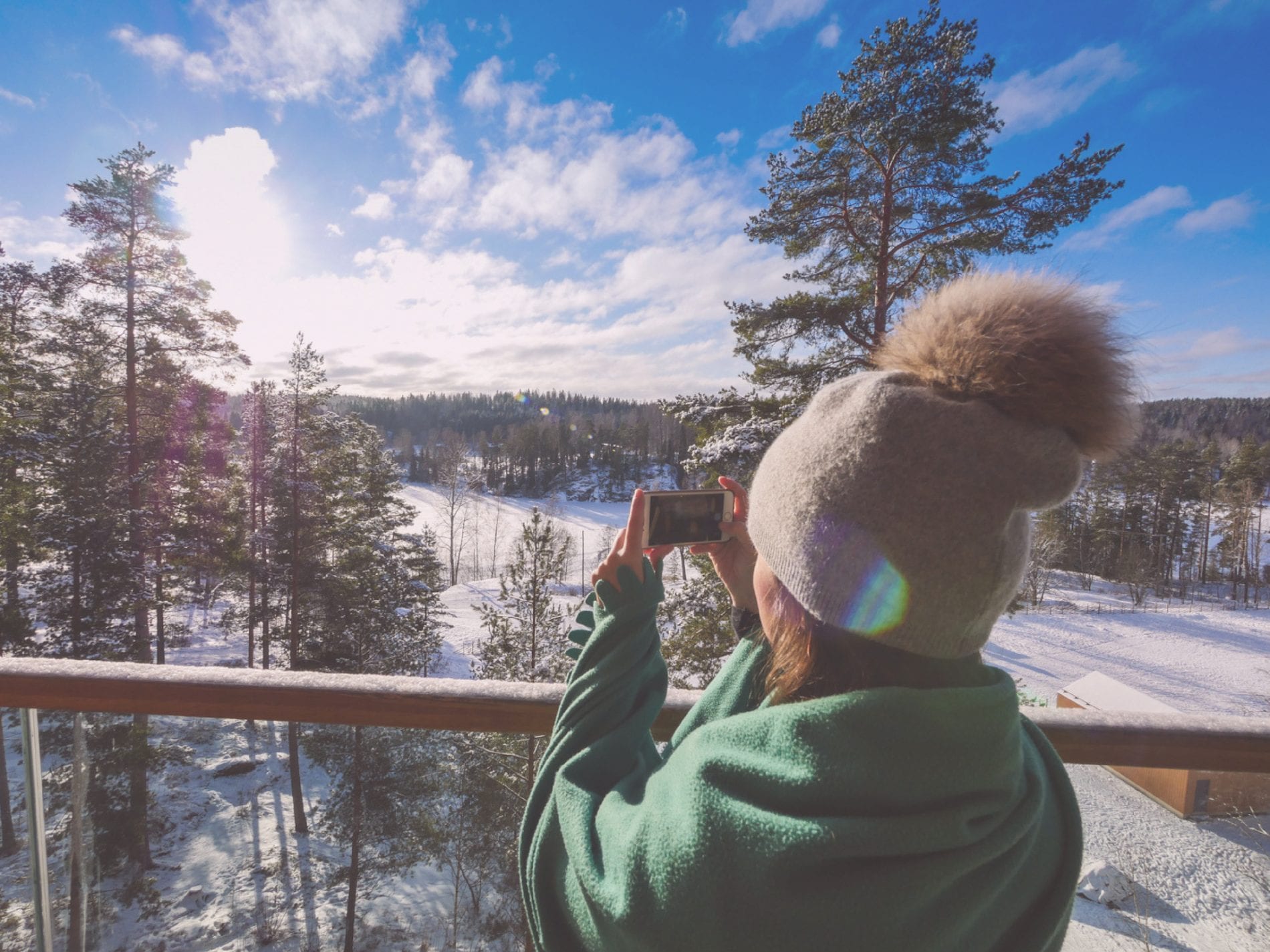 It's Every Man's Right to Explore
Over 70km of prepared fat biking trails, 400km of marked snowmobile routes, as well as Finland's widest ranges of slopes and off-piste opportunities the park's seven spectacular fells are a heaven for the adventurous.
Furthermore, those keen to sample a true taste of Lappish living can take advantage of Finland's 'Every Man's Right' and camp out in one of the 120 cabins dotted across the park. Supplied with firewood by the government and managed by the National Park the cabins connect the 1000 square kilometres of the park throughout winter and summer.
Resources:
Equipment rental from Yllästunturi Visitor's Centre – see here
2017 /day equipment rental prices:
Snow shoes €15
Skis €25
Fat bikes €35
Snowmobiles €80/hour + gas
A guide to all winter activities in Yllas – here
Inspiration from @VisitYllas – check Instagram
Notes:
I chose to base myself at Yllästunturi Visitor's Centre for half a day in order to try out all the snow sports on offer however if you have longer in the Ylläs I'd recommend speaking to the staff at the visitor's centre about which activities and trails best suit the day's conditions.
DAY TWO PM:
5km husky safari and soothing Finnish sauna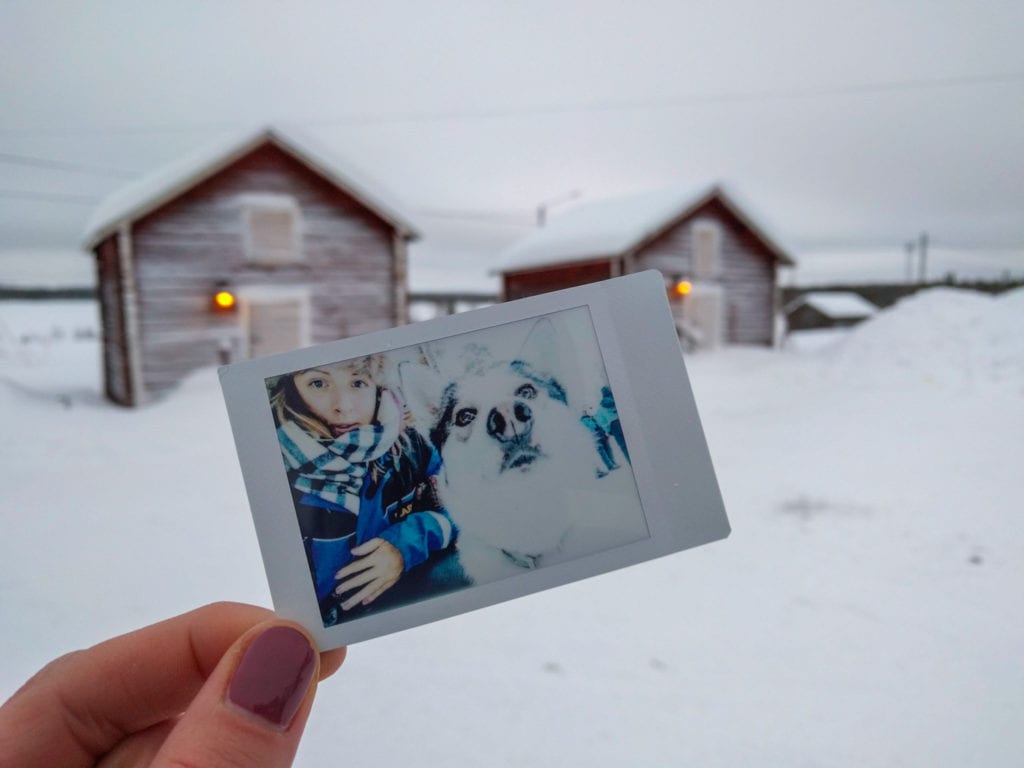 These Dogs Just Love to Run
Although I really enjoyed navigating the trails under my own steam, for me the highlight of day one was my husky safari. Flying at speed over fields and through forests with six sled dogs was such a thrill, the world rushing past a blur of white, blue, and green.
Deep rooted in Lappish culture the relationship between man and dog has existed for thousands of years and the bond between each animal and the staff at Lapland Safaris was visible; the dogs just loved to run.
Lapland Safaris offer you the chance to guide your own sleigh along the trail and become a musher in charge of your own dog team.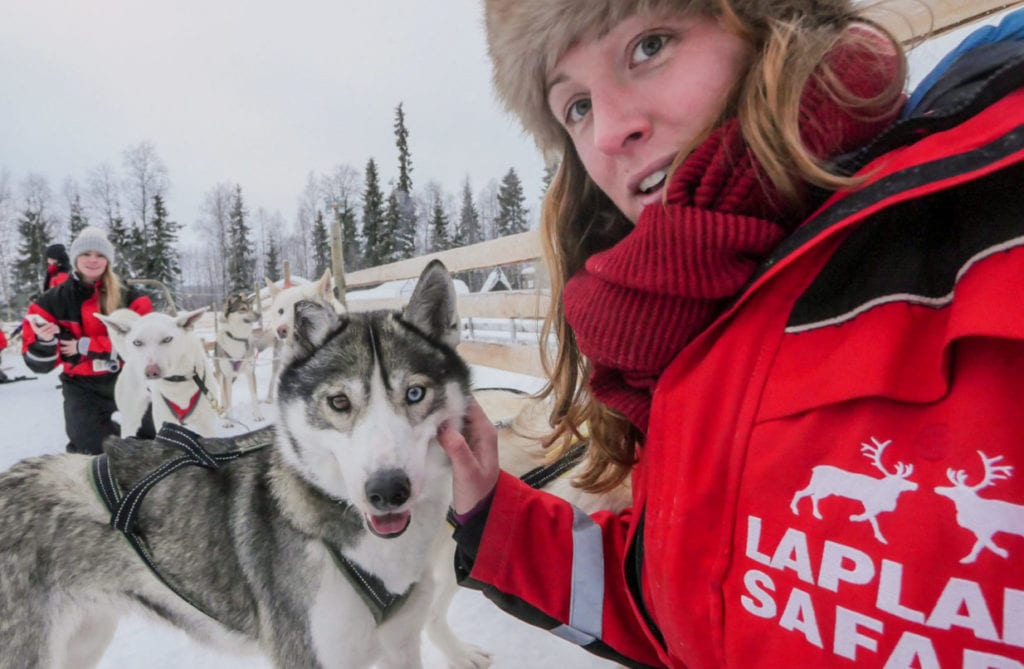 A Finish Sauna will Soothe Your Soul
The perfect end to an active day, for the Finish a daily sauna is believed to help maintain good health and well being; and after my experience at Aurora Estate I can see why.
Arriving to a chocolate-box scene of log cabins laden with snow the estate, which boasts a traditional smoked sauna and boutique hotel and restaurant, personifies Lappish luxury.
Lapland is Full of Flavour
That evening, while clad in my swimsuit I spent two hours hot-footing it along a snowy path between the traditional and smoked saunas.
Relaxing for around 20 minutes in each before soaking in the hot tub I took the occasional freezing dip in the lake for good measure as I was told it would do wonders for my circulation.
My advice; make an evening of it and stay for supper. Vibrant young chef Sirly Schinmann has modern Finnish food down to a fine art. The smoked reindeer and jäkälä (a Nordic lichen) is absolutely divine.
Resources:
Lapland Safaris – Husky Safari
Aurora Estate – details
Notes:
My Husky Safari followed a 5km route from Lapland Safaris' husky farm in Ylläs and I received a short briefing from the staff in order to competently control the sleigh. The dogs are exceptionally well-cared-for and clearly enjoyed the activity. Cost
Cost for Husky Safari is €109 per person.
Prior to your visit you must make reservations for the Sauna at Aurora Estate.
DAY THREE AM:
Ice fishing on lake Jerisjärvi
From Deep Under the Ice
Spending the morning ice fishing with Lappish local Jari Rossi was by far the most authentic of the activities I tried out in Lapland. From his home on the Keimiön Koukkaus peninsula wilderness guide Jari makes his livelihood in the same way as his ancestors; fishing, hunting, and telling stories around an open fire.
Walking out over frozen Lake Jerisjärvi that morning Jari showed me how he checks his nets for a catch. Utilising basic equipment devised long ago Jari sets his nets in the autumn as soon as the surface freezes over and there they stay all winter, suspended in the icy water.
Although I was able to have a go at reeling in the net myself, the best part was eating the spoils of our work eating freshly smoked fish by the fire in Jari's lakeside hut.
Resources:
Find out more about wilderness guide and Lapland Shaman Jari on his website Keimiön Koukkaus
For regional information check out Pallas Visitor's Centre – see here
Notes: My excursion was organised by nearby Hotel Jeris where I was first kitted out with a thermal snow suit and provided with boots (although I chose to keep my Sorel 1964 Pac snow boots on as they are fleece lined and just as warm).
DAY THREE PM:
Reindeer safari at Torassieppi Winter Village
Underneath the Aurora
Set aside lake Torassieppijärvi the Torassieppi Winter Village offers log cabin and aurora glamping accommodation, reindeer excursions, and husky safaris; a destination for Lappish adventure it would make the perfect base for your long weekend in the far north.
My visit although brief, was most memorable as I'd never before seen a reindeer. Shy, conservative creatures my guide from Torassieppi told me they seldom like affection from humans unless you've a handful of delicious lichen to barter with.
A Rich Heritage runs Through Lapland
Sitting on a thick reindeer hide and snuggled underneath a large woollen blanket the sleigh ride was the stuff of dreams. Just as we set off a little snowfall fell from above and after a brief ride through the forest we were treated to colours of the setting sun over neighbouring fields.
An Arctic animal safari is a must when in Finnish Lapland in February.
Resources:
Torassieppi Winter Village on Instagram
Notes:
After the safari the team at Torassieppi gave a short presentation on the history of reindeer farming in the region. Boasting a large collection of artefacts their talk gave context to the importance of reindeer to the survival of early Lapish settlers and sets them apart from other operators in the area.
INSPIRED? PIN THIS POST TO YOUR TRAVEL PINTEREST BOARDS NOW!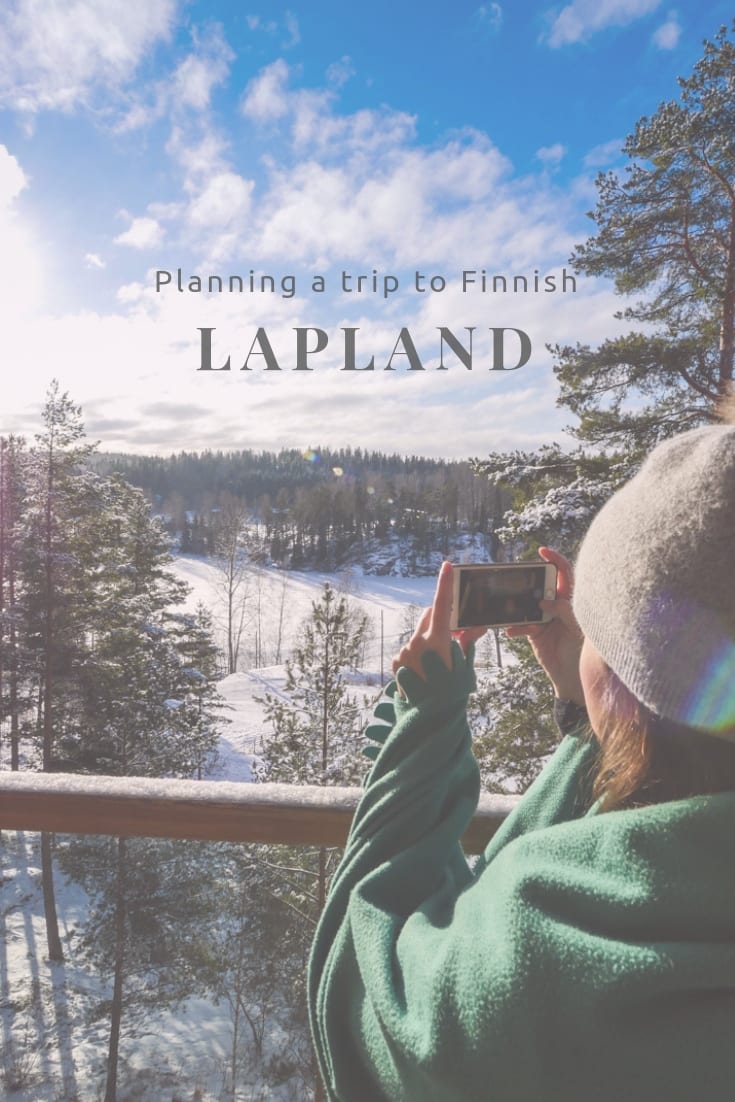 ✈ ✈ ✈