I should probably start by making a confession. Prior to my visit I'd probably only glanced at the Japanese island of Hokkaido on a map a handful of times and I'd certainly never contemplated adding it to my destination bucket list. Sure, Japan had always been a country I'd wanted to visit, but my dream itinerary included eating ramen in Tokyo, temple-touring in Kyoto, and exploring the beach culture found south-west of Osaka.
As I sit here now, editing photos from my trip and putting together travel guides to share with you I'm thanking my lucky stars that Hokkaido provided my first taste of Japanese adventure travel.
VISITING HOKKAIDO IN AUTUMN
The most northern, and least developed island of the Japanese archipelago, the simplicity of Hokkaido's offering defines its appeal. Inshort, its pristine volcanic landscapes are ideal for active, outdoor lovers seeking an authentic wilderness experience.
Hokkaido is Japan's most exciting destination right now. There's the tagline, let me tell you how I came to this conclusion.
Looking for a seasonal guide to adventure activities in Hokkaido? Read my guide below.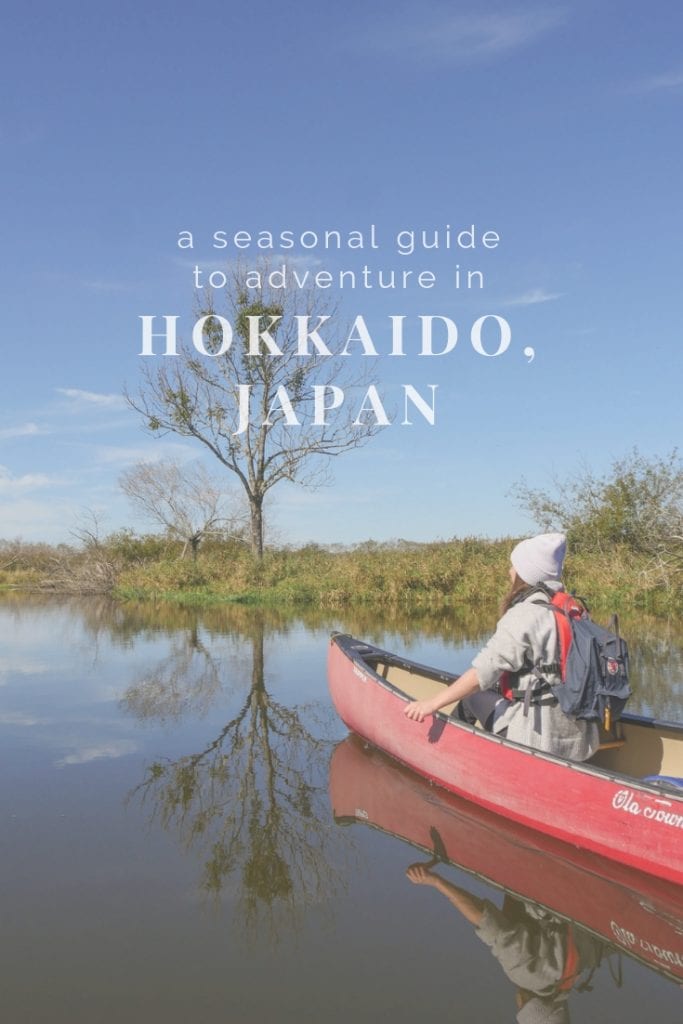 INTRODUCING YOUR NEXT BUCKET LIST OBSESSION
During the first week of October I spent five days touring Hokkaido with a team of adventure travellers. Hosted by a Japanese destination marketing agency I was introduced to a handful of the region's most inspiring natural wonders and adventurous activities.
My journey started in a rain-soaked Shiretoko National Park where I spent two days hiking coastal trails in search of some of the region's animal inhabitants.
SHIRETOKO NATIONAL PARK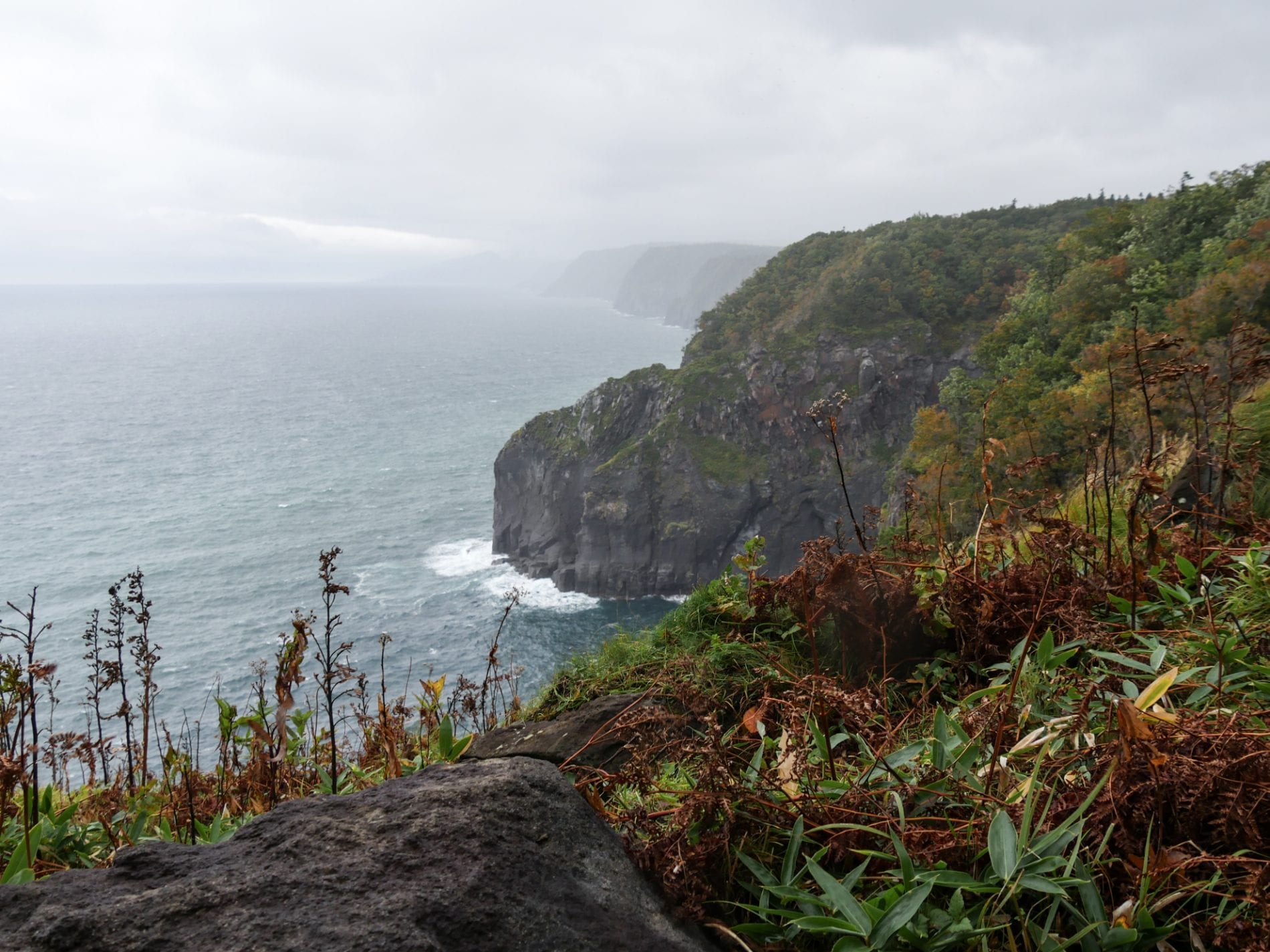 Encompassing a magnificent and mostly uninhabited peninsula that protrudes from Hokkaido's north eastern corner and is within sight of (disputed) Russian territory, in the native Ainu language the Shiretoko region is known as 'the end of land'. One of Japan's last remaining areas of truly untouched wilderness a large portion of the peninsula is designated National Park, some of which is strictly prohibited to enter.
A network of hiking trails wend their way through virgin forest and along coastal cliffs, taking in much of the park's natural beauty. Characterised by its wild and untamed terrain, every scenic viewpoint looks like the backdrop of a #wildernessculture Instagram shot and the bio-diversity is mind-blowing.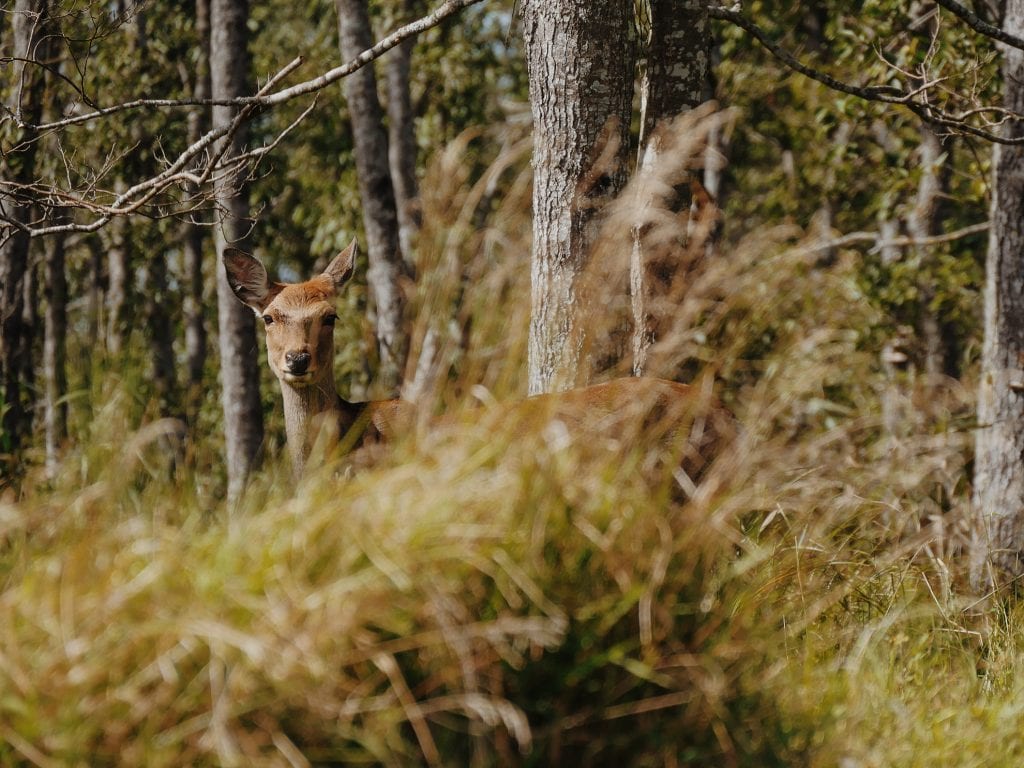 33% of the world's species of animal can be found in Japan, and Hokkaido boasts the most concentrated population of brown bears in eastern Asia. Monkeys, sea lions, even giant owls and flying squirrels can be seen roaming wild in Shiretoko's secluded forests.
Before I get wrapped up in the tale of my brown bear encounter I have to tell you that the autumnal colours in Hokkaido are electric. Vibrant hues of yellow and amber litter the landscape like a Jackson Pollock painting abstract and juxtaposed against evergreen, and although I arrived just hours ahead of Typhoon Trami, for the latter half of my stay I was treated to bright sunny days and clear blue skies.
MEETING HOKKAIDO'S BROWN BEARS
Shiretoko is home to around 3,000 brown bears weighing up to 350kg each and standing at twice the height of the average man; the Ussuri brown bear (also known as the black grizzly bear) is quite an impressive sight when viewed in close quarters.
It was only a few yards from our base at the Shiretoko Nature Centre that I first saw one. Two in fact; a female and her cub were making the most of the abundant salmon running upstream to spawn. Although I like to think I'm a great storyteller no words can paint a better picture than the somewhat shaky video I captured on my phone as I watched on in wonderment.
Although there are 130 mating pairs living within Shiretoko (quite a lot considering the square footage of the park) I feel incredibly fortunate to have witnessed such a display of carefree behaviour up close as other members of my group, travelling on different itineraries, weren't so lucky.
EXPLORING SULPHUR MOUNTAIN (MOUNT IWO)
After the excitement of exploring in Shiretoko my team drove south toward the Kushiro region, and on route we stopped to explore Hokkaido's Mount Iwo, aptly nicknamed Sulphur Mountain.
A somewhat sedate adventure activity, you basically park in a car park and walk 100 metres or so to the base of the mountain, Mount Iwo is a tempestuous volcano more akin to an extra-terrestrial moonscape. Yellow, sulphurous vents litter the mountainside and give off a continual stream of noxious gases that will knock you for six when you first arrive.
If you've got the time, you can hike a 2 mile trail that takes in some of the surrounding shrub land and leads to the visitor centre of nearby Kawayu Onsen, but to be honest I'd make Mount Iwo a pit stop on route from north to south as the smell becomes a little overwhelming after a while.
GLAMPING AT LAKE KUSSHARO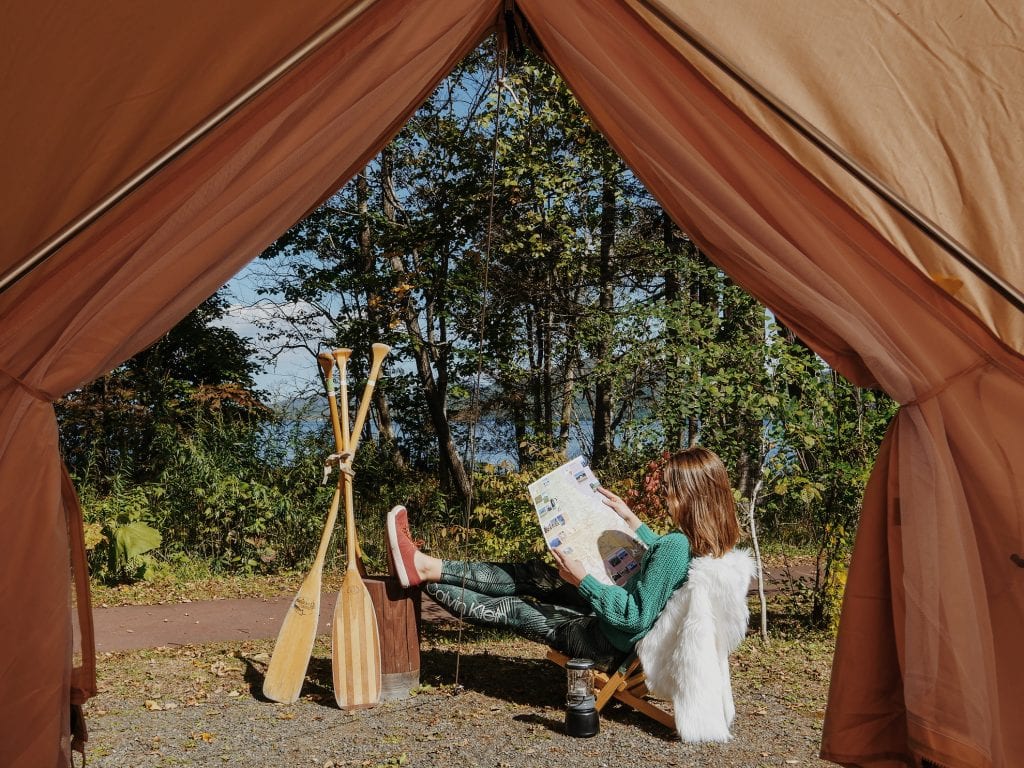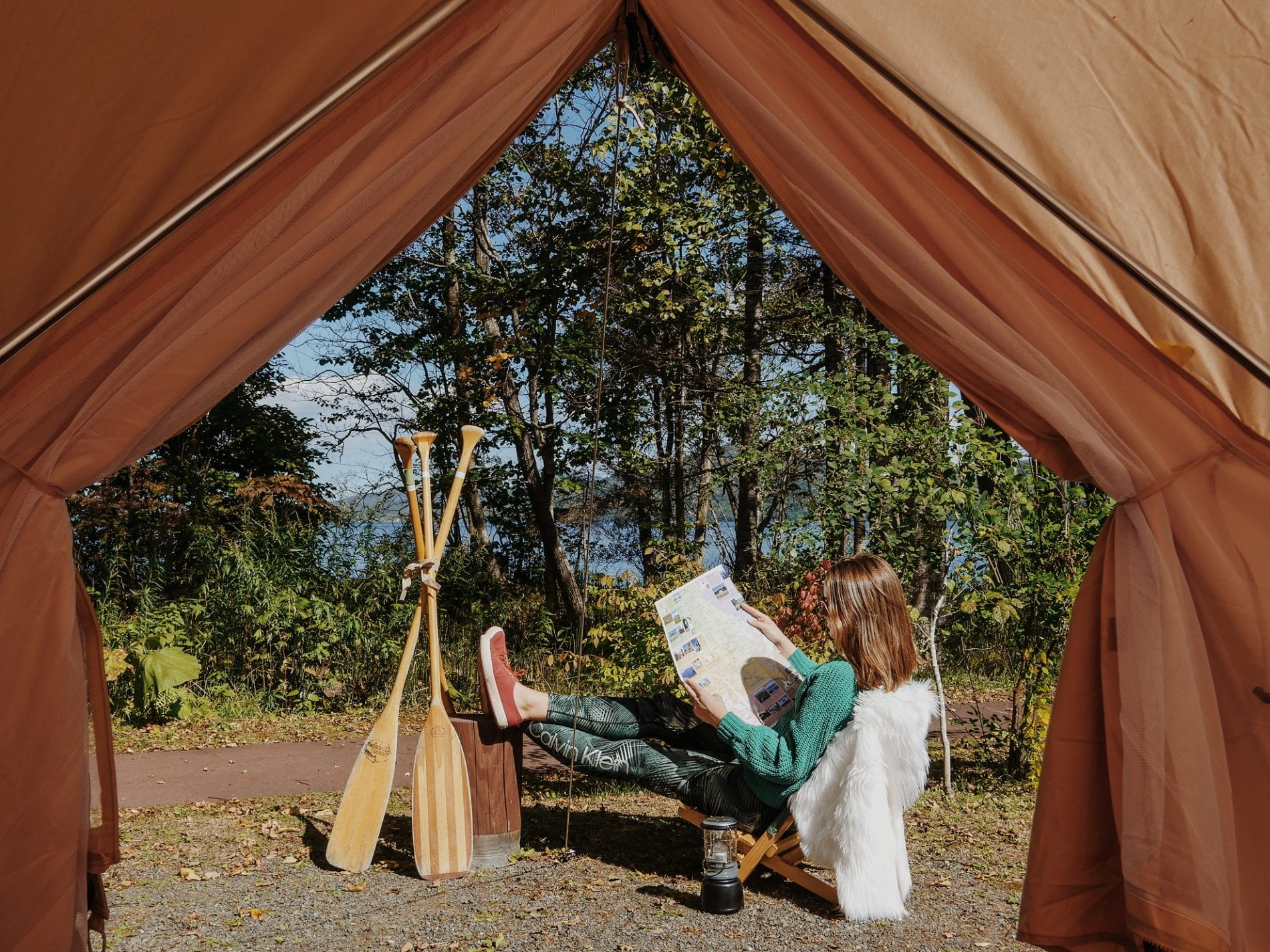 Still on a high from my brown bear encounter I arrived at the edge of Lake Kussharo to find that my accommodation for the next few nights would be a luxurious bell tent at camp Wondertrunk.
Glamping is my jam people, and this was glamping on an epic scale.
Each tent was kitted out with two double beds, a heater, a rail to hang clothes, a small stove to boil water, and a whole heap of plush furnishings. An added bonus was the lakeside view which doubled up as a natural frame for the milky way that dominated the sky after sunset each night.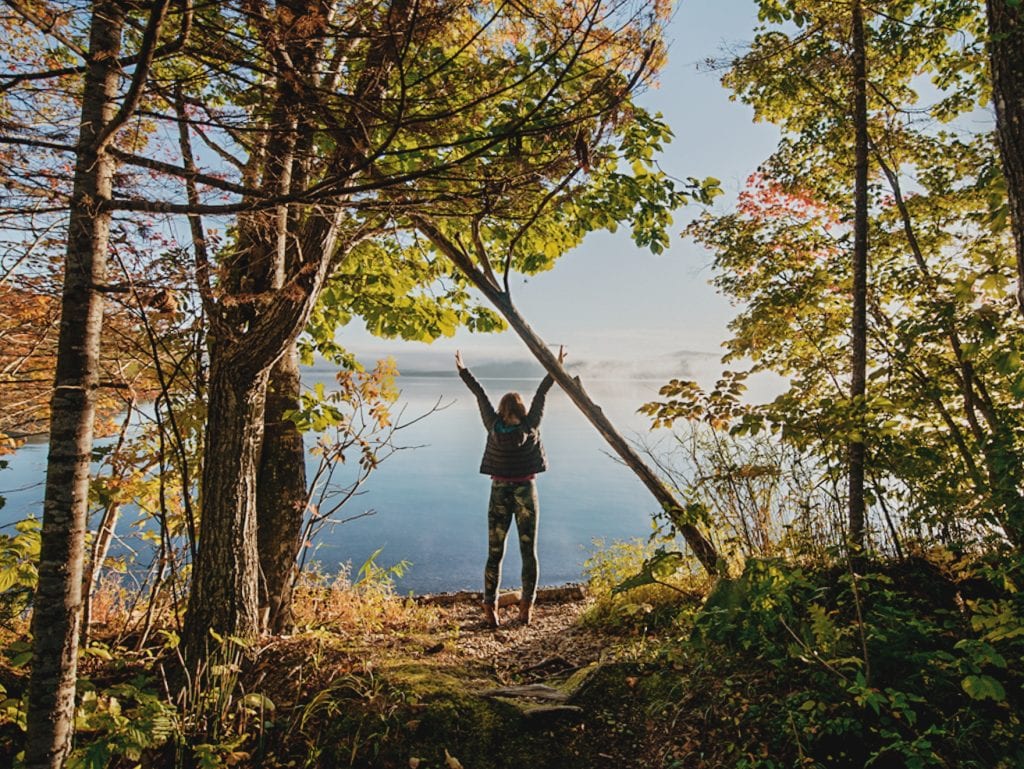 EXPERIENCING ONSEN CULTURE
During my stay at camp Wondertrunk I experienced Japan's onsen culture, which is essentially outdoor bathing (usually naked) in a natural hot spring. Some 27,000 hot springs are spread across Japan's 3,000 onsen towns, but it is in Hokkaido where you'll find the greatest number.
Onsen come in all shapes and sizes and in some, the water has a slight coloured tinge that indicates which mineral properties are present and thus what medicinal effects a dip will have on your body. Some appear naturally formed with rocks and shingle underfoot, and others have been pimped up with concrete sides and steps in and out.
On the banks of Lake Kussharo, just a short walk from my tent, I immersed myself in an onsen and I could immediately see why the Japanese favour it as a remedy for stress and tension. The hot water was mind-numbingly pleasing against my skin, but I hardly noticed because of the beauty of my surroundings. There's something pretty special about a lava-fuelled immersion, and it's even better when enjoyed under a blanket of stars.
TRAVERSING THE KUSHIRO RIVER
My goal in Kushiro was to experience the local river culture. Meandering some 100 miles through green hill county, farmland, and wetlands, the Kushiro River takes in some of Hokkaido's most rural landscapes before reaching the Pacific Ocean. Quite different to the coastal forests of Shiretoko, Kushiro is known for its marshland habitats and is a hot spot for bird watching.
From my base at camp Wondertrunk I explored two stretches of the Kushiro River. The first of which was rather relaxed as the current carried my craft much of the distance however, the second required some good old-fashioned elbow grease to which I was happy to oblige.
While the views were indeed picturesque, the banks of the Kushiro River aren't particularly unique. Swathes of scenic but repetitive marshland bordered our route, however I was surprised by the wealth of wildlife we saw whilst on the water. Along with countless species of bird including woodpeckers, kingfishers, and white-tailed eagles, we had a visit from a particularly playful American mink who seemed very taken by our fleet of canoes and a really special deer encounter with a female who stood motionless whilst I captured the perfect shot.
KATTE DON AT KUSHIRO WASHO MARKET
The culinary highlight of my time in Hokkaido, Katte Don at the Kushiro Washo Market blew me away. Unusually odourless for a fish market, at the Kushiro Washo Market row upon row of fresh seafood line the aisles with enough sashimi options to satisfy even the most discerning foodie.
Hungry diners are invited to purchase a bowl of rice from a stall near the entrance and select their chosen sashimi from one of the many stalls. I chose tuna, salmon, crab, flounder, and my favourite Tamagoyaki (a cake of omelette) then doused the entire bowl with soya sauce. If you're a fan of sashimi you'll likely never have eaten any that fresh, the fish just melts in your mouth.
HOKKAIDO TRAVEL ADVICE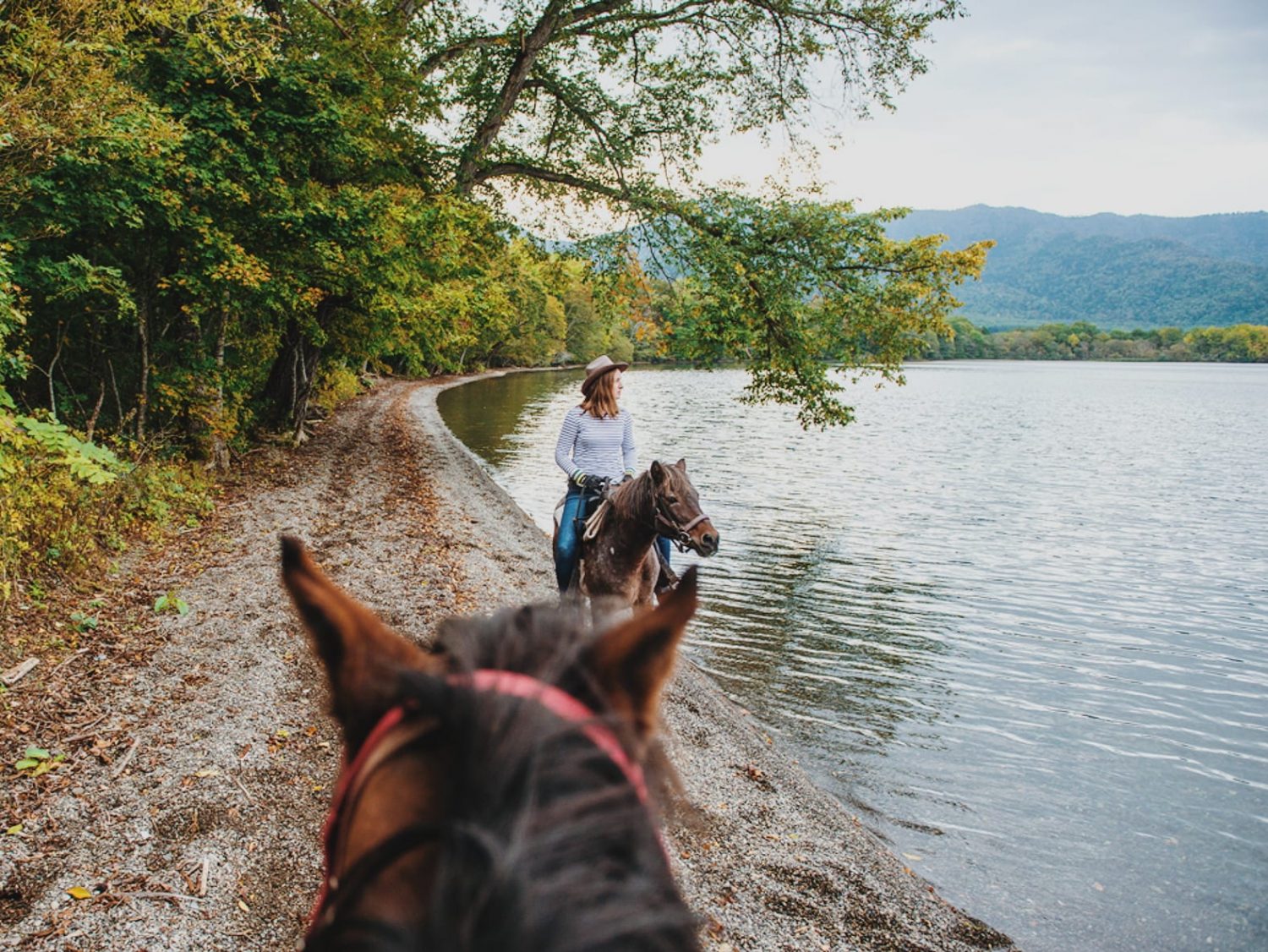 WHEN TO VISIT
Best known as a winter destination; think snowboarding, walking on drift ice, and rappelling down frozen waterfalls, however Hokkaido is a destination with much to offer year-round.
Do U.S. citizens need a visa for Japan? Both U.K. and U.S. citizens can enter Japan on a 90 day tourist visa which you do not need to apply for before your departure, however, you may need to show proof of a departure ticket when you go through immigration on arrival.
WHERE TO STAY
If like me you plan to visit outside the peak winter season, I'd highly recommend camping or glamping. Motorhome rental is available from the island's capital Sapporo, however with a little provisioning you could rent a car and stay in designated campsites or free camp if you're feeling adventurous. If you do free camp make sure you don't leave food in your tent as this may attract unwanted visitors in the night!
WHAT TO PACK
Hokkaido offers a wealth of outdoor activities so provision for things like hiking, canoeing, and camping, and if you're travelling in Spring or Autumn make sure you have layers that you can throw on for the evening.
Amongst your other travel essentials, I highly recommend that you pack a pair of slip on shoes. Some shops and restaurants require you to de-shoe on entering so it helps to have the option to go lace-free when not on a hiking trail.
I travelled with two-pronged US plug adaptors and had no issues with my electronics.
WHY SHOULD YOU VISIT HOKKAIDO?
Hokkaido boasts staggering Lost World scenery in epic proportion and if you're looking for a wilderness adventure it can provide an abundance of opportunities to lose yourself in its landscapes.
INSPIRED? PIN THIS POST TO YOUR TRAVEL PINTEREST BOARDS!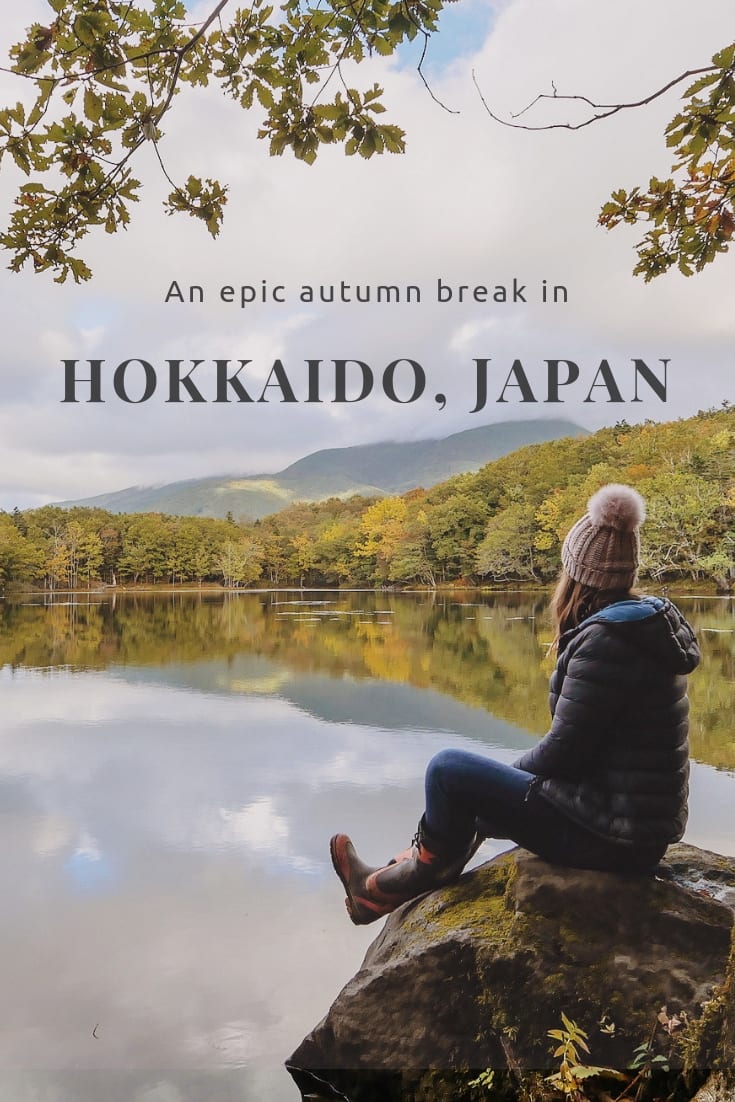 To help me create this content Wondertrunk Co and the Hokkaido Tourism Board hosted me in Hokkaido, Japan.
All opinions expressed in this post are my own, and as you can see from the epic photos I've included, I'm totally telling the truth when I tell you that you Hokkaido is Japan's most exciting destination right now.