Defined by the volcanic coastlines of Japan's northernmost island, Hokkaido is the ideal destination for active, outdoor lovers seeking an authentic wilderness experience.
In October 2018 I spent five days exploring some of its most inspiring natural wonders; donning a pair of hiking boots and with camera in hand, I sought out the region's most scenic sights.
As I sit here contemplating my visit, I'm thanking my lucky stars that Hokkaido offered me my first taste of adventure in Japan. In this article I'll highlight some of the best adventure activities in Hokkaido, and to make it simple to navigate I've categorized them by season.
Autumn adventure activities in Hokkaido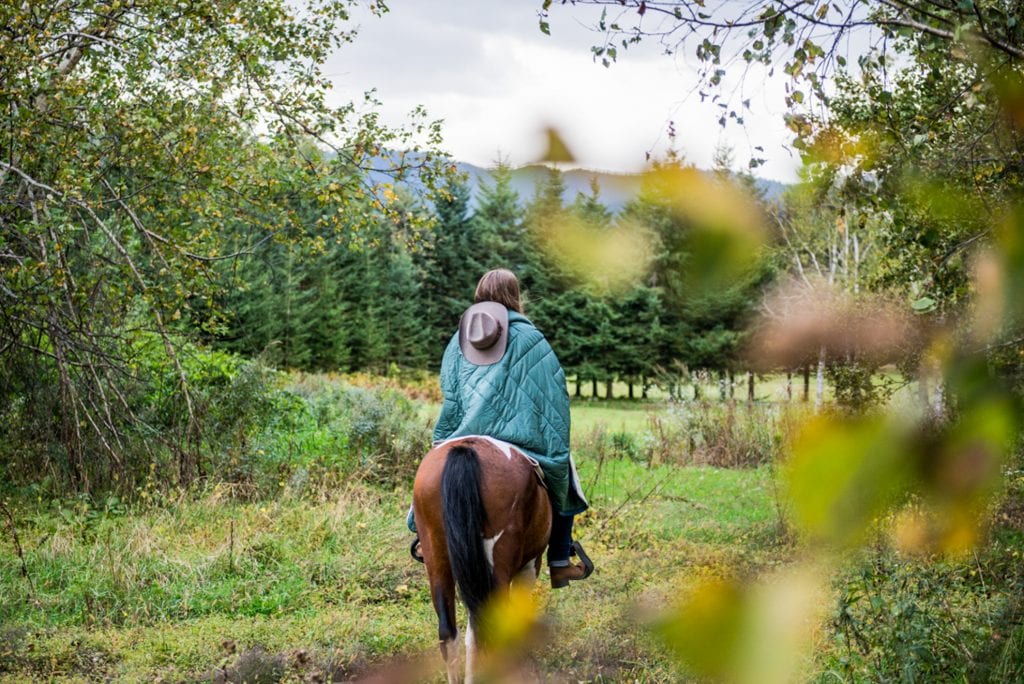 Head to Shiretoko National Park
Encompassing a magnificent, mostly uninhabited peninsula that protrudes from Hokkaido's north eastern corner and is within sight of (disputed) Russian territory, in the native Ainu language the Shiretoko region is known as 'the end of land'.
One of Japan's last remaining areas of truly untouched wilderness a large portion of the peninsula is designated National Park, some of which is strictly prohibited to enter.
Traverse the network of hiking trails that navigate swathes of virgin forest offering epic coastal vistas and endless opportunities to spot native wildlife. 33% of the world's species of animal can be found in Japan, and Hokkaido boasts the most concentrated population of brown bears in eastern Asia. Monkeys, sea lions, even giant owls and flying squirrels can be seen roaming wild in Shiretoko's secluded forests.
Visit in Autumn and you'll catch sight of one of the park's most endearing residents, the Ussuri brown bear, making the most of the salmon that arrive each year to spawn in the river.
Hike around the Shiretoko Goko Lakes
In the south western corner of the national park the peninsula's primeval forest recedes to reveal five coastal lakes.
Renowned as one of the best places to see Shiretoko's diverse landscapes of coast, inland water, forest, and mountain peaks, the boardwalk that meanders around the lakes is particularly scenic at this time of year when the forest erupts in shades of orange and ochre.
Where to stay in Shiretoko
I checked into Hotel Shiretoko, a comfortable resort with a focus on nature and traditional Japanese culture, the rooms are recognisably Japanese in their design with all the conveniences modern travellers require.
Make the most of the chance to partake in open-air communal bathing in the hotel's onsen, if you're unfamiliar with the customs of the country it will prove to be most memorable.
Check current availability of hotels in Shiretoko now using the search engine below – a small percentage of any booking you make will support the upkeep of my blog.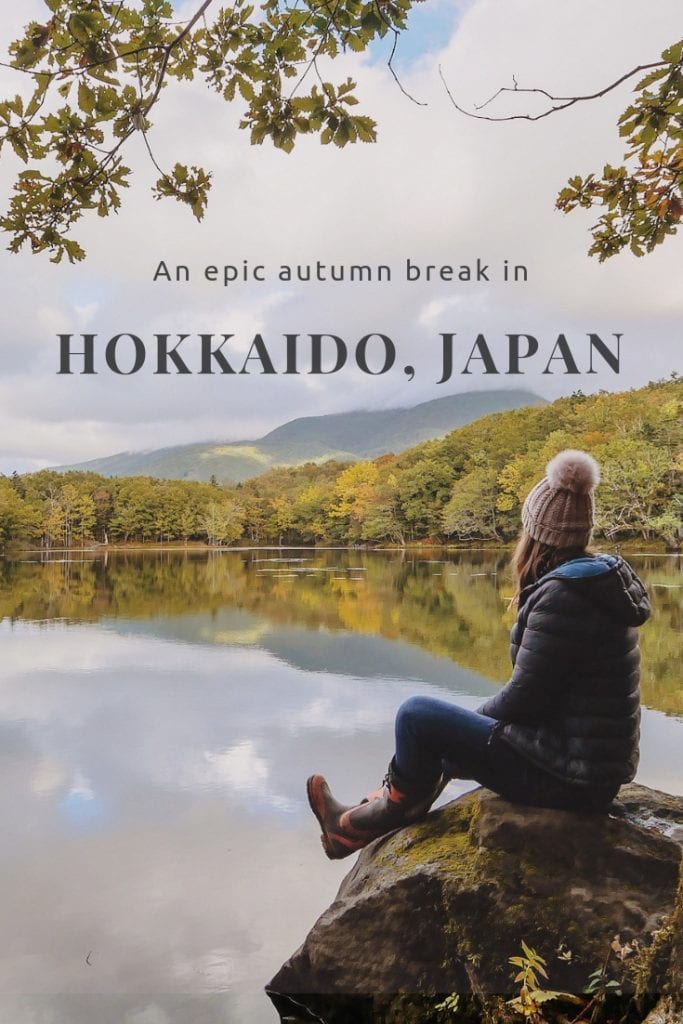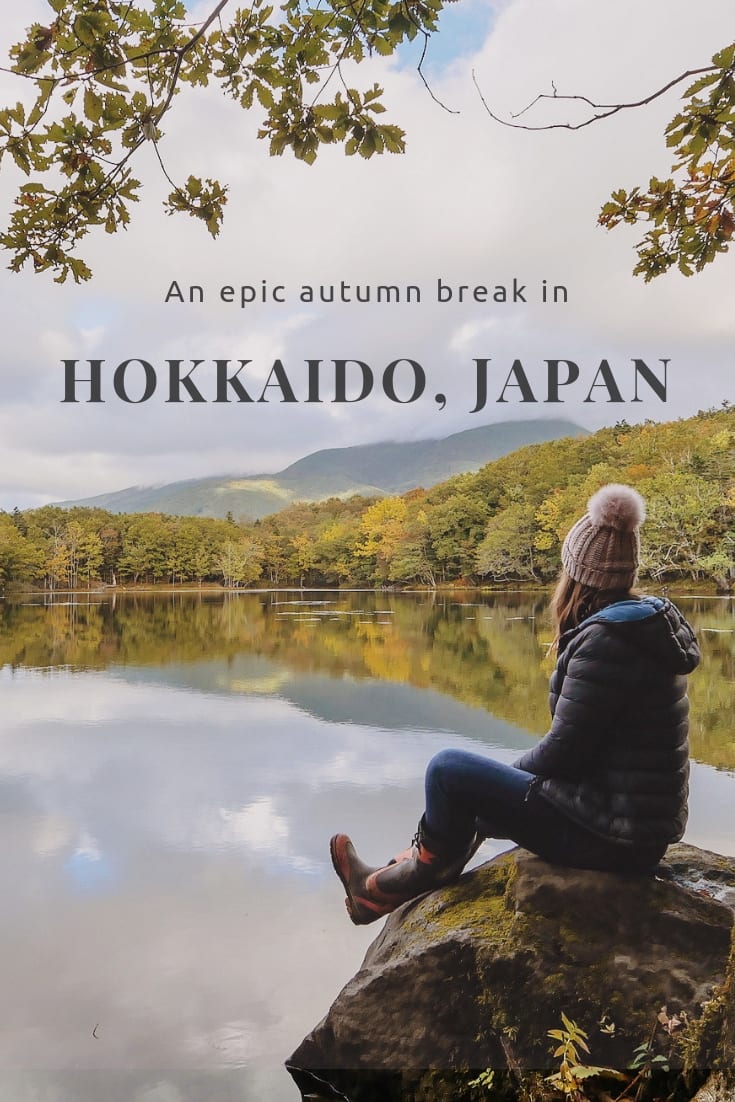 Read an in-depth overview of my autumn escape in Hokkaido here.
Winter in Hokkaido is wonderful
Ride the powder at Niseko
Niseko (ニセコ) is the most famous ski resort in Japan, known for its seasonal powdery snow which blankets the region's spectacular backcountry and vast, long ski runs. In addition to the traditional skiing and snowboarding offered at most other winter resorts, Niseko offers adventure seekers the option to venture off-piste on foot or via helicopter, something that's relatively uncommon in other areas of Japan.
Where to stay in Niseko
Hugging the slopes of the impressive stratovolcano, Mt. Annupurri, the winter resorts of Niseko United consists of three separate villages – Grand Hirafu, Niseko Village, and Annupurri – plus a fourth smaller area, Hanazono/Moiwa. View a map of the resort here. The larger three have their own gondolas, base villages, and accommodations, while Hanazono shares a lift ticket with Grand Hirafu.
If you're looking for apres-ski opportunities base yourself at Grand Hirafu, the largest of Niseko's resorts where there are plenty of hotels, vacation rentals, and restaurants, plus a very active nightlife scene. Hanazono/Moiwa is the only area that you can't ski to from the three main villages; it is much less populated and is recommended for beginners and those looking for a quiet retreat.
NISEKO ALL MOUNTAIN PASS: A 7400YEN/person/day pass which includes access to all areas of the Niseko Grand Hirafu, Niseko Village and Annupuri resorts.
Search for a hotel in Niseko now – a small percentage of your booking will help to support my blog.
Read more about Niseko United here.
Walk on Drift Ice in the Sea of Okhotsk
WHERE TO STAY: Base yourself in Utoro and try the Hotel Kifuuclub Shiretoko. A small family-run resort, its rooms boast a typically Japanese décor and there is a natural hot spring/onsen on site.
DRIFT ICE ADVENTURES: From the middle of January drift ice begins to appear off the northern coast of Hokkaido. Formed from fresh river water that flows into the ocean from an area on the China/Russia border, large quantities drift south on a current toward Japan and get pushed up along Hokkaido's rugged coastal landscapes.
A natural phenomenon only seen in frigid polar regions, Hokkaido is the most southerly location in the northern hemisphere that you can see drift ice; and if you're feeling adventurous you can join a tour and walk out onto its mountainous, frozen surface. Keep an eye out for seals taking a break from hunting and train your eyes skyward to catch sight of eagles; some of which have wingspans of over 2 metres.
Hokkaido offers the best of both seasons in spring
Depending on where you are in Hokkaido spring can offer a snow-filled escape, or an ideal hiking adventure.
HIKING AND TREKKING: Mt. Rishiri, Shari, Niseko, and Yōtei Zan (which looks like Mt. Fuji), are littered with some of Hokkaido's best hiking trails. All have their own appeal and provide picturesque views of some Hokkaido's most remote landscapes.
SNOW SPORTS: You'll find snow lingers until the end of April on Hokkaido's mountain peaks. Resorts in Daisetsuzan National Park, Tomamu Station (the most extravagant of the Hokkaido ski resorts, and also rather kitsch!), and the Rusutsu Resort (covering three mountains and offering heli skiing it is considered one of Hokkaido's best), all offer enviable conditions well into spring.
FLOWER KINGDOMS: Much like the rest of Japan spring is a particularly beautiful time of year in Hokkaido. This is in part because in addition to the traditional Japanese cherry blossoms, the region's flower gardens erupt in swathes of vibrant colour. Takinoue Shibazakura Park, Kamiyubetsu Tulip Park, and Higashimokoto Shibazakura Park; which is known for its pink carpet of moss phloxes, are among the very best.
OYSTER FESTIVAL AT LAKE AKKESHI: A famed oyster producer, Lake Akkeshi has always been a natural source of oysters; the name even comes from the Ainu word Akkeshi, meaning "oyster place." For the best, and most traditional Akkeshi oyster experience visit the Akkeshi Flavor Terminal Conchiglie. Restaurant Escal on the 2nd floor has a wide range of oyster dishes with their Oyster Pork Battle Bowl, a pork rice bowl with fried oysters, a favourite amongst locals.
Activities for summer in Hokkaido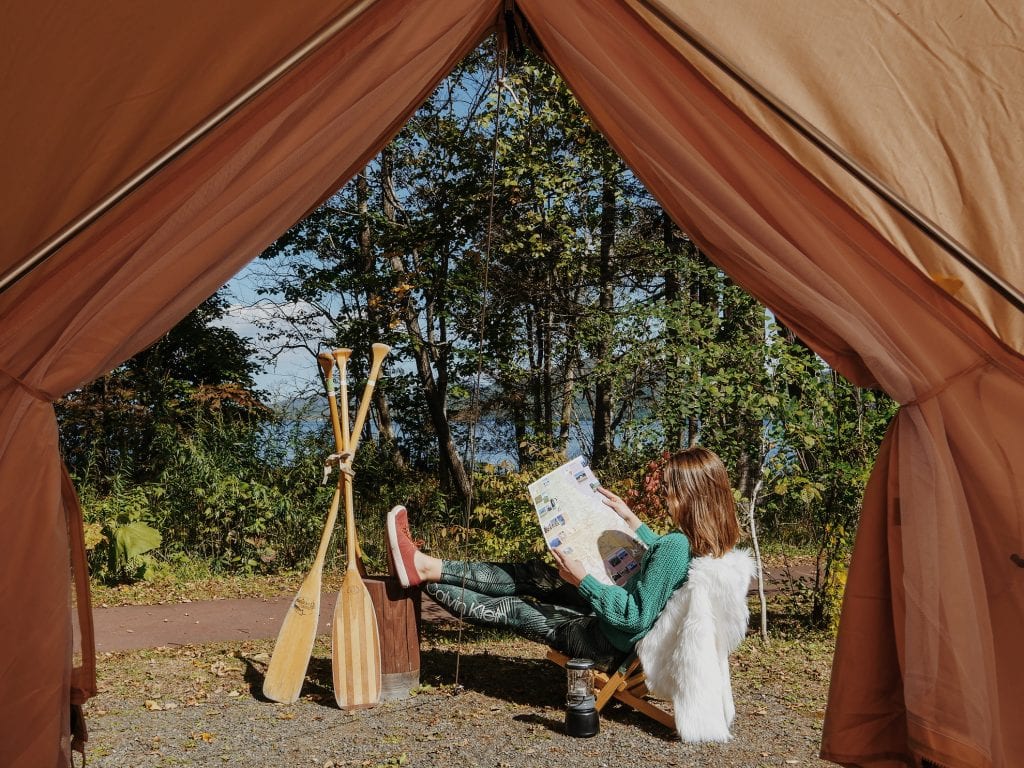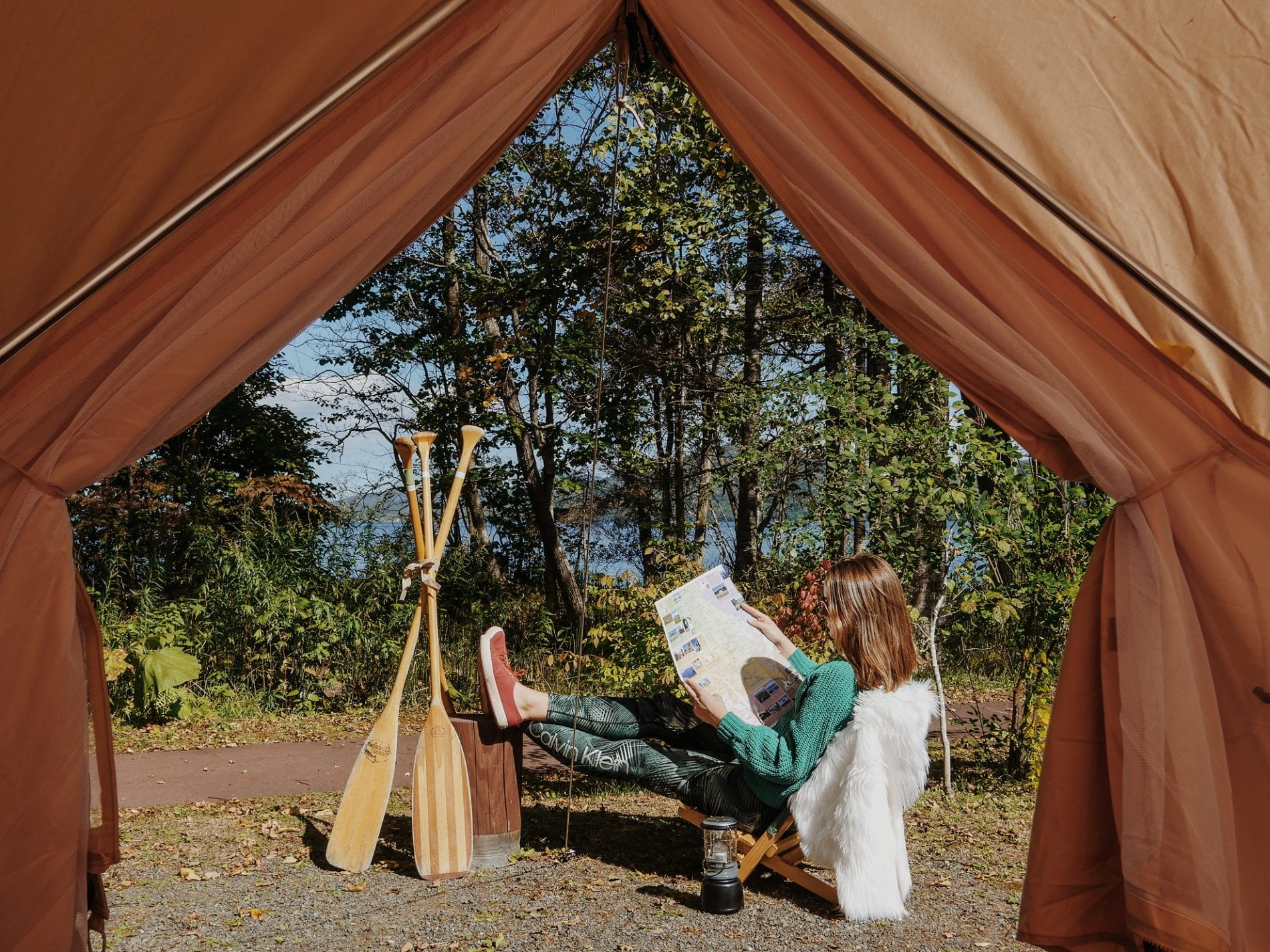 Enjoy a primeval adventure in Akan National Park
WHERE TO STAY: During my visit I based myself at the Wondertrunk Glamping Village, a picturesque glamping site on the edge of Lake Kussharo.
Relax in the comfort of your own luxurious bell tent complete with a sumptuous double bed, quaint deck, and camp kettle. The facilities are first class with hot showers and flushing toilets on site, and if you wake early enough the views of sunrise over Nakajima Island will leave you breathless. Don't forget to make the most of the public onsen just outside the camp; take a dip at night under the gaze of the milky way for a truly memorable evening.
Glamping on Lake Kussharo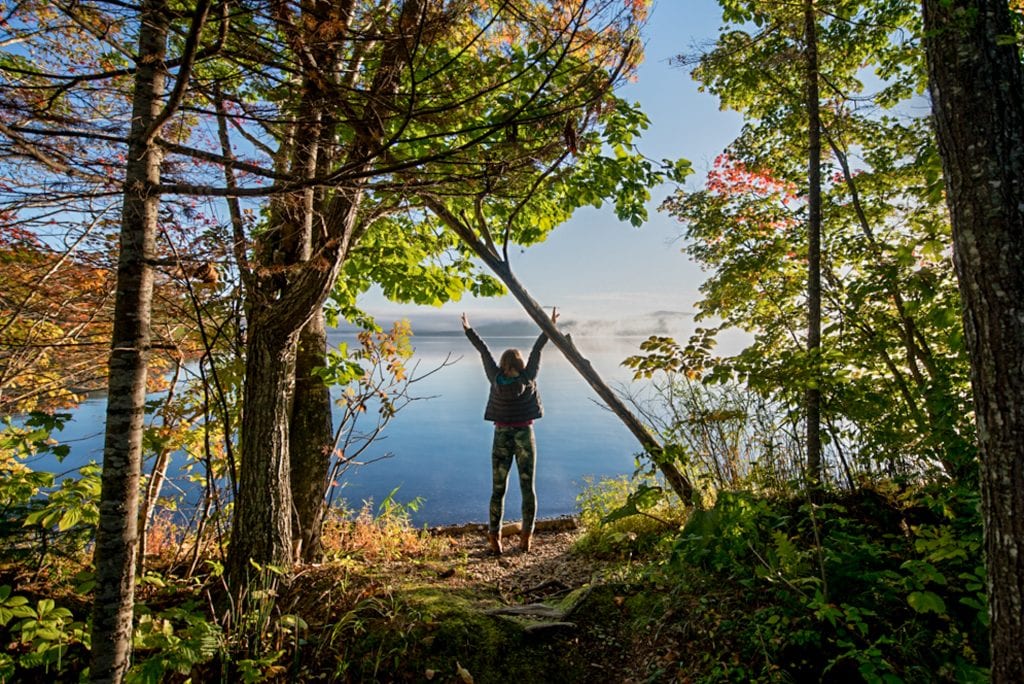 The largest caldera in Japan, Lake Kussharo is the jewel in the crown of Hokkaido's Akan Mashu National Park. If you choose to camp or glamp by the water's edge you'll find a wealth of activities are available right on your doorstep.
Sailing, windsurfing, and fishing are all on offer on the lake itself, but for those with a desire for exploration a canoe trip down the Kushiro-gawa, a primeval river that flows out of the lake toward the ocean, is a must.
Canoeing on the Kushiro-gawa River
Guided canoe excursions, which double as wildlife spotting opportunities, are available from a number of points along the river and all take in the beauty of the region's wetlands. Some sections of the river offer a more sedate experience with the current aiding efforts to paddle, whilst others require a more active approach. Regardless of which you opt for, you'll find you're offered light refreshment along the route by way of a bank-side pit-stop for Japanese tea and cookies.
Horse trekking at Lake Mashu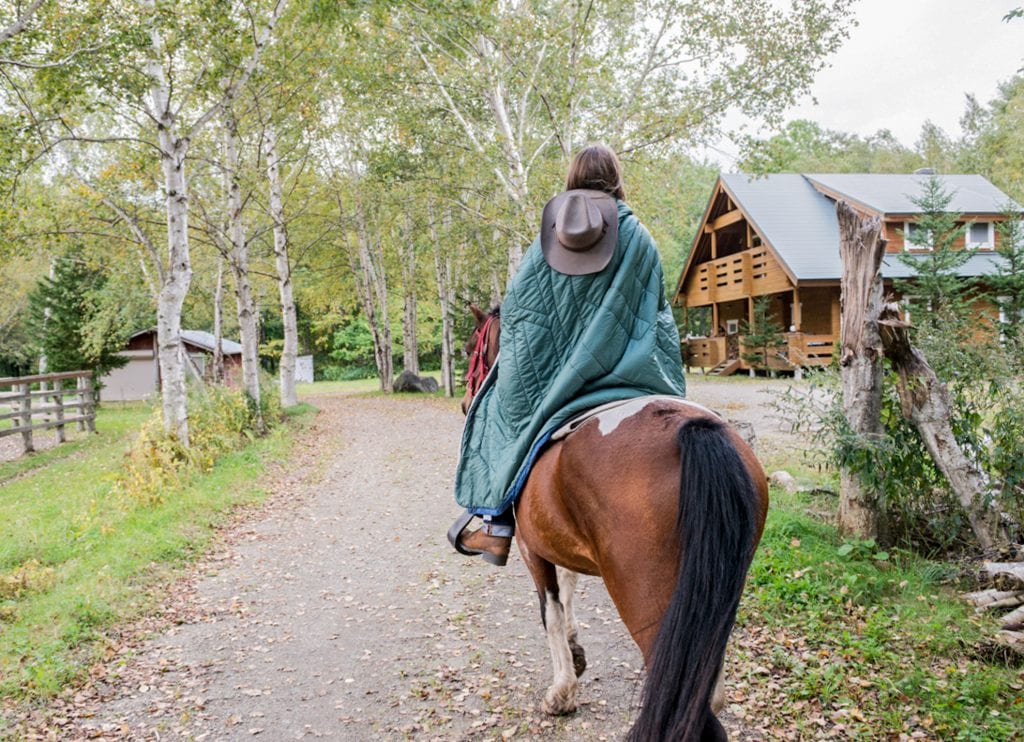 Enveloped in fog for most of the year Lake Mashu is especially beautiful. Known as "Kiri no Mashu-ko" (foggy Lake Mashu) its waters are some of the clearest in the region, which accounts for their vibrant azure colour, with visibility often reaching 40 metres. Surrounded by cliffs the lake is not easy to reach; when the fog recedes three observation decks offer picturesque views of the water below.
If you'd like to explore further off the beaten path, book onto a 4-hour horse trek at Kawayu-Onsen Station. You and your trusty steed will explore the water's edge and visit the Daikanbo viewpoint which is inaccessible by car.
A Volcanic adventure at Mount Iō
Eastern Hokkaido is known for its verdant forests where wild Ezo-shika (Hokkaido Sika Deer) and Kita-kitsune (Hokkaido Red Fox) roam wild, and onsen (hot springs) restore the mind and body, however Akan National Park also plays host to tempestuous Mount Iō or Iwo as it is sometimes called.
Although a rather sedate adventure, visitors can explore the base of the mountain on foot where volcanic vents spew noxious gases into the ether and the ground is stained bright yellow by sulphur.
Natural wonders at Lake Akan
Nestled amid dense forest Lake Akan is the heart of Hokkaido known locally as a magical and mystical place; it also hosts one of Hokkaido's largest Ainu (Japan's native culture) villages.
Famous for its marimo (moss balls formed by a rare algae species that when left alone for a few centuries can reach the size of footballs), these curious algae structures are a unique sight and have been designated a National Special Natural Monument.
Along with scenic boat tours that visit some more remote areas of the lake, two mountains near Lake Akan compliment the scenery and offer some longer hiking routes. Oakan (Male Mountain) and Meakan (Female Mountain) are both volcanoes whose eruptions formed the landscape around Lake Akan.
Meakan remains active and frequently emits sulphuric fumes. Hikers should check with the tourist information centre for volcano conditions.
Climb Mount Asahidake
Where to stay near Mount Asahidake
Consider Asahidake Onsen Hotel Bear Monte which boasts hot spring baths and spacious suites. Asahidake Ropeway is just a 3-minute walk away and breakfast is served on site, while dinner features local seafood and vegetable buffet or a Japanese-Western-style kaiseki multi-course cuisine.
Check hotel availability in Asahidake for your dates of travel – a small percentage of your booking fee will go to support my blog.
One of a number of impressive alpine peaks in Daisetsuzan National Park, and the first place in Hokkaido where the colours of autumn and views of snowy peaks can be seen each year, at 2290 meters Mount Asahidake (旭岳)is Hokkaido's highest mountain.
The Ainu people called the mountaintops of Daisetsuzan KAMUIMINTARA, which means the garden where Gods play. If you manage to visit during your time in Japan you'll soon see why; the views are spectacular.
There are a number of hiking opportunities in the Asahidake area from late June through September. Those after a more sedate trail should try the 30-60 minute circular trail around the ropeway's upper station which takes in some active examples of the mountain's volcanic landscapes.
The two hour ascent to the summit of Asahidake is slightly more challenging, whereas the classic 1-2 day tour for advanced hikers which continues from the summit of Asahidake to the summit of Kurodake, and then descends to Sounkyo Onsen, is ideal for the adventurous. Other multi-day trekking tours through the national park can also be started from Asahidake Onsen.
The Daisetsuzan Ashidake Ropeway
A round-trip ticket in peak season is 2900YEN per person and takes about 15/20 minutes to travel one way.
INSPIRED? PIN THIS POST TO YOUR TRAVEL PINTEREST BOARDS NOW!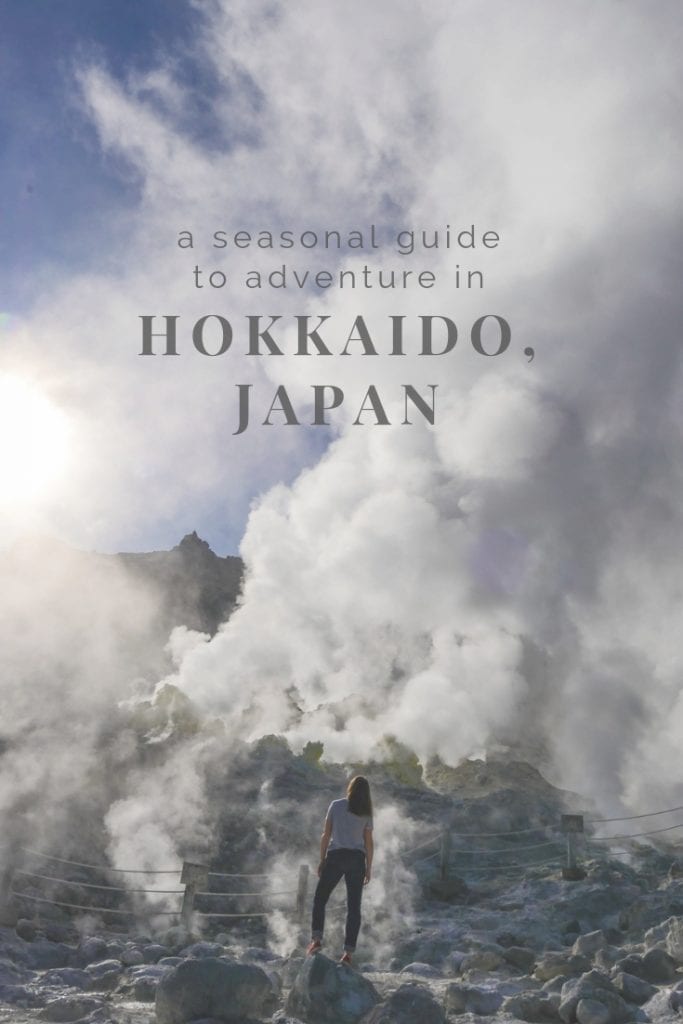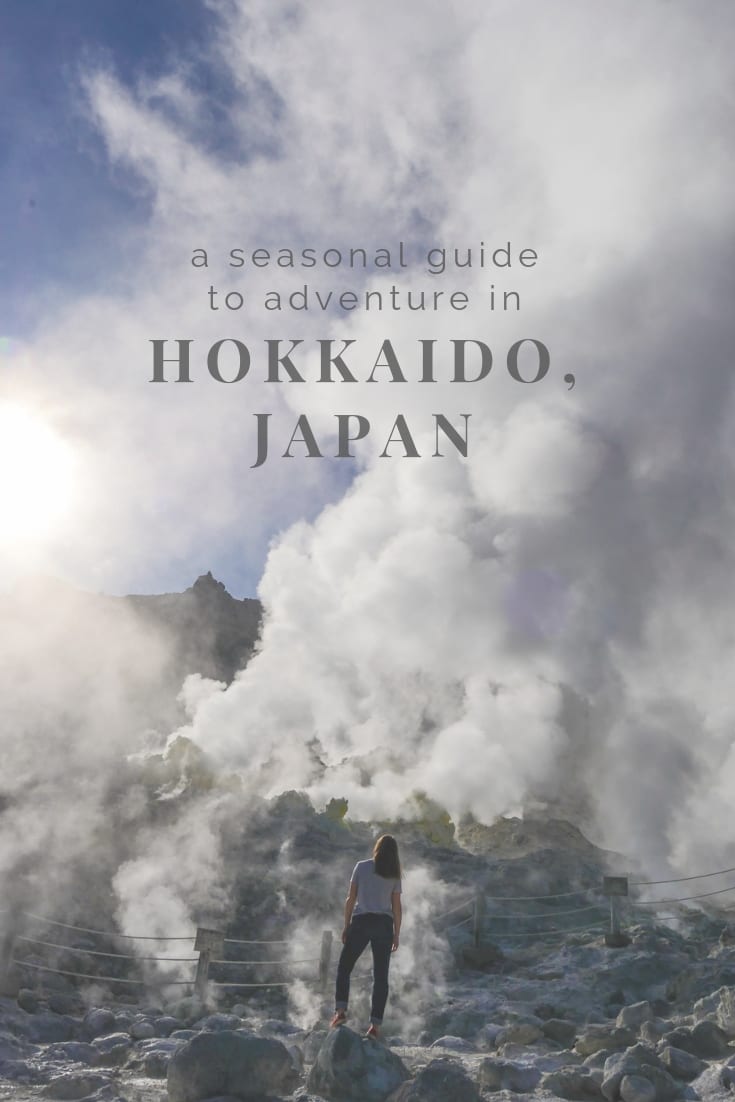 Despite its reputation as a winter travel destination Hokkaido boasts a vast array of adventure activities year-round.
I'm hoping one day I'll make it back to the island to experience more of its epic volcanic landscapes; leave me a comment if you have any recommendations to add to my list of the region's adventure highlights!