I'll be honest with you, until I accepted an invitation from Princess Cruises to experience their Baltic Sea itinerary I'd never considered booking a cruise.
It wasn't because I'd heard bad things about cruising, or that the idea of visiting multiple countries in one trip didn't appeal to me, I think I just assumed that I wouldn't enjoy staying in close quarters with so many other people all taking the same trip as me.
Full disclosure, as I write this I'm travelling as a guest of Princess Cruises aboard one of their newest ships the Regal Princess.
I've just spent the day at sea and tomorrow morning I'll wake up in Copenhagen Denmark where I depart the ship and head home.
If you'd like to take a look at the full itinerary on the Princess Cruises website please click here.
A FIRST TIME CRUISER'S REVIEW OF THE PRINCESS CRUISES EXPERIENCE
I'm an active traveller who loves researching new destinations and putting together an itinerary that fits my style of travel, so to tell you the truth I was quite intrigued to find out what the cruise travel experience was like. Having spent five days aboard Regal Princess cruising the Baltic Sea I'm thrilled to say that I've taken to cruising like a duck to water. Pardon the pun.
On arriving at the German port of Warnemunde where I was meeting the ship, I was quite intimidated by the sheer scale of the vessel.
If you've never seen a cruise ship up close imagine the biggest multi-story car-park you've ever seen and triple it. To put it into perspective using some fun stats the ship's captain Tim Stringer shared with me, the ship is 141,000 tonnes when fully loaded, uses around 700,000 US dollars in fuel to sail the 11 day route around the Baltic, and rises 60 metres above the waterline.
To put it bluntly, it's bloody enormous.
That being said, this means that the ship has pretty much the same amenities as a land-based resort. I'll go into more detail about what's on offer later in the post, but for now I'll simply say that I've been extremely happy with the level of comfort and service on board.
PRINCESS CRUISES' BALTIC ITINERARY IS IDEAL FOR EVERY TYPE OF TRAVELLER
The first thing that piqued my interest in Princess Cruises' invitation was their Scandinavian and Russian itinerary.
An 11-day cruise, the ship travels around the Baltic Sea calling in at Copenhagen, Oslo, Warnemunde (Germany), Tallinn, St Petersburg, Helsinki, and Stockholm, and guests can check in and out at either St Petersburg, Copenhagen, or Warnemunde; which is where I joined the ship last Wednesday.
In some cases, special requests can be made to join the ship at any of the other ports. Contact your booking agent or Princess Cruises directly for more information.
Of the full 11 day trip only two days are spent at sea, one at the beginning and another toward the end of the route. The ship docks in St Petersburg for two days, and spends one day in each of the other ports on the itinerary. This brings me to one of the main reasons I decided to join Princess Cruises here in the Baltic; as a cruise passenger you can visit Russia without a visa.
GUESTS CAN VISIT RUSSIA WITHOUT A VISA
Anyone who has ever tried to get a Russian visa will tell you that it is a reasonably complex process, not a simple 'just check the box' kind of task. It can be costly (around £200 for British travellers), and you have to attend a Russian Visa Application Centre in either London, Manchester, or Edinburgh to submit your application.
Full entry requirements for UK citizens can be found here.
Cruise or ferry passengers can stay in Russia for 72 hours without a visa if they have booked tours through officially licensed companies. Guests are free to use any authorised travel agency (not just cruise ship tour companies), however the visa-free exception applies only to those who join an organised tour.
You can confirm that the operator is licensed by asking them to send you a tour ticket, which is called a blanket visa or booking confirmation, and will let you pass the customs/immigration offices without any other documents except a valid passport and key card for the ship.
Note that if anything happens to your passport during your stay you must get an exit visa to leave Russia so be militant about keeping an eye on your documents during your stay
MY 48 HOUR CRUISE STOP IN ST PETERSBURG
I opted for a two-day tour of St Petersburg and booked through Princess Cruises for two reasons:
Number one, they were offering second row seats to watch the ballet Swan Lake at the oldest theatre in St Petersburg as part of the package!
Number two, the ship always waits for its own tours to return, whereas if you have an issue with a third party tour and don't make the port in time for departure the captain will not wait for you.
READ MORE POSTS FROM MY TIME ABOARD REGAL PRINCESS
PRINCESS CRUISES' BALTIC SEA ITINERARY IS ON POINT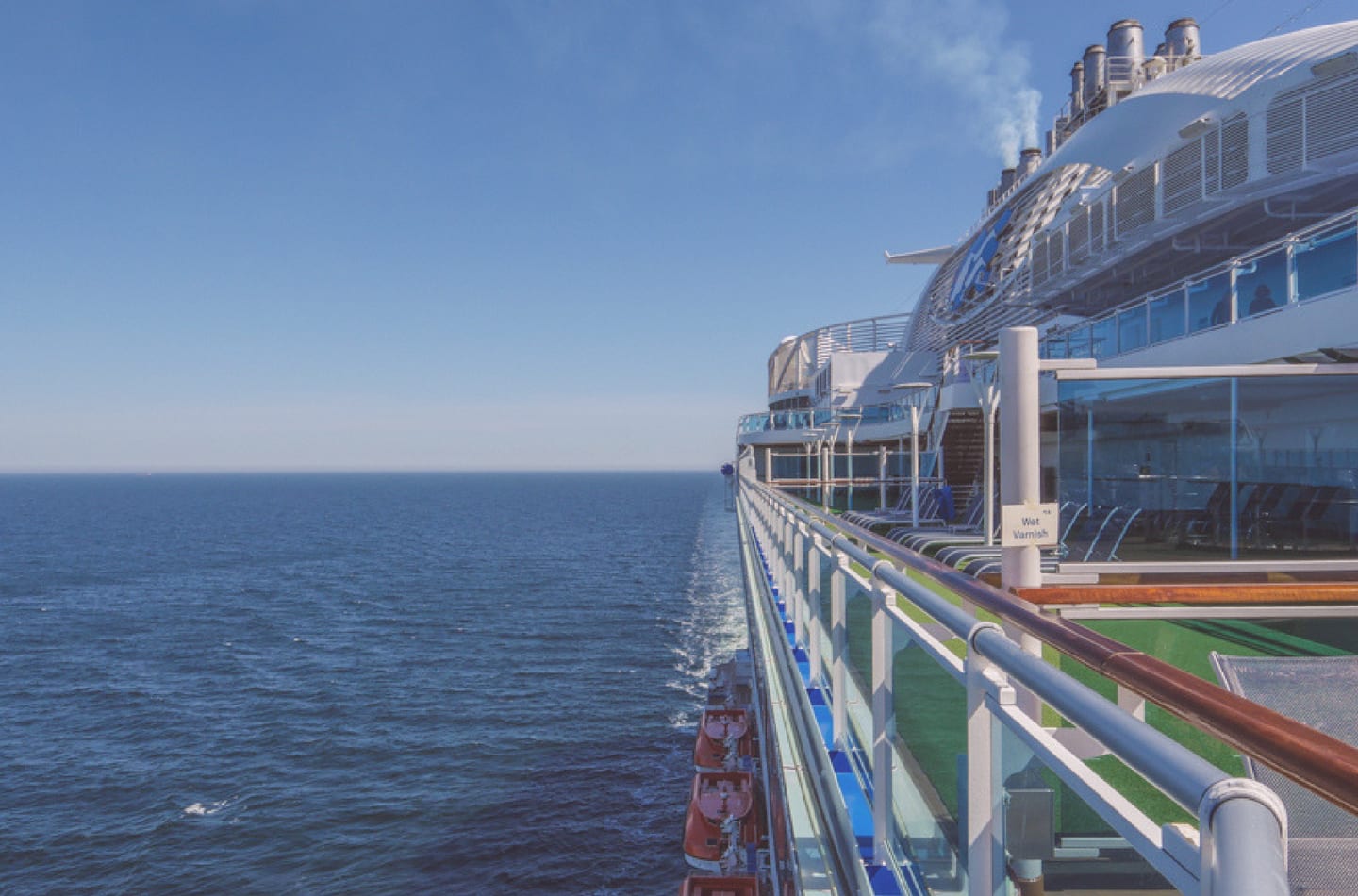 If you sat me down and asked me to make a list of cities in northern Europe that were on my bucket list, every single one of those on Princess Cruises' itinerary would have made the grade.
Showcasing the very best of Scandi culture and Baltic charm, the route encompasses iconic sites like the Hermitage Museum in St Petersburg, Tallinn's picturesque medieval streets, and Copenhagen's colourful Nyhavn neighbourhood.
If you follow me on Instagram you can watch highlights from my stories in my gallery; check out the wanderlust inducing pics in my feed by clicking here.
Over the course of the next seven days I'll be adding more city guides to this section of the post so book mark it and pop back soon 😊
THE EXPERIENCE IN PORT FULFILLED MY DESIRE FOR ADVENTURE
I was a little bit nervous about whether or not I would enjoy cruise travel. I often see cruise ship tours as I explore the world and more often than not the participants look like cattle being herded around by a rather stressed guide talking in multiple languages. I think in some cases this is true of cruising, but it's far from the experience I've had with Princess Cruises.
Other than in Russia, where guided tours are mandatory for everyone departing the ship, their Baltic itinerary allows for self-directed travel at each port. So that's exactly what I've done. For me, a tour-bus style scenario isn't enjoyable, but in every port I've been able to get off the ship and either walk to or hop on some public transport to get to the points of interest I'm keen to see.
If you do choose to manage your own itinerary at each port just be aware that YOU MUST BE BACK AT THE SHIP IN TIME TO DEPART. They will not wait for you if you are late and you will be responsible for making your own way to the next port of call to carry on the cruise!
Not sure what to pack for your next cruise? Take a look at my cruise packing list here.
THE REGAL PRINCESS 'ON BOARD EXPERIENCE' IS IMMENSE
I feel this section should be a whole new blog post on its own, there's just so much to say.
I'll start with my cabin (known as a stateroom), which I thought would be the most important place for me on the ship however it's actually the place in which I spent the least amount of time!
PIN THIS POST TO YOUR PINTEREST BOARDS FOR LATER
Save this post and re-visit it when you want to book your next cruise!
REVIEW OF BALCONY STATEROOM ABOARD REGAL PRINCESS
I'm staying in a balcony suite which can be arranged as a queen or twin room. I'm on the 12th deck, called Aloha (there are 19 in total), and I'm pretty close to the back of the ship.
The room is well equipped with a desk and chair, mini-fridge (which you can opt to have set up as a mini-bar), shower room, and hanging clothes storage. The bed is extremely comfortable and the pillows are firm but soft enough to pummel into which ever shape is comfy. The balcony is a luxury but to be honest it's so cold here that I've not actually been out to sit on it yet. If you're on a tight budget I'd suggest that an internal room would be more than adequate – you'll only be in there to sleep and shower.
As a British traveller who loves her tea the one thing I'd suggest you note is that there are no tea and coffee making facilities in the room, however one call to room service and there's a pot delivered to my door within minutes. If you're made keen on tea you could bring a travel kettle with you, just remember to bring a US plug adapter.
Other in-room amenities include a flat screen TV, bath robes and slippers, toiletries including shower gel and shampoo, and a hairdryer.
MEDALLION CLASS WIFI – YOU CAN SKYPE FROM THE MIDDLE OF THE BALTIC SEA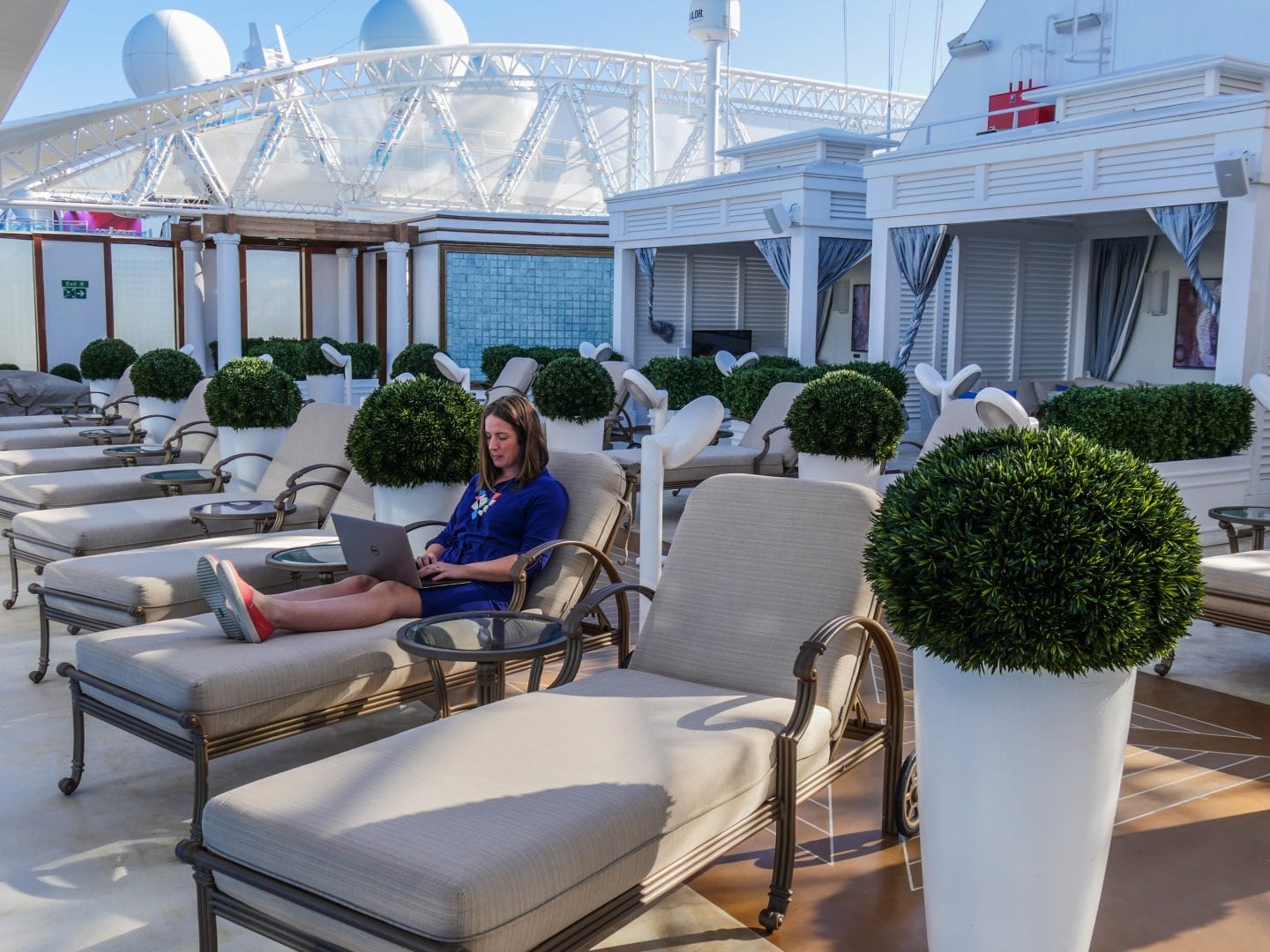 As someone who is permanently attached to one of a number of devices I was thrilled to hear that the ship offered the next generation of satellite WIFI, known as Medallion Net. For as little as $9.99 per day I could connect all my devices, and although the speed wasn't akin to the super-fast broadband we have at home, I could do 90% of what I needed to without too much waiting around.
If you're looking to make VOIP calls, update your social media and share photos with friends the net will be more than sufficient.
REVIEW OF THE FACILITIES ON BOARD REGAL PRINCESS
There are a huge amount of facilities offered on the ship and I'm sure I'll forget to cover a few in this guide so I've linked to the PDF ship guide produced by Princess Cruises and you can download it here.
The public areas of the ship are spread across decks four to seven, and on decks 16 to 19.
DINING OPTIONS ON REGAL PRINCESS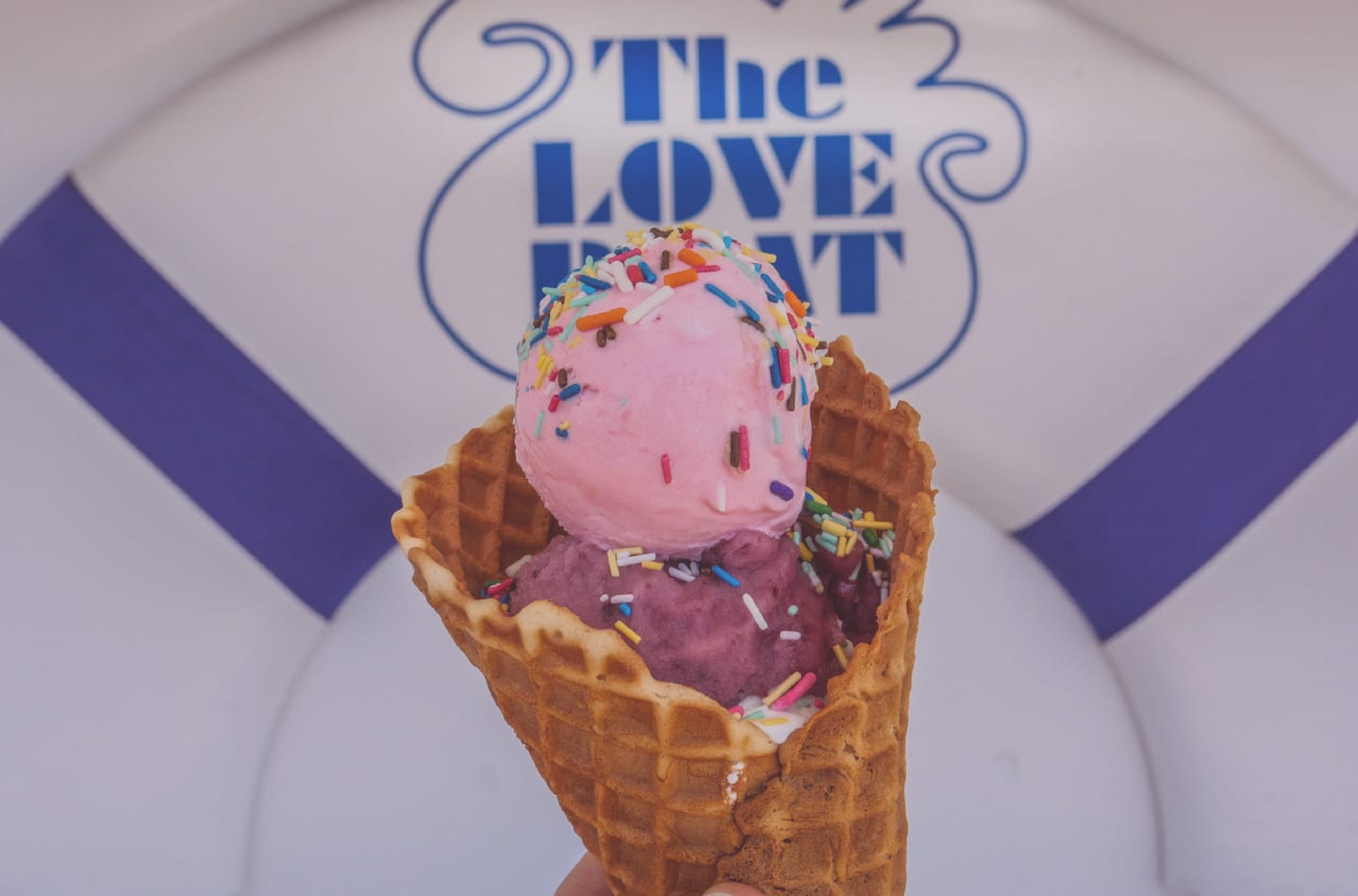 The ship has three main dining rooms that serve a la carte breakfast, lunch, and dinner every day. They are located at the aft of the ship on decks five and six. Here you'll find traditional restaurant favourites as well as a menu of daily specials. Depending on your food and beverage package you can dine anytime or book a table each night.
In addition, Regal Princess also offers two specialist restaurants, an Italian and a Grill, as well as a 24 hour café, two buffets, a pizzeria, burger bar, gelato stand, pastry shop, and smoothie bar. I certainly found that my tastes were catered to and I'm confident yours well be as well.
By far my favourite dining experience was the Wine Maker's dinner. For a $40 cover charge per person you can treat yourself to a four-course dinner with paired wines on a private table in one of the main restaurants. George our maître d shared his knowledge of the ship's vast wine cellar and served up some truly sumptuous dishes accompanied by delicious wines from around the world. This would be the ideal dining experience if you're celebrating a special occasion during the trip.
Vicki from @MakeTimeToSeeTheWorld has put together this guide to dining options on board Regal Princess, check it out if you're keen to see the various restaurants and bars in more detail.
ON BOARD ENTERTAINMENT ON REGAL PRINCESS
Wow, where do I start.
I think my favourite of the ship's many amenities is the fitness centre. I know that sounds really dull but making sure I kept up my fitness allowed me to make the most of my time away.
Equipped with everything you'd find in your local gym back home, the ship also offers yoga, pilates, spa treatments (try the ginger and lime body scrub and massage) and personal training sessions, as well as health seminars covering a range of topics like spinal health and nutrition.
Read my smart tips to stay fit and healthy on a cruise here.
There's also a running track that encircles the 19th deck; seven laps make a mile. It's a great way to kick start the day, especially when the ship has just arrived into a new port as you have first dibs on a view of the new destination!
You'll be pleased to know that next on my list is the Sea View Bar. As the ship sails away from each port the bar tenders whip up sundowners to be sipped on the deck as the sun sinks below the horizon. Situated on deck 16, the Lido Deck, here you'll find most of the swimming pools and sunbathing areas on board, and despite the Baltic weather (we averaged about 16 degrees with sunny skies) I found I spent quite a lot of my free time here.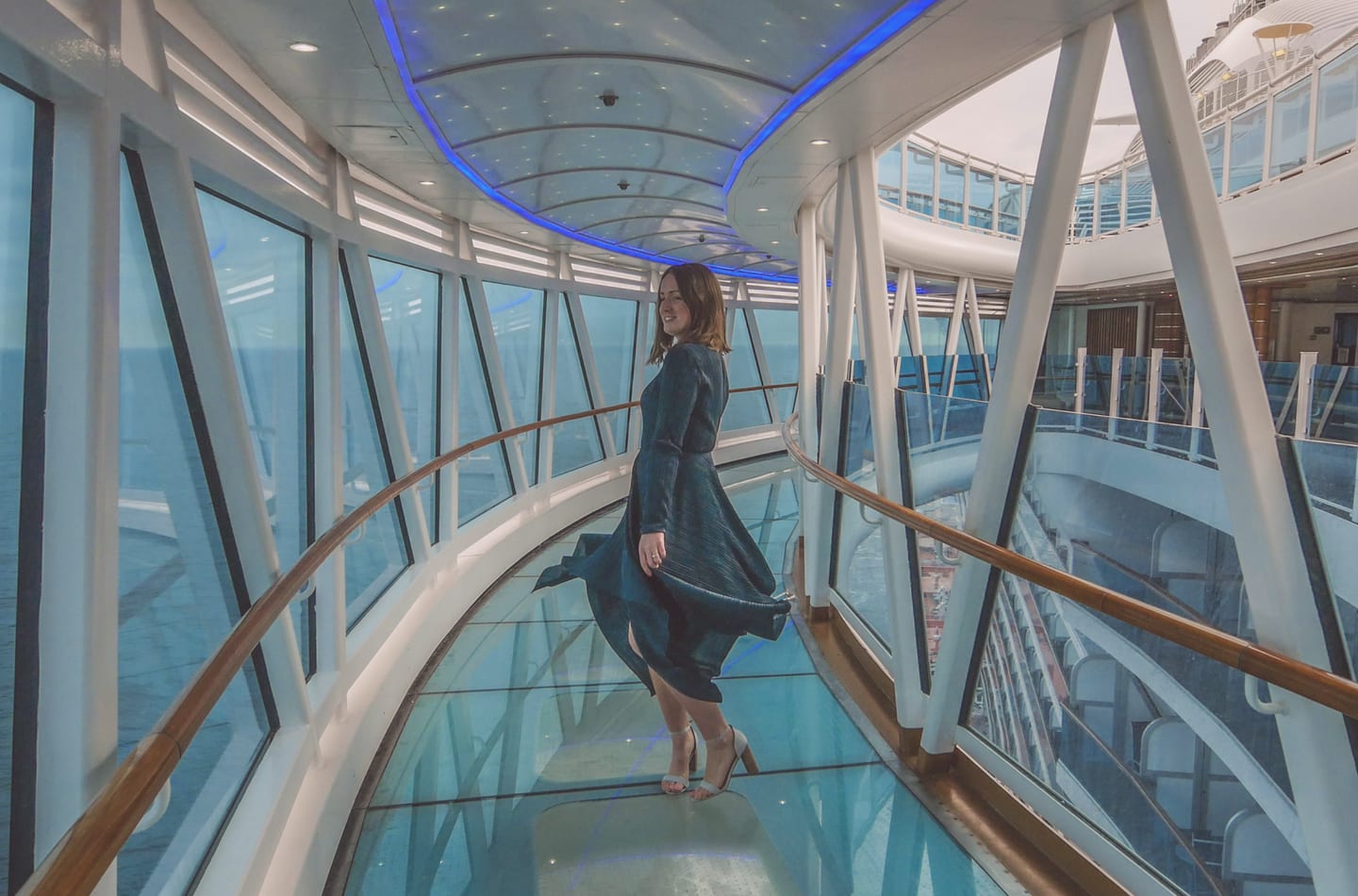 As soon as the sun has set the giant movie screen jumps to life and each night a programme of movies plays under the stars. If you're lucky you can nab yourself a spot in a hot tub and settle in for the duration, it's heavenly!
Other highlights include a casino (only open when in international waters), a theatre (the shows are fabulous, my favourite was Fiera), a nightclub, and a signature feature of Regal Princess, the SeaWalk.
Although I'm not great with heights I loved walking out over the ocean and watching the waves crash 60 metres beneath my feet. It was such a thrill to see the ship below and look out toward the oceanic horizon.
IS THE PRINCESS CRUISES EXPERIENCE RIGHT FOR ACTIVE TRAVELLERS?
In short, I found that Princess Cruises offered everything a traveller would need to enjoy their stay aboard and allowed their guests to define their itinerary in every port.
My initial concern that I would find myself in an 'organised tour' scenario was far from the relaxed, independent experience I enjoyed, and I would recommend Princess Cruises and their Baltic Sea itinerary to other active travellers of any age. For me, the main attraction of cruising is the convenience of a multi-stop itinerary without the need for multiple flights and hotel check-ins.
I did find that there was a much smaller proportion of people my age (early 30s) compared to those over 60, however I didn't find this off putting and actually met a number of very interesting retirees who chose to cruise in order to see as much of the world as possible in their later years.
My time on board was incredibly enjoyable and thanks to the amazing hospitality, 5-star amenities, and world-class itinerary, I'd definitely recommend the experience to my friends and family, and book to travel with Princess Cruises again.
If you've enjoyed my active traveller's review of Princess Cruises' Baltic Sea itinerary keep an eye out for other posts in the series coming soon!
INSPIRED? PIN THIS POST TO YOUR TRAVEL PINTEREST BOARDS!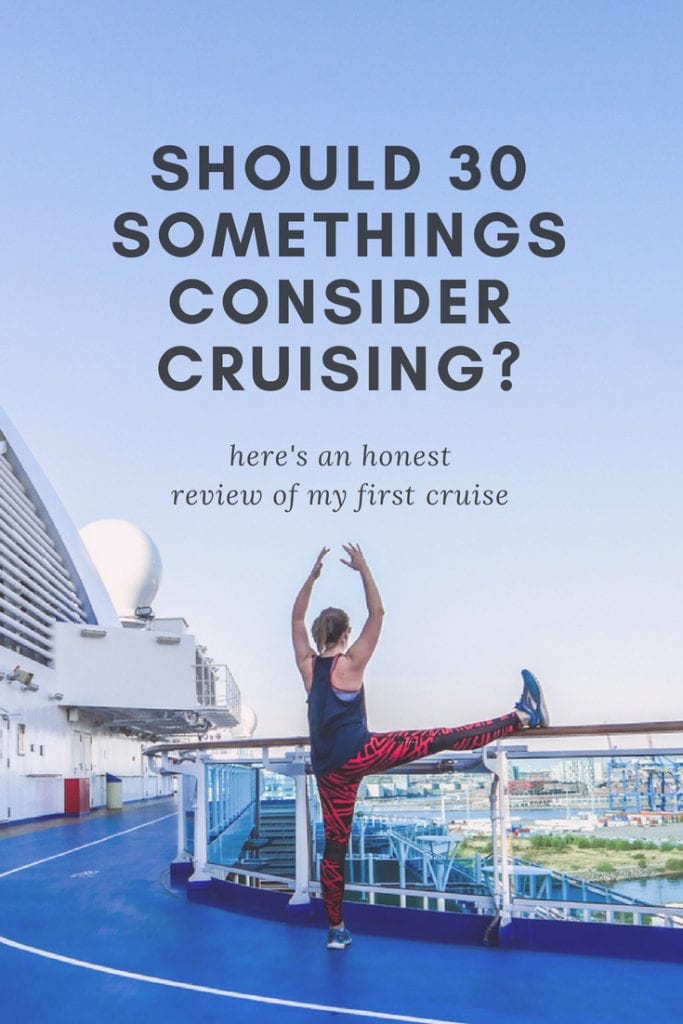 ✈ ✈ ✈
Have you been cruising before? Would you recommend it to other active travellers? Share your experiences with me in the comments below.