If I could give you one piece of advice when packing for your Baltic cruise it would be 'bring layers'. When I checked the weather forecast for the six different countries I would be visiting on my cruise around the Baltic aboard Regal Princess the temperature ranged from five degrees centigrade at the beginning of the trip, to 25 degrees eight days later.
Over the course of the trip I was due to experience snow, rain, and sun, and thanks to Easy Jet's luggage allowance I only had 20kg worth of baggage to accommodate three different wardrobes.
With that in mind, what's a girl to do?
After much deliberating I managed to pack what turned out to be the optimum number of layers for both freezing Baltic mornings, and warm Scandinavian afternoons. Looking for the beat Baltic cruise packing list for female travellers? You've found it, read on below…
This article contains affiliate links. Thank you in advance for supporting my blog!
PLAN A CAPSULE WARDROBE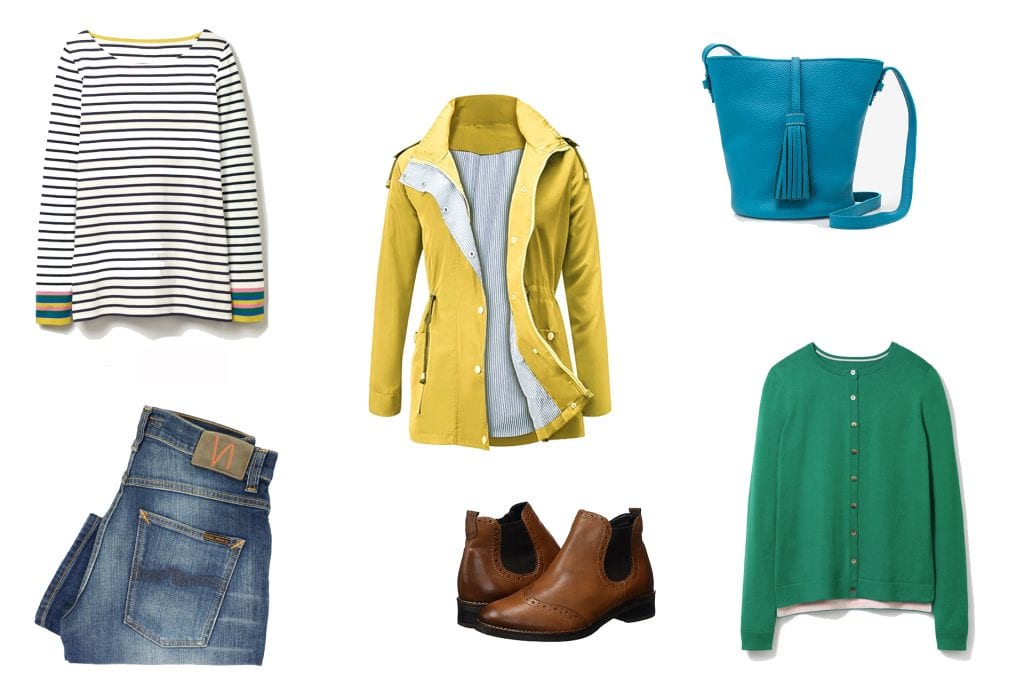 SHOP – Jeans: Nudie Jeans – Raincoat: Amazon Fashion – Boots: Remonte – Cardigan & Top: Boden
When its necessary to travel with a capsule wardrobe I always start with the item that I have the most difficulty purchasing. For me that's shoes; my feet are one size above the standard EU size 42 which is the largest size for a lot of high street brands.
Whether you have a favourite pair of jeans or a jumper that pairs with everything, start with one item and build your wardrobe out from there.
THINK SMART CASUAL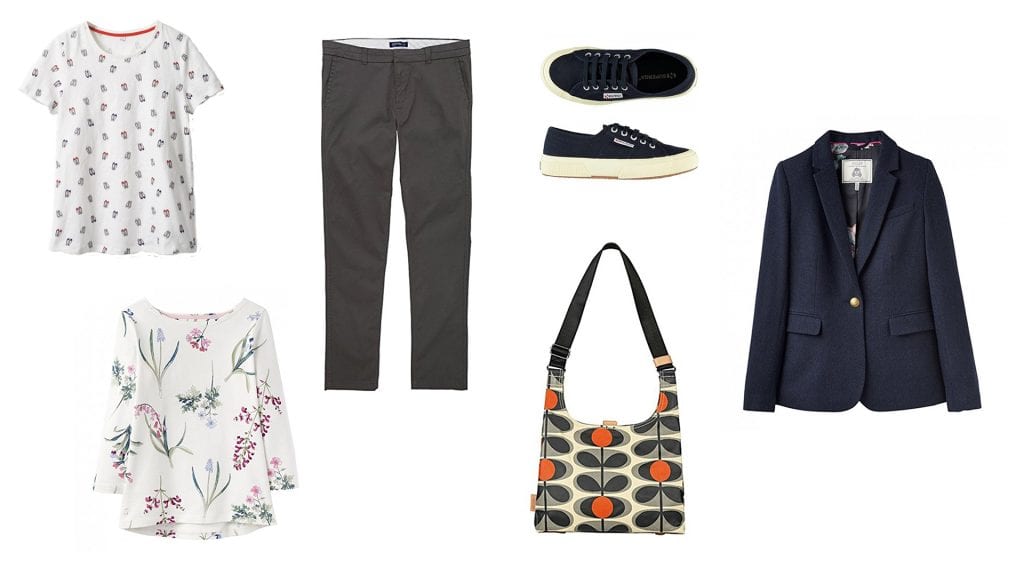 SHOP – T-Shirt: Boden – Top: Joules – Chinos: Asquith & Fox – Shoes: Superga – Bag: Orla Keily – Blazer: Joules
Nowhere on the Baltic Sea itinerary, other than on formal dining nights and on evening shore excursions, will you need to be very smartly dressed. For this reason, I would advise you to plan smart-casual looks that would work well if you found yourself in an upmarket restaurant at lunch or enjoying sail away drinks on the Lido Deck before changing for dinner.
Scandinavia tends to be slightly more relaxed than Russia, however with so many iconic sights to see and so many candid photographs to be snapped it's always good to feel like you look your best.
CHECK THE WEATHER FORECAST
Thanks to the varied landmasses that make up Europe and the Middle East the weather in the Baltic region is highly unpredictable and can change at a moment's notice.
As such, there's really no point checking the forecast and planning your wardrobe until 7-10 days before your departure.
PACK FOUR PAIRS OF SHOES FOR YOUR BALTIC CRUISE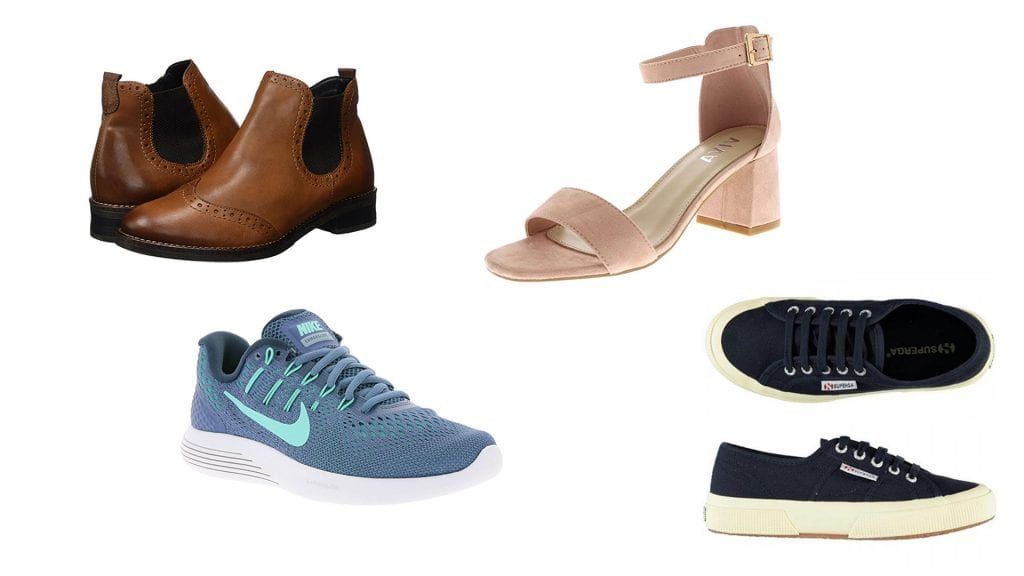 SHOP – Boots: Remonte – Sandals: Viva – Trainers: Nike – Deck Shoes: Superga
In my bag I packed one pair of deck shoes, one pair of ankle boots, one pair of trainers, and one pair of heels. The itinerary was city-centric so I knew I wouldn't need hiking boots.
I found that I only wore my ankle boots in Estonia and Russia where the weather was the coldest. The rest of the time when on shore I wore my deck shoes, except when at the Russian ballet when I wore my heels.
PACK TWO PAIRS OF VERSATILE TROUSERS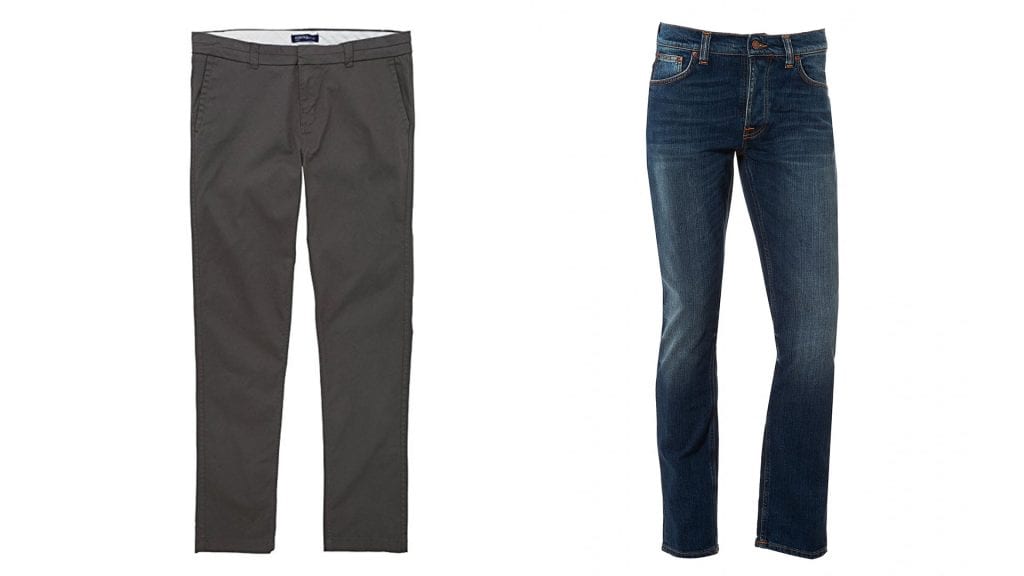 SHOP – Chinos: Asquith & Fox – Jeans: Nudie Jeans
Comfort is key when you're out exploring at each new destination so with that in mind I packed one pair of jeans and a pair of dark chinos that I could dress up and down with my four pairs of shoes.
As the temperature in Russia was so cool I actually wore my dark chinos jeans with heels to the ballet; I'd originally planned to wear one of my formal night dresses but I couldn't bring myself to go outside bare-legged!
PLANNING A BALTIC CRUISE? READ MY CRUISE TRAVEL GUIDES
CONSIDER BOOKING YOUR NEXT CRUISE WITH PRINCESS CRUISES
PACK TWO THERMAL TOPS
I was the only one in my group to pack thermals but I know that I feel the cold and was glad of the extra warmth when exploring Estonia and Russia.
My top tip to layer up without the bulk is to find a basic ski-thermal in a nice colour that you could wear with jeans, and pop a thin cotton t-shirt underneath.
PACK TWO COATS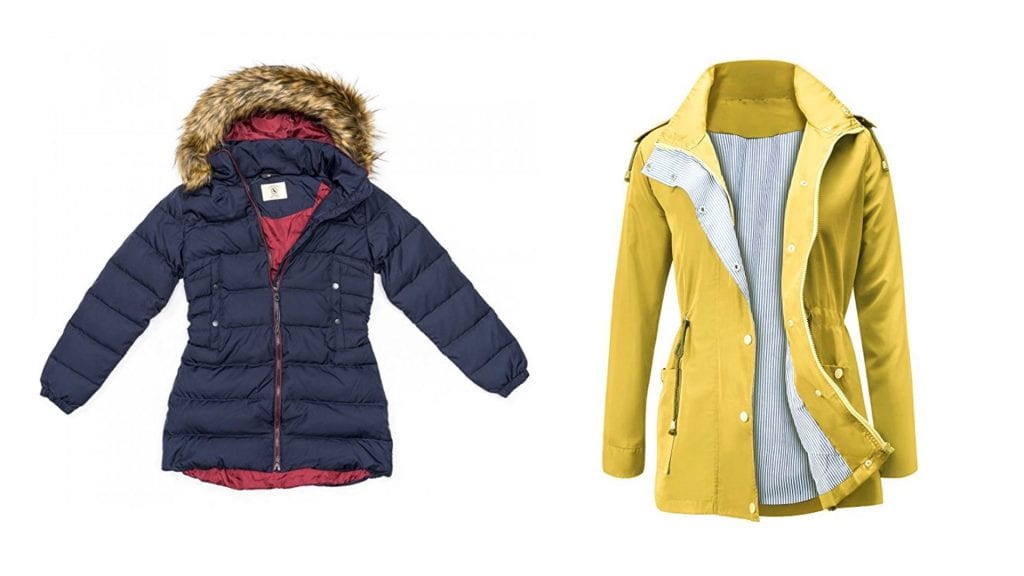 SHOP – Down jacket: Aigle – Raincoat: Amazon Fashion
Because of the variable climate in this part of the world I'd suggest that you pack two coats. One lightweight and waterproof, and one heavyweight and waterproof. Alternatively, you could pack one mid-weight coat and layer up underneath if it gets cold.
PACK AT LEAST ONE JUMPER
I managed with just one jumper, a cashmere roll neck, that I wore when the temperatures dipped of an evening. Go for something lightweight and packable that you can throw in your day pack if you get too warm.
PACK TWO OR THREE DRESSES AND SKIRTS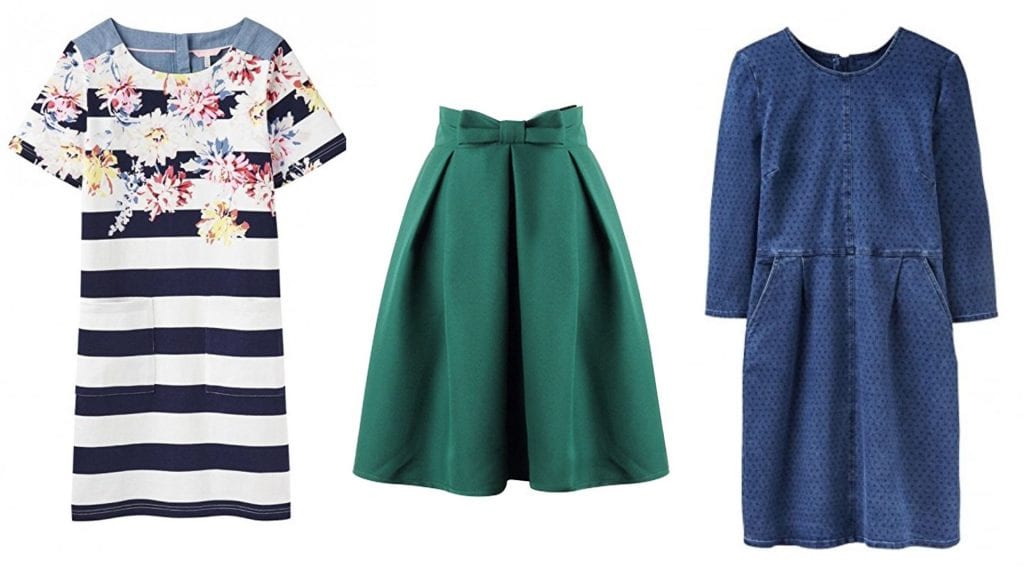 SHOP – Floral dress: Joules – Green skirt: Amazon Fashion – Denim dress: Joules
Knowing that the weather was due to warm up later in the trip I packed one green skirt, one jersey dress, and one cropped-sleeved denim dress.
I wore the two dresses to dinner on some of the smart-casual evenings, and out during the day when the temperature pushed 20 degrees in Scandinavia. The skirt came in handy for a particularly warm day in Helsinki. In contrast I could have worn either with tights during the day or evening if needed.
PACK A SELECTION OF LONG AND SHORT SLEEVED TOPS
For my eight-day trip I packed eight different tops which I worn in different combinations depending on the activity and weather. I actually didn't pack any short sleeve tops and there was only one day (our last day in Copenhagen) during which I was too hot.
YOU WILL NEED FORMAL NIGHT ATTIRE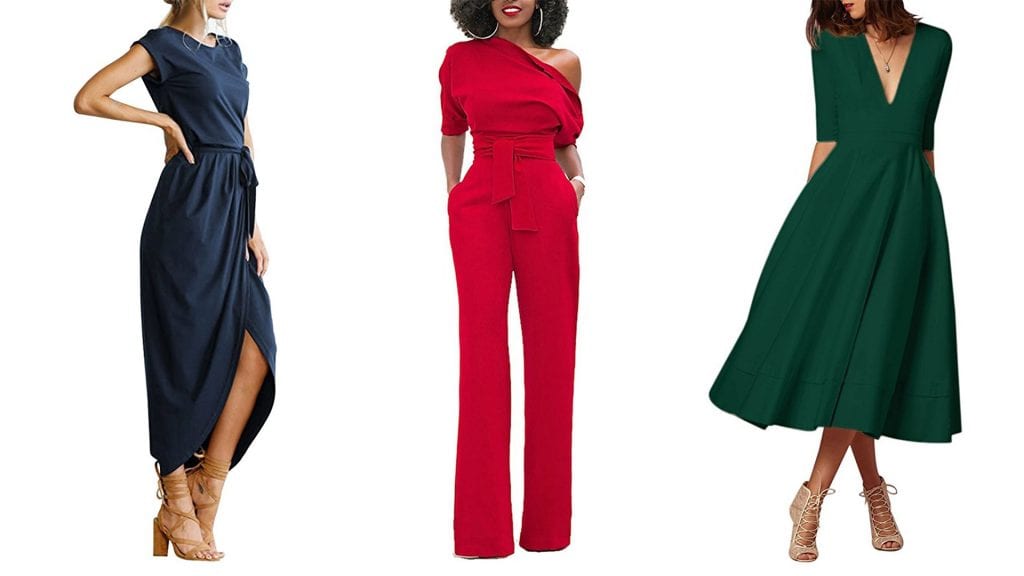 SHOP – Short sleeve dress: Amazon Fashion – Green v-neck dress: Amazon Fashion – Red jumpsuit: Kissmoda
As a first-time cruiser I wasn't initially aware of the need to pack black tie worthy outfits for a jaunt in the Baltic. However, take it from me, you're going to need more than one.
If you can, opt for mid to long length dresses cut from man-made fibres tend which have the most wrinkle resistance. These will pack down without the need for layers of tissue paper and require minimal post flight care; simply sling them on a hanger.
USE PACKING CUBES
If you're not familiar with the concept, a packing cube is basically a soft zip-able cube into which you can packed rolled and folded clothing. Whilst not only bringing order to your suitcase, they can double up as desk tidies or dirty laundry bags when on board the ship.
Unless you splurge on a suite there isn't a huge amount of space in your stateroom so keeping things in some sort of order is an advantage when you come to pack up and go home. You can buy the set I use here.
DON'T FORGET YOUR GYM GEAR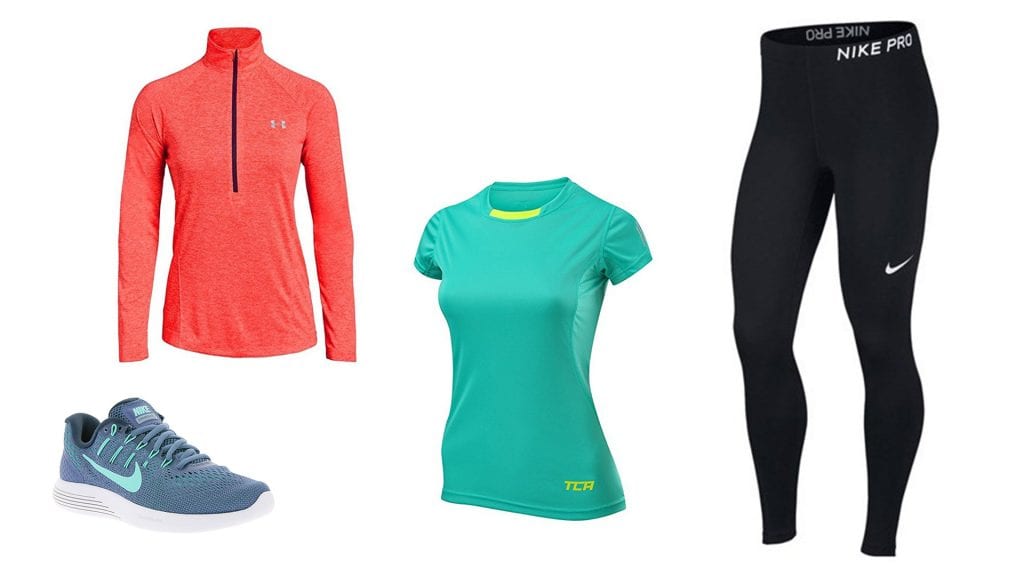 SHOP – Leggings: Nike – Top: Under Armour – T-Shirt: TCA – Trainers: Nike
Although I found that I got plenty of steps in whilst exploring on-shore, if you're a bit of a gym-buff or just want to make sure you get your heart rate up on the days you're at sea don't forget to pack your gym kit. I was surprised to find a spacious and well-equipped gym aboard Regal Princess and enjoyed starting my day with a 45 minute session mixing cardio and weights to work off the scrumptious meals I'd enjoyed in the ship's restaurants the day before.
Its a common misconception that cruise travel is unhealthy. My advice is to incorporate regular gym sessions, with active shore excursions as well as ditching the elevators on board in favour of the stairs. Find out more about how to stay fit and healthy on a Princess Cruise in this helpful post.
IF YOU'RE IN A TIGHT SPOT YOU CAN DO LAUNDRY
On each deck of Regal Princess there's a laundry room, so if you get caught short you can always wash dirty clothes and rework another look.
Be mindful that sea days are very popular for laundry, especially first thing in the morning, so if you think you might want to wash out a top or two during the trip I would advise that you take a small amount of laundry liquid in your bag. There's enough space to hand wash them in your sink and a small laundry line on which to hang them over the shower.
JAZZ UP A LAYERED LOOK WITH ACCESSORIES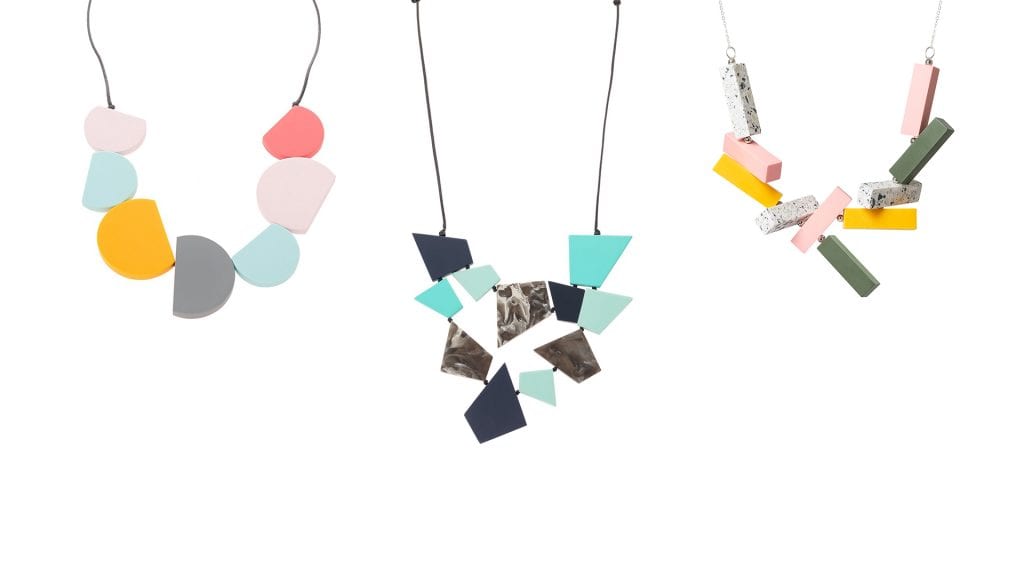 SHOP – All necklaces from Oliver Bonas
When packing a capsule wardrobe, the simplest way to keep your outfit reworks under the radar is to accessorise each look with a different necklace. I have three statement pieces all from Oliver Bonas that I always travel with and find that they completely transform an otherwise boring look of jeans a mono-tone t-shirt.
TAKE HALF THE TOILETRIES YOU THINK YOU'LL NEED
Trust me. If there's one thing frequent travel has taught me its that you can live without the lotions and potions you slather on yourself at home.
Aboard Princess Cruises' ships they provided shampoo and body wash in every cabin. No it's not quite the same as the brand you use at home but it is perfectly adequate for a few days away. Leave yours at home and you'll save a huge amount of weight, especially if you're packing for two.
Whatever your daily routine, here's the maximum number of products I'd suggest you should take:
1 x facewash
1 x moisturiser
1 x tinted moisturiser
1 x eyebrow pencil
1 x lipstick
1 x blusher
1 x toothbrush
1 x toothpaste
If you find that you can't live without one of the other products you use at home, chances are you can either buy it on the ship or in one of the ports you visit.
BRING A DAY PACK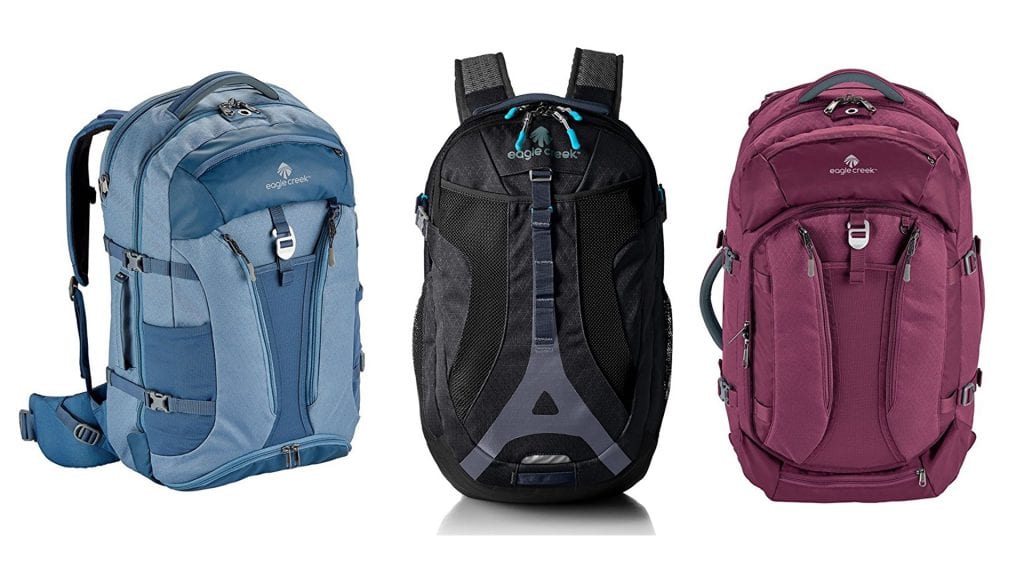 SHOP: 55cm smokey blue pack: Eagle Creek – 51cm black pack: Eagle Creek – 66cm maroon pack: Eagle Creek
When travelling abroad it's a good idea to try and blend in with the crowd so don't walk around with your brochures, cameras, and souvenirs out on show. A simple, durable day pack, with space for a water bottle and an inside pocket for your passport is ideal.
PACK YOUR ESSENTIALS IN YOUR CARRY ON
As with any trip, pack a few essentials in your carry on just in case. Keep in mind that if you choose a larger capacity model, your day pack can double up as a carry on.
DON'T TRY AND BUY DIFFERENT CURRENCIES FOR EVERY COUNTRY
In my experience credit and debit cards were widely accepted as are Euros. There's no need to buy a selection of currencies for the trip.
INSPIRED? PIN THIS POST TO YOUR TRAVEL PINTEREST BOARDS!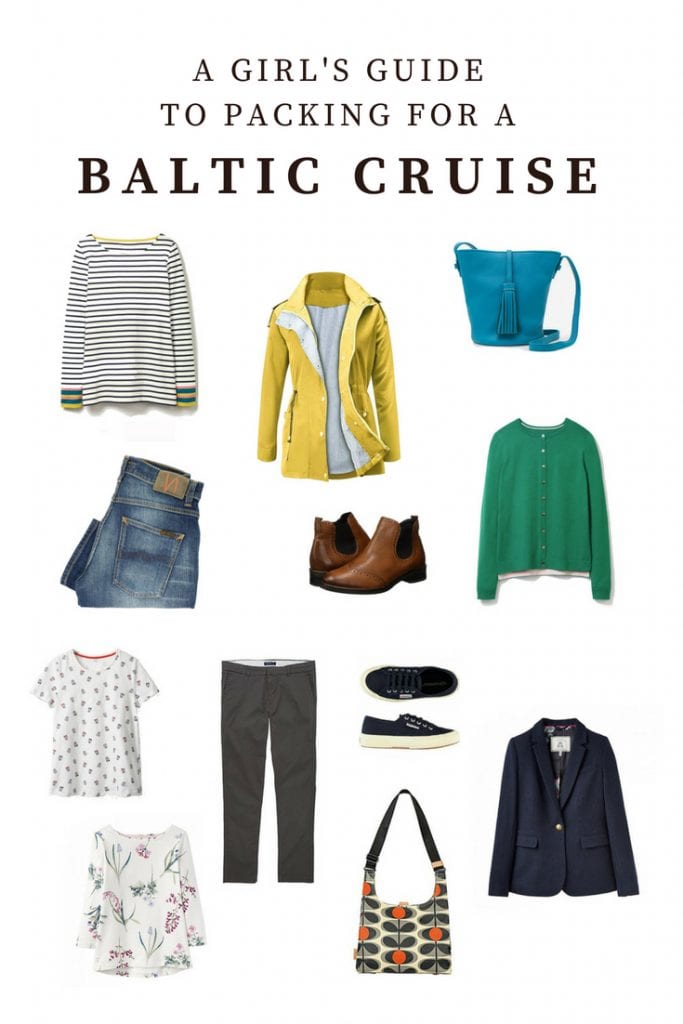 If you have some helpful packing advice for travellers taking a Baltic cruise please leave a comment below!