If you were to ask any experienced golfer, they'd tell you that the most difficult part of a golfing trip is the planning. Challenges include finding the right people with a similar level of experience to join the trip, securing tee times, and even making travel and accommodation arrangements. However, with the right information, planning a successful golf road trip is simple.
Here are a few trips to get you started:
Nominate a trip leader
While it's great to have everyone chip in at the planning stage, too many opinions can make narrowing down your options quite tricky. It's advisable to choose two people to handle the various aspects of the trip. Two people can split the workload between them and liaise with other members of the travel party when needed; avoid loading the entire task onto one person, especially if it's a multi-day adventure.
Don't invite too many people
When choosing who to include or leave out, consider everyone's personality and ensure that everyone is on the same page. Agree or reach a consensus on the various travel aspects, including the budget, features of the golf courses, lodging, how much golf is to be played, etc.
Having just enough players allows each player to make meaningful memories. Find at least four players and at most eight. It'll reduce your workload planning for meals, tee times, and lodging.
Set up an email chain or whatsapp group
When planning group travel it's important to keep everyone updated, and the best way to achieve this is by creating a primary mode of communication. Agree on one platform such as WeChat, WhatsApp, etc. The communication channel comes in handy, especially when people want to share photos and videos after the trip.
READ THESE DESTINATION GUIDES FOR INSPIRATION
Plan your route and arrange transport
Decide whether you're going to hire a minibus or car share, and ensure that you allocate enough time to drive between destinations including rest stops. Planning for your time allows you to evenly allocate time for playing, eating, and driving without the risk of overstaying at a particular spot for too long.
Make your tee times the focus of your itinerary. Everything else comes afterward. Start by calling the golf courses you need to visit and inquire about their availability. The staff at your destinations will direct you to meal places, lodgings, etc., since they know the area better than you do.
Prepare your vehicle for extended time on the road
Before you head out on your road trip, check the brakes, tires, wiper blades, fluids, etc., and kit your vehicle out with a first aid kit and basic supplies such as snacks and water just in case you hit traffic or get stranded with a flat tire.
Plan your down time
It's important to make the most of the opportunity to visit scenic sights and points of interest along your route. While golf is the focus of your trip it's likely that you'll never take the time to drive these routes again so take the time to engage in some other activities as you wend your way through the countryside.
You could forfeit one day of golf for a wine tasting tour or quad biking adventure. Get input from your group and decide on an activity that suits everyone.
READ MORE ADVENTURE TRAVEL GUIDES FROM WANDERLUSTERS
Make an itinerary and share it with your group
Preparing a daily schedule and forwarding it to each member of the group lets everyone know what's happening at what time. Each person will see the tee times, meal times, arrival, and departure times, among other things. Creating the schedule takes the pressure off the leader to enjoy the trip while making everyone else responsible for the activities ahead.
Factor in some leeway for unexpected delays
Whether you're travelling in a convoy or together in a minibus it's likely that at some point you will experience a delay due to traffic or road closures. Remind your friends that although you've nailed down a minute-by-minute itinerary, they ma need to take everything in stride and enjoy the trip, no matter what's happening.
Brush up on your golf game before you travel
If you're heading out on a golf trip you'll likely want to be at the top of your game when you're away so consider investing in some lessons with a Pro before you leave home. Specialist golf schools for women and men can offer personalised tuition to help refine your game.
INSPIRED? PIN THIS TO YOUR TRAVEL PINTEREST BOARD NOW!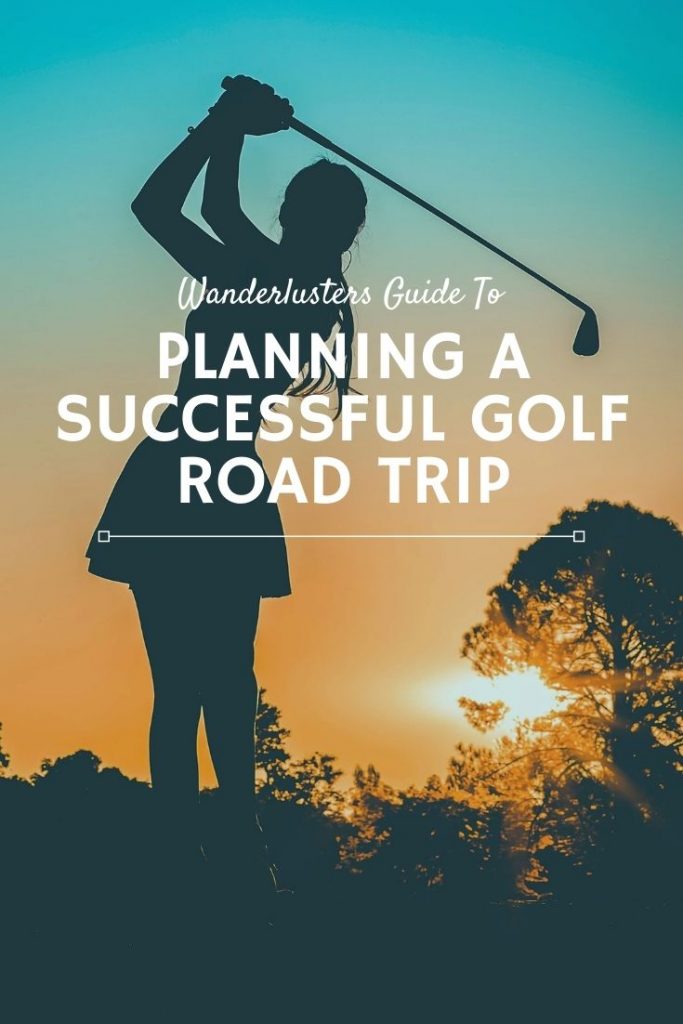 These are just a few tips for planning the ultimate road golf trip with your friends. Whether you are travelling halfway across the country or staying local, make the most of your trip by being prepared.