Going on a family vacation? This is the best time to take the best photos and capture candid, unforgettable memories. You don't need to be a professional to get awesome shots – all you need is a Good camera, a little creativity, and of course a few top tips!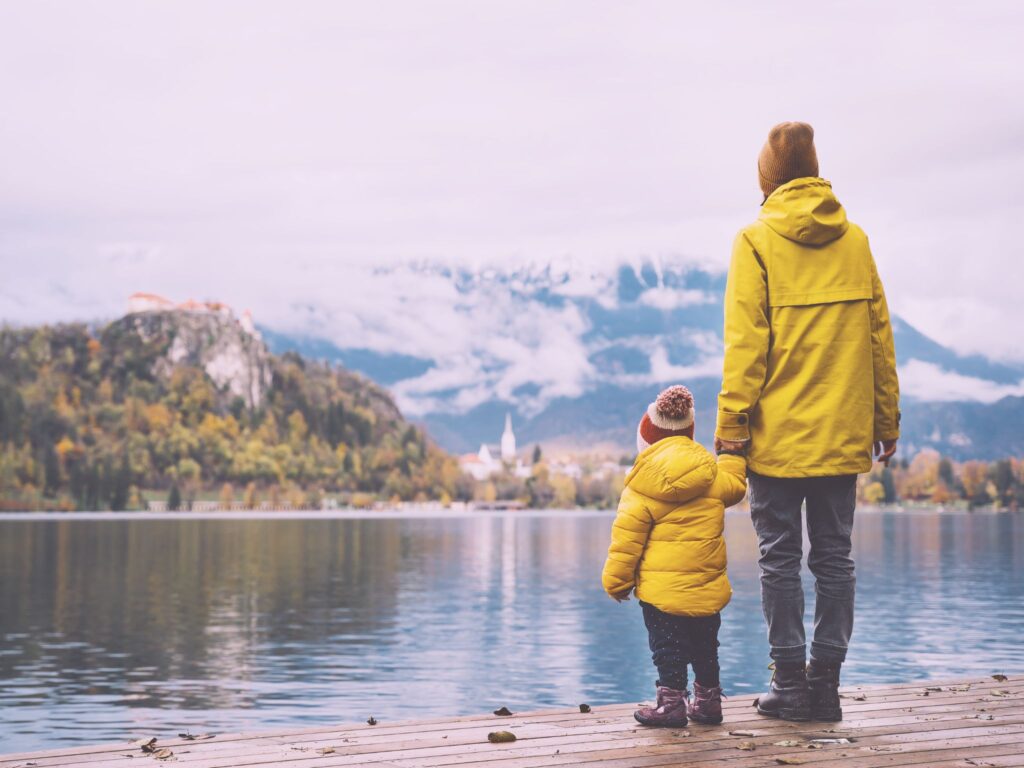 12 Easy Tips For Taking Beautiful Family Vacation Photos
Here are the most sought-after tips, tricks, and techniques that can help you capture the best family vacation moments on camera and even make a photo video.
#1 Get the right kit
All contemporary smartphones can record video at 720p and 1080p HD, so you don't want to travel with too heavy gear or take up too much space in your backpack.
Good photography doesn't just depend on professional cameras. It takes both vision, experience, and materials to get great shots. If you want, you can make a one-time investment in an interchangeable lens DSLR or mirrorless camera.
Another important consideration is which lens to use on your mirrorless or DSLR camera for family travel photos. Try a stunning wide-angle landscape shot or wide shots with a basic kit lens. If you have the space to carry an extra lens, then take the zoom lens in the 20-70mm range.
Besides the camera and the lens, make sure you carry necessary accessories like a mic (for video), a compact tripod, and a remote controller for your camera to time the pictures right, especially if you are taking family photos. You could even consider experimenting with 4K Photo mode.
#2 Take inspiration from photos you love
Do your research well. Check out some of the best travel bloggers and vloggers on YouTube and social media platforms and see what kinds of videos and photos go viral.
See how different or creative others get and the shots that attract maximum attention. You must not copy a style but take inspiration and creatively try something unique too.
It might tell you hidden spots you wouldn't have found otherwise. Discover your magical place and enjoy the moment.
#3 Shoot from different angles
Try different things to make your family trip photos interesting. Using different perspectives and angles is an important part of great photography.
It is about recreating the moment, so be creative and try something different!
Don't go for the 'say cheese' kind of pictures, but take shots when kids are in motion or enjoying every bit of the marvelous scenery. Go down to your child's level to capture more moments.
#4 Be candid
The best family vacation photos are often candid shots.
Capture the look on your family's faces that you remember as fondly as what you saw. Take close-ups and honest pictures, and don't be shy to show off the emotions of your children on camera. It's a great way to create GIF videos for him later.
Assemble the photos correctly and use the rule of thirds in learning how to compose images. You can also make your composition interesting by using symmetry, lines, or frames.
#5 Explore everything
As a photographer, you must overcome the awkwardness of publicly setting up tripods, posing, and taking pictures while others are watching or waiting.
You can't feel shy or uncomfortable. No one knows you there, and you are capturing some of the best moments of your life.
Have you noticed young girls and boys dancing on the streets and creating marvelous viral videos – it's all about confidence, creativity, and boldness that gets the maximum attention.
#6 Be creative
Let your family vacation photos be a little more original! It's very important when deciding what to include and not to include in your recording.
Think about a storyline and time your pictures chronologically. Brag about the beauty of the scenery while having fun with your family. Try wide-angle shots, close-ups, zoomed-in shots, and drone shots, and just try something different.
#7 Find the best light
The most important thing, and one of the hardest things in photography, are taking pictures in perfect lighting.
Catch the golden hour, which is just after sunrise or before sunset. It is fantastic timing to take family travel photos. The light is soft, there are no strong shadows, and the colors are beautiful.
Another advantage is avoiding crowds in popular spots and big cities. Try to find shade during the day for the best results. Avoid using a flash unless it is necessary to add weight.
Try manipulating the light by shooting directly at the sun to create a silhouette or by shining the sun on the edge of the frame to create a solar flare.
#8 Brief your family
Let us face it! One of the biggest problems you face when taking family shoots is the willingness of the kids. They just want to have fun and enjoy the moments naturally, without putting that fake 'cheese' smile on a picture.
And they are right!
You cannot forcibly take pictures and pretend they are happy about it. Keep it natural and capture candid moments. Prepare your family in advance about the places you will be visiting, make sure they have all dressed accordingly, and you can promote these areas and then just capture random moments.
Try to color-coordinate the clothes to avoid any dissonance. Make sure your kids wear colors that match their environment. Wearing brightly colored clothes will make your family vacation photos more interesting.
#9 Talk to your subjects while you shoot
While you are busy taking pictures of your family, don't forget to include yourself. You can take the help of passers-by, other tourists, locals, or the staff around to take family pictures.
Since you are the narrator of the photo video, people would want to see your experiences, specifically with you in the pictures.
#10 Try something different
Don't just indulge in the usual, walking down the streets and enjoying the location. Try something different.
Go for adventure rides, try bungee jumping, parasailing, or other joyful rides with your family, and capture the moments that can pump the adrenaline rush.
Try underwater and drone photography and photograph your family from a completely different perspective. People love watching children indulge in various activities, as the primary objective of family vacations is to keep the children entertained and happy.
#11 Edit your family photos
After you make a photo video, it is time to edit it! Use an effective video editor online and crop pictures, backgrounds, or video moments, that are not as per your taste or are unclear.
It takes a little practice at first, but when you get used to it, you can improve your editing to a great extent.
You can greatly edit the colors, highlights, and shadows to enhance your family vacation images and videos.
You can add graphics, animations, and even text to your creativity to highlight it
Properly crop and frame images and keep the horizon on the level.
Customization is easy and can be done in any app, even on your smartphone.
Make sure you don't overdo the transitions and simply go naturally.
Don't forget to add a soothing music track to your video.
You can add titles, subtitles, descriptions, hashtags, and even thumbnails to your photo video (and make them SEO-enriched) if you want more people to appreciate your work and learn more from your travel pictures and videos.
#12 Share your favourite photos online
Once you have created and edited your amazing family vacation pictures and videos, it's ready to be shared with your loved ones and other families who are looking for the perfect destination and ideas to spend a family vacation.
Post your art on various digital channels like YouTube, Instagram, Facebook, etc., and see how many likes, comments, or share you get. You can also convert your memories into a digital album and show it to your children when they grow up.
Conclusion
The above tips will help you take your family vacation photography to the next level. They are simple to follow, and you will be amazed at how beautiful your family vacation photos look.
Explore as much as you can, learn new things, see new cultures, and just relax. Happy traveling!