The doors shut abruptly and the cable car wobbles as it leaves the ground.
I grasp hold of the handle above the sliding door. I really hate these things.
Why do they always appear to be so fragile?
It's as though at any moment the small metal box in which I have found myself will break free from the steel cable above and send me crashing down towards the ground.
Ok, so the ground isn't actually that far away and yes I am probably just being a little melodramatic, but it's relatively early in the morning and I have a deep seeded fear of heights.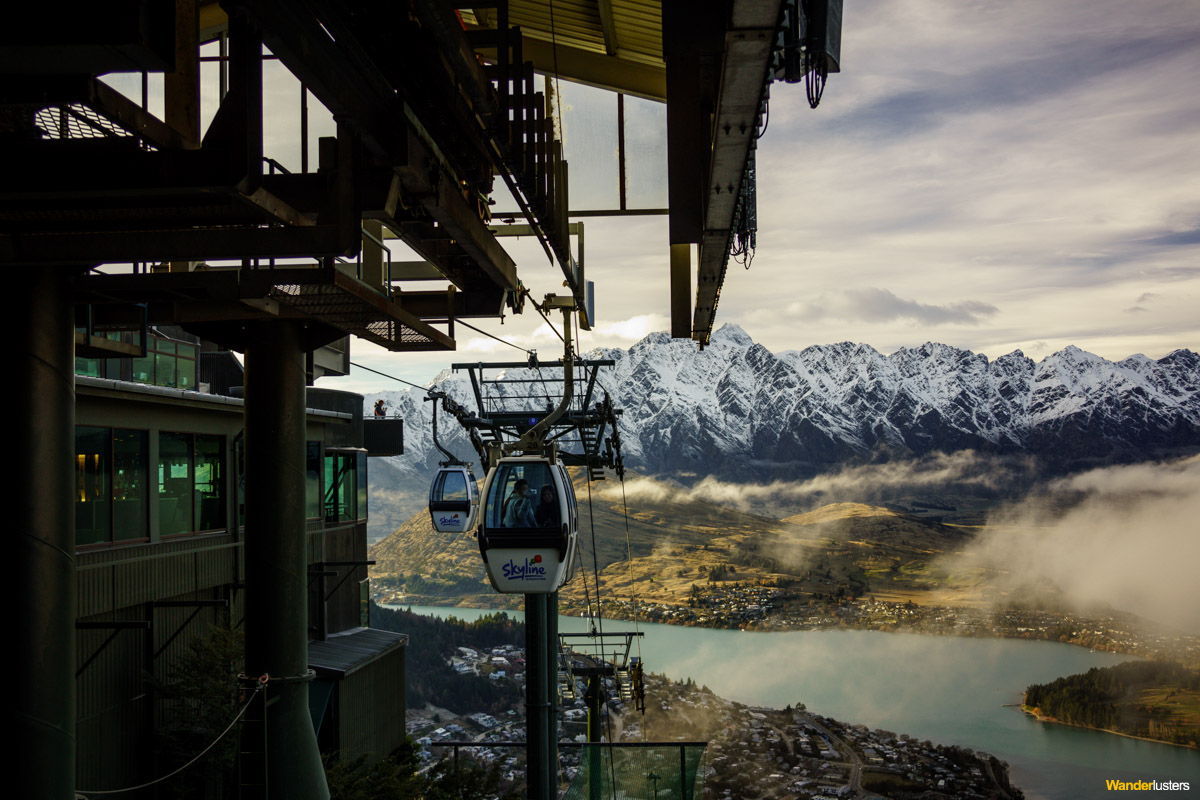 We glide slowly up the mountain and a stunning panorama of Queenstown reveals itself.
Rain has plagued our visit so far but this morning we are blessed with blue skies and just a hint of early morning mist.
As I take in the colours of the rugged landscape I catch sight of the world famous bungy platform.
AJ Hackett is obviously taking the morning off as there are no shrieking backpackers launching into the air, feet tied together, adrenaline coursing through their veins.
The cable car jolts and I turn to see SkyCity looming large above me.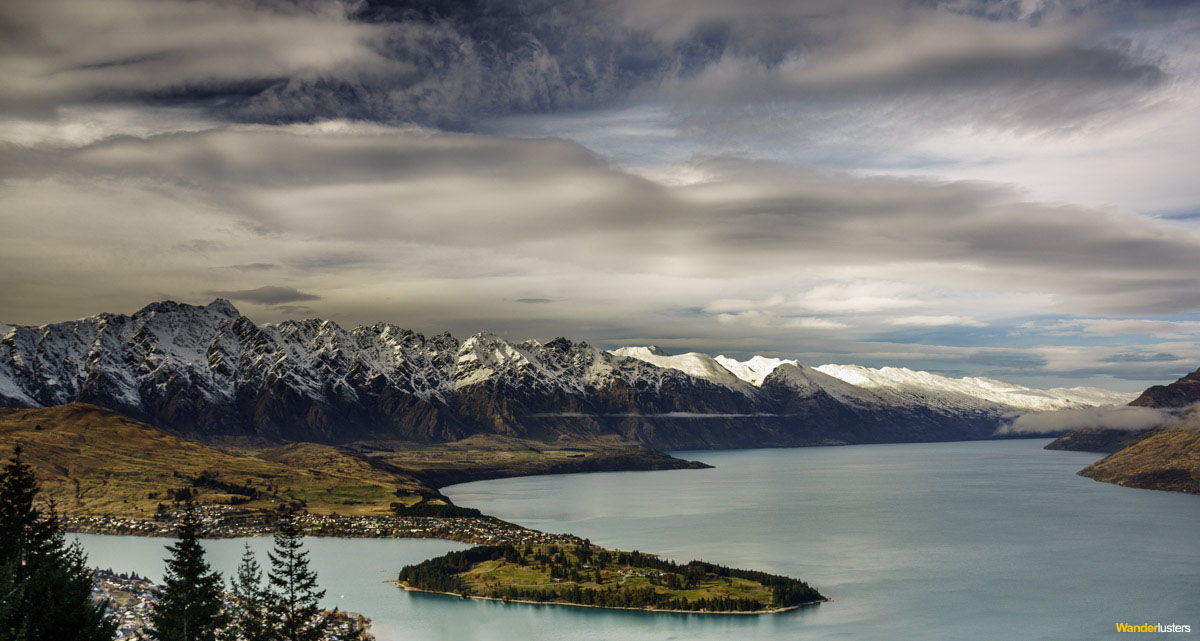 From the crest of Bobs Peak there are superb views over Queenstown.
The adrenaline capital of New Zealand, the town plays host to thrill seekers year round and offers adventure junkies a number of ways to get their fix.
While consulting a list of the area's must do activities one in particular leaped out at me. Ziptrek Ecotours.
Having failed spectacularly to glean any enjoyment from our zip lining adventures in Costa Rica – I was so terrified I had to traverse each line with my eyes closed while clinging onto a guide, oh the shame – I saw an opportunity to redeem myself.
On further investigation it became apparent that Ziptrek offer more than just the chance to fly through the surrounding scenic landscape at great height and of course, at great speed.
Initially launched in Whistler the founders were keen to offer 'a unique experience combining nature-based learning with a rush of adrenaline.' Something which, in my opinion they have definitely achieved here at their base in Queenstown.
Offering a choice of either the 4 line Moa or 6 line Kea tours, adrenaline junkies are kitted up with harnesses and hard hats, and sent off with their guides for a few hours of high wire fun.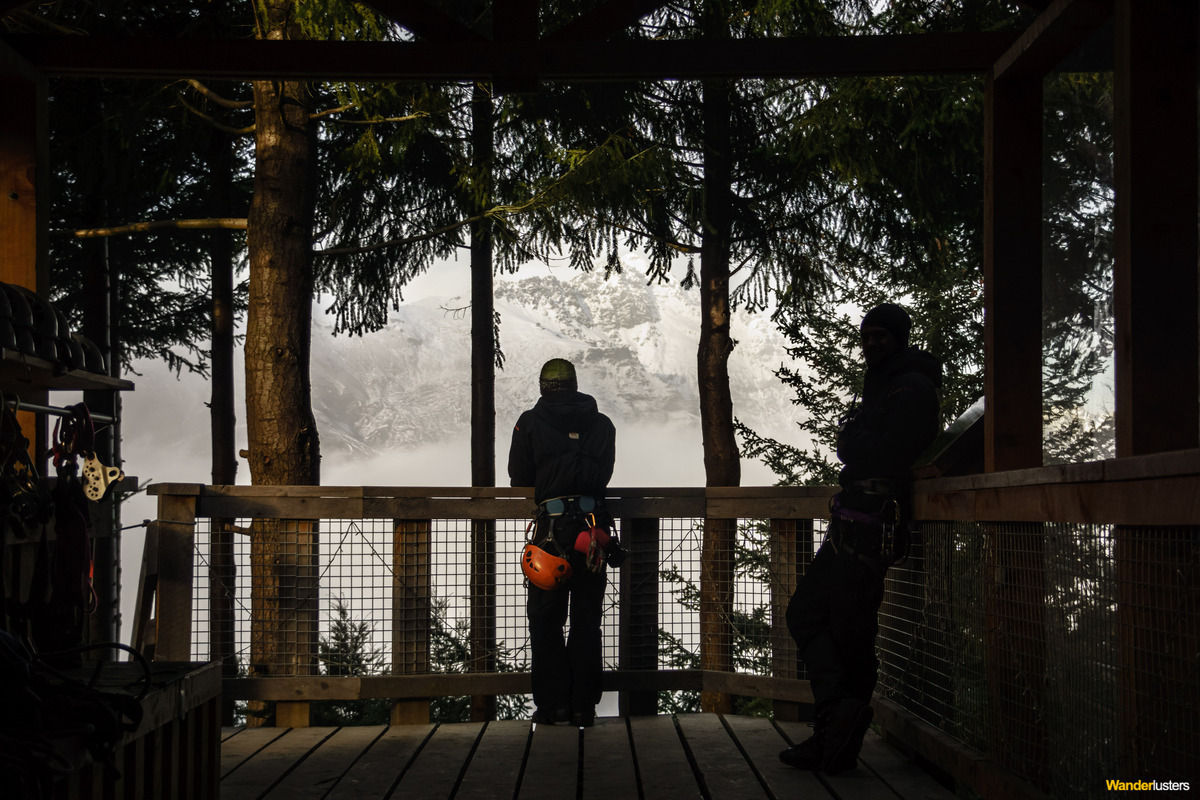 Arriving at the Ziptrek base atop Bobs Peak we were greeted with a warm reception despite the early morning chill. Wavier signed and safety gear fitted we were introduced to our guides and briefed on the morning's activities.
We opted for the 6 line Kea tour which includes a short hike along the famous Tiki Trail and the world's steepest tree to tree flying fox.
This was certainly going to test my resolve.
As our guides introduced us to the tour and the sustainable premise of the company I noticed that my feet had already left solid ground.
Constructed from the trees felled in order to construct the course, the series of areal treetop platforms are superb examples of sustainable architecture. Where possible native and natural materials have been used and the result is a collection of tree top hideaways any child would adore.
My inner child certainly thought they were pretty awesome!
REDUCE REUSE RECYCLE … SCREAM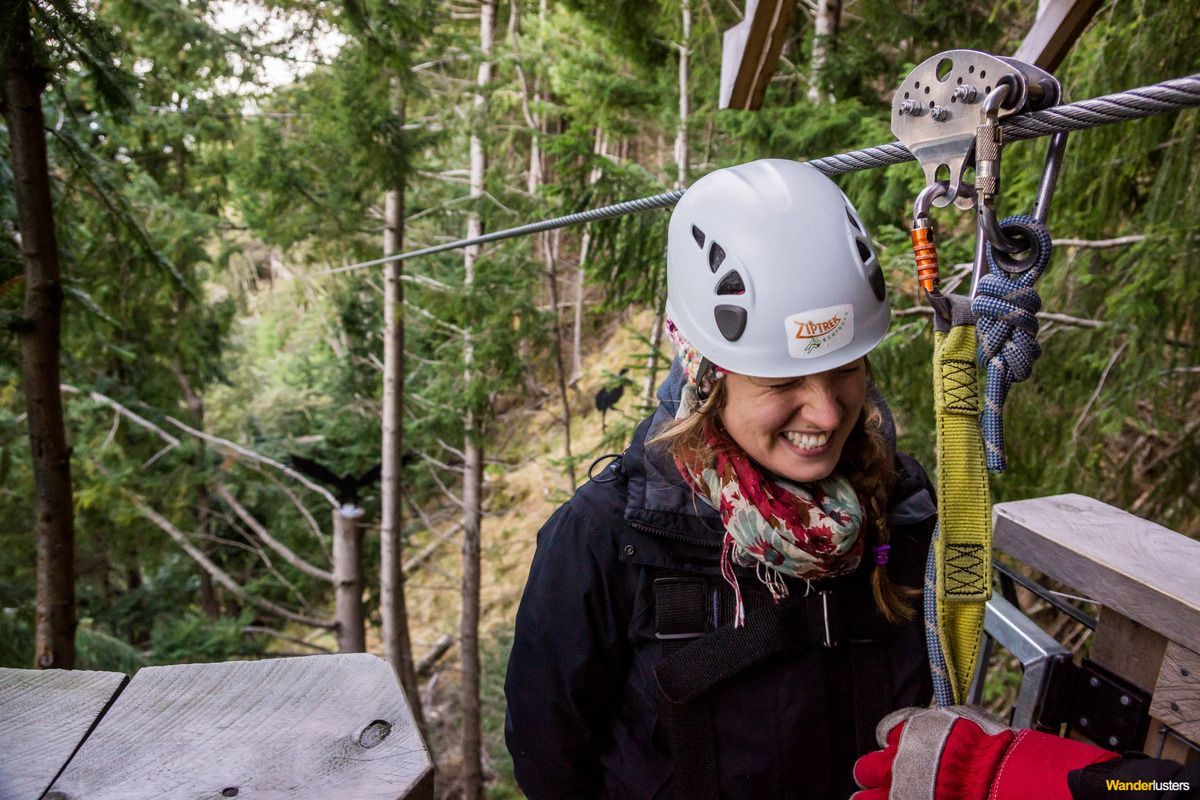 As our guide clipped me onto the first line – alone I might add – my knees turned to jelly. I was given a final safety brief before being reminded to smile for the camera, then I was off.
Shrieking like a banshee I flew through the trees, I'm not sure whether it was a combination of the relaxed atmosphere, thorough briefing and hefty safety harness but I soon realised I was not shrieking with fear but in enjoyment.
I was actually enjoying the adrenaline rush!
As I landed at the next treetop platform I couldn't wipe the grin from my face. I've no idea why I had been so nervous, this was proving to be great fun.
The next hour or so was peppered with high rise views over Queenstown, Lake Wakatipu and the neighbouring Remarkables mountain range, and snippets of eco education in keeping with the theme of the tour.
Not normally one for dull lectures full of facts and stats this was more a journey of discovery, each treetop offering a new insight into sustainable practises we could all integrate into our daily lives, and interesting local history.
For example did you know that Lake Wakatipu is said to contain the beating heart of a giant?
Maori legend states that the small tidal movement within the waters of the lake are in tune with the pulse of a great giant whose sleeping body forged the 84km gorge now submerged with glacial melt.
Or that the now extinct Moa bird fell foul of the Maori hunters who exploited nature's natural order by hunting the bird whose only predator was the gargantuan Haast's Eagle.
Due to the fact that the Moa lived in fear of what would attack it from above, it was not aware of the small men with pointy sticks who attacked from below.
A rather sad example of how humanity has altered Mother Nature's grand design.
My head full of Maori legends and sustainable living we continued on our tour edging ever closer to the last line and the famed steep descent.
We would be flying down almost 1/3 of the height of the entire mountain.
Eeeekkk!
Each line offered a unique panorama over the surrounding landscape and by the time we had reached the 6th platform I was relieved of any anxiety and ready to tackle the monstrous descent down to solid ground.
Strapped in and clipped on our guide suggested that perhaps I attempt some freestyle flying and opt for an inverted position. The daredevil teen who had just vanished into the distance had successful achieved the desired format, I however was going to stick to the standard approach.
I did however manage to throw myself off with no hands – whoop whoop – and a lot of vigour, and for that I awarded myself a respectable 8 out of 10 for effort.
It would have been a 9 but I just couldn't stop myself from releasing my inner banshee.
Despite the chilly winter air which froze my nose and toes, I thoroughly enjoyed my morning with Ziptrek and would suggest that the 6 line Kea tour is well worth the additional fee.
For anyone who suffers somewhat when their feet leave solid ground I would urge you to grab a hard hat, face your fear and sign up to fly with Ziptrek.
I have to say the guides engaging commentary and jovial attitude really made the experience.
Should you be tempted to visit Ziptrek during your quest for an adrenaline high in Queenstown here's what you need to know:
The Moa tour encompasses 4 lines and will set you back NZ$129.00 | NZ$79 youth discount 6 – 14
The Kea tour which encompasses 5 lines plus the world record breaking final line is NZ$179 | $129 youth discount 6– 14
During July and August you can trek at twilight, check the Ziptrek website for more details.
NOTE //  The Skyline Gondola fare is not included in the price of the tour so be sure to leave plenty of time to hike up the Tiki Trail to the crest of Bobs Peak or factor in an additional NZ$26 to the price of the tour.
Have you ever flown through the skies on a flying fox? Share your high wire Ziptrekking Queenstown tales with us below.