This article is part of my comprehensive Isles of Scilly travel series. If you're looking for Scilly accommodation recommendations and activity reviews check out my series of Isles of Scilly travel guides.
I wish you could have been there with me when my 19-seat Skybus flight from Newquay came into land on the island of St Mary's. As we approached the runway the view from the window was akin to something from a Caribbean holiday rather than a staycation in England; azure blue ocean boarded a windswept and rocky coastline which gave way to a lush green landscape.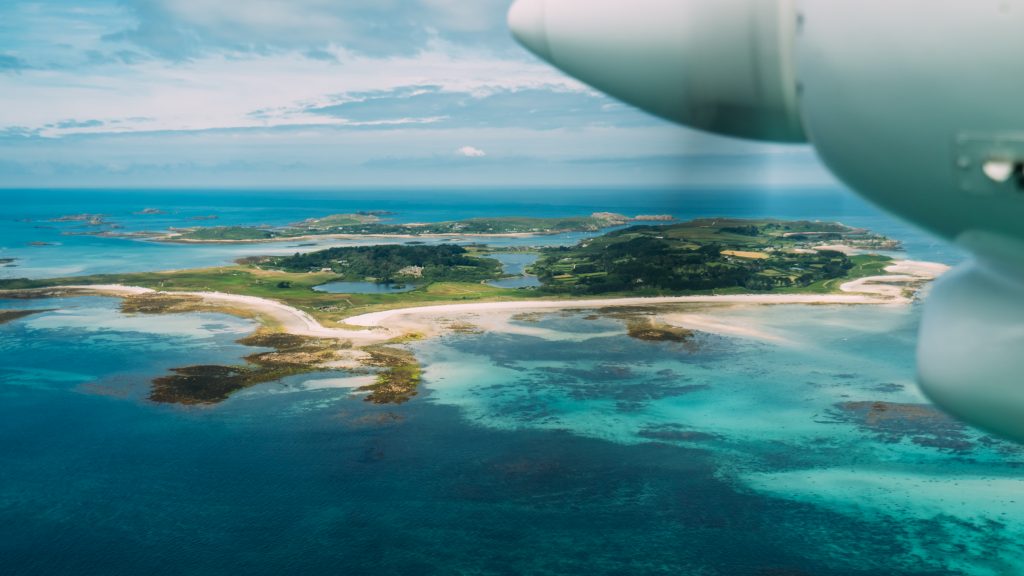 Sitting just 28 miles off the coast of Cornwall the Isles of Scilly have remained somewhat under the travel radar for 20 and 30 somethings to date, and having seen what it has to offer I just can't think why. Granted, when I visited (May 2019) I had perfect spring weather, but regardless of the temperature I can imagine that the islands' natural beauty is just as awe-inspiring at any time of the year.
If you'd like insight into my 7 day Isles of Scilly itinerary read this post and then jump back here to get my insider tips of planning a trip to the Isles of Scilly.
My stay in the Isles of Scilly was sponsored; this article has been published in partnership with Isles of Scilly Travel. All opinions expressed are my own.
The best time of year to visit the Isles of Scilly is Spring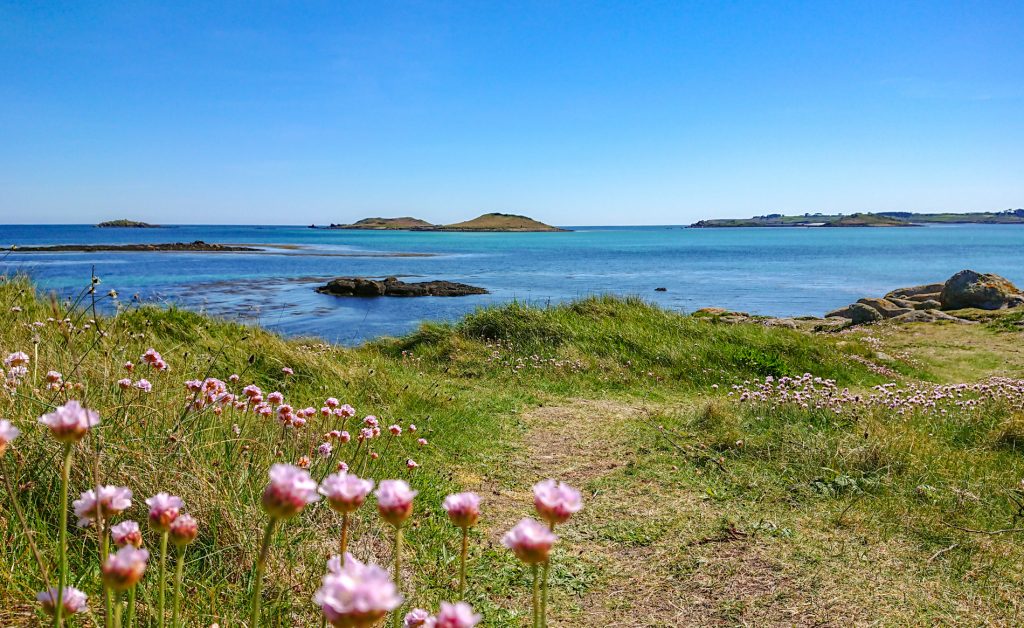 Like most European holiday destinations peak travel for the Isles of Scilly is during the summer months of July through to September. At this time of year the islands are blessed with hot, sunny days and it feels more akin to the south of France than the south coast of England.
Having said that, with the sunny weather comes the visitors in their thousands. Summer in the Isles of Scilly is busy; accommodation is booked up far in advance and the small island atmosphere is somewhat lost until the melee retreats back to the mainland.
The shoulder seasons of spring and autumn are often overlooked yet they often offer warm temperatures and sunny skies. I chose to visit during the second week of May and enjoyed practically tropical weather conditions with temperatures in the mid-20s during the day. Visitor numbers were by no means overwhelming and I was able to book restaurants and activities without issue.
My advice? Avoid the crowds and visit outside the hectic summer season to get the most from your trip.
Getting to the Isles of Scilly
Depending on where you're travelling from there are a number of ways to reach the islands:
GWR from London Paddington to the south west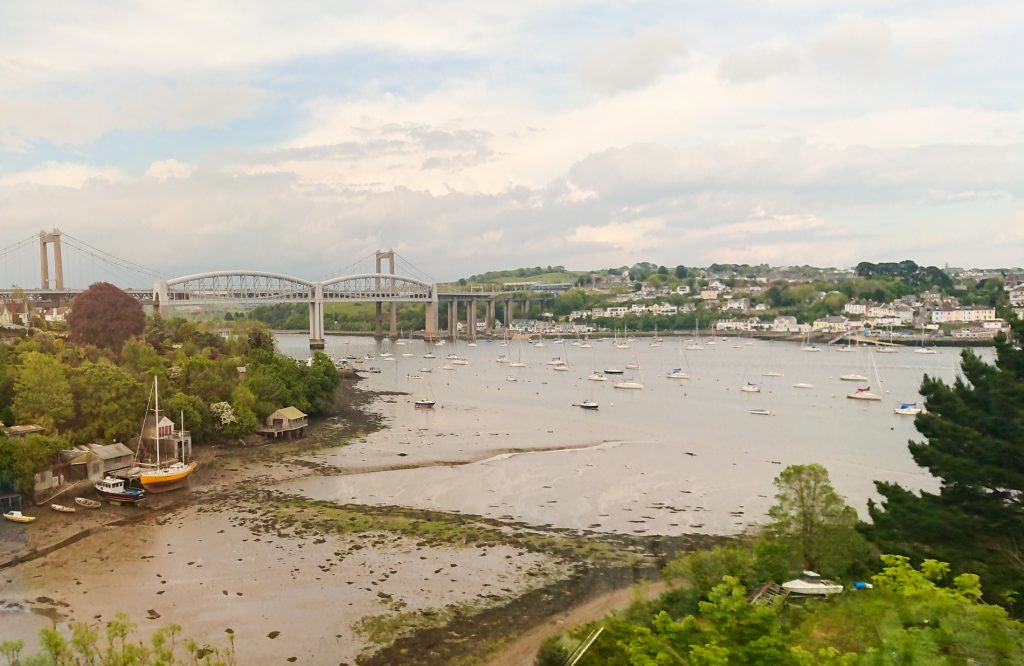 I would advise everyone travelling to the Isles of Scilly to consider travelling to their chosen Skybus hub/the Scillonion ferry terminal by train. Ask a friend or family member to drop you at your local station then sit back and watch the green and pleasant landscapes of England pass by. You won't need to worry about car parking at an airport or manage the long drive home on your return from the islands.
Unless you live in the south west or are planning to drive to the Isles of Scilly, your train itinerary will route you through London Paddington where you can pick up connections to Penzance, Newquay, and Exeter.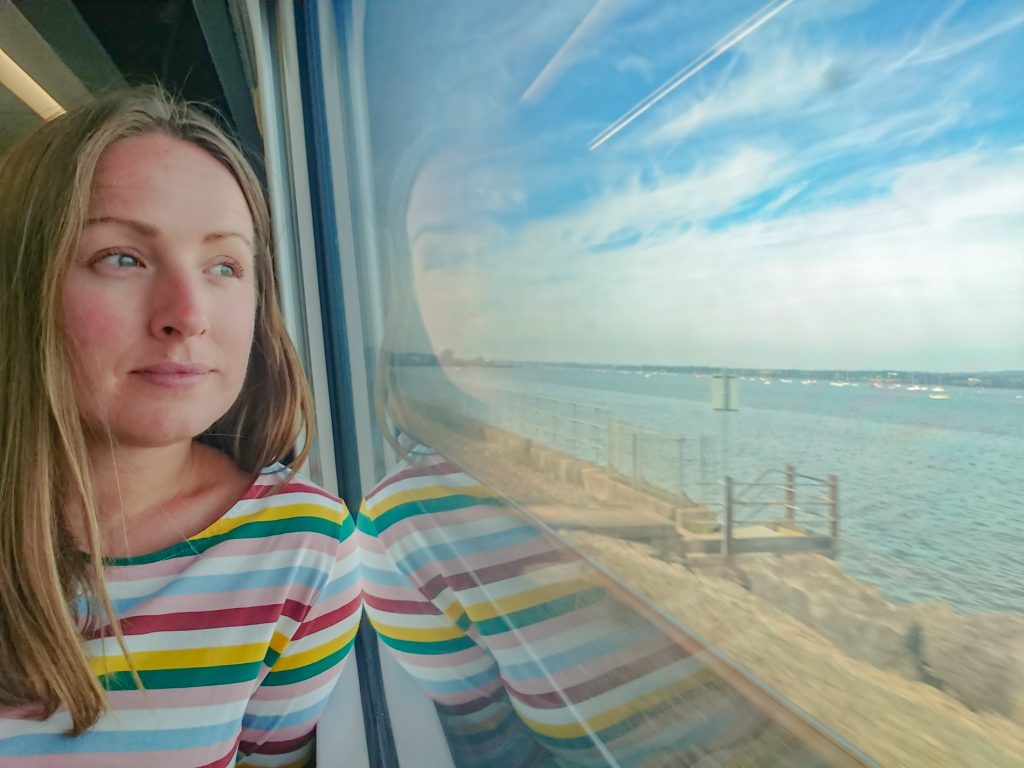 I travelled from my home base in Kent, to Newquay, in GWR first class and I have to tell you the additional cost of the ticket was well worth it. Spacious and comfortable seats, tables with power outlets, and a free at-seat service of sandwiches, snacks, and alcoholic and non-alcoholic drinks are all included in the price. Because of the additional space and calmer environment I was able to plug my laptop in and spend the five or so hours aboard catching up with work. Ideal.
For more information covering services and schedules visit their website.
Flying to the Isles of Scilly
Isles of Scilly Travel operate Skybus flights and depart daily from Land's End (flight time 20 minutes), Newquay (flight time 30 minutes), and Exeter (flight time 60 minutes, March to November only).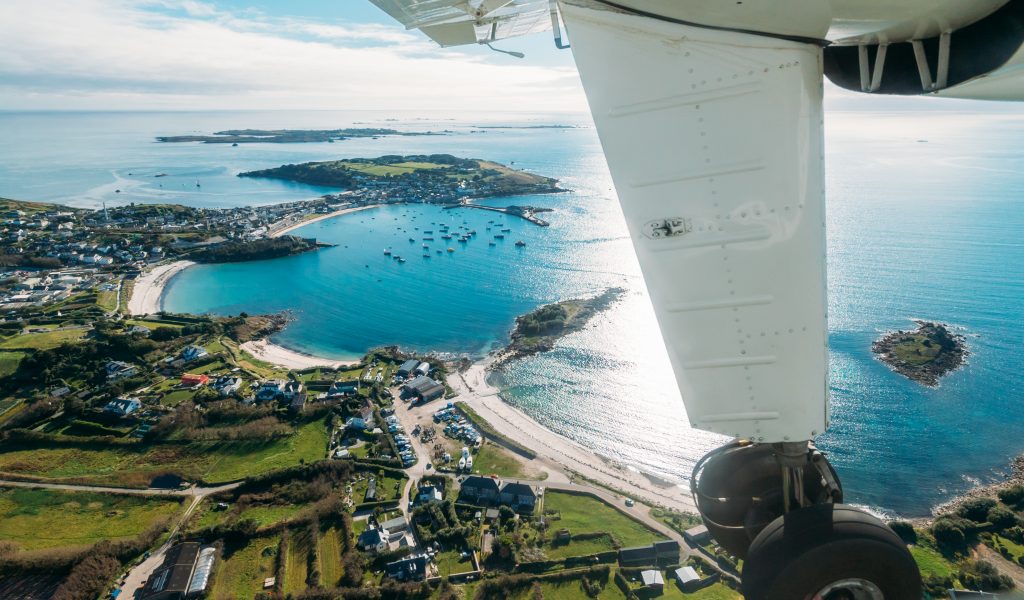 Check in at least one hour before departure
Dogs can fly with you from Land's End and Newquay airports
Skybus operate DHC-6 Twin Otter (19 seats) and BN2 Islander (8 seats) planes
Skybus return adult fare from Land's End starts from £178. Prices start from £230 adult return from Newquay and £337.50 from Exeter
The Scillonion ferry from Penzance to the Isles of Scilly
There is also a passenger-only ferry service that operates from Penzance between March and November.
Sailing time 2 hours 45 minutes
Scillonian ferry return adult fare starts from £110
It's worth noting that all transport options are weather dependant and while Isles of Scilly Travel have excellent customer service, I would advise that you ensure you have suitable travel insurance cover, just in case.
Find fare and schedule for Skybus and the Scillonion information here.
St Mary's Boatman Association Inter-island ferries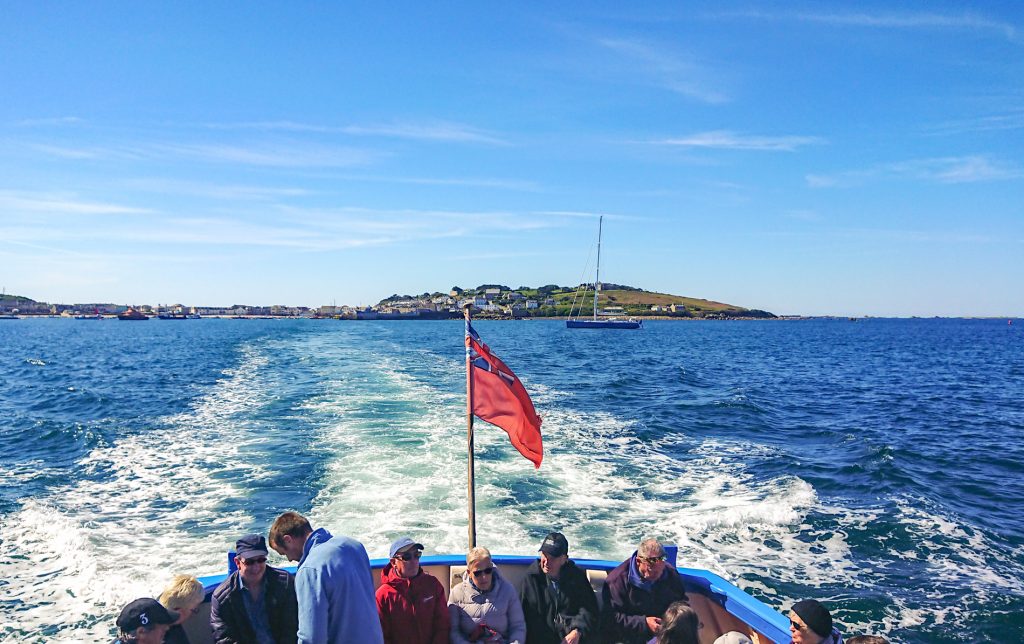 Whether you choose to fly or catch the ferry your first port of call will be St Mary's. If you choose to stay on one of the other islands you'll need to catch a ferry service from the Hugh Town Ferry Terminal. It's worth noting that there are a number of travel options including St Mary's Boatman, St Agnes Boating, and Tresco Boat Services, as well as some smaller independent operators.
Daily ferry services connect all five islands with St Mary's acting as the main hub; if you want to travel between two of the outer islands you'll need to change at St Mary's.
Whichever island you're staying on you'll find ferry times published a week in advance on the various ferry operators' websites and on a blackboard in Hugh Town.
Choosing where to stay in the Isles of Scilly
Of the 140 islands that make up the archipelago, only five are inhabited (six if you count Gugh separate to St Agnes), and just in case you're not familiar with their layout, here's a map to orientate yourself.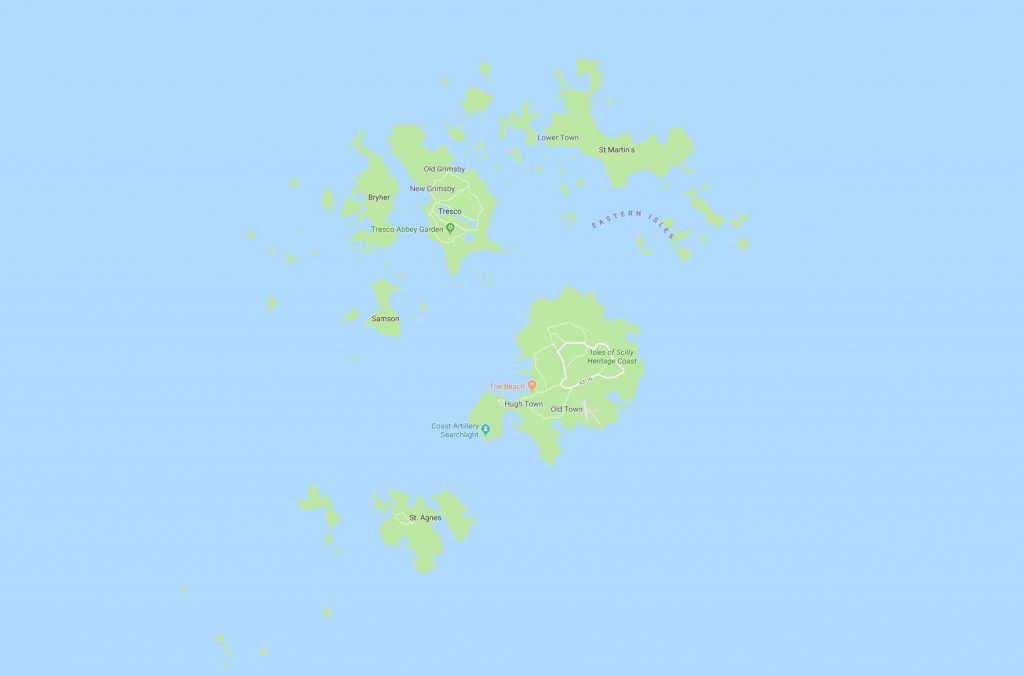 St Mary's
Covering an area of less than 2.5 square miles it has an intimate atmosphere that exudes small island life yet has the highest population in the archipelago.
The gateway to the Scillys, (Skybus flights, the Scillonion ferry, and ferries to the four other islands all depart from Hugh Town) it's a great place for first timers to base themselves as it has most conveniences you'd expect from a holiday destination.
If you're looking for something akin to small village living with easy access to restaurants, cafes, boutiques, and activities, consider finding accommodation on St Mary's and taking day trips to the other islands during your stay.
Read my comprehensive St Mary's Isles of Scilly travel guide here.
Tresco
Arriving onto the southern end of the garden island of Tresco, the landscape actually reminded me of my childhood home in north Norfolk. Windswept sand dunes, swatches of pristine beaches, and a rugged, undulating seascape stretched out in front of the quay, it was completely undeveloped. Given that the island is privately owned and run by the Dorrien-Smith family, it's easy to see why they've worked hard to ensure it remains a sub-tropical haven. There's spectacular beauty in every view.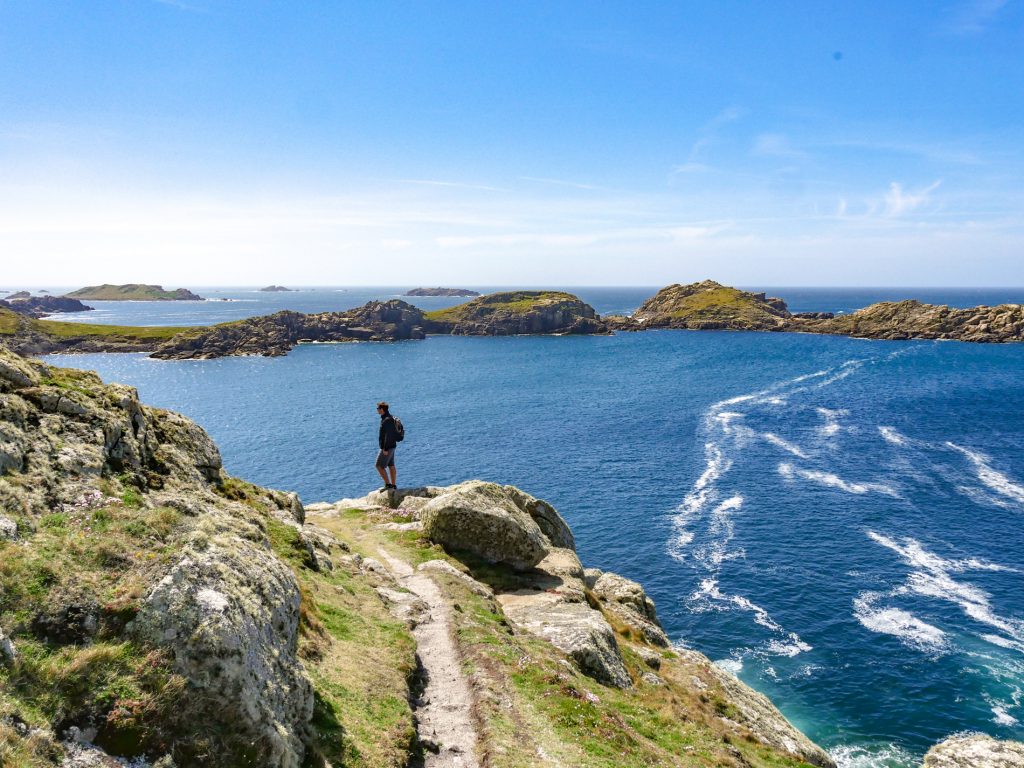 Famed for its Abbey Gardens and deserted beaches Tresco is perfect for active travellers and families in search of adventure. The northern peninsula is particularly scenic with sea cliffs that look almost Scandinavian.
St Martin's
Just 90 people call St Martin home: Here life moves along at a reduced rate allowing its inhabitants to enjoy the scenic vistas and white sand beaches that fringe its shores. Despite its small population St Martin's has much to offer and is ideal for anyone looking for a restful retreat.
I'd recommend St Martin's to anyone looking to self-cater their stay and spend time chilling out on the beach and enjoy nature walks. There are a handful of places to eat and drink, and one or two organised activities (the seal snorkelling is a must), but for the most part life on St Martin's is about making your own fun..
Bryher
The smallest inhabited island in the Isles of Scilly, Bryher has an incredibly diverse coastline that is peppered with small bays and secluded coves. Its eastern shores look out over neighbouring Tresco but its vibe is quite different. Along with a handful of accommodation options here you'll find a shop with bakery and post-office, local produce stalls, a cafe and a bar, what else do you need?
People choose Bryher specially to see basking sharks, puffins, seals, dolphins and rare birds. They sail, kayak, windsurf and fish, dive among wrecks, swim and wade in the shallows. Go to Bryher for a taste of the simple life.
I didn't make it to Bryher during my trip but if you think you'd like to visit check out the island's own website here.
St Agnes and Gugh
England's final frontier before the thousands of miles of Atlantic Ocean that separate us from America, St Agnes is an island of contrasts. On its exposed west side rocky outcrops define the landscape whereas inland you'll find quaint cottages and a patchwork of flower fields. In the shelter of the east coast paradise beaches give way to quiet coves and the sandbar between St. Agnes and Gugh is particularly magical.
Book accommodation on St Agnes if you're looking for a little piece of island paradise.
Read more about the island here.
If you're looking for an Isles of Scilly itinerary to help you plan your own Scillonion adventure check out the itinerary I followed during my stay here.
INSPIRED? PIN THIS POST TO YOUR TRAVEL PINTEREST BOARDS NOW!