The Galapagos islands are only 600 miles from Ecuador and there are a total of 13 islands, 5 of which are inhabited.  
In the following post, we'll share some tips on what to do when visiting Galapagos, talk about the food, the weather, and the best times to visit. As you finish the article, you'll be booking your first Galapagos cruise, if you haven't already.
Cruising the Galapagos Islands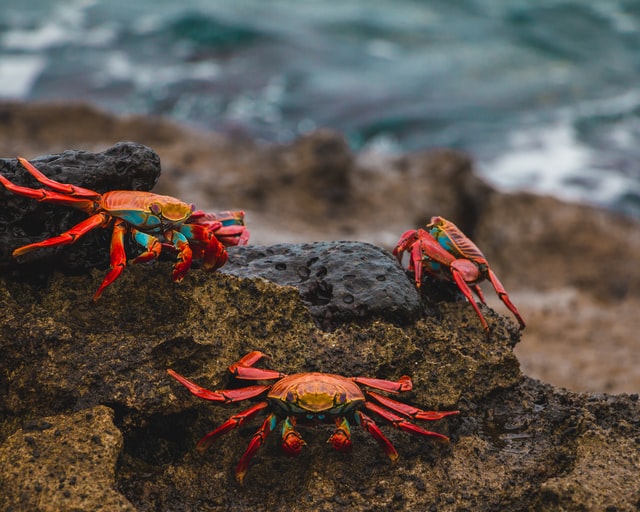 Things to do on Galapagos
Your tour guide will have a schedule of places that you'll visit, and things that you'll do. But, you'll also have some free time left on your hands, so you better use it wisely, because there are so many things to do! If you want to relax for a while, you can spend the day on one of the white sand beaches, right in front of the ocean. Swimming, diving, snorkelling, and sunbathing can take all of your worries away and recharge your batteries to the max. 
Galapagos also has something for the adrenaline seekers. There are some really beautiful hiking trails, both marked and unmarked, where you can see lots of caves and hidden tunnels along the way. You can also take a close look at some of the volcanoes, many of which are to this day still active.
The local wildlife is mesmerizing as well, and you get the once-in-a-lifetime opportunity to see the Galapagos penguin, roaming the Galapagos beaches completely free and unfazed. From birds, you'll be able to see the Albatroz, and if you're lucky, you might see some sea lions onshore.
Galapagos volcanoes
Galapagos has a total of 21 volcanoes, 13 of which are considered active. The last eruption was in 2020, and there have been some frequent eruptions throughout the years. Before 2015, the volcanoes were completely dormant for 33 years straight! The largest Galapagos island is called isabella, and it contains 6 volcanoes, 2 of which have been active in recent years. But, the Galapagos Islands are completely safe for tourists and locals, because the volcanoes are closely monitored, and evacuation plans are highly effective. 
The government also has set a limit on the number of visitors per period, so make sure you get on that list as soon as possible. This is only to prevent big crowds at the same time, and it gives tourists the ability to see and experience more, without the whole picture being ruined by crowds.
Best times to visit Galapagos
Like any other group of islands that is close to Ecuador, Galapagos also has two main seasons, a dry one and a wet one. You can visit during both, but tourists usually opt for the dry season. The temperatures are always high, the weather is warm, and the sun is shining constantly. During the dry season, there are less frequent showers, so travel light and don't forget your swimming suit.
If you plan on visiting during the wet season, which starts from May and lasts till December, your beach plans might be ruined by frequent rains, so bring an umbrella with you. The places are less crowded during those times, so you can visit more and experience the culture and surroundings of the Galapagos better. Even though rains are frequent, it's not cold at all. The showers will only bring you some relief and they'll be the perfect change compared to the warm, dry days. 
The food you must try
There are some locally grown plants that we cannot find anywhere else, and the fruits aren't common on our local market shelves. Have you ever heard of babaco, guayaba, or naranjilla? They are all foods grown locally, and locals make the tastiest ice cream and fruit smoothies from it, so you mustn't miss this. 
Because the islands are surrounded by the ocean, seafood is always fresh and you must try their famous specialities. The Galapagos ceviche and seafood galore are something always freshly prepared, with ingredients grown locally and seafood caught recently. You can easily eat your way through Galapagos, learning a lot about the culture, the people, and their tradition by the dishes they prepare. 
Summary
The Galapagos Islands are well known for their mesmerizing nature, huge active volcanoes, and friendly locals that will help you out. You can learn a lot from the way they live, the food they prepare and also by their tradition. Galapagos is the perfect getaway for anyone looking for a little bit of adventure, and some rest from the loud and crowded cities. We're sure you'll fall in love with the place, and you'll visit it again in the future.
READ MORE ISLAND TRAVEL GUIDES FROM WANDERLUSTERS