The world is a big, beautiful place, and no one knows that better than people who love to hike. Sure – you could fly, boat, or drive your way to the world's most picturesque locations and get to take in the scenery along the way, and you may need to in order to get close enough to start.
However, to truly appreciate the sights, sounds, smells, and sensations that make our world incredibly diverse and unique, you need to strap on your most comfortable shoes, and start walking!
Hiking not only allows you to truly absorb every aspect of the environment, but also provides numerous other benefits as well. Exercise is an obvious one, there's a level of connection and stimulation you can only get by walking. If you're in a car, or any other vehicle, there's a buffer – an impenetrable space between you and the surrounding landscape.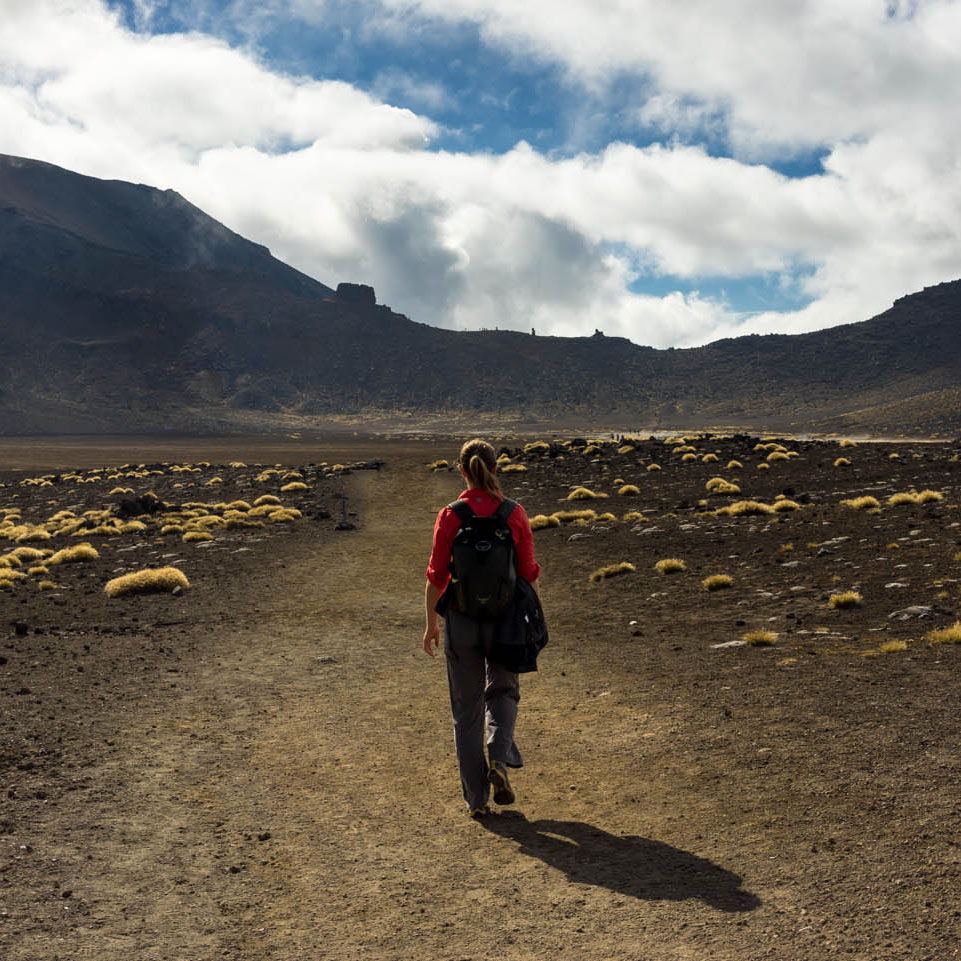 Hiking eliminates that barrier, and allows you to not only see all that's around you, but reach out and touch the things that captivate you the most.
If you're interested in becoming an adventure hiker, or even if you're already established and just want a great new spot to tack on your map, I've put together five of the best hiking spots in the world to help you get started!
The Inca Trail
Located in the heart of Peru, the Inca Trail is a challenging 26 mile long hike that wends its way through jungles and over mountains as you explore the ruins of the long lost Inca civilization.
This is a very challenging route to take, so ensure that you've done some training hikes beforehand. You'll be navigating some severe changes in elevation, and some arduous terrain, so developing your leg muscles and endurance, and packing the proper gear will be essential.
The good news is that the Inca Trail is an absolutely gorgeous route that will take you through some of the most beautiful scenery in the world. The trail ends at Machu Picchu, which contains one of the most impressive collections of ancient structures in the world and is believed to be the seat of the Incas.
The Appalachian Trail
For a great hiking experience, that won't require you to fly outside of the good ole USA, the Appalachian trail is a perfect destination. With sprawling forests and plains, breathtaking hills, and an incredible array of sites to see, the Appalachian Trail is an alluring hiking destination for many.
Now be aware: the entire trail is 2,180 miles long, running all the way from Georgia to Maine. That's a bit far for anybody to hike in one go, but fortunately, the trail has plenty of entry and exit points, so whether you want want to go four miles or 40, you've got opportunities for both.
Take the time beforehand to study the map, analyzing locations for rest and resupply opportunities, as well as the changes in elevation, to ensure you're adequately prepared before you set out.
Read more adventure travel guides from Wanderlusters
Yosemite Grand Traverse
Another popular destination for hiking enthusiasts in the US, the Yosemite Grand Traverse takes you through, you guessed it, Yosemite National Park.
As you explore the astounding terrain, complete with picturesque waterfalls, lush meadows, and captivating granite basins, you'll be in awe of the region's absolute beauty.
This hike isn't quite as extensive as some of the others, coming it at only 60 miles, but don't underestimate it. Though beautiful, this trail is marked by some severe changes in elevations, and much of Yosemite is populated by granite and other rock that can be very hazardous with even just a slight tumble. You'll need some durable boots, a good bit of endurance, and some solid planning and preparation to enjoy this amazing trek to the fullest.
The Bay of Fires
We've covered some trails that are dominated by trees, plants, and amazing rock formations, so let's switch things up and look at another amazing bit of terrain to gaze at while you hike – the beach!
Located in the wildlands of Tasmania, on the shores of Australia, the Bay of Fires is a captivating 16 mile hike over the beautiful, white and beaches that make up the shoreline of this gorgeous country.
You won't have to worry about elevation changes with this amazing destination, but there are still some challenges you'll need to prepare for. It takes roughly double the amount of effort to take a step in sand as it does other types of terrain, meaning that you'll wear out much more quickly.
Additionally, the beach is dotted with boulders and rocks blanketed by the red lichen that gives them their beauty, but can also be hazardous. You'll need some good boots, sunscreen, and plenty of water to navigate this absolutely stunning trail successfully.
Mont Blanc
One of the most beautiful, but most challenging, hiking locations in the world, the expansive mountains and peaks of Mont Blanc are meant for only the truly bold who want to experience one of the most captivating scenes of nature at its most awesome.
Totalling 105 miles, the trails of Mont Blanc will take you over mountains, to the very top of on of the highest mountains in all of Western Europe, as well as through glacial valleys and some incredible extensive meadows.
As I said before: this is a tough one.
You'll be walking at extensive elevations, in often freezing temperatures. The decreased oxygen, coupled with the cold weather, can quickly drain you, and can become dangerous if you don't have experience or training. Save this one until you've done multiple, long distance hikes before, in similar conditions, so that you know what to expect.
Get on the Trail
I hope this list has given you some good ideas to get started, and that you're just as excited to start exploring these amazing places as I am to talk about them!
As with any hiking trail, so research the best gear, the best tips, and the best practices for enjoying a hike. Make sure you do thorough research on each location, and reference stock nature images of your intended trail, so you can get an idea of the terrain you'll be dealing with.
Though it does take a lot of preparation on your part, in my mind, there's not better way to experience all that the world has to offer than by walking your way to and through it.
INSPIRED? PIN THIS POST TO YOUR TRAVEL PINTEREST BOARDS NOW!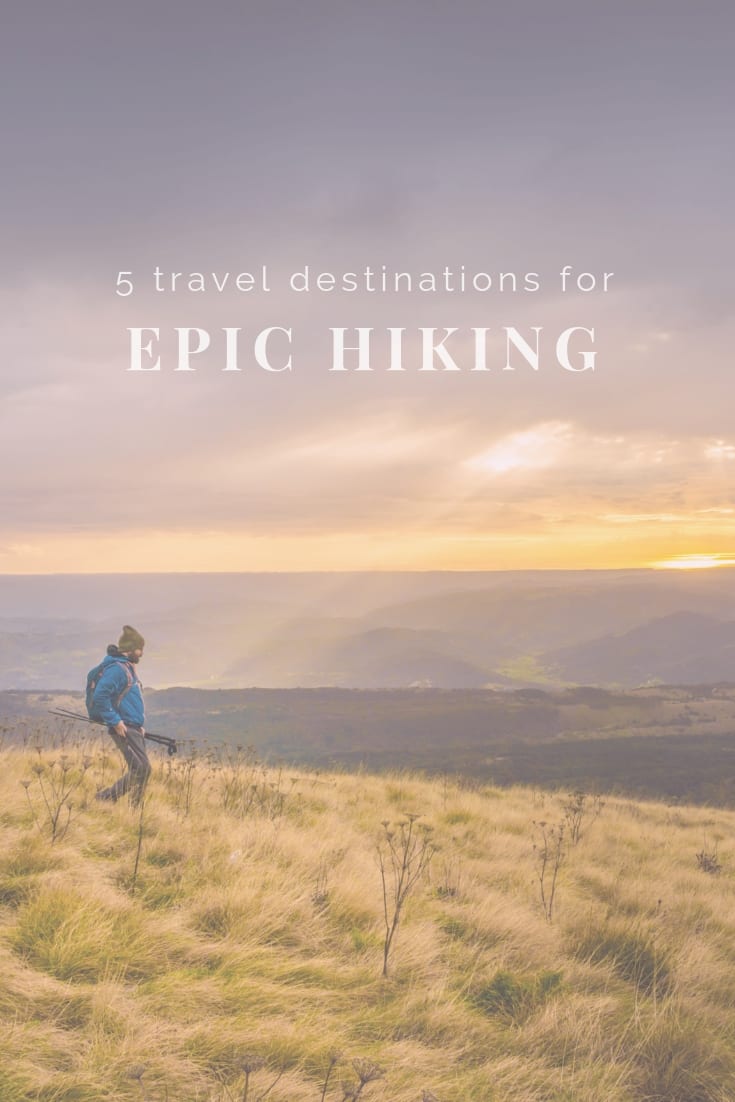 By hiking, you're not limiting yourself to the roads and highways of the world, nor do you have to worry about expensive transportation. The world is truly laid out before your feet.