[dropcap size=big]A[/dropcap]lthough the Caribbean island of Nevis isn't the most obvious holiday destination for cyclists, I recently chose to spend two weeks riding the single-lane asphalt roads that weave their way around its volcanic peak. Cycle on Nevis. 
Nevis is a place where there's a different view around every corner and wild donkeys roam wild on the verge; it's also an island with varied ride conditions that will satisfy the appetite of every two-wheeled traveller.
RENTING A CYCLE ON NEVIS
I know from experience that the key to any successful ride is local knowledge. Locals who ride regularly have a good understanding of the best roads in terms of surface quality and minimal traffic, and the best place visitors can find that kind of information on Nevis is at the island cycle shop.
Wheel World at Oualie Beach (www.bikenevis.com, +1 869 664 2843) is operated by the immensely likeable Winston Crooke whose triathlon and ride experience is unmatched by anyone on the island. His wide smile and cheery disposition has an infectious air of positivity that rubs off on everyone he meets.
Winston offers a range of cycles (both road and mountain) for hire, but equally as important he offers guided rides, shares his knowledge of the local terrain, and offers a link to island residents who cycle regularly.
Bringing my own helmet, shoes, and saddle bag I chose to rent a road bike with a triple chainset (to help me with the hill climbs) and rode most days during my stay.
NEVIS TRAVEL GUIDES BY WANDERLUSTERS
Planning to visit Nevis? Read my Nevis island travel guides for tips and inspiration.
WHEN AND WHERE TO CYCLE ON NEVIS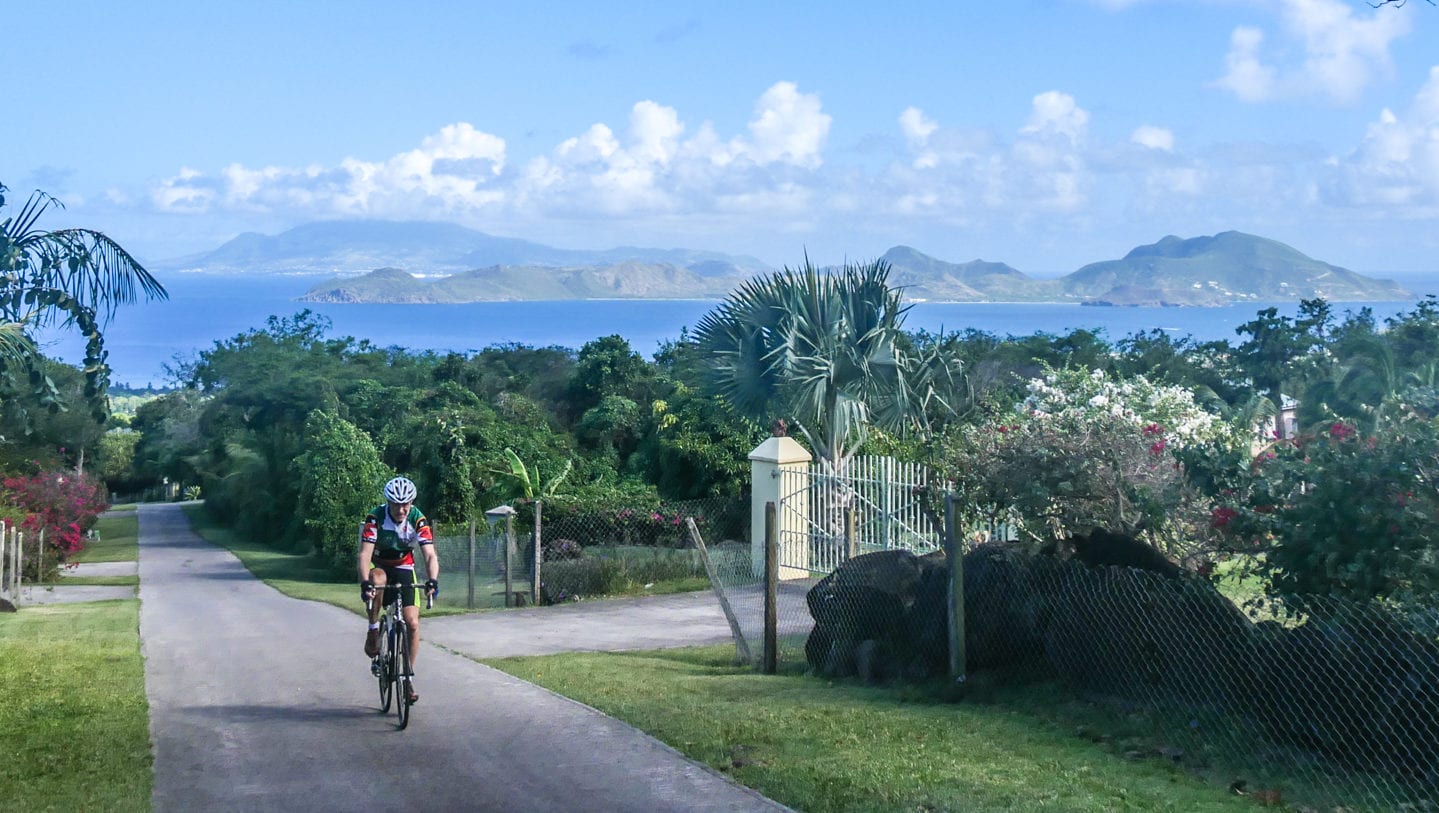 When temperatures are at their lowest during the early morning, and the midday sun has lost its vigour in the late afternoon, I hit the road.
Intent on seeking out the best hill climbs and scenic views I either pulled up Google maps on my iPhone and planned out a route, or rode out with two seasoned island cyclists who lived a short ride from my vacation rental.
POND HILL – AKA THE ANACONDA CLIMB & THE KILLER BEE
For those cyclists who enjoy a challenge there are a number of notable climbs, two of which are Pond Hill which is known as the Anaconda climb, and the Killer Bee. Care should be taken before attempting these to ensure that your cycle has a low enough gear (large ring on the rear cassette) to manage the steepest parts of the climbs.
My advice is that a minimum gear ratio of 1.21 (39/32) is required for pedalling the steepest sections of climbs. If you hire a bike on the island the cycle shop will ensure you have the right set-up.
This ride takes you inland from the calm beaches of the west coast, and across to the north eastern tip of the island where the tempestuous Atlantic Ocean pounds the shore.
AROUND THE ROCK
A challenging 20 mile (30 km) circular ride, this route follows the main island road and wends its way around the circumference of the majestic Nevis Peak. Depending on the conditions you can ride either clockwise or anti-clockwise as both differ slightly in the intensity of hill climbs required.
Riding clockwise will take you along the leisurely western coast where the waters of the Caribbean Sea lap gently at swathes of deserted beach. From Charlestown the road follows the coast and undulates gently through the villages of Vaughans, Cotton Ground, and New Castle then, once you pass through the village of Brick Kiln, the terrain begins to change.
Breaking away from the coast the road turns inland and ascends towards the peak up the thigh-burning Zion Hill. This incline relaxes somewhat after the initial near vertical ascent, however the terrain continues to climb for around another three miles through the village of Gingerland before it reaches its peak and begins its descent back toward Charlestown.
When riding anti-clockwise the main difference is the intensity and length of the hill climbs. While the steep incline of Zion Hill is an instant energy zapper, the climb north from Charlestown isn't as steep however it seems perpetual it its challenge.
JESSUP'S HILL
If you're looking for a shorter, high intensity hill climb I would recommend Jessup's Hill.
Turn off the main island road opposite the entrance to Four Season's Mango restaurant and you'll be confronted with a ¾ mile constant incline.
Keep an eye out for the cricket field to the left around ¾ of the way up, where there are both spectacular views over St Kitts' south east peninsula, and some vibrant street art painted onto a building at the edge of the field.
Incorporate this hill into an out-and-back ride along the island's west coast, then head down to the Yachtsman's Grill for a cold beer and a dip in the azure ocean.
MY 3 TOP TIPS FOR THOSE WHO WANT TO CYCLE ON NEVIS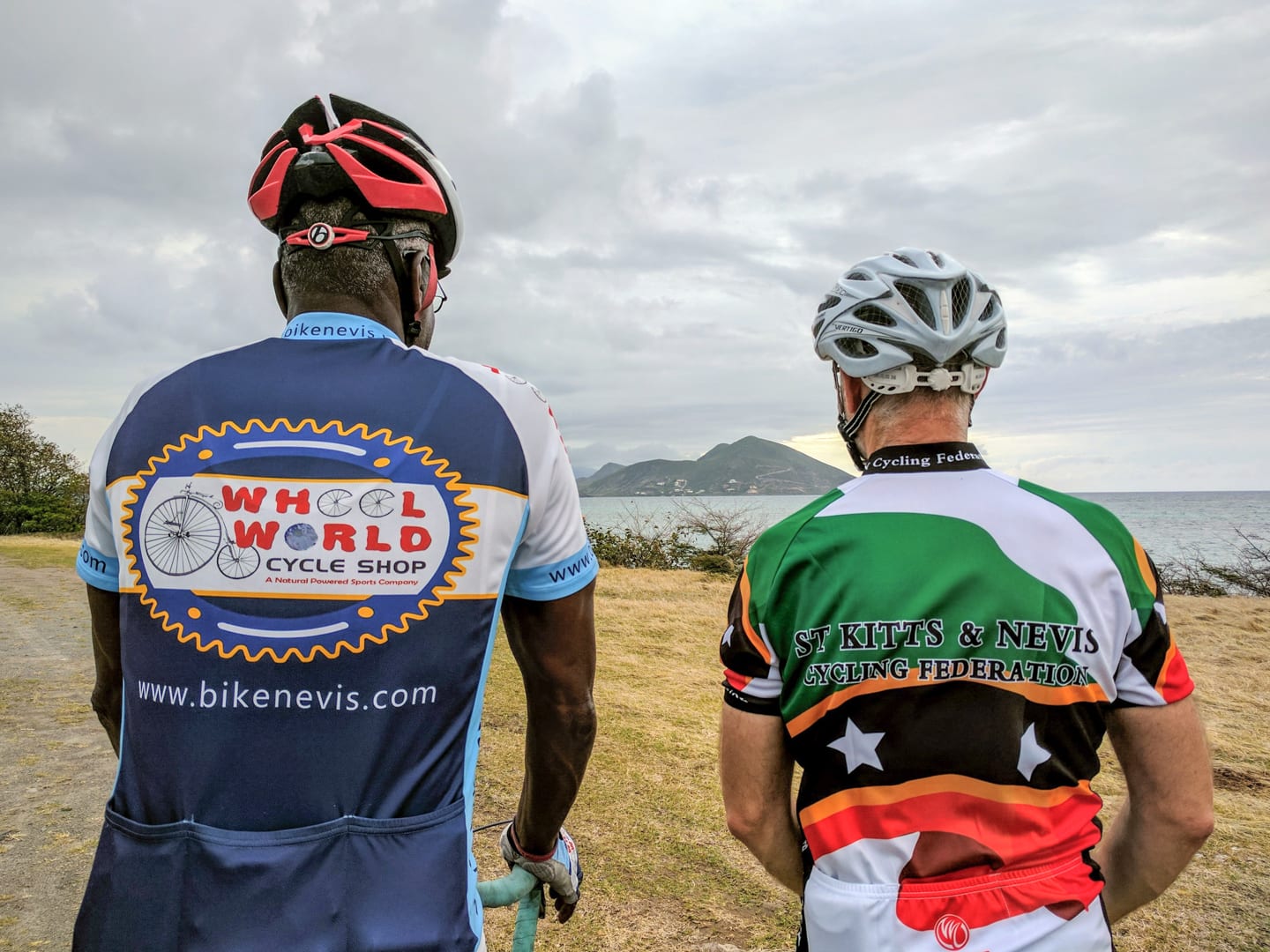 #1. For the occasional cyclist, the best advice I could give would be to hire a mountain bike with a wide range of gearing and wider tyres which are better suited to the island's road network with its variation in surface quality. Make the most of the picturesque coastline and take regular stops on the beach to relax and refuel. Peddling your way through paradise is a rewarding way to explore.
#2. If you are a keen cyclist I feel it important to highlight the unique nature of cycling on this tiny volcanic island to you before you arrive. Expect pot holes, uneven terrain, and unexpected hazards such a falling mangoes and monkeys jumping out of the verge (uncommon but possible). Note that when descending on your cycle you should always expect the unexpected in terms wildlife that can step out in front of you or loose gravel on bends and at road junctions. Always descend at a speed that allows you to quickly come to a halt if necessary.
#3. While most Nevisians are considerate road users, the large trucks that ferry goods around the island prove to be hazardous to pretty much anything that gets in their way. Loud, fast, and apparently unaware of their velocity, they do not give way to other vehicles let alone cyclists. Keep out of their way, they will not stop for you.
Regardless of where in the world you ride you can expect to manage hazards, however when you cycle on Nevis you can also marvel at views of volcanic peaks and indigenous wildlife, and engage with the colourful characters whose homes line the routes you ride.
Here's some additional reading you might find helpful prior to your trip.
WHERE TO STAY ON NEVIS
There are a number of inspiring accommodation options on the island of Nevis including the luxurious Paradise Beach resort, the Golden Rock estate, and the Four Seasons, however Saint Kitts and Nevis is a popular location for Dutch and Belgian rentiers so there are also a number of private vacation rentals available.
Check online for options when researching your stay.
INSPIRED? PIN THESE TO YOUR PINTREST BOARDS ↓
[divider]✈ ✈ ✈[/divider]
Have you visited Nevis? Share your recommendations for cyclists below!