[dropcap size=big]I[/dropcap]ntoxicating natural vistas, deserted beaches, long dormant volcanoes, and the legacy of a once thriving sugar industry defines the landscape of Nevis; an off the beaten path Caribbean destination that's making a name for itself as the place to be seen.Guide To Nevis
Boasting a unique island charm that sets it apart from the region's established vacation haunts such as Barbados and St Barts, Nevis is unspoilt, relaxed, and easy-going. Here wide open spaces and a rich cultural heritage implore visitors to ditch the clichéd holiday itinerary of all-inclusive sea, sand, and sun, and instead immerse themselves in the real Caribbean.Guide To Nevis
Without a single traffic light nor even a hint of rush hour madness (unless you count the donkeys and goats that wander rouge along the asphalt), Nevis' population of just over 12,000 live by the mantra "Rush Slowly"; nothing is hurried is here. Yet despite its apparent equable appeal, Nevis offers far more than your average island escape. Guide To Nevis
Looking for a taste of the real Caribbean? Here's my insider's guide to Nevis.
WHEN TO VISIT NEVIS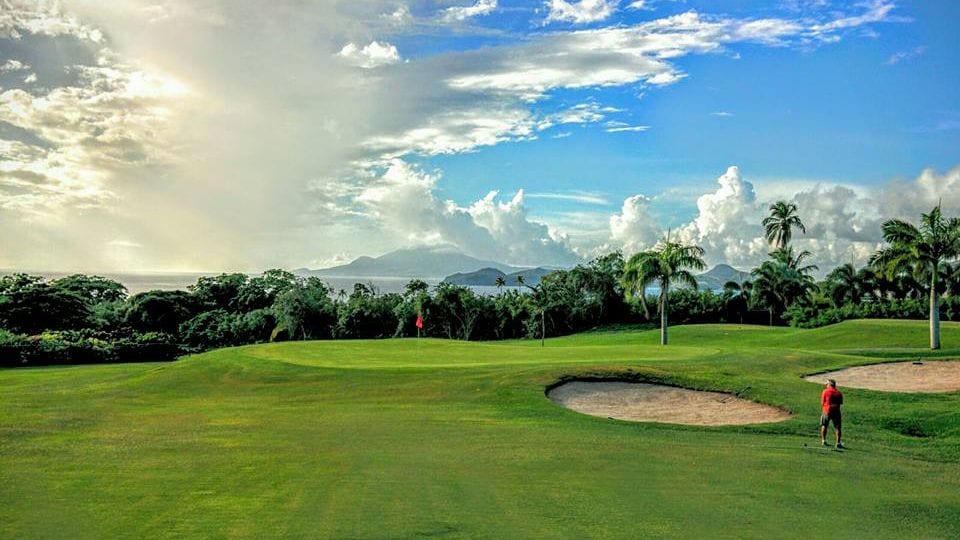 Image – Playing golf at the Four Seasons Resort Nevis
Crowds flock to the warmth of the Caribbean during the frigid winter months (November through March), and while you won't necessarily encounter hordes of visitors on Nevis throughout this peak season, take note that the cost of accommodation, car rentals, and some activities will increase during this time. Guide To Nevis
The Christmas season and the month of February are the busiest times on the island, however the shoulder season (late April through early June) offers the best of both worlds. Prices drop and the snow birds disperse affording the flexible traveller a reduced rate and a quiet escape.
HOW TO GET TO NEVIS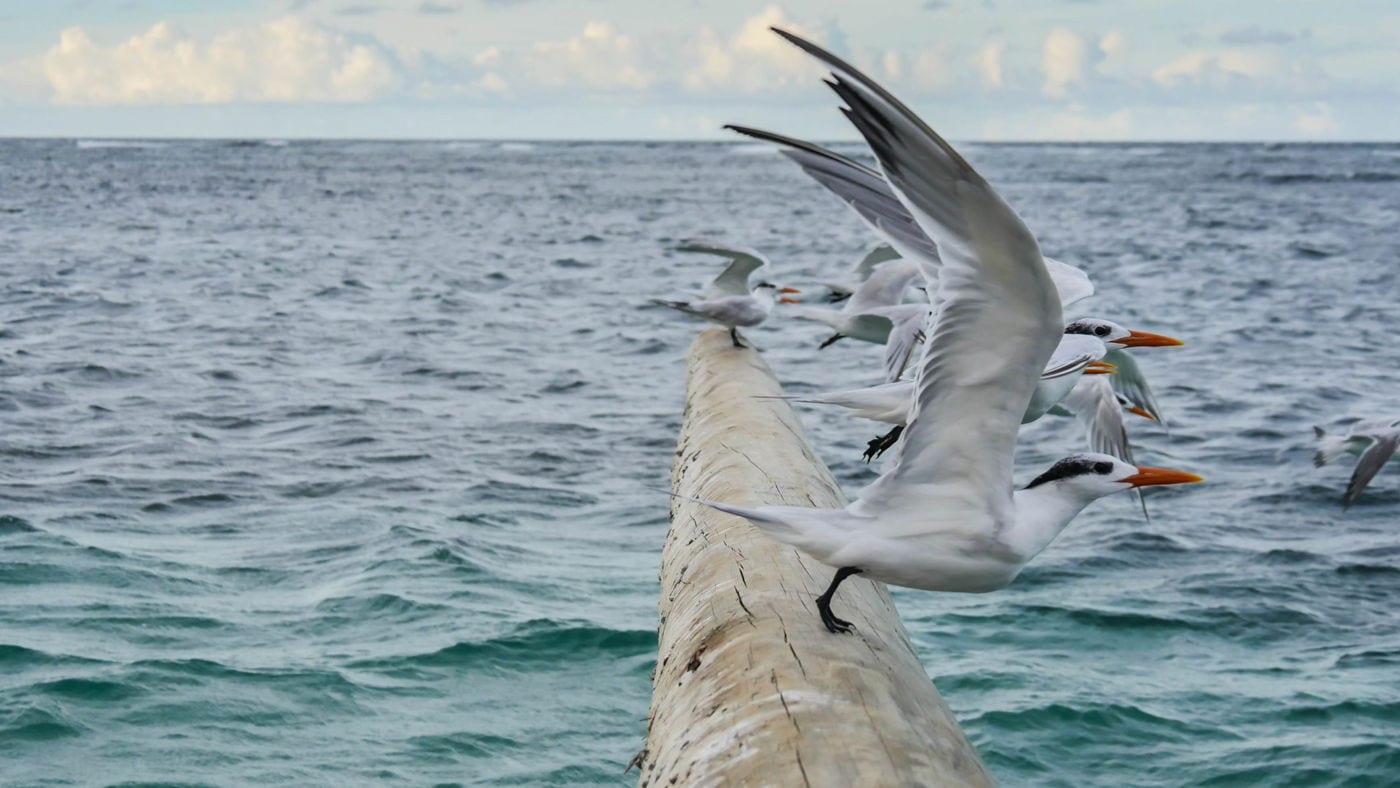 Image – Capturing seagulls in Long Haul Bay using 4K Photo mode on my LUMIX GH4
British Airways offer a direct route to St. Kitts from London (the flight lands at Antigua but passengers for St. Kitts & Nevis remain on board) and Virgin Atlantic operates a route to Antigua where a connection can be made to Nevis with Fly Monserrat or WINAIR.
Flights from five major US cities make connections in either San Juan or St. Maarten with airlines Cape Air, Seaborne, Tradewind, or Winair for arrival into Nevis. Alternatively, there are four direct routes from major US cities to St. Kitts where a taxi and water taxi deliver passengers across the narrows to Nevis.
NEVIS TRAVEL GUIDES ON WANDERLUSTERS
Planning a trip to Nevis? Get tips and inspiration, read my Nevis travel guides.
WHERE TO STAY ON NEVIS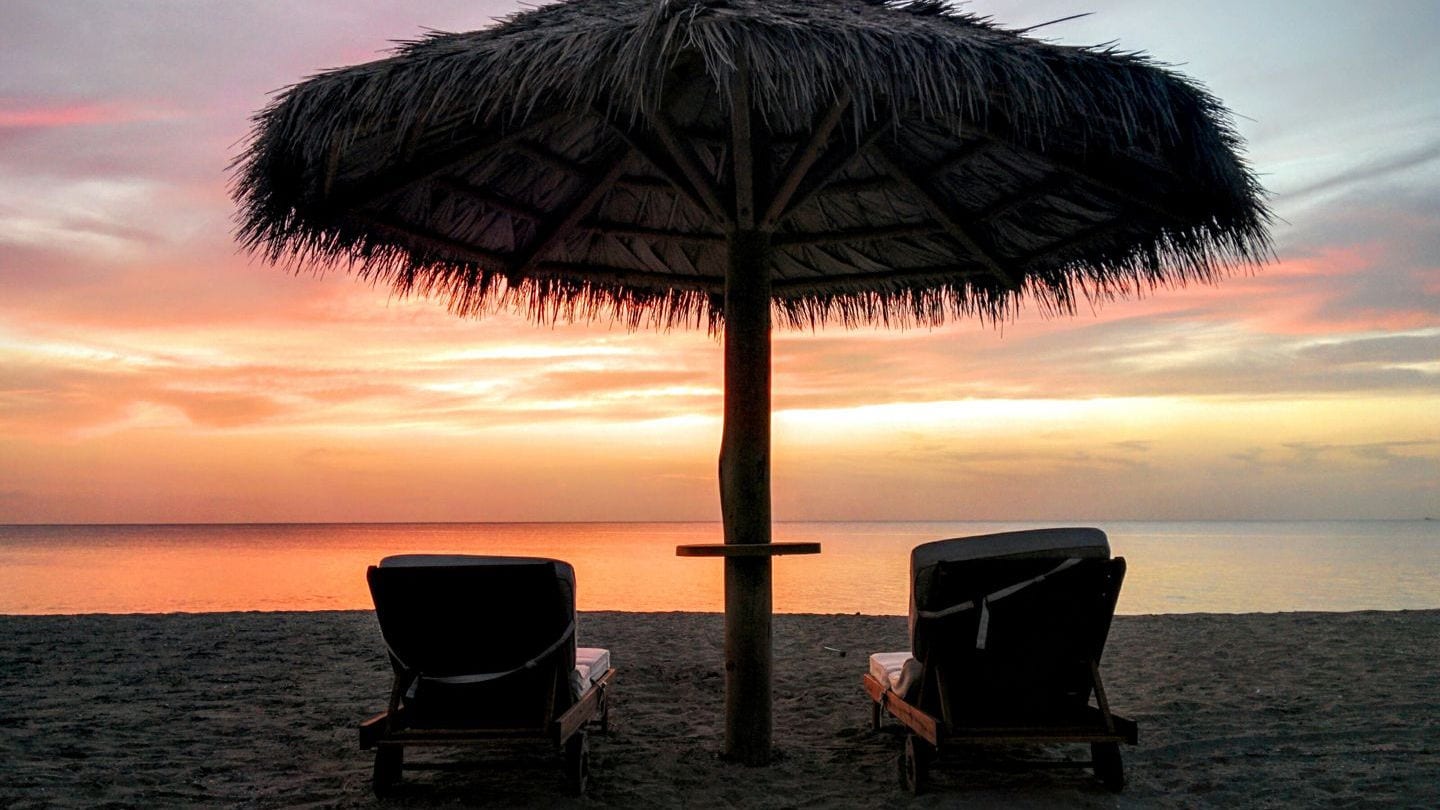 Image – The perfect spot for sunset at Paradise Beach 
If you're looking for luxury check into Four Seasons Resort Nevis where alongside traditional hotel suites, lavish two, three, and four bedroom villas overlook the surrounding golf course and the glistening Caribbean Sea. Offering an opulent island escape, you can choose to book a butler, private chef, and wellness professionals to be on hand to attend to your every whim, and when you're so inclined you can stretch out on the pristine sands that fringe the resort.
Keen to immerse yourself in the island's heritage? Check into The Golden Rock Inn. Situated on the verdant slopes of Nevis Peak, this historic plantation property dates back to the 1800s and has been lovingly restored under the guidance of new owners Helen and Brice Marden (one of New York's most creative couples). Boasting a minimalist chic that perfectly complements its fine Nevisian stone walls and vaulted ceilings, this property is ideal for a secluded island escape. The Montpelier Plantation is another fabulous historic property to consider, read my review of Montpelier here.
Looking for a laid-back, eco-friendly retreat? Check into the Oualie Beach Resort. Owned by the Yearwood family whose heritage runs deep in the sugar trade of the 1600s, the property boasts quaint gingerbread cottages and is set aside a lush beachscape blanketed in coconut palms, natural grasses, and coccoloba uvifera (known locally as sea grapes).
THE BEST BEACHES ON NEVIS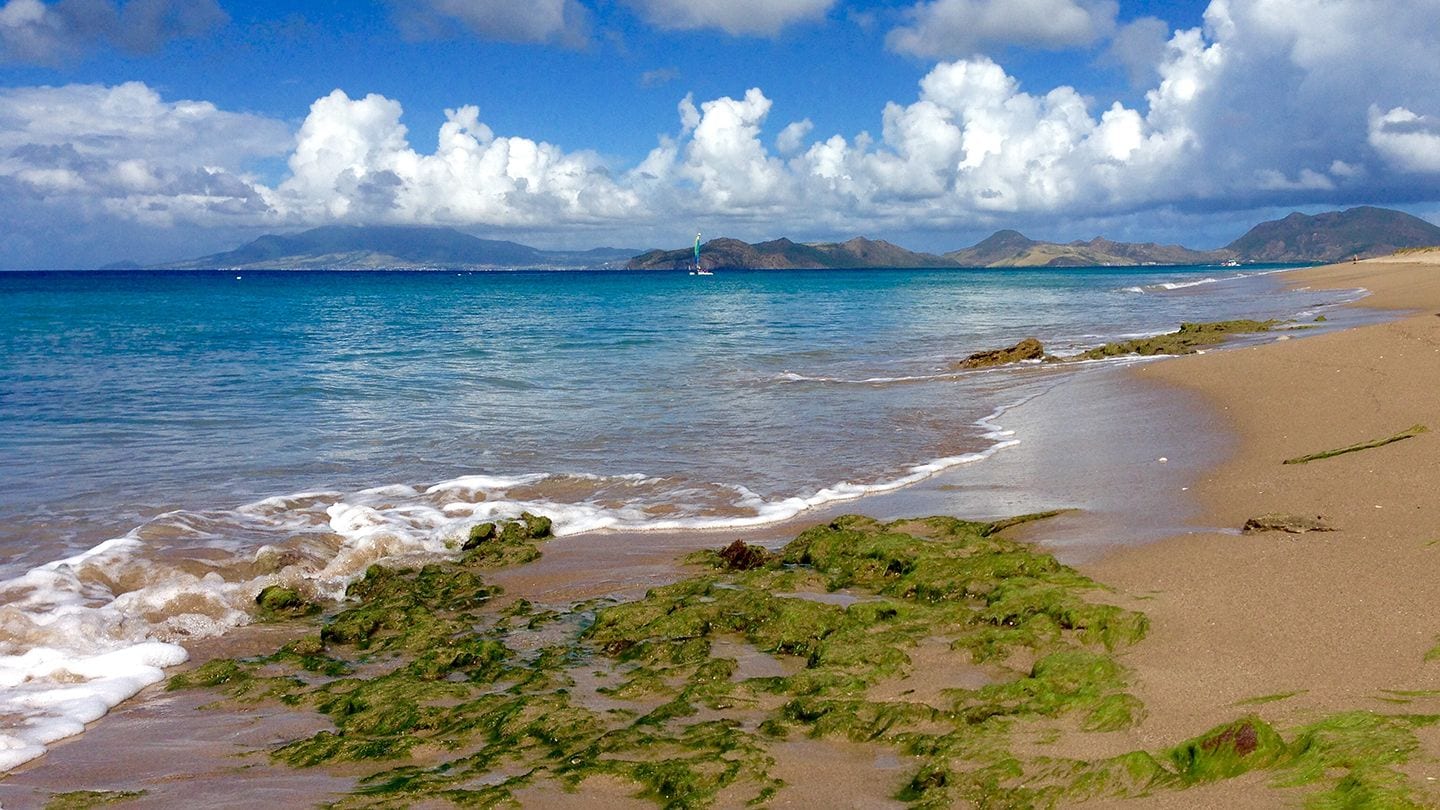 Image – On the sand at Pinneys Beach
Unlike many of its neighbours, Nevis' beaches are understated and undeveloped. Very little property and just a handful of tasteful resorts line the water's edge; there's seldom anyone around to beat you to the optimum spot on the sand.
Looking for a place to lay out on a sun lounger? Cades Bay on the north west coast of the island boasts two fine beach-front watering holes – Chrishi Beach and the Yachtsman Grill – that cater to folk who want to crash out on the sand for an hour or two. Volleyball courts and views over to neighbouring St. Kitts can be found at both.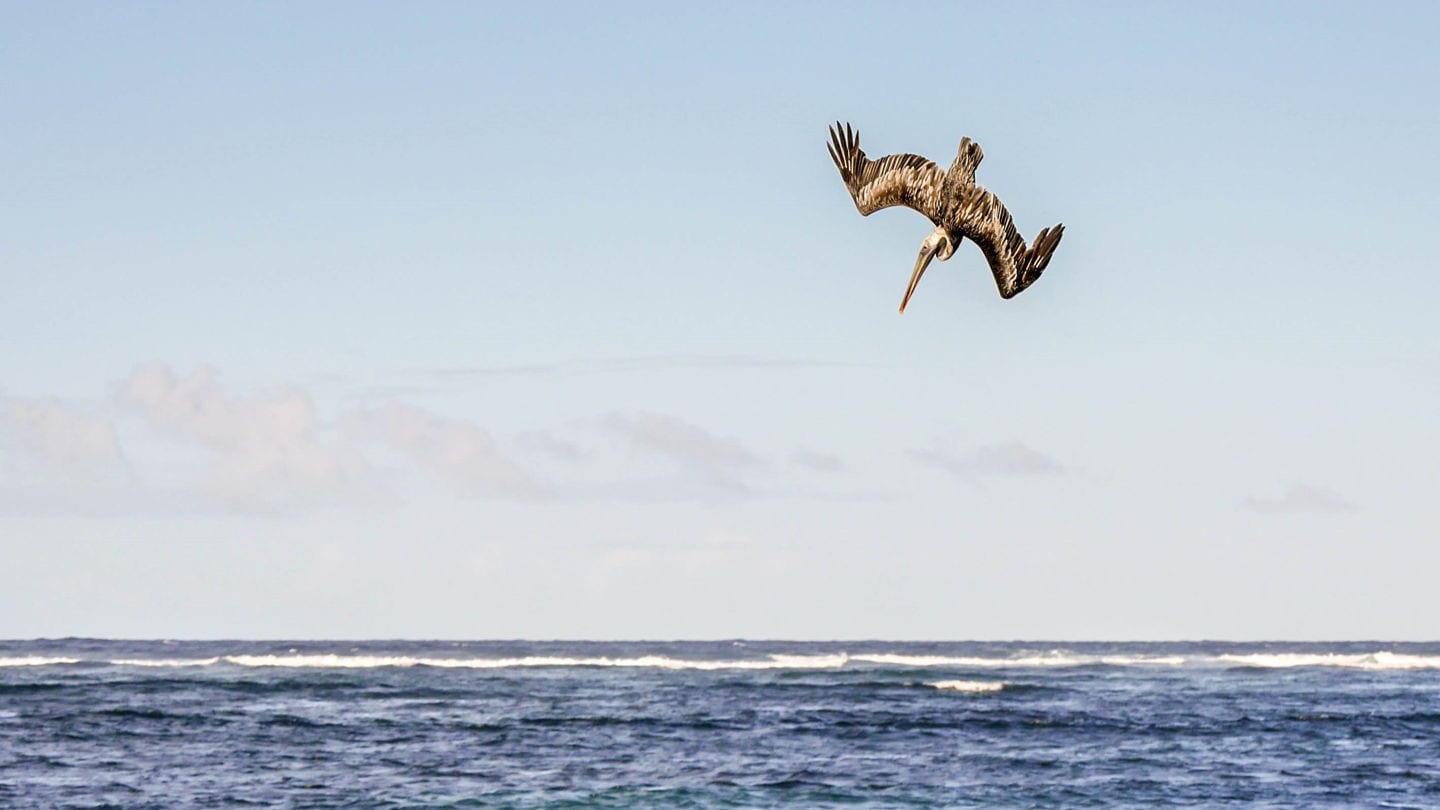 Image – a pelican dives for his supper in Long Haul Bay, shot using 4K Photo mode on my LUMIX GH4
Want to watch local fisherman netting their catch in the shallows? Walk along the sands affront the Nisbet Plantation where pelicans patrol the waterline and skilled fishermen cast their nets into the crashing waves.
Keen to sunbath in seclusion? Head down to Lovers Beach where undulating sands and an idyllic island view offer a romantic hideaway for two.
Searching for the best beach walk on Nevis? Traverse the length of both Paradise Beach and Pinneys Beach and wend your way past sections of unspoiled shoreline, on to the beachfront of the striking Four Seasons Resort, and into the archetypal surrounds of the beach bars at Pinneys Beach. The round trip is a little under three miles and is the perfect morning tonic for too many glasses of rum punch the night before!
THINGS TO DO ON NEVIS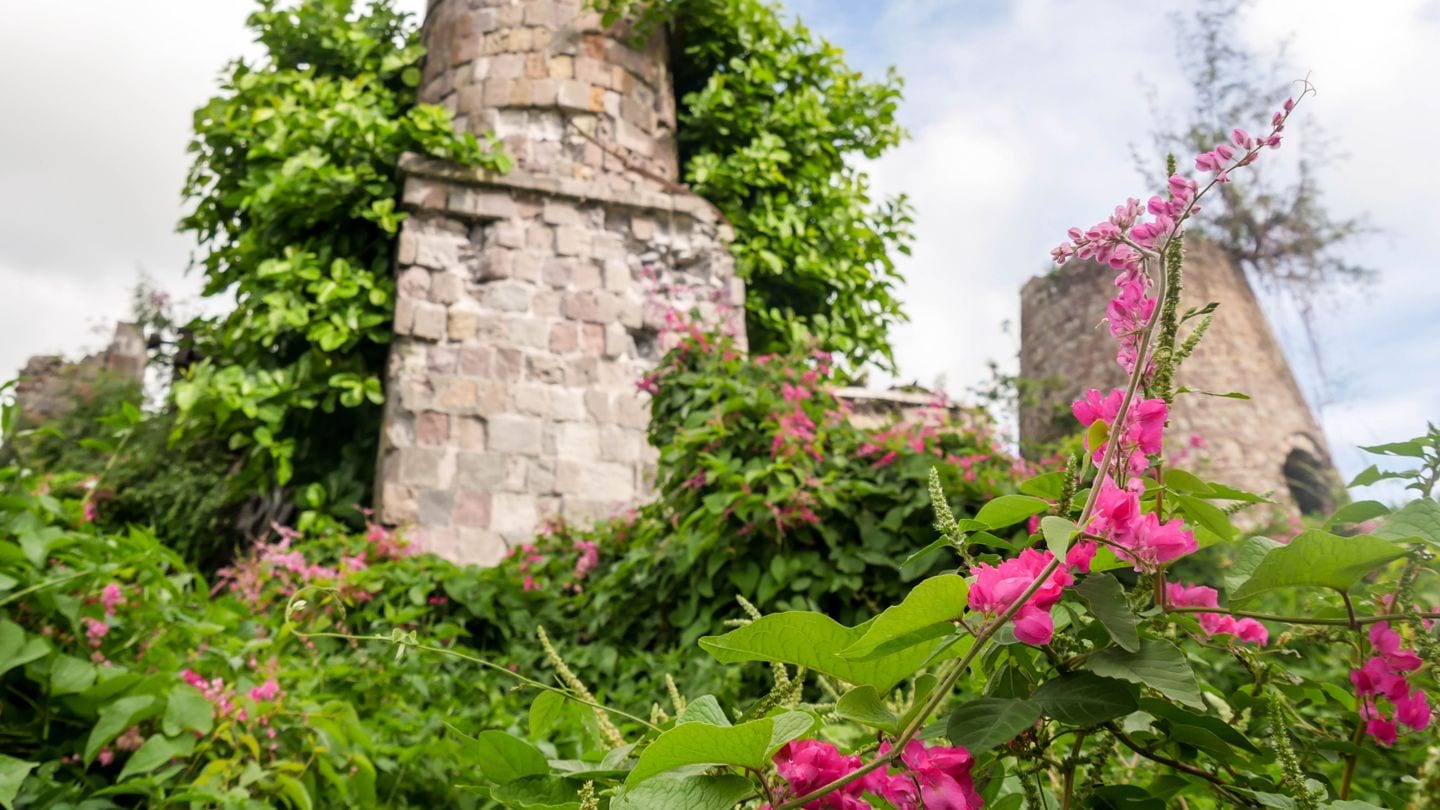 Image – Sugar mill ruins on the historic Hamilton Estate
Whether you're visiting Nevis for a week or just a day, the Funky Monkey Tour is a fabulous way to soak in the sights and sounds of the island. Hop aboard a Polaris Ranger and head off the beaten track with your guide who will share with you some of the island's best kept secrets. I was amazed at just how many sugar industry relics remain in situ, from enormous cast iron melting pots to ruined mills constructed of Nevisian stone, there's a wealth of historic sites to explore.
Feeling adventurous? Hike the majestic 3232ft Nevis Peak. Perfect for all levels of climbers, though with a few challenging and adventurous sections, those who reach the top will be rewarded with unparalleled views that stretch out across the Caribbean Sea. Alternatively you can hire a bike from BikeNevis.com and ride the single-lane roads that cover the island. read my guide to where to cycle on Nevis for more information.
Seen the sights and keen to relax? A skippered sail aboard a yacht is the perfect remedy too much activity. Book a day's sailing with Nevis Yacht Charters who will whisk you away for a few hours on the ocean; snorkel on vibrant coral reefs, relax on the deck in the sun, and see the mighty Mount Nevis in all its glory, clouds blanketing its peak.
THE BEST BEACH BARS ON NEVIS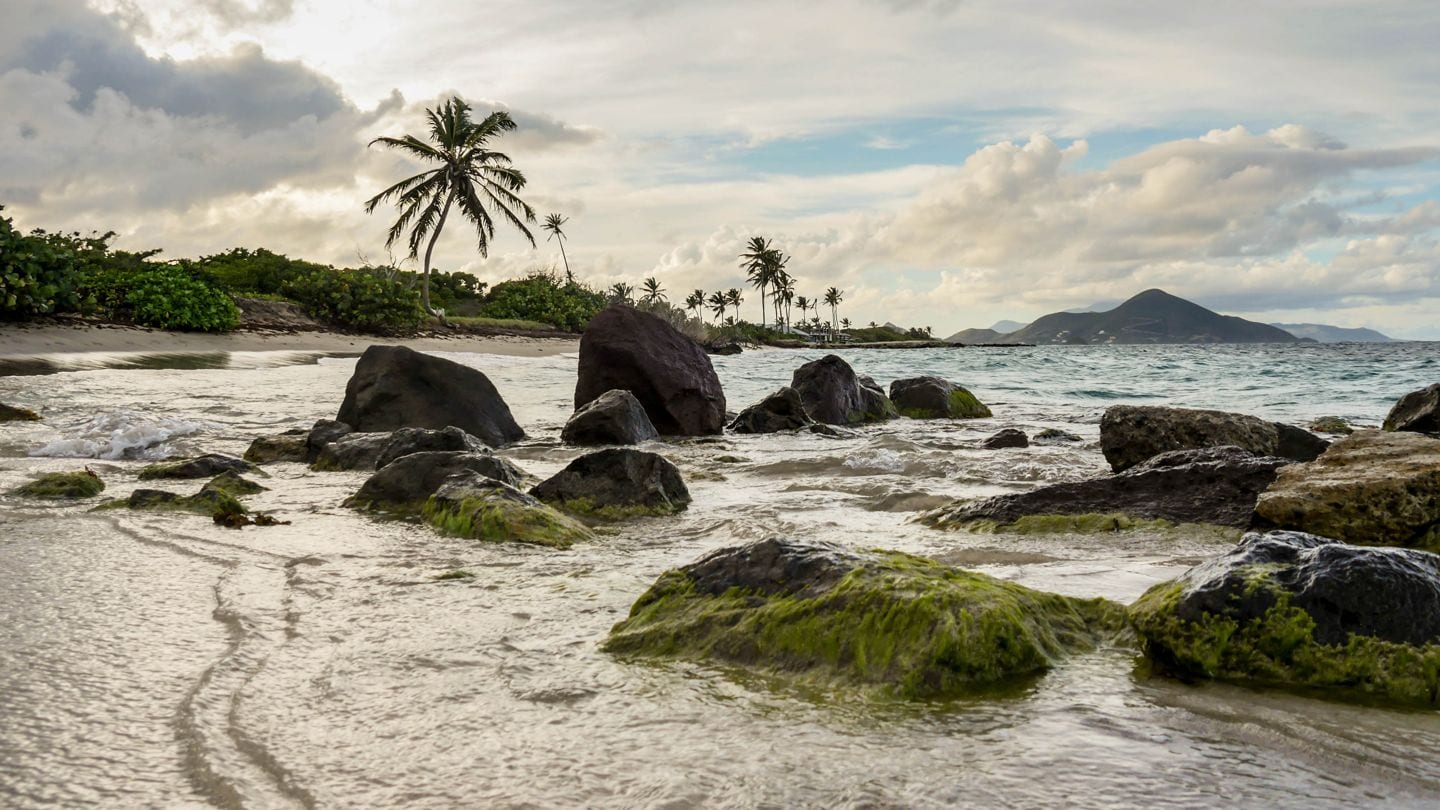 Image – A blustery sunset scene at Long Haul Bay
Pinneys Beach is the epicentre of beach-side retreats on Nevis. Here, Turtle Time, Lime, and Sunshine's compete for custom with a high octane blend of sweet soca sounds and potent punch cocktails.
Sunshine's Beach Bar & Grill has a chilled West Indian ambiance and is popular not only with locals, but visitors and famous faces alike; Beyonce, John Travolta, Kevin Bacon, Catherine Zeta-Jones, and Mel Gibson have all dined here over the last 24 years.
Lime is the place to party on a Friday night. Patrons can chill in the Green Flash lounge (a rooftop cocktail bar above the dance floor run by vivacious patroness Jack), and late night revellers will love its pizza shack which serves up piping hot pizzas throughout the evening.
Turtle Time Beach Bar & Grill opened in February 2015 and is fast making a name for itself as the place to be seen at Pinneys Beach. The specially constructed 360-degree bar is bright and breezy and offers spectacular views of the nightly Nevisian sunset.
Want to relax aside the sand in style? Head to my favourite hangout Chrishi Beach. The only place to be seen on Nevis, rock up to this ocean-front haunt any time of the day or night and unwind to the sound of Hedda's unique playlists that perfectly complement the stylish interiors of this up-scale beach bar.
FOODIE'S GUIDE TO NEVIS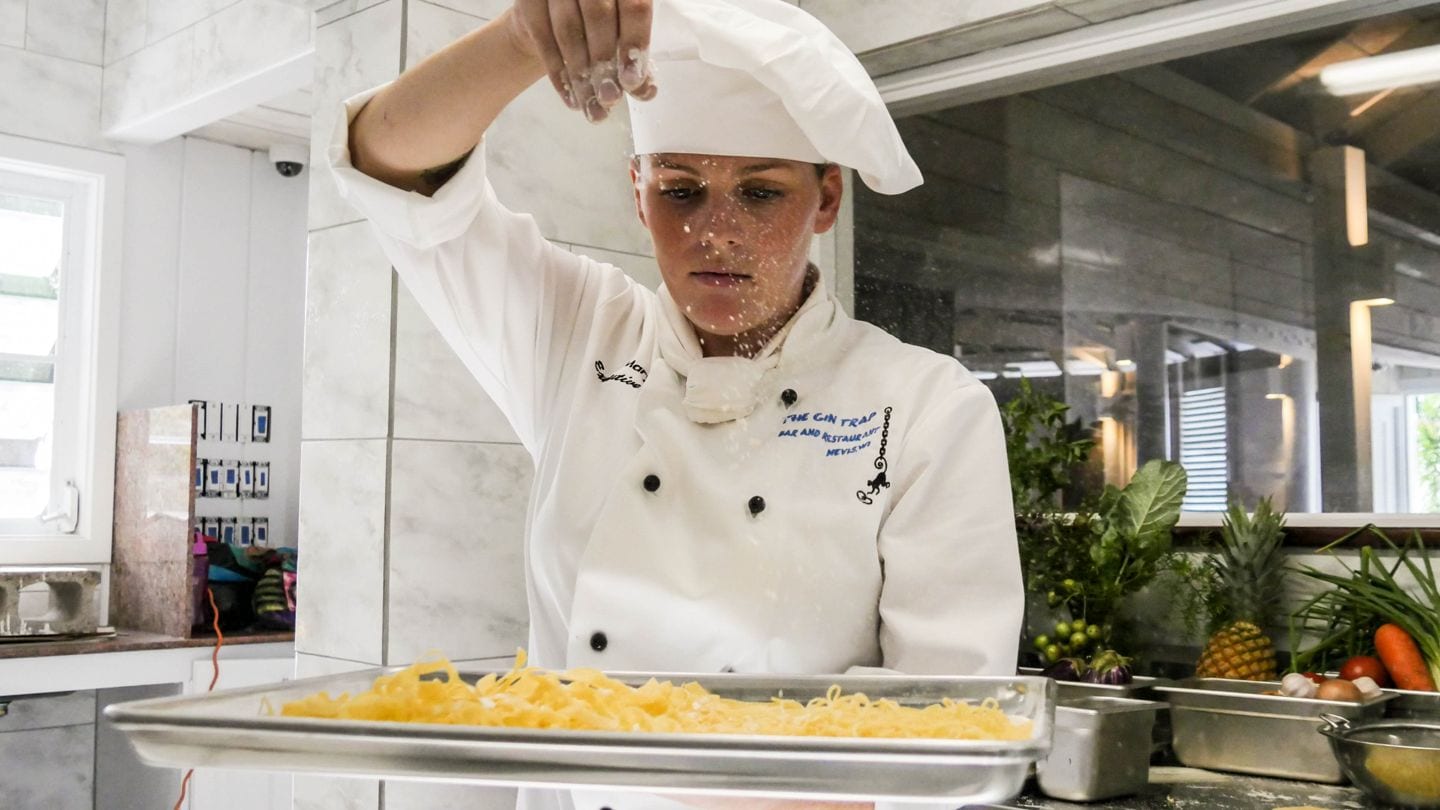 Image – Capturing Executive Chef Mary Parks at work using 4K Photo mode on my LUMIX GH4
The island's beach bars are a great option for budget friendly local fare, however there's also a wide range of international cuisines available across the island. Here are a few of my favourites:
Bananas Bistro – international flavours with Caribbean flare
Oozong island charm Bananas Bistro is hidden away in the upper reaches of the historic Hamilton Estate and is surrounded by over an acre of lush tropical garden where hummingbirds flit to and fro and unprecedented sunset views offer nightly entertainment.
Indian Summer – the best Indian cuisine in the Caribbean
From the tandoori-fired flat breads dripping in butter and the sumptuous samosa chaats, to the luxurious murgh makhani and mango lassi (that a fellow dinner implored me to try on hearing it was my first time to the restaurant), bold flavours abound at Indian Summer; a must-try for anyone visiting the island.
Yachtman's Grill – a smart-causal ocean-front eatery
The Yachtsman's Grill's ethos of fresh, local, and seasonal farm-to-table produce is elevated by chef Mary Parks' impressive classical culinary training. A Le Cordon Bleu graduate yet an island girl at heart, diners will find stunning, wood-fired pizzas and Caribbean flavours on the menu in this chic island eatery.
PICTURE PERFECT LOOKOUTS ON NEVIS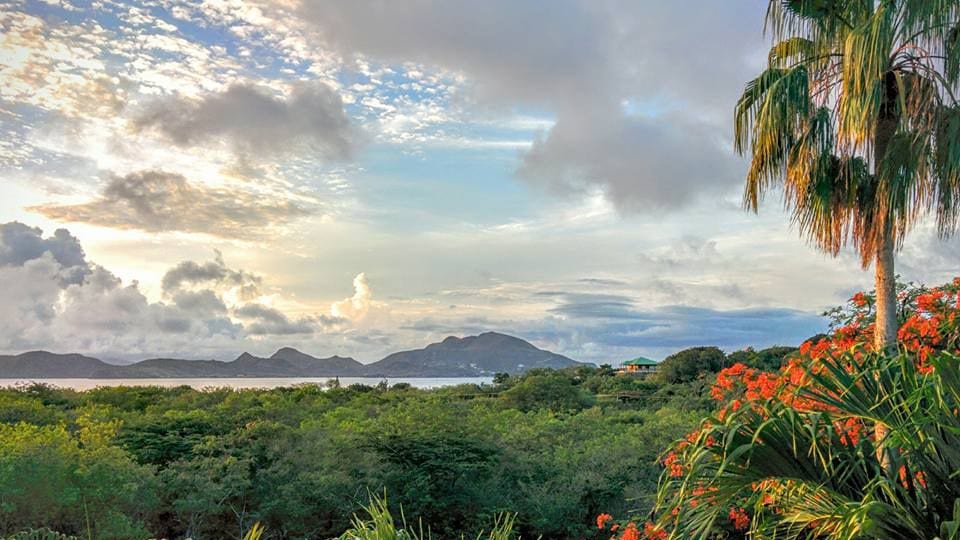 Image – Looking out over to neighbouring St. Kitts
If idyllic island views excite you, or you're looking for some enviable Instagramable Caribbean snapshots, Nevis will not disappoint.
Follow me on Instagram @WanderlustersUK for more snapshots from Nevis!
From skies that erupt in colour at sunset, to stunning stretches of coastline that appear on the covers of glossy magazines, you'll not have to travel too far to find another picture perfect vista.
Here are a few of my favourites: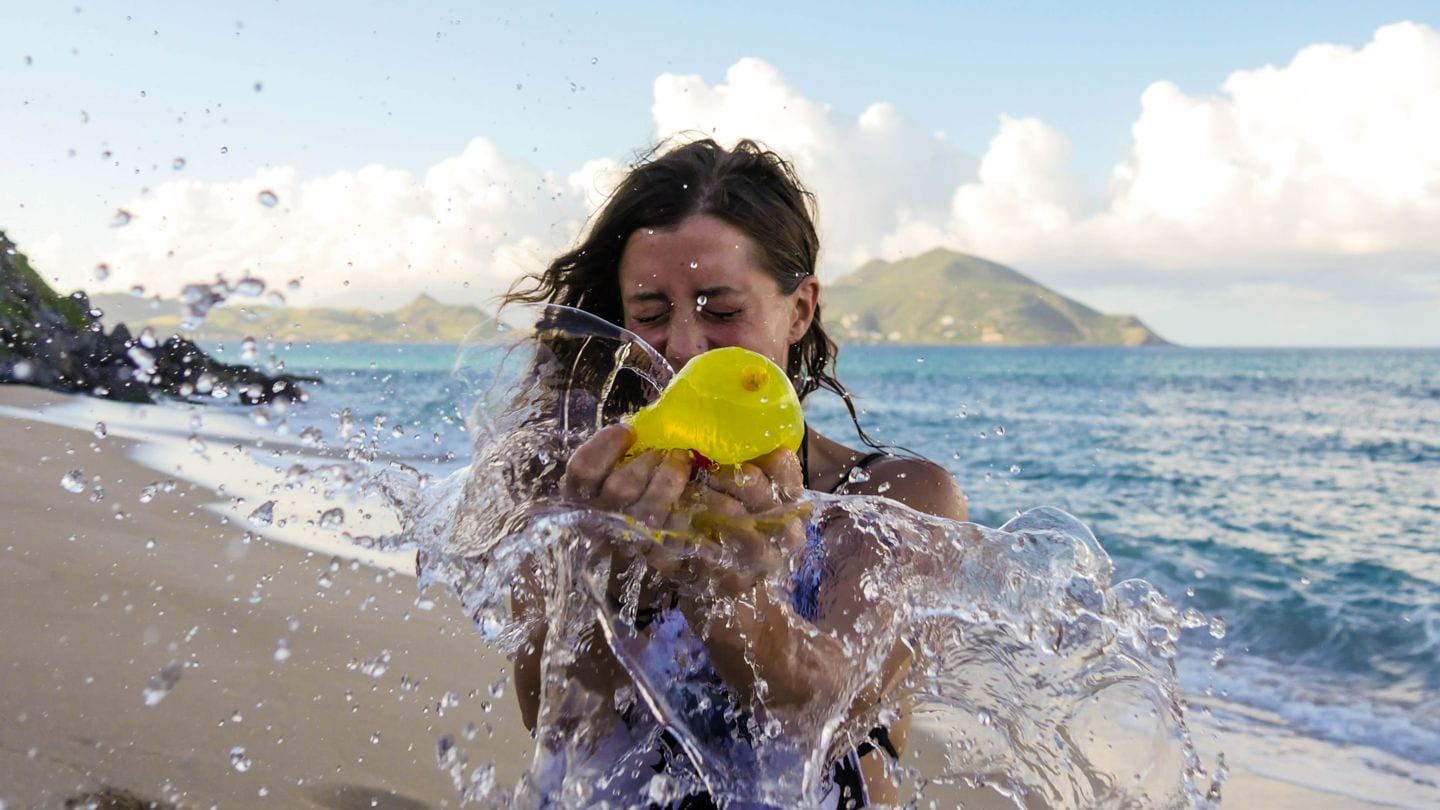 Image – Water ballooning fun on Lovers Beach photographed using 4K Photo mode on my LUMIX GH4
Lovers Beach – With views over to neighbouring St. Kitts and a pristine coastline boarding azure sea, Lovers Beach (just north of the Oualie Beach Resort) is one of my favourite spots on Nevis.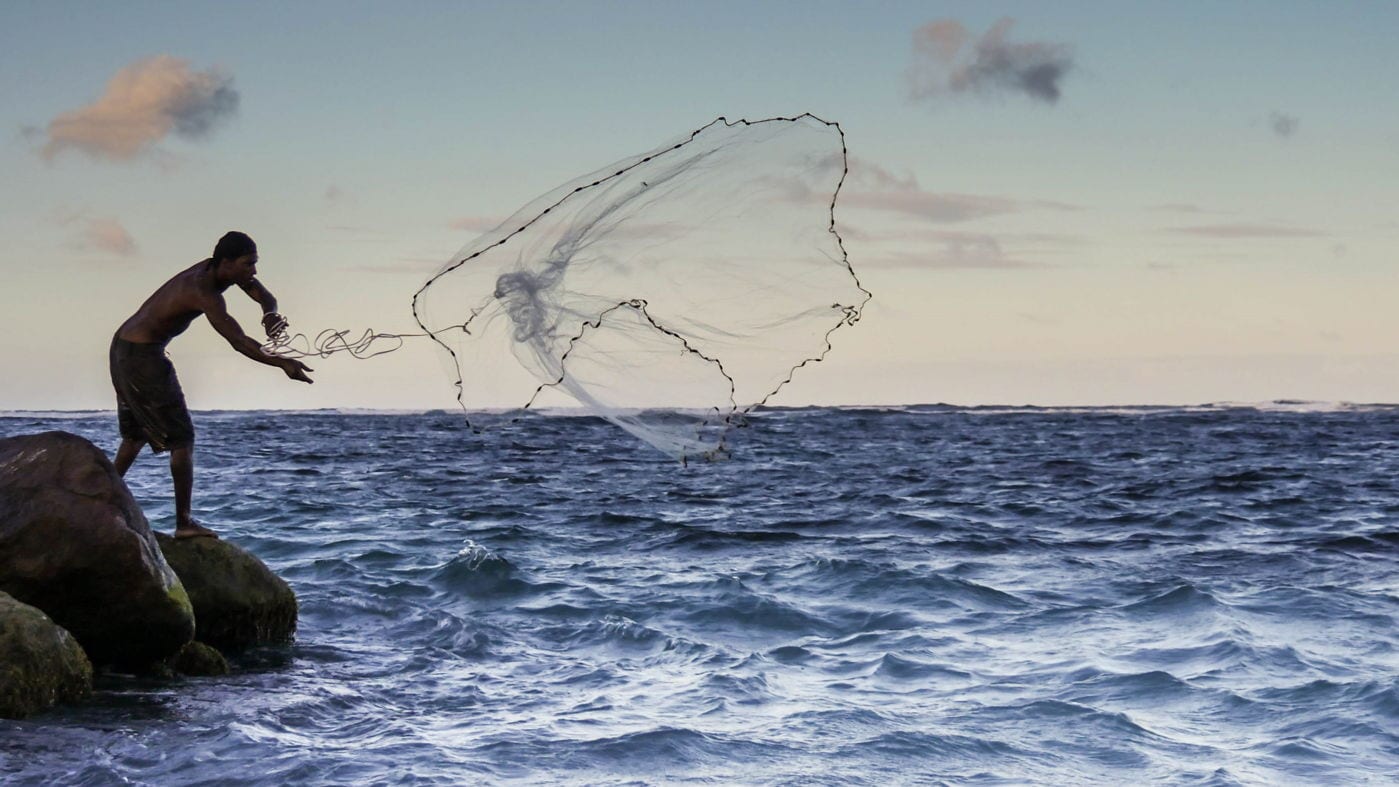 Image – Net fishing captured using 4K Photo mode on my LUMIX GH4
Long Haul Bay – Walk south from the Nisbet Beach Club and you'll find a short stretch of sand fringed with windswept palm trees.
To your right there's an impressive view of Nevis Peak, and to your left you're likely to see local fishermen casting their nets into the waves.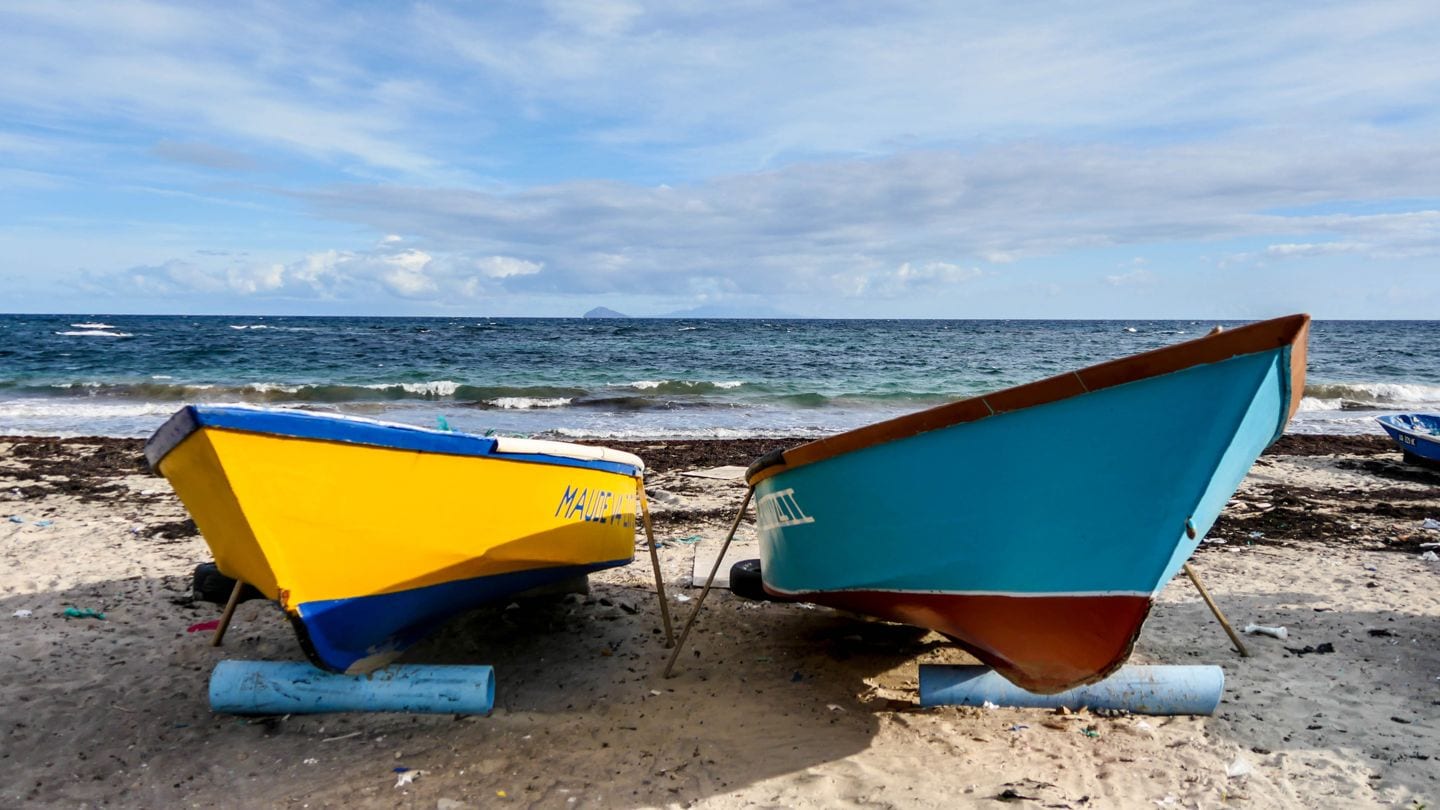 Image – Colourful fishing boats and island views
The Beach at Rices – Take the road opposite Gingerland Secondary School (towards the coast) and although it soon turns from asphalt to dirt, follow it down to the coast where you'll find a remote bay in which the only inhabitants are pelicans and brightly coloured fishing boats.
On a clear day you can see across to the islands of Redonda and Montserrat.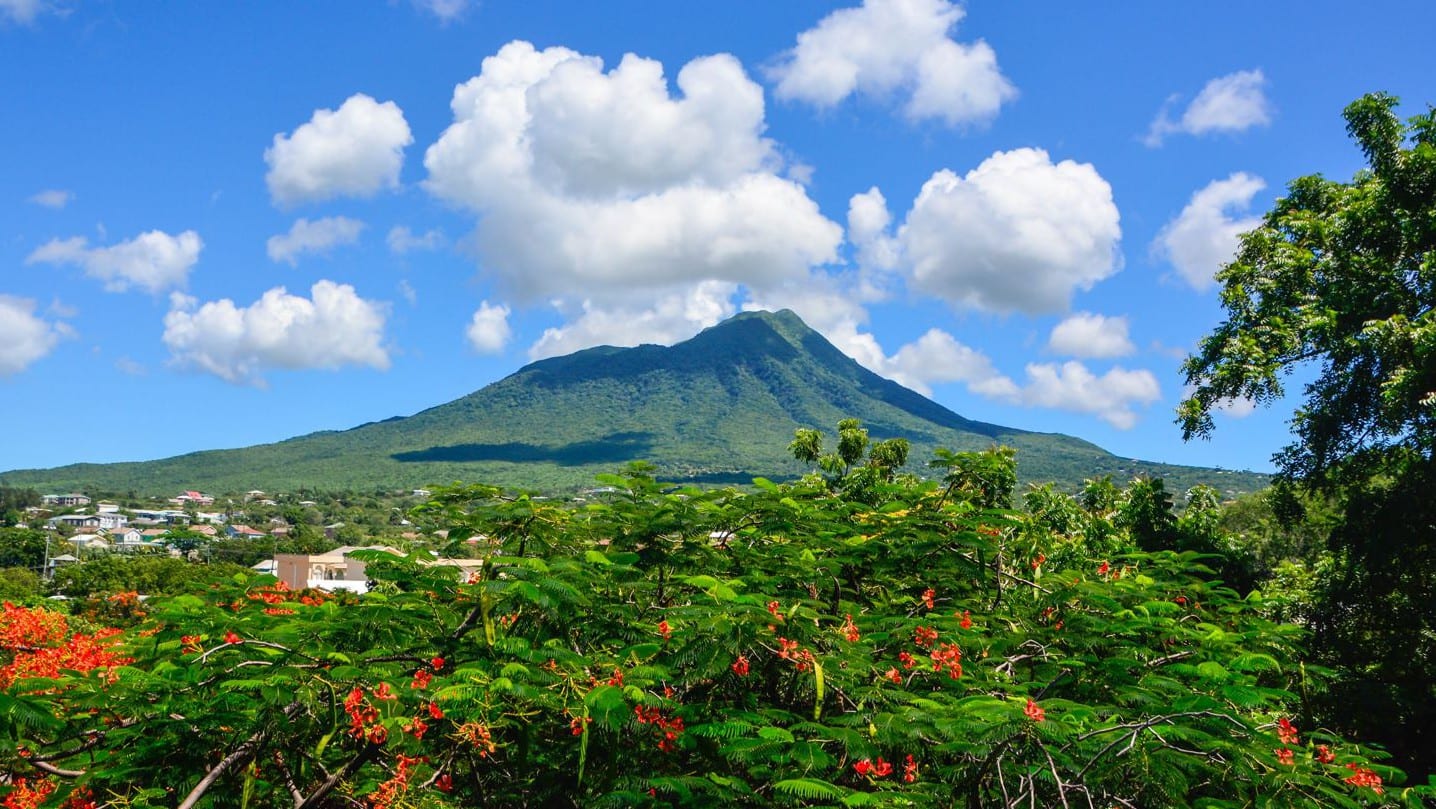 Image – Looking up to Mount Nevis
Nevis Peak Lookout – The challenging hike to the top of Mount Nevis is the activity for the adventurous traveller visiting the island and those who reach the top are rewarded with unparalleled 360 degree views of islands and ocean.
THINGS YOU SHOULD KNOW ABOUT NEVIS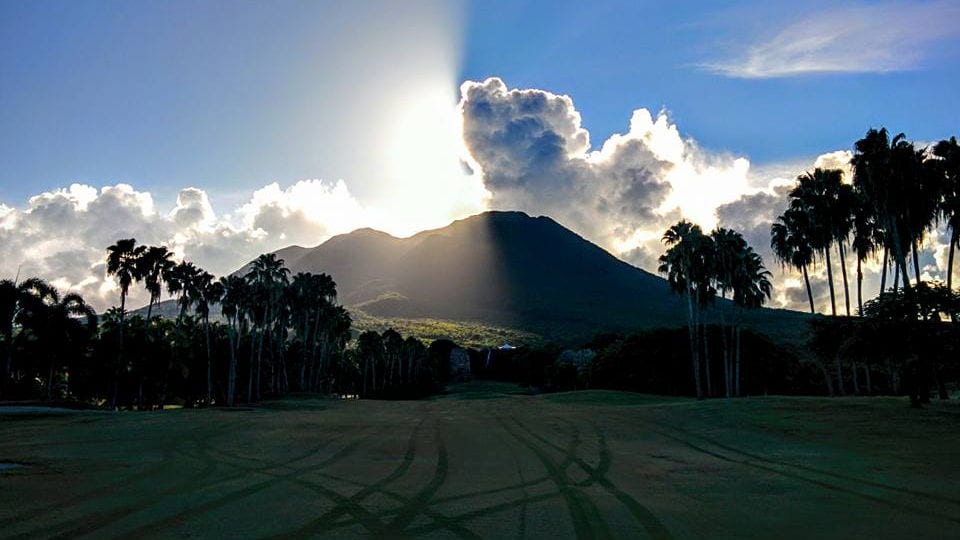 Image – Sunrise over Mount Nevis
Currency
– Eastern Caribbean Dollar
Transport
– Travellers are required to obtain a visitor's driver's license, which may be obtained from the Traffic Department or the Fire Station in the island's capital Charlestown for a small fee (take along your passport and a valid international license).
Local laws and customs
– Nudism and topless sunbathing are illegal.
– Minimum driving age is 18 years old.
– Minimum drinking age is 18 years old.
– Drink driving is illegal on Nevis and those found guilty can be fined and/or jailed for up to 12 months.
INSPIRED? PIN THESE TO YOUR TRAVEL PINTREST BOARDS ↓
[divider]✈ ✈ ✈[/divider]
Want to find out more about my adventures with the LUMIX GH4 and its 4K Photo mode? Check out the fab 4K Photo content I've published here on Wanderlusters.com read more about the feature here.
Have you been to Nevis? Share your travel tips with me below!