This content is published in partnership with Holafly.
If you're looking to purchase roaming internet in the United States consider an unlimited data USA eSIM from international travel eSIM provider Holafly. A quick and easy way to ensure you remain connected throughout your visit to America, the Holafly eSIM is easy to purchase and quick to activate.
International eSIM cards and their uses when travelling to the USA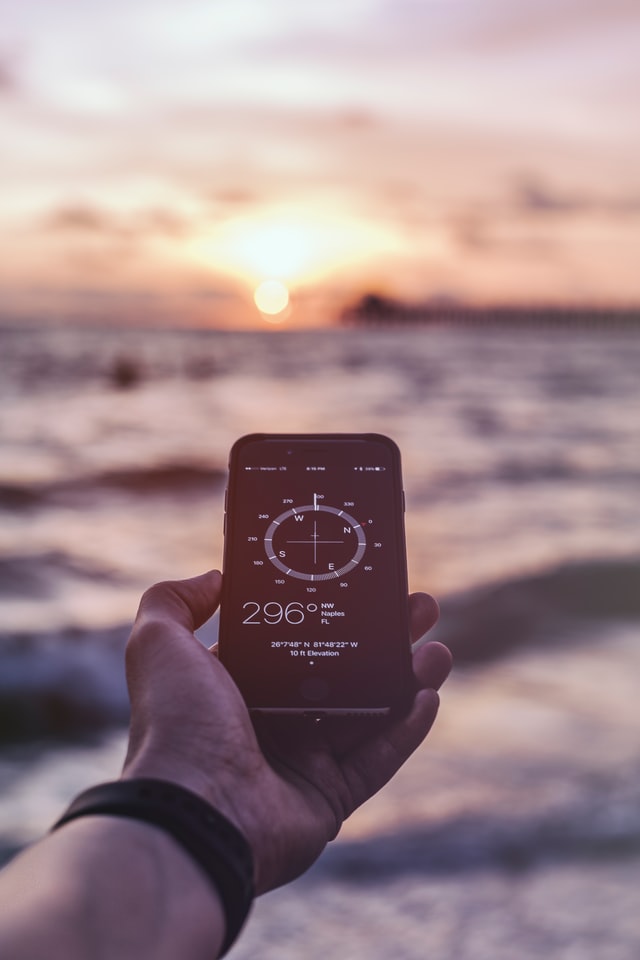 Mobile data and connectivity are essential when you land in a foreign country. It's easy to forget just how much we rely on our smartphones day-to-day for general information and directions; this need increases when we're in unfamiliar locations.
Everyday travel Apps like Google Maps, Google Translate, Airbnb and web browsers require internet access to give you the information you need to navigate new destinations so it's vital to ensure that you're able to connect to a local network as soon as you get off the plane in a foreign country.
How USA eSIMs work
An international eSIM is a digital SIM that allows you to activate a mobile data plan from a network provider without having to switch out your current SIM card for a new one. Pre-installed on your mobile device, you can activate it by installing the "eSIM profile" of your chosen local provider.
Advantages of USA eSIMs compared to US prepaid SIMs
Once activated you can buy eSIM data plans for the US on the go, use multiple operators, and simultaneously subscribe to several data plans at once. This offers travellers visiting multiple destinations in one trip a lot of flexibility.
Alternatives to eSIM cards, like buying a local SIM or activating international roaming, can be more costly and limit the amount of data you can use each day.
Holafly, one of the best providers of USA eSIMs
Holafly provides one of the best eSIMs for travelling to the USA. They offer travellers flexible and unlimited data plans with a reliable connection from the US's best networks.
Key features of the Holafly eSIM:
– Unlimited data: This is a real asset to travellers who like to explore destinations on foot or book their itinerary last minute. With unlimited data you won't have to worry about being left without a connection when you need a restaurant recommendation or directions back to your accommodation.
– Automatic activation: Set up your international eSIM data plan by scanning a simple QR code from their website or a purchase confirmation email. Activate the eSIM when you land in America, and you'll be connected instantly.
– No ID or personal documents are required: This reduces the set-up time and protects your personal data.
– No web registration is required: If you're already abroad and trying to purchase an eSIM the last thing you want to do is spend ages online filling in forms on your smartphone. Simply purchase your chosen eSIM plan and start using unlimited data instantly.
– Customer service via WhatsApp and on their website: Got a problem? With help via WhatsApp there's no need to call an international number or spend hours on instant chat trying to get hold of the Holafly team.
– Data packages from one week to 3 months: A range of data packages gives you full flexibility to maximise your time in the USA.
– Price/day: $1 a day and with unlimited data. It's super affordable to stay connected with Holafly whatever your length of stay.
Things to consider when purchasing an eSIM
Here are some factors to consider when purchasing an eSIM for travel:
Compatibility:
Before purchasing an eSIM it's important to check that your device is compatible. You can do this by checking here.
Some Samsung, Google, and Huawei phones are eSIM compatible. Recent models of iPhone (iPhone 11 and later) as well as some iPads (from 2019) are also compatible with international eSIMs. If you have an iPhone 13 model you can have two eSIMs activated at the same time.
Important: your phone must also be carrier-unlocked to use eSIM.
Functionality:
eSIMs offer data connectivity only, they do not cover international calling whilst abroad or to foreign numbers. If you're travelling and you need to make a call, use WhatsApp, iMessage, or Skype.
Data sharing and tethering:
The unlimited data offered by providers like Holafly can only be used on one mobile. This means that you are not able to tether a laptop or tablet to your phone to share unlimited data.
What is Holafly and how does it work?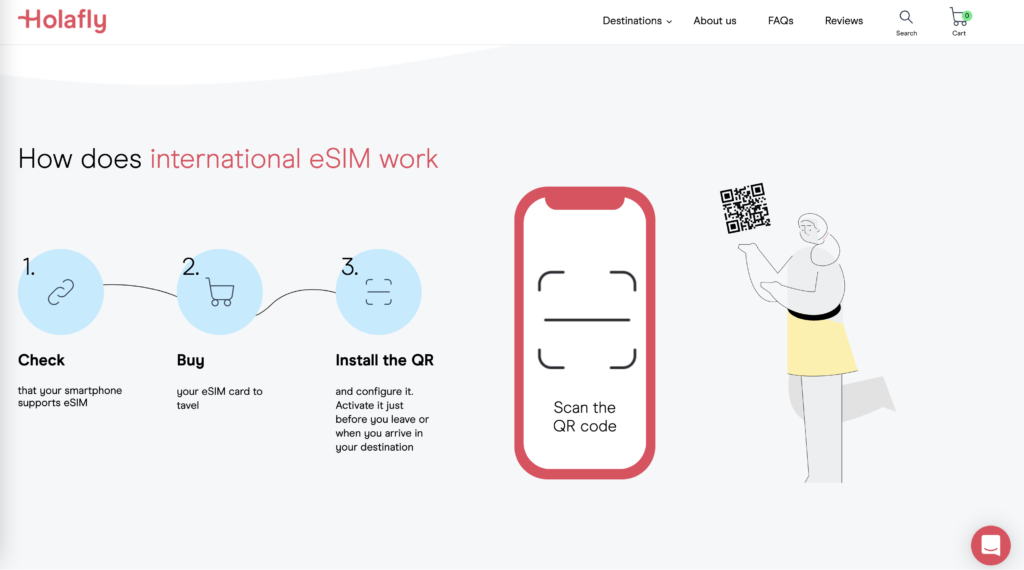 Holafly is a travel eSIM provider offering international eSIM data packages to travellers spending time overseas. Their travel eSIMs are quick to set up and provide unlimited data for set time periods.
If your smartphone or tablet is eSIM compatible, you can buy an eSIM card which offers data connectivity at your chosen destination via the Holafly website. Activate it just before you leave or when you arrive and enjoy unlimited data during your stay.
Is Holafly legitimate?
Yes! Check out reviews from real people on Facebook, Twitter and Trustpilot.
How do I buy a Holafly USA eSIM online?
Head to esim.holafly.com and search for your destination. Choose the length of time you'd like your eSIM to be active, add it to the basket and checkout. You'll then receive an email with a QR code which will automatically activate your plan.
Alternatively, you can scan the QR code on the destination homepage and connect instantly.
How do I install an eSIM?
Time needed: 5 minutes.
Make sure you have an internet connection before you start, then add the new data plan to your smartphone.
Go to: Settings > Mobile Data > Add data plan. If you don't see these options on your phone's settings, this may be because of the type of phone you have. Refer to the FAQs on the Holafly website if this is the case.
Scan the QR code on the destination page of the Holafly website or in the email you received after purchasing a data plan.
Once you have scanned the QR code, you will be able to begin downloading the eSIM to your phone. Click confirm if prompted to begin downloading.
You can now give your data plan a name to differentiate it from your other SIM card. We recommend calling it Holafly.
Set up your eSIM for data only. Choose the new data plan as the option for data only. If you're using the eSIM for travel purposes, select it as your Secondary SIM. This means that you can keep your original SIM for calls and SMS. Don't activate mobile data switching because you may face additional charges.
How to activate a USA eSIM
To activate your plan, you must ensure that you have turned on both Mobile Data and Data Roaming from your phone's settings. Take note that once you activate the eSIM, the number of days remaining on the plan will start to decrease. As such, it's best to activate it just before you depart or when you arrive at your destination.
After installing the USA eSIM, you can go to Settings > Mobile Data.
Select your new eSIM under Cellular Plans.
Toggle the Turn On This Line button.
Activate Mobile Data and Data Roaming from the settings.
You may receive a few text messages once your international eSIM is activated.
READ MORE TRAVEL HACKING GUIDES FROM WANDERLUSTERS