Since breaking into the weird and wonderful world of travel blogging a little over 9 months ago, there's been one consistent comment from our readers:
'Wow, your photos are amazing!'
Well thanks everyone! I'm stoked you love my work!
As the Creative Director here at Wanderlusters HQ I like to think I know a thing or 2 about imagery and design, so it's great to have such positive feedback.
I was also recently featured by world renowned photography website ViewBug which was an real honour! Check out their article 'What's In My Camera Bag' to find out more.
In response to your words of kindness I thought I would share with you my travel photography essentials, the tools of the trade with which I manage to capture the locations we visit, and in turn share those moments with you guys here on the blog.
MY ESSENTIAL PHOTOGRAPHY KIT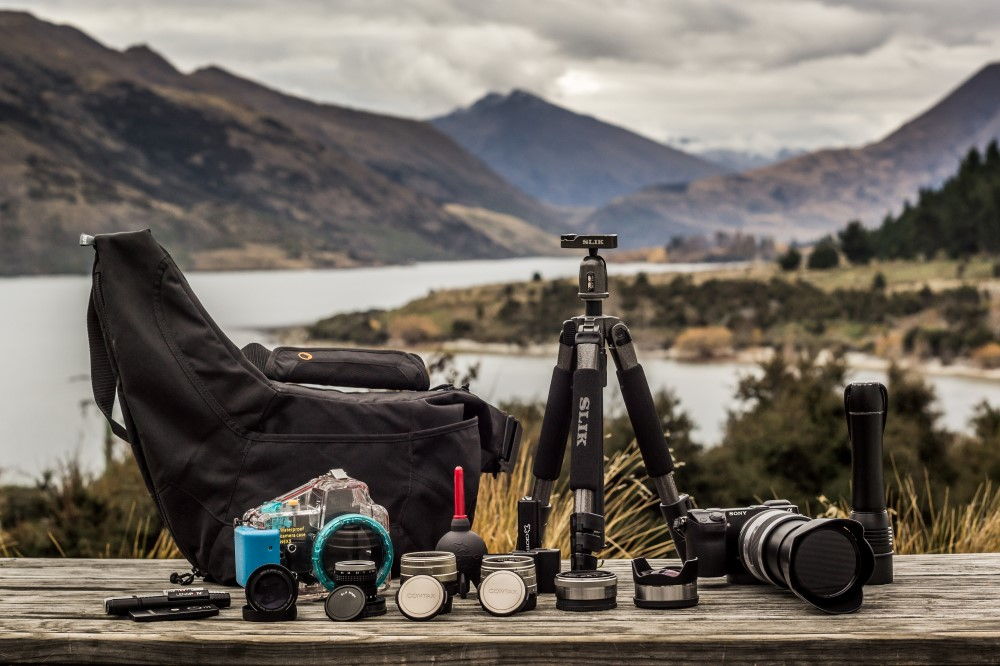 Having spent the last few months photographing New Zealand's remarkable landscapes my camera kit and I have become rather close.
Whether hiking, sailing or scuba diving it's always by my side, ready to capture that perfect moment so I can share it here on Wanderlusters.
As a perpetual traveller I know that I need to be seriously frugal when it comes to selecting my kit. When leaving the UK I made myself a promise, I wouldn't let my love of photography ruin the experiences I would have when travelling.
In short I never want to be that guy lugging 10 tonnes of camera kit up the mountain to get just one perfect shot.
I want my kit to work hard so I don't need to break my neck carting it around.
All the kit I use on a daily basis packs neatly into my Lowepro Passport Sling. Items like my underwater camera case, torch and cleaning kit I keep separate, but for on land activities the Lowepro carries everything I need.
When above the waterline I shoot with the Sony NEX-7, although I'm considering changing to their full frame body when it's released later this month.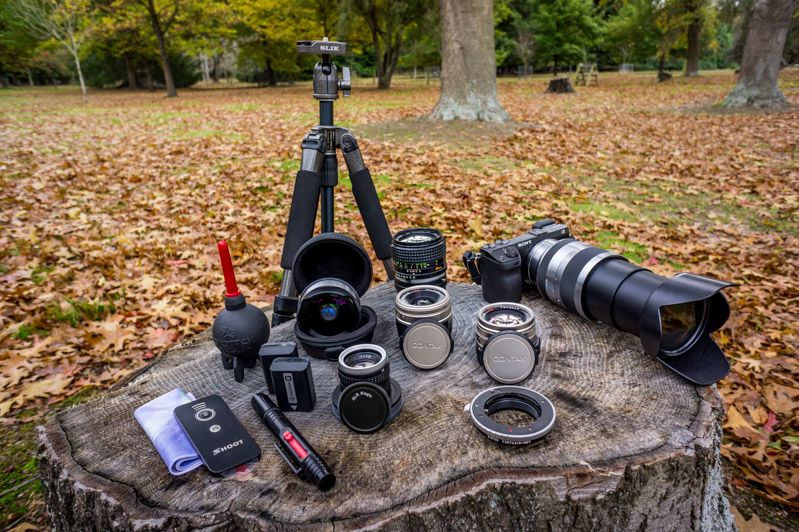 Along with the NEX-7 I use my Sony SEL18200 18-200mm f/3.5-6.3 Zoom Lens with the Matin 67mm Circular Polarizing Filter.
It's incredible just how much you can do with this zoom, either alone for intimate momentary close ups or with my Slik Sprint Mini II GM 4-Section Tripod for long exposures and panoramics.
If I need to get up close and personal with my subject then I switch over to the Sony VCL-ECU1 Wide Angle Conversion Lens. Again another lens which can produce some quite unique images.
I love using my Contax G Zeiss glass. Although a retro fit I purchased a Contax G to Sony E-mount adaptor so I could use them with the NEX-7 – the 35mm and 45mm f/2.0
Planar glass produce some really tack sharp images across the entire frame which I love.
My love of capturing the world on film extends under the ocean too and despite being relatively new to the art of underwater photography I've had some great results.
I spent a long time researching those colossal rigs you so often see keen divers with, unfortunately I'm not in a position to carry such a comprehensive rig so I make do with my Sony NEX-5 along with a Sony SEL16F28 16mm f/2.8 Pancake Lens.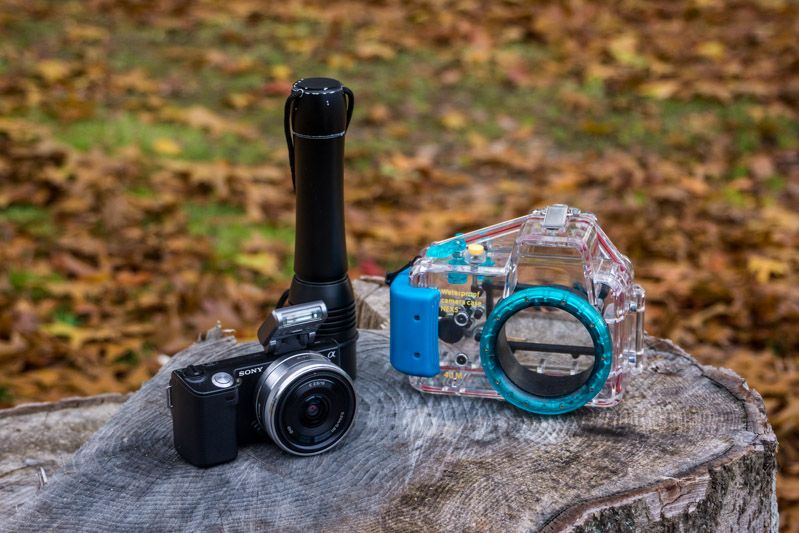 While the quality of the image is good if I get everything set up just right, the fact that I lack strobes and rely on my trusty dive torch does put me at a disadvantage in clouded waters or bad light conditions.
I'm super excited by the forthcoming releases by Sony and GoPro so watch out for a camera kit update soon!
For a more in depth look into my camera bag see my full kit list below ↓
Sony NEX-7 & Sony NEX-5 Camera Bodies
Sony SEL18200 18-200mm f/3.5-6.3 Zoom Lens
Sony SEL16F28 16mm f/2.8 Pancake Lens
Sony VCL-ECU1 Wide Angle Conversion Lens
Contax G 35mm f/2.0 Planar Lens
Contax G 45mm f/2.0 Planar Lens
Contax G to Sony E-mount Adaptor
SLR Magic 35mm f/1.7 MC Lens
Minolta Rokkor MD 50mm f/1.4 Lens (NS)
Minolta MD/MC/SR to Sony E-mount Adaptor (NS)
Raynox DCR-250 Macro Conversion Lens
Matin 67mm Circular Polarizing Filter
LensPen and DigiKlear
Giotto Rocket Air Blower and Brush
Sony Alpha Remote Control
Sony NPFW50 Rechargeable Battery Pack x4
Slik Sprint Mini II GM 4-Section Tripod
Lowepro Passport Sling
Sony NEX-5N 40M Underwater Housing
CREE XML 100m Underwater Diving LED Flashlight
If this has inspired you to capture the world on film check out my Photo Essays to see what you can achieve with the kit listed above.
Are you a camera keen bean? What are your thoughts on my kit? Do you shoot with the same gear? Share your comments with me below!