There are times when I contemplate pinching myself, just to check that I'm not dreaming. When the scene before me is just too idyllic, or when the sky is a shade of blue so uniform that it looks as though rendered in Photoshop I find myself unable to do anything but stand and stare.
Stand, stare and soak in Mother Nature's natural design.
Digging my toes into the sandy shores of Lake Wanaka I could do nothing else but let the view of the surrounding glacial landscape wash over me.
Like a cool breeze it enveloped me and sent a shiver down my spine.
Behind me Ben was battling with his neoprene skirt.
Sat in our two man kayak he was eager to get out on the water and as such was attempting to wrench the tightly fitting skirt over his knees and into place on the kayak.
AN ECO ESCAPE ON THE LAKE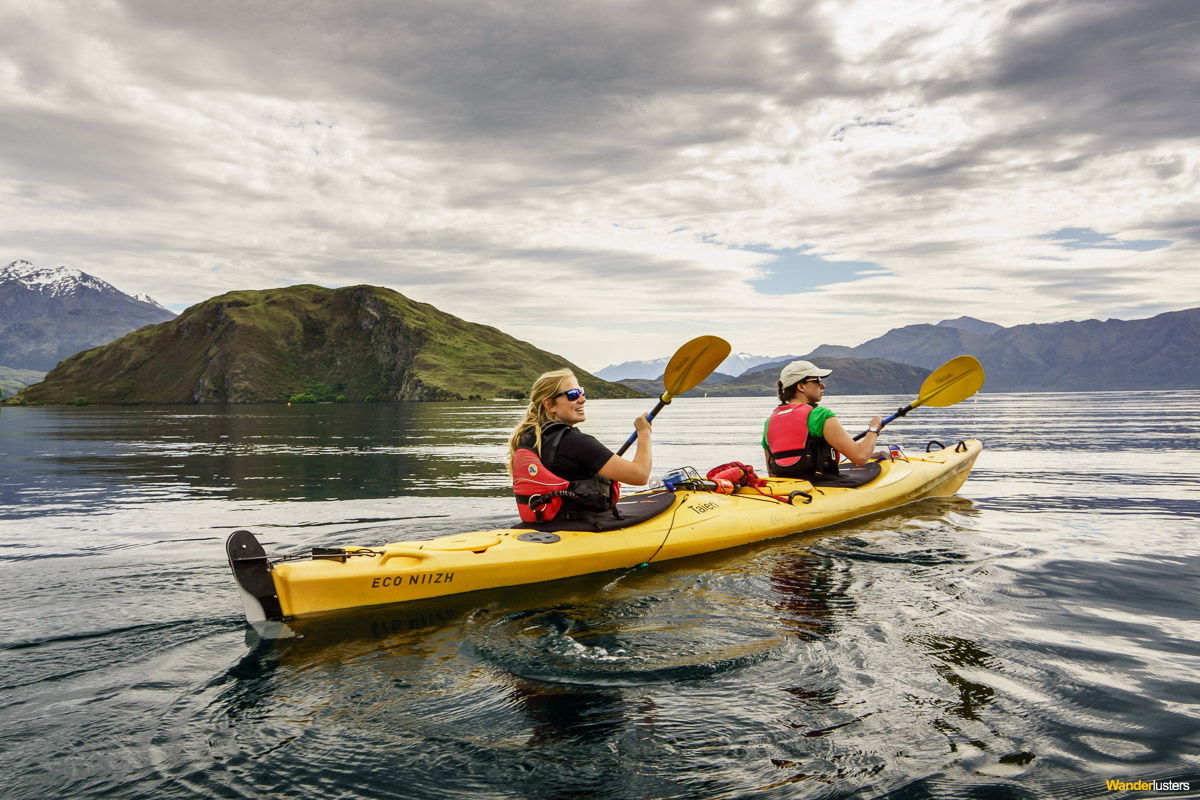 Sheltered by the indomitable peaks of Mount Aspiring National Park, Glendu Bay is in a state of calm.
The lake appears as though a glinting mirror and as we paddle away from the shore the only sound to be heard is that of water droplets falling as we propel ourselves towards the landscape ahead.
Turning my head I take in Treble Cone ski field looming large in the distance. All around me a patchwork of green and blue knit themselves together in a quilt of mountains and glaciers.
There's almost no definition between water and sky, the view ahead is mirrored in the lake and I'm transported into a parallel world of reflection and light.
A MONTAGE OF MOUNTAIN & SKY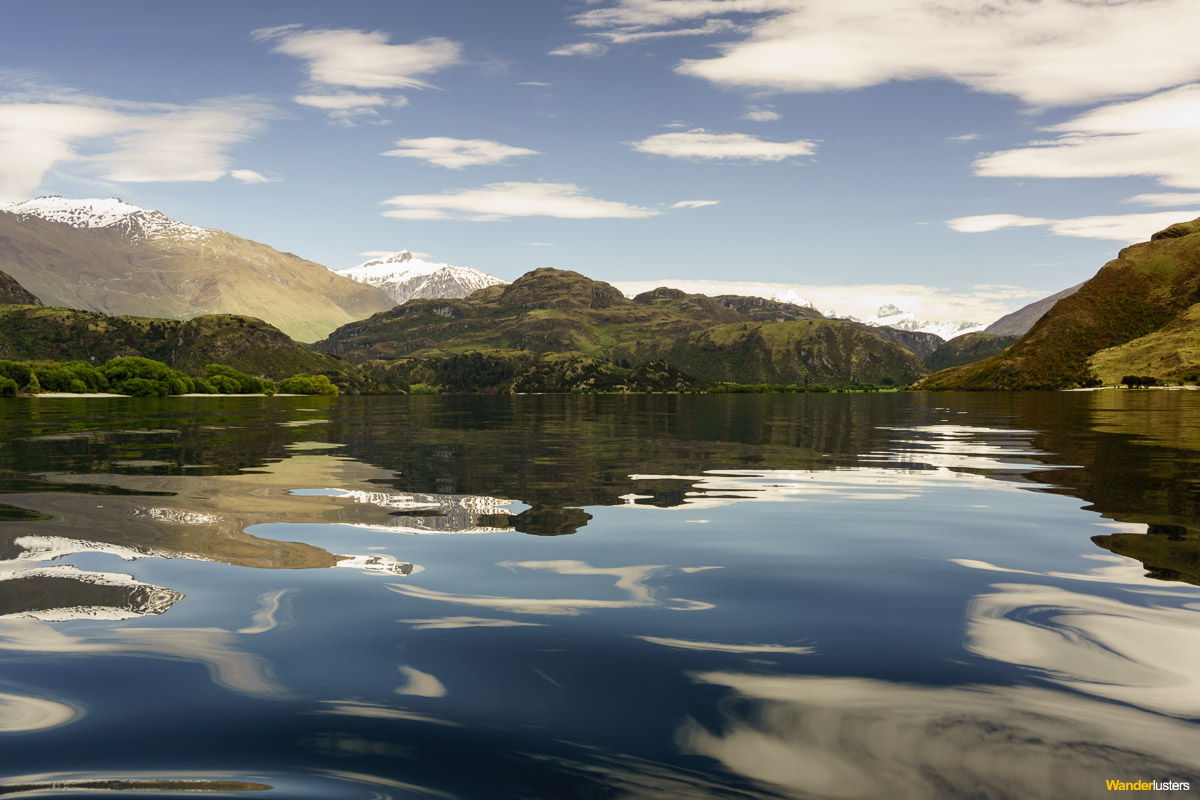 As we leave the shallows of the shoreline the bottom of the lake disappears into the darkness below and the water takes on the colour of black jet.
The fourth largest in New Zealand Lake Wanaka is estimated to be around 300m in depth.
Forged by the colossal glaciers which ripped through the country's south long ago, I'm told that the mountains seen above land are nothing compared to those loitering in the depths of the country's inland waters.
Harbouring numerous small islands, perhaps the tips of these underwater Everests, the area boasts a wealth of land designated as ecological reserves dedicated to protecting endemic species of flora and fauna.
The wind picks up and assists each stroke I make.
Glancing behind I catch sight of Ben, camera in hand. His paddle resting across his lap he is spellbound, and I realise I'm paddling for two.
ISLANDS WITHIN LAKES WITHIN ISLANDS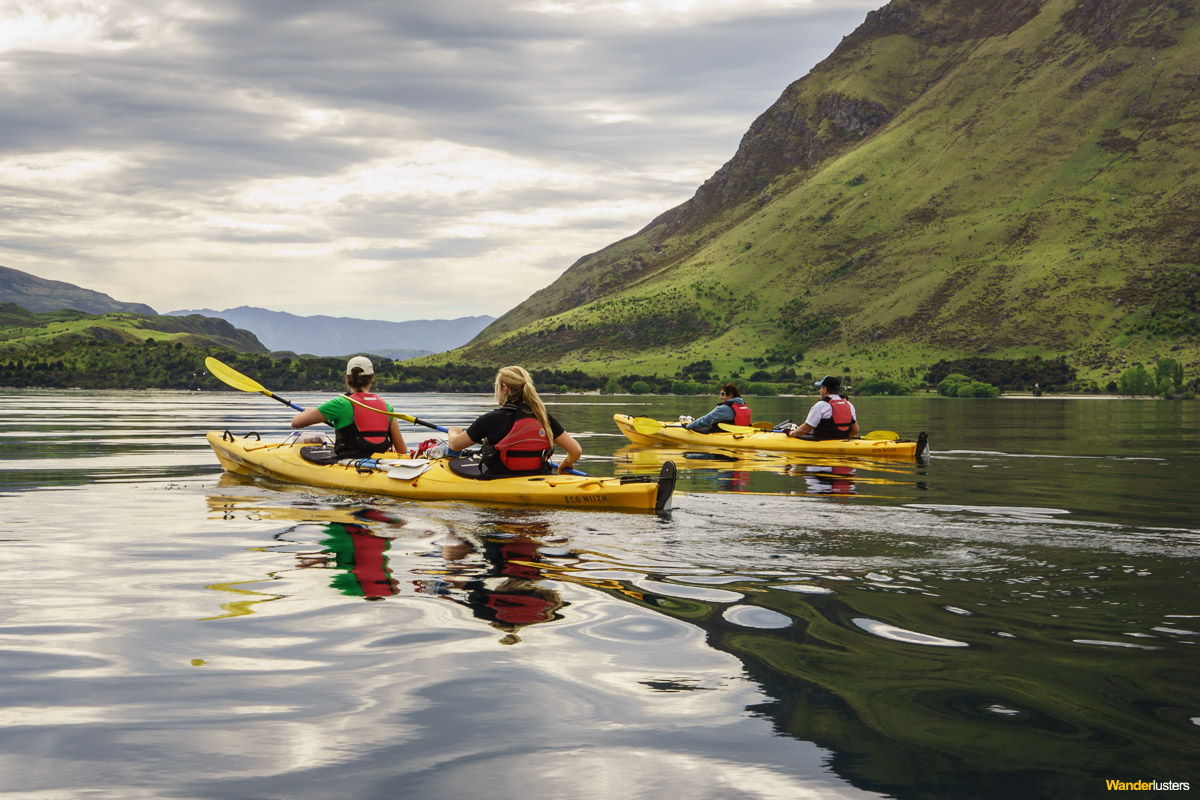 Finding my rhythm I leave Ben to capture the view and head out towards the centre of the bay.
Rounding the point the scale of the lake becomes apparent, in each direction a vast expanse of water stretches out before us.
Littered with islands and inlets Lake Wanaka is a delight to explore.
In front the water disappears into another valley. Home to Mou Waho Island this unique remnant of the last ice age hides a secret from those on the water.
Within the island which appears to float on the waters of Lake Wanaka is another lake, and within the lake, another tiny island.
An Alice In Wonderland of natural anomalies and distinctive design, kayaking is a superb way to soak in Lake Wanaka's little peculiarities.
THE ULTIMATE ECO ADVENTURE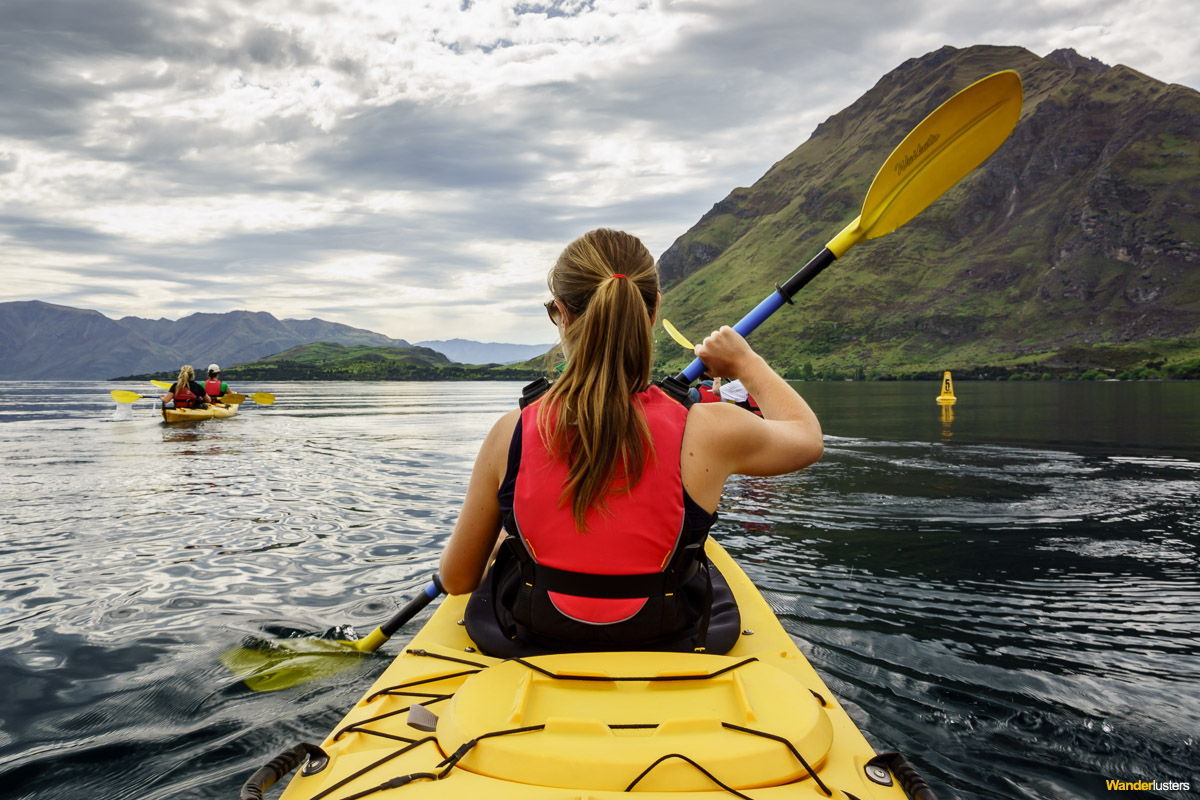 As time slips by we glide further out into the lake and alongside the towering peaks which border its shores.
Although the summer months are known to bring hordes of tourists to neighbouring Lake Wakatipu and the adrenaline hub of Queenstown, we've yet to see another vessel.
We have the lake to ourselves.
With no need for fuel – other than a hearty lunch – and leaving no trace of our visit, kayaking is a sustainable way to experience this part of New Zealand's glacial south.
Our guide for the day is Cat. Her blonde hair tied back she is sporting a pair of mirrored sunglasses and an enviable tan.
Born and bred in New Zealand's south she is passionate about her home and chats away to us about her adventures on the many rivers which pulse like veins through the region of Central Otago.
Her passion is infectious and she captivates us with tales of her white water rafting, abseiling and hiking adventures.
I mentally add a further 4 activities to our Kiwi bucket list.
RUBY ISLAND REST STOP
As we paddle slowly past snow-capped peaks and fields of green we make our way towards Ruby Island.
A remnant of glacial rock carried into situ by an archaic glacier, it is home to native mountain geckos and giant ground wetas.
It also offers perfect respite for a little lunch.
As we near the shore the ground rises up from the inky black below and I catch sight of a thriving underwater world beneath the surface.
Ben signals for us to power towards the shore.
I suddenly realise that the muscles in my arms are burning and I'm relieved when I hear the bottom of the kayak crunch against the rocky beach.
Unhooking my neoprene skirt I stand and jump out onto the beach.
In no time at all Cat has prepared a gourmet lunch of Angus beef burgers, hoki fish, delicious bread rolls and a fresh salad.
A welcome opportunity to refuel after the morning's activities.
KAYAK SUP & SAIL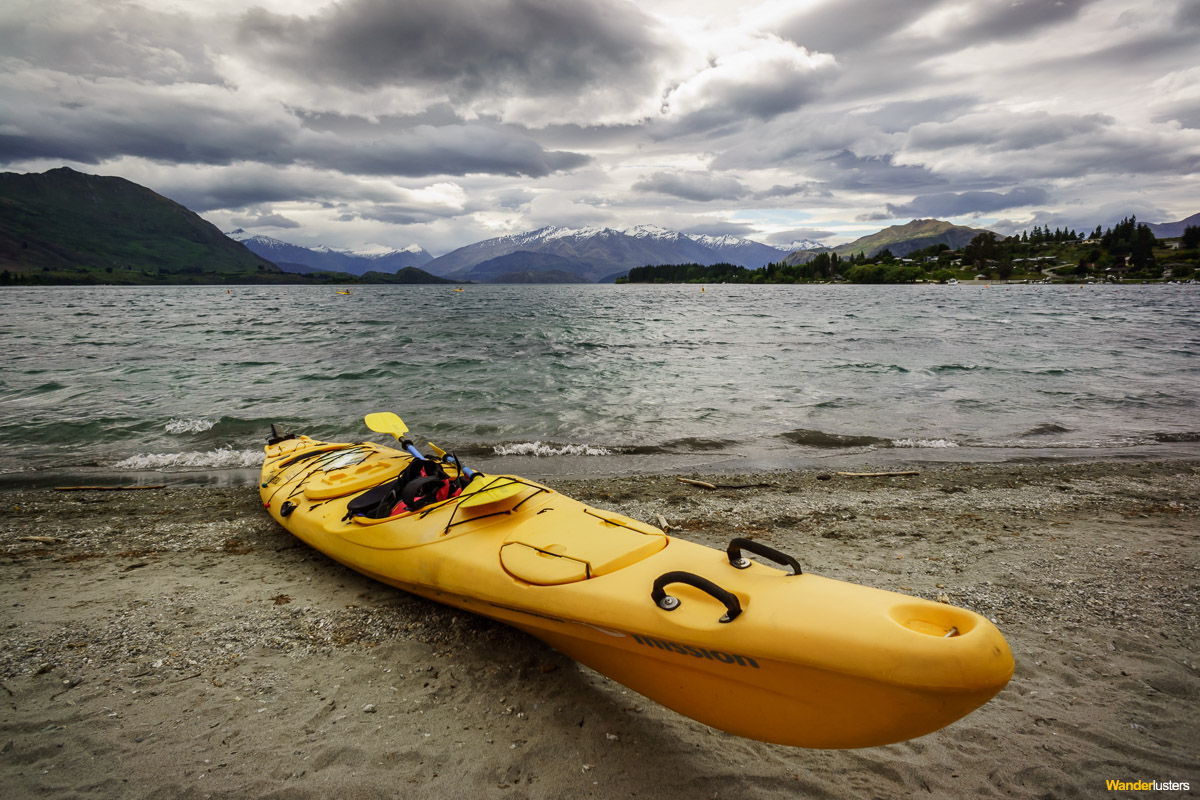 Back on the water and the wind has picked up, however it is working in our favour blowing straight towards the town of Wanaka and our final destination.
From a compartment in her kayak Cat pulls out a luminous yellow sail and instructs us to raft together.
Utilising the power of the wind we fashion a mast from our paddles and are soon making waves as we sail towards the shoreline.
While I was content to paddle this is a much more relaxing way to end our trip and I take the opportunity to soak in the view one last time.
I soon find myself drifting into a hazy stupor but all too soon we're back on the shore and I'm sad my eco adventure on Lake Wanaka is over.
VISIT WANAKA SUP & SAIL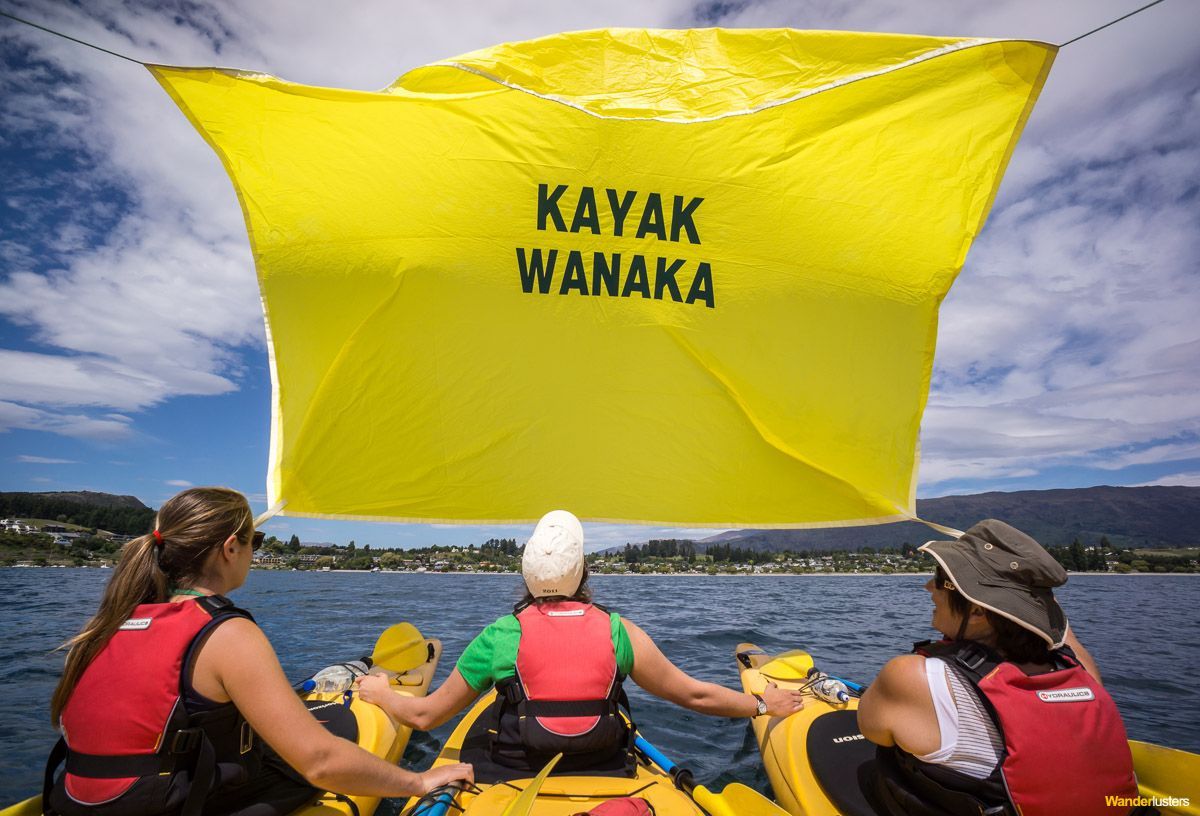 I highly recommend a visit to Queenstown's lesser known glacial neighbour Wanaka.
Wanaka Sup & Sail offer a superb alternative to the fast paced adrenaline activates which are all too prominent in this part of New Zealand, and provide a sustainable way to sample the scenic landscape of one of the country's most captivating lakes.
If you're in the area for more than just a few hours check out their popular SUP yoga classes or head out on a guided day excursion.
We hope the images in this article have inspired you to go eco and kayak Lake Wanaka. If you're still looking for more check out the Wanaka Sup Facebook page for a little eco inspiration.
✈ ✈ ✈
Have you spent time kayaking the glacial waters of Lake Wanaka? Share your comments with us below.