Love it or hate it, Black Friday has fixed itself firmly on the calendar of the UK's savvy spenders. Looking for a bargain? These best Black Friday travel deals shouldn't be missed.
Once reserved for serial shopaholics the event has expanded to all areas of commerce, including travel, and if you're prepared to embrace the momentary madness that ensues around Thanksgiving you can bag yourself a hugely discounted holiday or a great deal on flights.
Last year the travel industry offered up a dazzling array of splurge-worthy discounts including British Airways which offered flights and a hotel stay in Barbados for just over £700 per person, and Air New Zealand which offered £375 discounts on return flights to LA.
Want to get in on the action and secure a great price on your next adventure? Here are my pick of the best Black Friday travel deals in 2018.
UP TO 55% OFF BARCELÓ HOTELS
From 19th to 26th November Barceló Hotels will be offering up to 55% off hotels when travelling in 2019. A variety of destinations are included, highlights include:
Up to 55% off certain hotels in Mexico, the Dominican Republic, Cuba and Costa Rica.
Up to 40% off certain hotels in Spain, Europe and the UAE.
Up to 25% off the Punta Umbria Mar hotel in Spain.
Find all Barcelo Hotel Black Friday deals here.
SAVE 50% ON YOUR ST LUCIA ESCAPE
Hotels across Saint Lucia in the Caribbean have teamed up to create island-wide deals throughout the month of November. You'll find sales like 50% off at Marigot Bay Resort & Marina which is my favourite place to stay on the island.
In addition, the Saint Lucia Tourism Authority has partnered with American Airlines Vacations for a secret sale: the only catch is that you won't find out exactly what discount you've received until you book. The booking window for the American Airlines sale is November 22-28, 2018 for travel between November 24, 2018 to August 31, 2019.
READ MY ST LUCIA TRAVEL GUIDES
ENJOY 20% OFF AN EPIC GROUP TOUR
Well known for planning off the beaten path itineraries, Intrepid Travel is offering 20% off on more than 1,000 last minute trips worldwide.
Trips include India's Golden Triangle; Essential Vietnam, Jordan, Israel & the Palestinian Territories Real Food Adventure; and Cycle Tanzania. The booking window is November 20-28, 2018 for travel from January 15 to December 15, 2019.
READ MY ADVENTURE TRAVEL INSPIRATION SERIES
EXPLORE AMERICA ON A BUDGET
TrekAmerica is offering up to 30% savings on selected winter tours booked between the 21st-26th November.
That includes the likes of Mardi Gras in New Orleans, the Grand Canyon at sunset, Disneyland at Christmas, and even hiking through Hawaii's tropical rainforest! Prices start from £529.60 – you can see all the deals here.
READ MY AMERICA ROAD TRIP AND TRAVEL GUIDES
LIVE LIKE A LOCAL FOR LESS WITH TRUSTEDHOUSESITTERS MEMBERSHIP
If you're a regular reader of my blog you'll know that I advocate house and pet sitting as a way to spend less and see more when you travel. If you're not familiar with the concept my handy house sitting guides will reveal all, read them below.
For those who aren't already registered, TrustedHousesitters is offering an awesome 25% off the price of membership this Black Friday, just use the code BLACKFRIDAY25 at the checkout. As an added bonus everyone who signs up using the code will be entered into a draw to win a host of house sitting goodies including flights to anywhere in the world worth up to $3,000!
READ MY HANDY HOUSE SITTING GUIDES HERE
FIVE TIPS TO HELP YOU FIND THE BEST BLACK FRIDAY DEALS
Discounts – don't be blindsided by the percentage of discount offered –it's the final price that counts. Search other brands to make sure you're getting a good deal.
Price-match promises – they sound reassuring, but are rarely invoked as they're often so hedged with caveats they end up completely pointless. Don't let this sway your purchase decision.
'Free' extras – these can be misleading as often you'll end up overpaying for one service to subsidise another. This can often be the case with things like beverage packages and free child places. Some extras may well be worth having – upgrades on a flight or room type, for example.
Value – whatever the price, make sure it offers you the best value. If you're paying for a branded itinerary you don't really want just to get to the destination, you might be better off planning your own trip in order to get exactly what you want and the best price available.
Reduced deposits – with Christmas and Thanksgiving on the horizon a smaller deposit to secure a better price can sound appealing, especially if you're not entirely sure you can finance the entire cost right now. However take note, the small print nearly always requires you to pay the full deposit a few weeks later and this is usually payable even if you cancel.
INSPIRED? PIN THIS TO YOUR TRAVEL PINTEREST BOARDS NOW!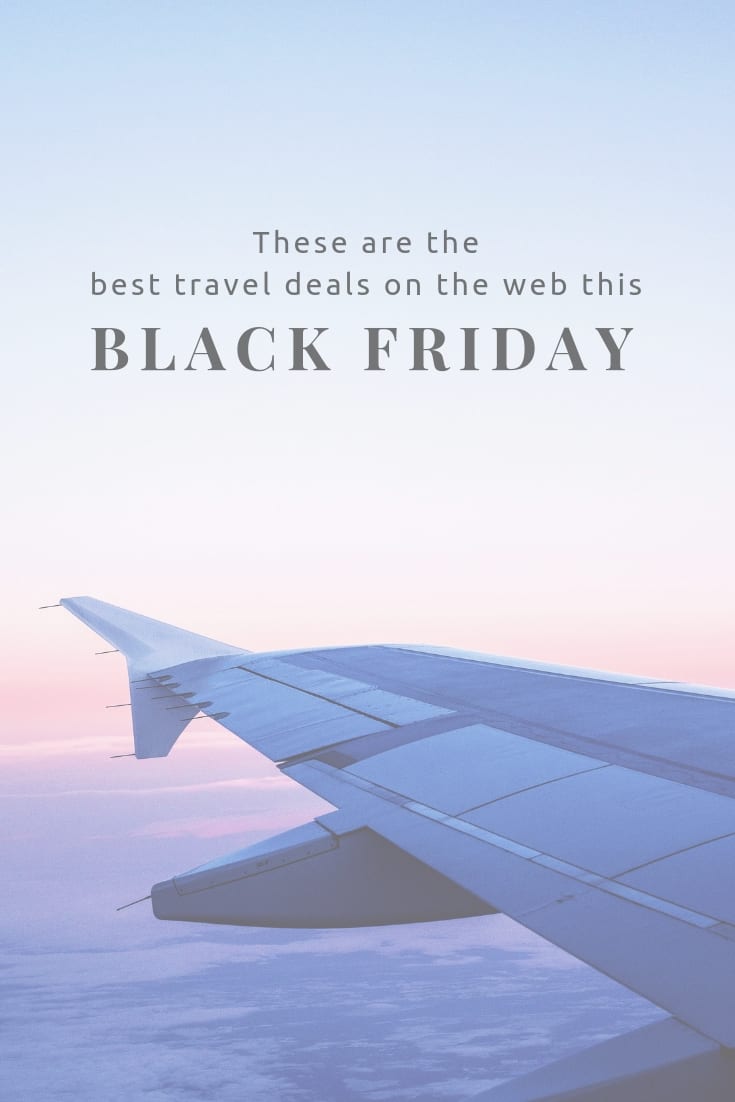 Have you bagged an epic Black Friday travel deal? Share details in the comments below!