It's 7am in St Lucia and, having just finished an early morning Hatha yoga class, I'm laid in savasana pose on a palm-covered deck overlooking the Caribbean Sea.
I wouldn't normally start my day in this manner, however the ochre tones of sunrise inspired me to rise early and make the most of the opportunity to break away from the mundane routine awaiting me back home.
Traditionally, at Caribbean water-front resorts the focus is directed to powder-soft sands that stretch out toward the ocean in undulating swathes of white.
Guests spend their days laid under canopy as drinks flow and food is served, but for an active traveler such as myself the novelty of this soon wears thin. However, at the Marigot Bay Resort and Marina located on St Lucia's west coast this is certainly not the case: A verdant oasis of calm, the bay has long played host to visiting adventurers.
Surrounded by forested hills on three sides it is known locally as 'the hurricane hole' and is recognised as one of the world's true safe harbours; the area's picturesque beauty is undeniably also a major draw. Thanks to the bay's sheltered position and naturally deep waters it is an attractive hideaway for sailors escaping stormy seas, however it's abundantly clear that these features also appeal to those seeking a more dynamic Caribbean escape.
Aside from the fitness suite, wellness classes, and spa facilities, which optimise the island's wealth of medicinal flora and are certainly noteworthy, the bay and its namesaked resort have many activities to offer.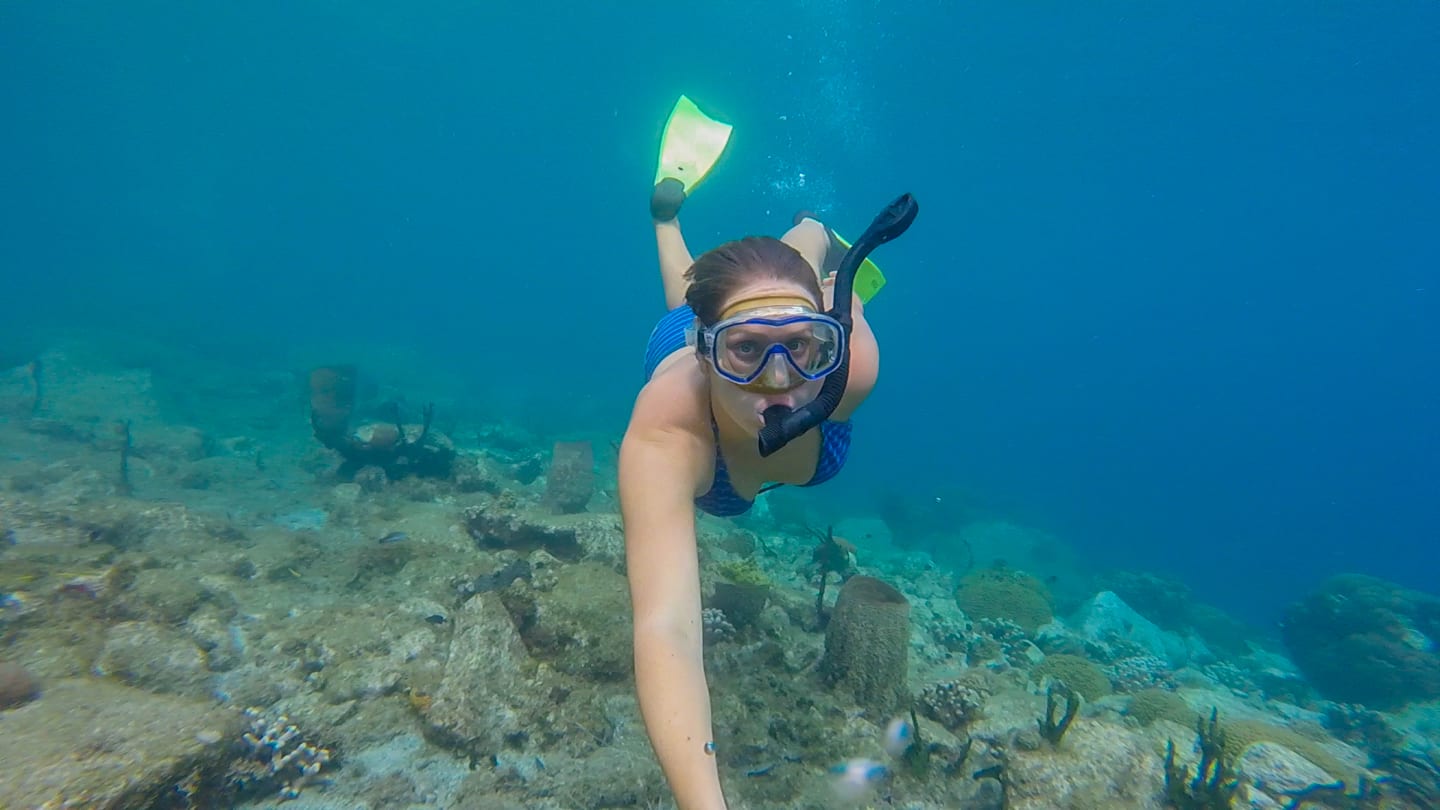 The adjacent Capella Marina boasts berthing for yachts up to 85m (280 ft) in length and up to 7m (20 ft) in draft. With 42 berths and 20 mooring buoys there's plenty of space for yachties to moor up and hang out safe in the knowledge that if the trade winds should change they're out of harm's way.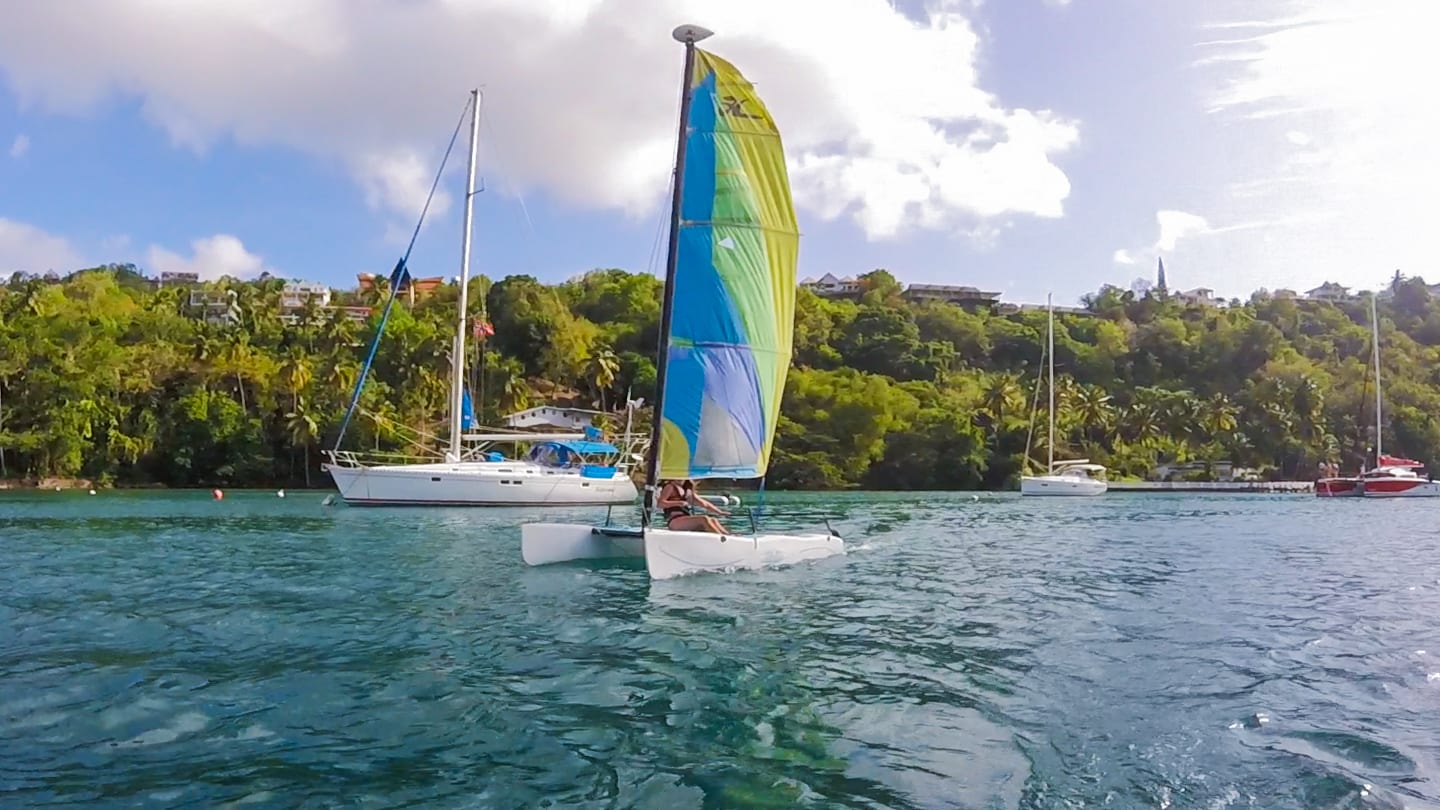 However for those of us who didn't arrive under sail, there are opportunities to make the most of the azure waters that you'll hear lulling you to sleep each evening.
From aside the Marina office a small passenger ferry runs the width of the bay to a white sandy peninsula shaded by coconut palms; in the four days I'm there I make this trip every day because it's here adventure lays in wait.
On the tip of the isthmus sits a ramshackle shed where proprietor Cosmos Williams rents water sports equipment to those keen to hit the waves; Aside the structure short rows of Hobie Cat sailboats, canoes, and SUP boards cover the beach.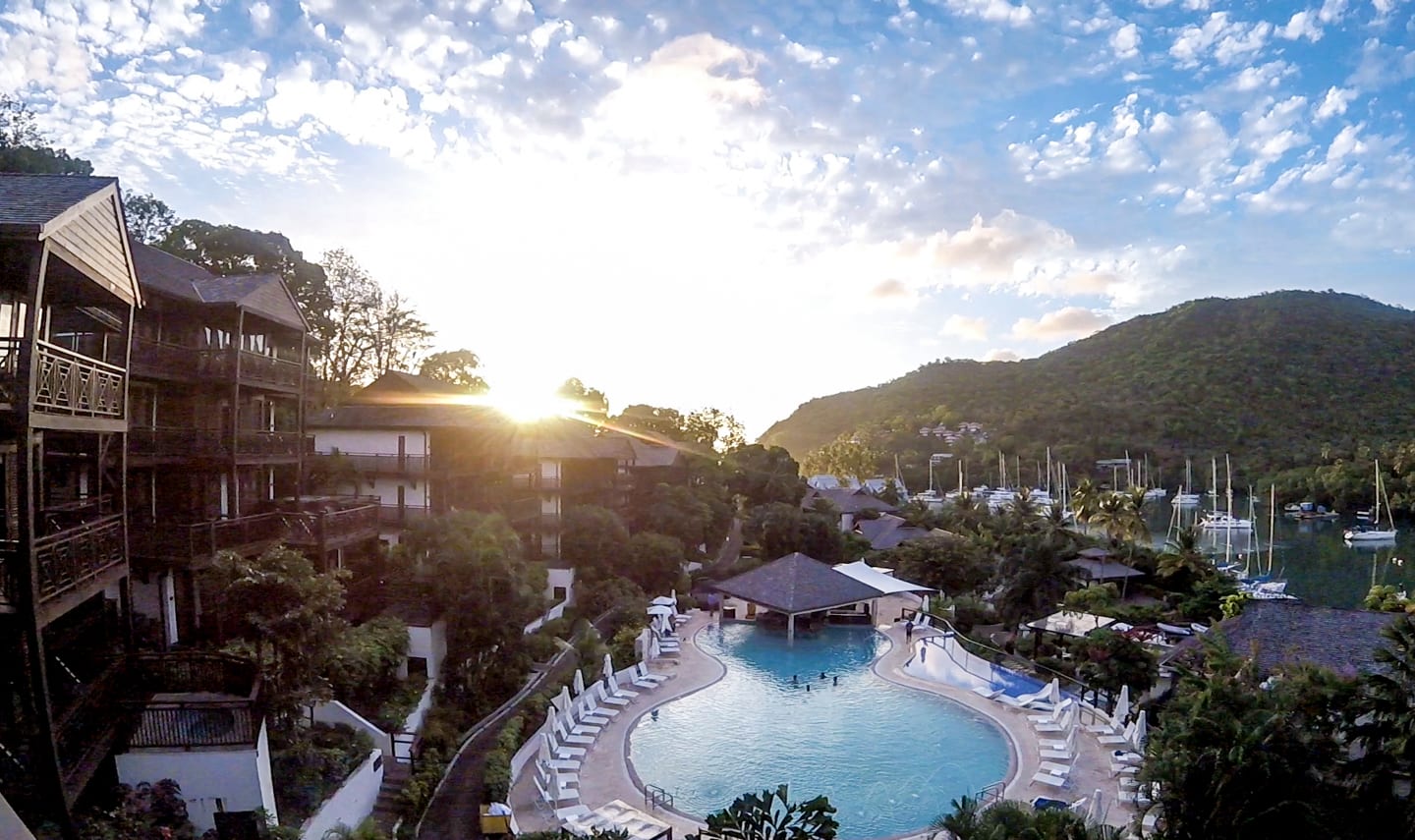 As clouds pass over the bay their shadows bring a patchwork of gusts that propel my sailboat forward during the morning, and challenge my resolve to stay afloat on a SUP board in the afternoon.
Around me the verdant hills frame the sky and luxury yachts pepper the foreground. What draws people here is obvious. On the beach I meet a guy from London who "can't get enough of that view".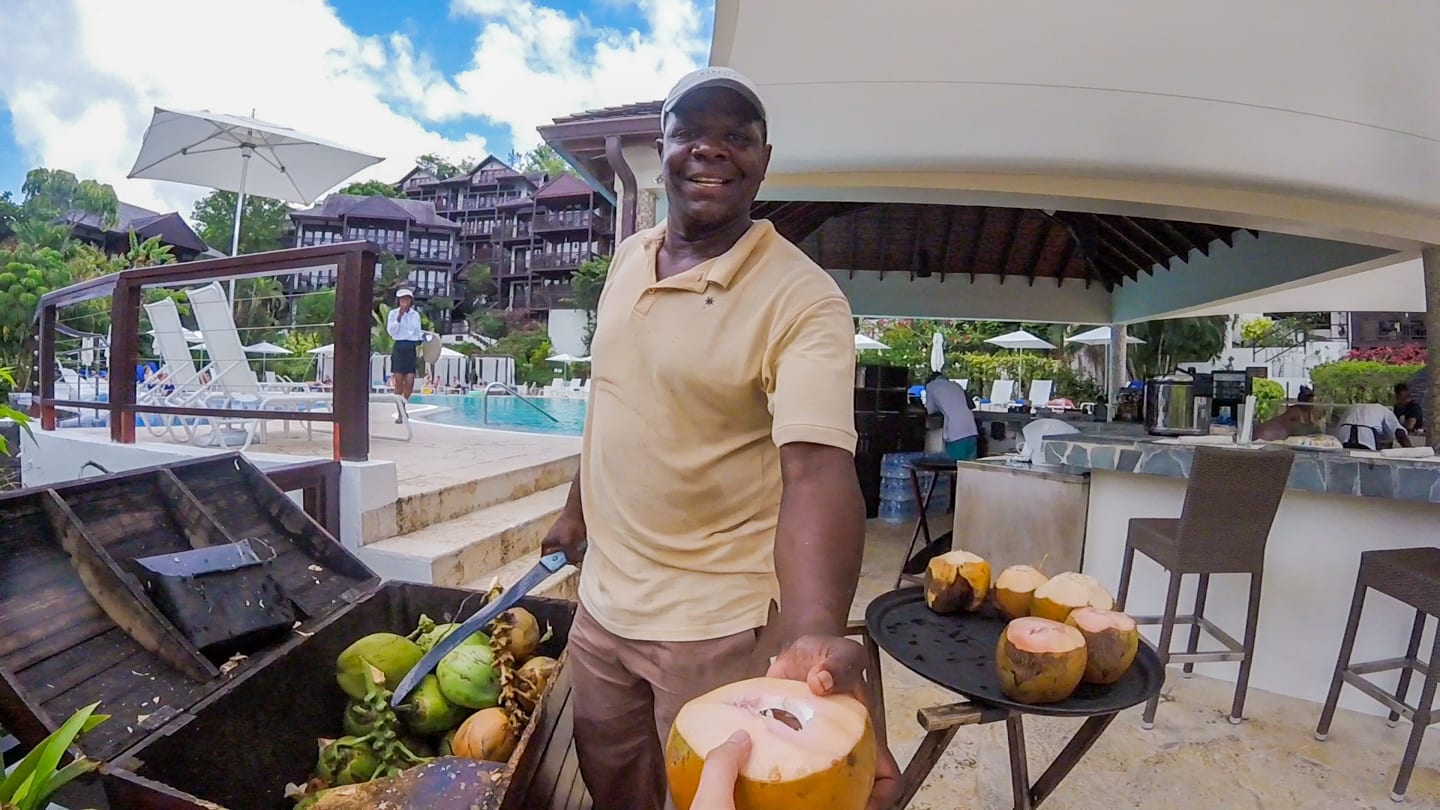 For me, the friendly staff are one of the most charming features of the resort.
On my second morning I'm joined on the ferry by Junior whose attire of boat shoes, a bright white T-shirt, and chinos are a stark contrast to my gym tights, rucksack, and trainers. He works at the resort and has offered to guide me on the 1000 ft near vertical climb up the ridge that cradles the bay; a challenging three-hour hike the reward includes marvelous views over the water and, on a clear day you can see the neighboring island of Martinique.
CARIBBEAN TRAVEL GUIDES ON WANDERLUSTERS
Craving an island escape? Check out my Caribbean travel guides for tips and inspiration.
His humor is electric and his stories distract me from the burning sensation in my thighs; don't let my grousing deter you, just take a look at my panoramic prize.
Phew, that's a lot of activity. I bet that by now you'd probably appreciate a little libation? Good job there's a distillery just a stone's throw from the bay. Tasting rum might not be the main reason travelers visit Marigot Bay but I certainly agree it should feature highly on their itinerary.
Younger than his years in appearance and softly spoken in his enthusiasm Barbadian born rum professional Dennis showcases West Indian rums nightly at the Rum Cave; A delightfully snug bar on-site at the Marigot Bay Resort and Marina it is furnished with rum barrels and award-winning bottles of alluring black nectar. Just like Junior, Dennis was a master at his craft, so much so that I packed a bottle of my favorite rum, the local Admiral Rodney, into my checked baggage to enjoy on my return home.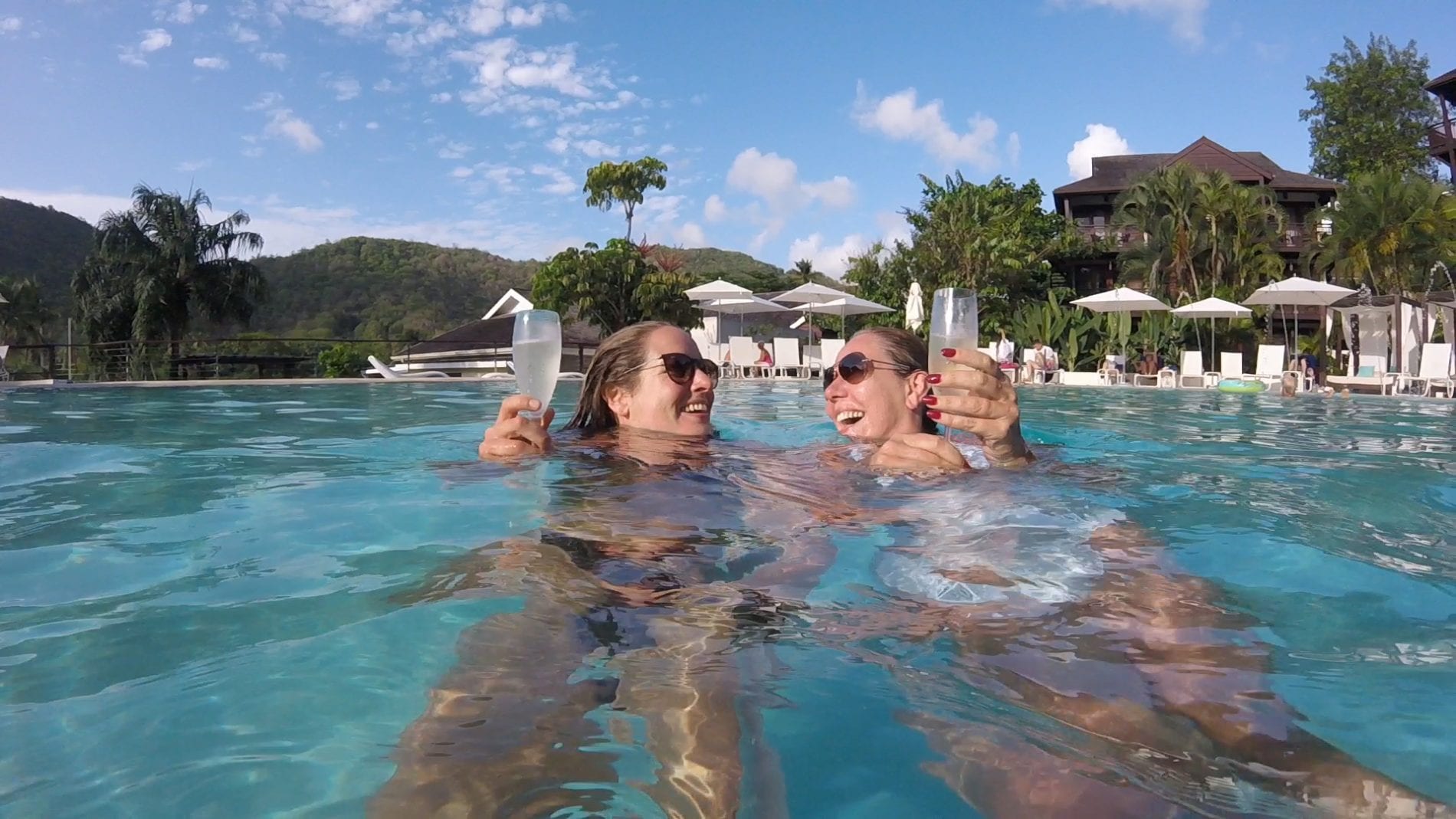 Worried you'll taste one too many and wake to find you're nursing a headache the following day?
Don't worry, you can sweat it off by climbing Gros Piton, detox your aching muscles with a massage in the Auriga Spa, or indulge in a little R&R and make the most of the resort's lavish pool; It's equipped with floating sun loungers.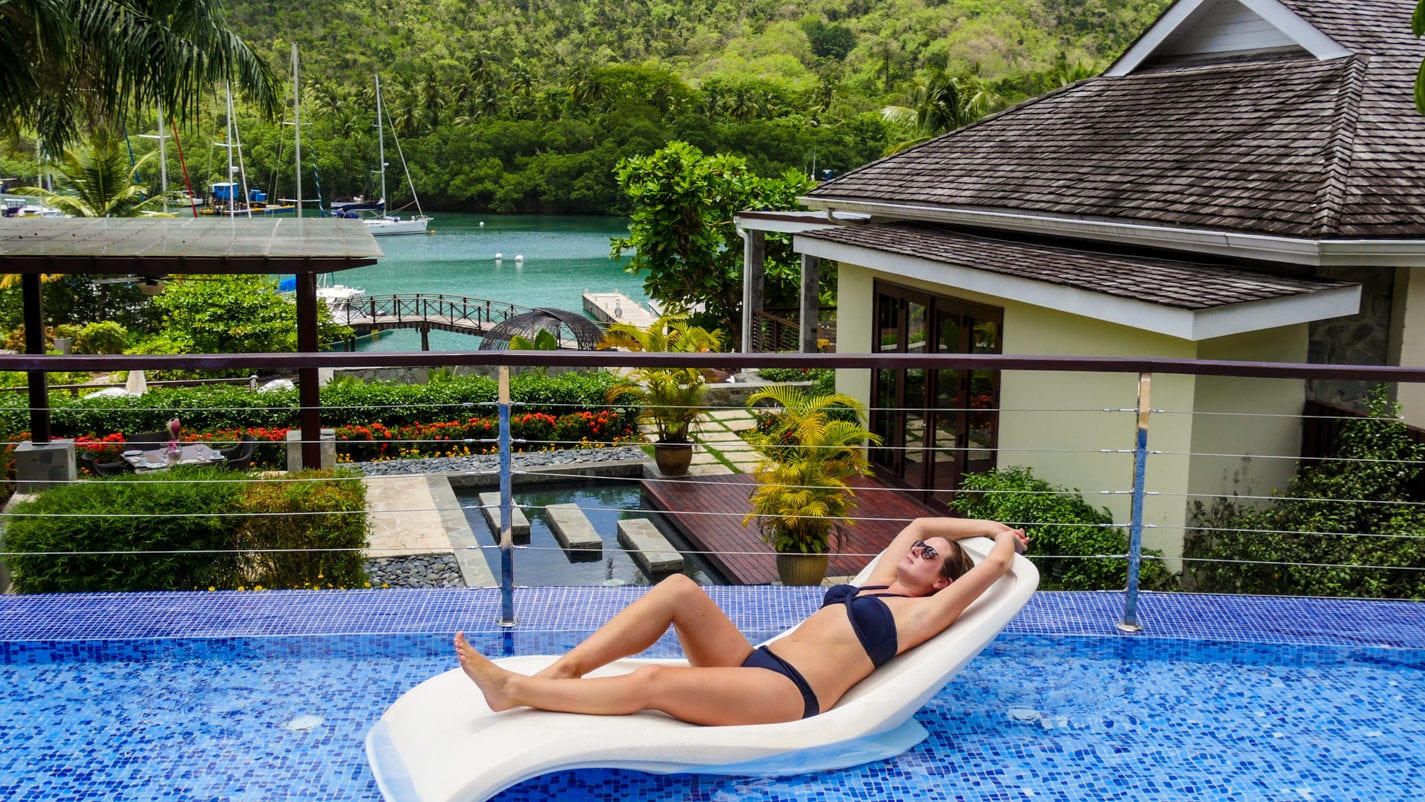 Read my full review of the Marigot Bay Resort & Marina here.
INSPIRED? PIN THESE TO YOUR PINTREST BOARDS NOW!
Have you visited St Lucia's Marigot Bay? Share your comments below!