Who doesn't love travelling? The excitement of a new restaurant, visiting old historic buildings, and meeting new and interesting people is what travelling is all about. However, a trip can get quickly disrupted when something goes wrong – like you lost or broke your glasses!
Luckily there are a few options if you have this sort of bad luck on your next getaway. Whether that be visiting your local eye doc or finding same day glasses delivery service, you are sure to have your sight back in no time.
Planning your trip
First, it is important to note this can happen to the best of us. Your bag, containing your favourite prescription glasses, gets stolen. Your toddler grabs them off your face and flicks them over your tour boat railing. Maybe you were in your hotel room, they fell on the floor, and you accidentally stepped on them.
No matter the circumstances, for those of us that rely heavily on our glasses to see, it can quickly put the breaks on an otherwise fun trip.
The next important thing to remember is you do have a few options. Each option will be dependent on where you are travelling too – of course, this can be more difficult if you are hiking through a remote trail in the Amazon. So consider each of the options below and which one would get you your glasses the fastest based on your current location.
Visit an optometrist
You will want to confirm with your health insurance how much this one will cost you before stepping into their office, but this can be a promising option. Oftentimes an optometrist will not only be able to help you fix your glasses but may have alternatives that can help hold you over until you are able to obtain a more permanent solution.
This option may be the most expensive since you are seeking professional care, and time to obtain glasses can vary as well, but if your eyesight is pretty poor or has unique needs, it may be the best option.
Visit an eyeglass repair shop
This one really depends on how bad your glasses are broken. They may be able to fix your glasses with a little tweak here or there, but if they are really bad they may be able to point you in the right direction for a better option. Some eyeglasses repair shops even have additional frames and lenses for sale. So if your frames are completely broken, all you need to do is pop the lens out of your old frames and into the new ones. Some spots will even shave the lenses to adjust them to fit your new pair of frames.
If your lenses are broken, they may be able to make improvements depending on how bad it is, but you may want to consider a whole new pair entirely. While it could be tempting to save a few bucks for a travel excursion you want to do, you do not want to find yourself with another broken pair of lenses, only needing to revisit the repair store. No matter what is broken or how bad, the workers have likely seen it all and can provide some valuable insight as to how you can get your vision back.
Buy a new pair
If you bought your glasses through your Optometrist or specialty store, this may not seem like the easiest option since it could have taken weeks for your glasses to arrive. But there are actually plenty of stores that sell prescription glasses. Now they may not be the perfect fit, but you will be able to see just enough to enjoy the rest of your trip.
Order same day glasses
The world of shopping online has gotten so advanced, you no longer need to wait days to receive something you ordered online. Today there are same-day glasses delivery where you can go online, find your perfect pair, and have them at your hotel front desk within 24 hours. This can be an especially useful option if you have a busy day or are worried about getting taken for a ride by your local eyeglasses store.
You will likely also have more flexibility with this option. By ordering online, you can often have your prescription applied to the glasses and pick out a fun set of frames that complements your face perfectly.
Other travel tips for glasses wearers
If you are needing to travel and are worried about your impaired vision, consider taking an Uber or other driving service to bring you to your location. This can be especially helpful if you are in a new city you are not familiar with. It can also be a lot safer than being out on the road.
If you are having to wait a few hours and need some sort of magnifying glass, consider downloading a magnifying app to help you read things like a menu or your computer screen while you await your new pair! This may not be the perfect solution to going about your day, but it can help minimize the inconvenience of losing or breaking your glasses.
Also, if you have a prescription the first thing you may want to do is contact your local optometrist where you received your original prescription. They will be able to email you your prescription so you can buy new lenses if need be!
INSPIRED? PIN THIS POST TO YOUR TRAVEL PINTEREST BOARD NOW!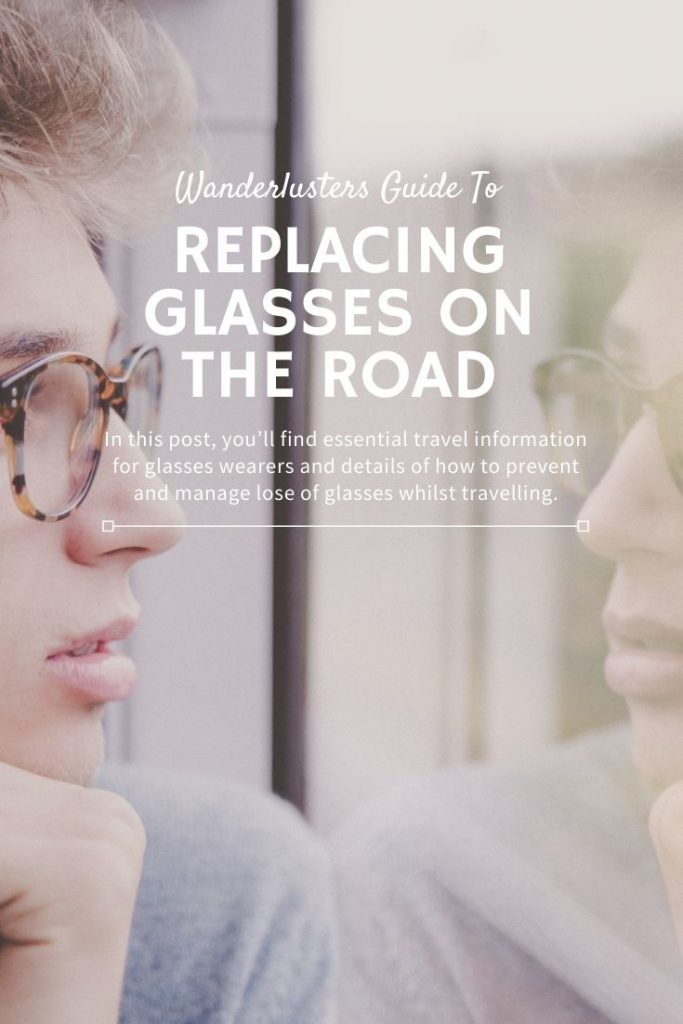 There is nothing more upsetting than putting all this time, energy, and money into a trip you cannot enjoy. That is what losing or breaking your glasses can feel like – but only for a short while!
There are plenty of options for those unfortunate travellers who have found themselves without the ability to see. Consider your health insurance, if your glasses are fixable, how quickly you need them, your prescription, and whether it is safe for you to drive or even go outside!