For travellers, the Nordic island nation of Iceland is a natural nirvana full of opportunities for exploration, and one of the country's most notable draws is its network of thermal hot springs.
There are so many natural hot springs in Iceland, that exploring every single one would likely take a lifetime; the fact that there are so many relatively unknown locations to bathe in the island's volcanic waters is something relatively few visitors realise.
The great news is you can visit these attractions at your own pace. Book a cozy camper and plan an unforgettable road trip exploring the Blue Lagoon and the other scenic hot springs featured here. With the freedom to roam your Icelandic itinerary will likely evolve as you explore so factor in time to detour to unexpected places as well.
To make your life simple here's our guide to the best; complete with GPS coordinates:
Experience the raw beauty of Landbrotalaug Hot Spring
GPS for Landbrotalaug Hot Spring: N64° 49.923 W22° 19.130
Located on the Snaefellsness peninsula, the Landbrotalaug Hot Spring is one of the most romantic locations for a dip and just a two hour drive from Reykjavik, via Eldborg. The spring is really quite small (only 2-3 people can bathe at the same time), so check its location on Google Maps before you leave your accommodation.
Discover the hidden Gudrunarlaug Natural Hot Pool
GPS for Gudrunarlaug Natural Hot Pool: N65° 14 47.478 W21° 48 11.943
Another hot spring we recommend visiting while in Iceland is the Gudrunarlaug natural hot pool. Named after one of the great heroines of Icelandic folklore, Guðrún Ósvífursdóttir, Gudrunarlaug is one of the most scenic hot pools in all of Iceland. Drive to the Hótel Edda in Laugar and then walk up the small hill, just across from the hotel. Visitors can change in a turf-roofed medieval-styled hut and then look out over deserted volcanic plains whilst bathing.
Take a dip into The Blue Lagoon
GPS for the Blue Lagoon: N63° 52′ 28.79 W-22° 26′ 31.79
Of all of the hot springs you might decide to visit, the Blue Lagoon in Iceland is probably the most well-known. This is likely because it's very accessible as it is only a short 15-minute drive from the country's airport or 30-minutes' drive from Reykjavik. The milky blue appearance of its healing waters which contain silica, minerals, and algae that are thought to rejuvenate the skin, has made it an icon of Icelandic culture and a hot spot not to be missed.
READ MORE ICELAND TRAVEL GUIDES FROM WANDERLUSTERS
Swim languidly in the Laugarvatn Fontana Geothermal Baths
GPS for Laugarvatn Fontana: N64° 12 52.928 W20° 43 48.447
As you explore Iceland's Golden Circle Route visit the shores of the Laugarvatn lake and take a dip in the relaxing waters of the Laugarvatn Fontana Geothermal Baths. Choose between relaxing in the lake itself or in one of the many hot pools that surround its shore, all of which are slightly different temperatures. Afterwards, sample the region's traditional rye bread that is baked underground in a geothermal sand oven.
Take a chance on the Myvatn Nature Baths
GPS for the Myvatn Nature Baths: N65° 37 50.666 W-16° 50 50.929
If you've been contemplating a visit to the iconic Blue Lagoon but would rather a less touristy alternative consider the Myvatn Nature Baths. Though it is not as well-known as the Blue Lagoon, it's very similar in appearance however the spa at Myvatn was developed in such a way as to cause as little disruption as possible to the surrounding nature reserve. The best time to visit the hot spring is during winter where the place and its surroundings are covered in snow.
Find serenity in the Fosslaug Hot Pot
GPS for Fosslaug Hot Pot: N65° 29 44.6 W19° 22 55.6
Unlike a lot of hot springs Fosslaug doesn't have any reinforced stone walls, it's simply a natural pool that sits on the bank of the Húseyjarkvísl River. The surrounding scenery is stark but beautiful, there's also a waterfall just a few meters away, and with the opportunity to take a refreshing swim in the river and then return to the warmth of the pool it's ideal for those looking for an authentic Icelandic hot spring experience.
Relax in the warm waters of Reykjadalur Hot Spring
GPS for Reykjadalur Hot Spring: N64° 01 20 W21°12 40
One of the most popular, and arguably the most scenic hiking area in the region of Ölfus, the Reykjadalur Valley boasts numerous hot springs and colourful areas of geothermal activity. Drive to the town of Havaragerdi and hike the trail that wends its way to the Reykjadalur hot spring, another natural pool with no man-made construction. Consider arriving at first light to ensure you're the only bathers there and remember to bring a change of clothes as there are no facilities at the spring.
Iceland is littered with hot springs and those detailed above are just a handful of the options visitors can choose from when planning their itinerary.
INSPIRED? PIN THIS TO YOUR TRAVEL PINTEREST BOARDS NOW!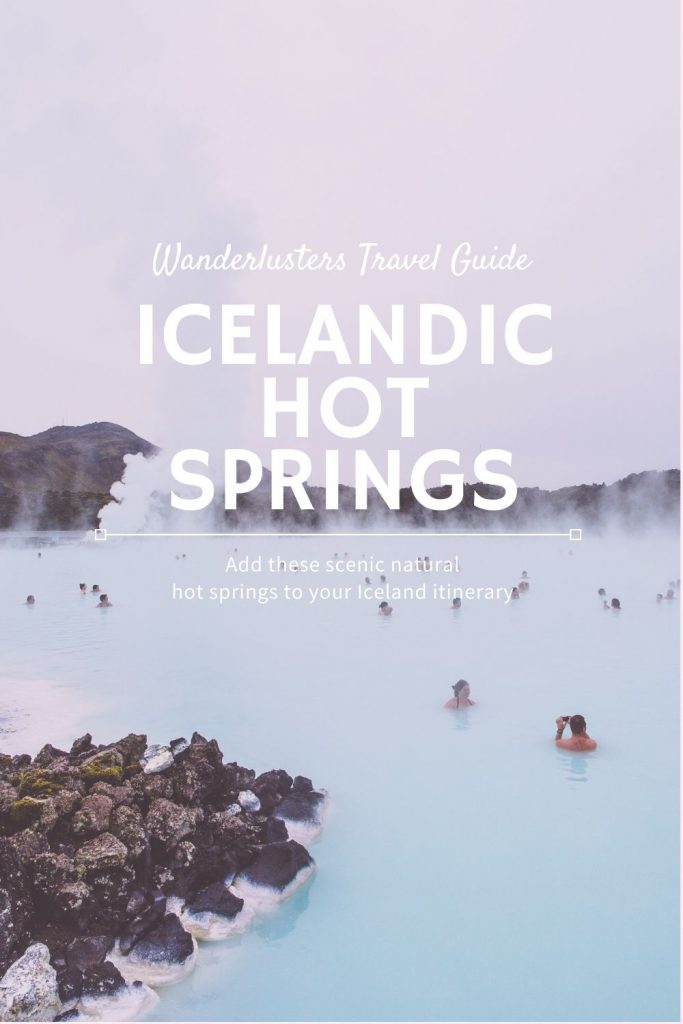 Just a note: If you're planning to visit a hot spring during your time in Iceland make sure that you observe the country's culture of enjoying the natural environment without leaving any trace of your stay so that others can also enjoy them in years to come.
Featured photo by Ross Hughes on Unsplash