It may be a small island, but its beaches are endless. Nantucket is famous for its unique charm and impeccable endless beaches, spread across over 80 miles of the shoreline. Although most of them are private, thanks to the rules and regulations in Nantucket, the beaches are always open and free to visit.
There are more than 25 beaches across the island, each of which has its own charm and advantages.
Some are more suitable for children, while others have bigger swells and are better for surfers. There are some popular beaches with modern amenities close by, while others are quieter and more rural.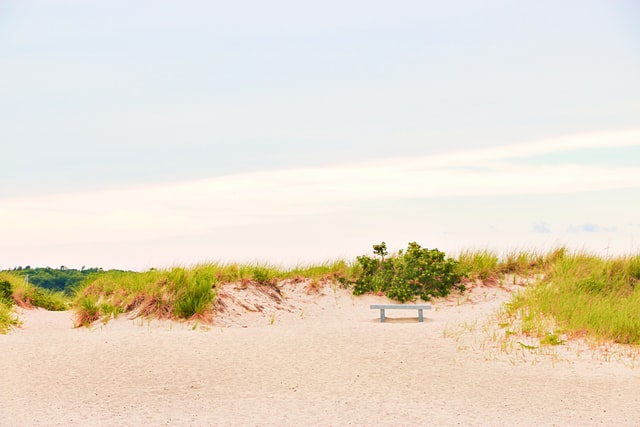 What is the main difference between the beaches on the different coasts of Nantucket?
As a whole, the beaches on the north coast have the warmest and calmest waters as they are on the coast of the semi-enclosed Nantucket Sound. 
The southern ones face the open Atlantic and have cooler water and bigger waves, making them preferred by surfers.
The eastern shores offer bigger surfs, and the western ones are harder to reach, more tranquil, and suitable for adventurers and nature lovers.
Choosing a Nantucket beach house for your stay
While this New England Island is relatively small, it makes sense to rent a house, or arrange other accommodations for your vacation, so that it is close to the beach you prefer spending the most time at. Thankfully, local residential rental companies offer houses, apartments, and rooms in all areas and neighbourhoods of Nantucket County.
Here are the most popular beaches to visit when you go to Nantucket.
Jetties Beach – North Shore
This famous beach on the island's northern shore is one of the top choices for families with children. It is within walking distance of about 10 minutes from downtown, but there is also a regular bus you can take if you prefer not to walk.
The beach is wide and has soft tan sand and shallow warm wave-less waters, which is why it is perfect even for small kids.
There is a playground, a skate park, a tennis court, and several volleyball nets, so there is always something to keep the little ones busy.
It is also a perfect spot for watching yachts and boats, so your kids can enjoy spotting them too.
You can also hunt for "treasures" on Jetties beach, as there are some beautiful seashells and sea glass.
The beach has lifeguards throughout the summer season. There are also restrooms, a restaurant, a pavilion, as well as a rental for umbrellas and beach chairs.
Surfside Beach – South Shore
This southern shore beach is a top spot for fans of bodysurfing and boogie boarding. It has a high surf, and often the ocean is ruff, which is why fans of the sport love Surfside Beach.
It is among the most famous beaches in Nantucket and can get quite crowded, especially during the peak of the season and on weekends, when surfers and tourists come on weekend trips.
The large beach has lifeguards during the season. There is a regular shuttle bus to and from it and numerous amenities, including restrooms, showers, surf, watersport rentals, and parking.
Children's Beach – North Shore
As you may have guessed by its name, Children's Beach is possibly the best option for people vacationing with small kids.
It is close to town and located on the north shore, where the water is calmer and warmer than on the other coasts.
It has lifeguards during the peak of the season, and there is a large green park as well as a stage where various events take place. Your kids will love watching and participating in the fun dance, yoga, and music classes.
There is a wonderful family-friendly snack bar – The Hungry Minnow by the beach, where you and the children can enjoy delicious Mexican food.
Madaket Beach – West Shore
Madaket Beach is located on the westernmost shore of Nantucket. It is the beach to go to view the most stunning sunsets in the world.
The beach is somewhat isolated, and there are no buildings or amenities which will ruin your peaceful tranquillity and view.
The sand is silk soft, but the water can be pretty rough, so it is great for surfing but not very suitable for little kids.
Nearby, you can enjoy some delicious tacos and other food and enjoy some margaritas at Millie's Restaurant and Market.
Siasconset Beach – East Shore
Called 'Sconset for short by the locals, this beach is next to the picturesque village of Sconset. You can get to the beach by walking one of the most beautiful and romantic walking paths in the USA – the Sconset Bluff Walk. The shell-covered path passes through the quaint fishing village of the market and reaches the beach.
The east shore beach itself is wide and long and has grassy sand dunes on the shore. But the surf can be pretty rough at times.
There are no amenities on the beach, but the village is a few minutes away, so you can get snacks and shop without the need for a bus, car, or bike.
If you are an early bird, you may want to get up pre-dawn and enjoy one of the most amazing sunrises you have seen!
Cisco Beach – South Shore
This south shore beach is the favourite spot for surfers and adventurers. It has some impressive waves, and there is a surf school and rental on the beach itself (Nantucket Island Surf School).
The beach can get pretty crowded and busy, especially after a storm when the rip currents and the waves are fierce.
There are seasonal lifeguards, but make sure to pack up some snacks because there are no other amenities.
Miacomet Beach – South Shore
Located between Surfside and Cisco, Miacomet Beach is less crowded and has a long soft sanded stretch where you can relax and enjoy the panoramic views of the ocean.
The rip currents can be dangerous, and the surf is usually strong, so it is not the best option if you want to enjoy a relaxing and peaceful swim.
If you are going there with your children, you may want to try out the nearby Miacomet freshwater pond. It is behind the beach and is safe and perfect for young kids to play.
Nobadeer Beach – South Shore
This is a beach which is extremely popular among youngsters and adventure seekers. The ACK Surf School has set shop on this southern beach, so you can take some lessons or rent surfing gear on the spot.
It is perfect for enjoying beach games and flying kites.
There are seasonal guards and food trucks there.
Nobadeer is close to the airport, so you can enjoy watching the planes flying in and out of the island while having fun on the beach.
READ MORE USA TRAVEL GUIDES FROM WANDERLUSTERS