Ever heard of Nepal's Pikey Peak Trek? Situated in the Solukhumbu Region of Nepal (which is also more popularly known as the Everest Region), this is a comparatively low altitude trek with easy access by flight or road. Since it is little known it is a very quiet route – so you won't bump into hundreds of other trekkers, even in the peak seasons.
Pikey Peak trek highlights
Before I go into more detail, let me give you some highlights of the trek to inspire you!
A huge highlight for me is the view from Pikey Peak. I have to say the view from here is much better than the view I saw from Kalapatthar during my helicopter tour to Everest Base Camp.
On this trek, you will see all of Nepal's eight-thousanders. Translated: you will see eight of the highest mountains in the world, which are all situated in Nepal and are over 8000 m in height!
There are also other mountain ranges to see along this trail, in particular, a close-up view of Mt. Numbur.
The locals in this area are from the Sherpa community. This is a great chance to see their lifestyle and culture.
Since the altitude doesn't go above 4200 m, it's suitable for all age groups. Although a basic good level of fitness is required.
Planes and helicopters fly at high altitudes in Nepal – you will get a chance to see them flying into and out of Lukla Airport, one of the highest airports in the world.
No permits are required for this trek as described in the main itinerary.
If you are adventurous you can undertake this trek independent of any agency. Although I would recommend you at least hire a porter for safety and companionship.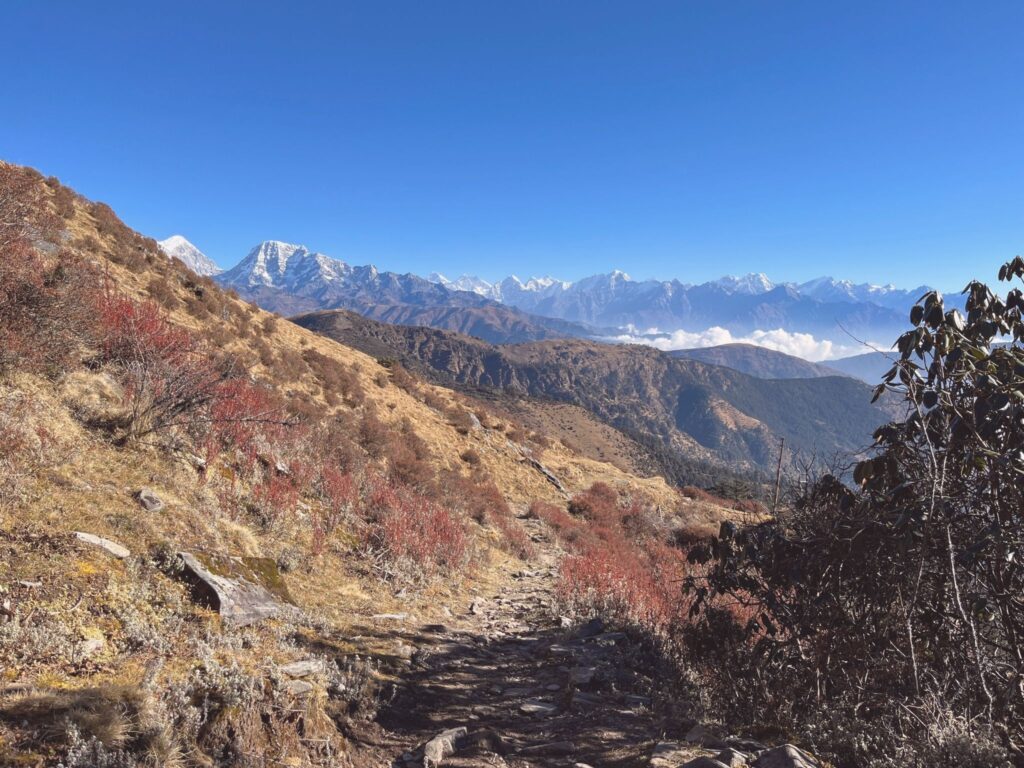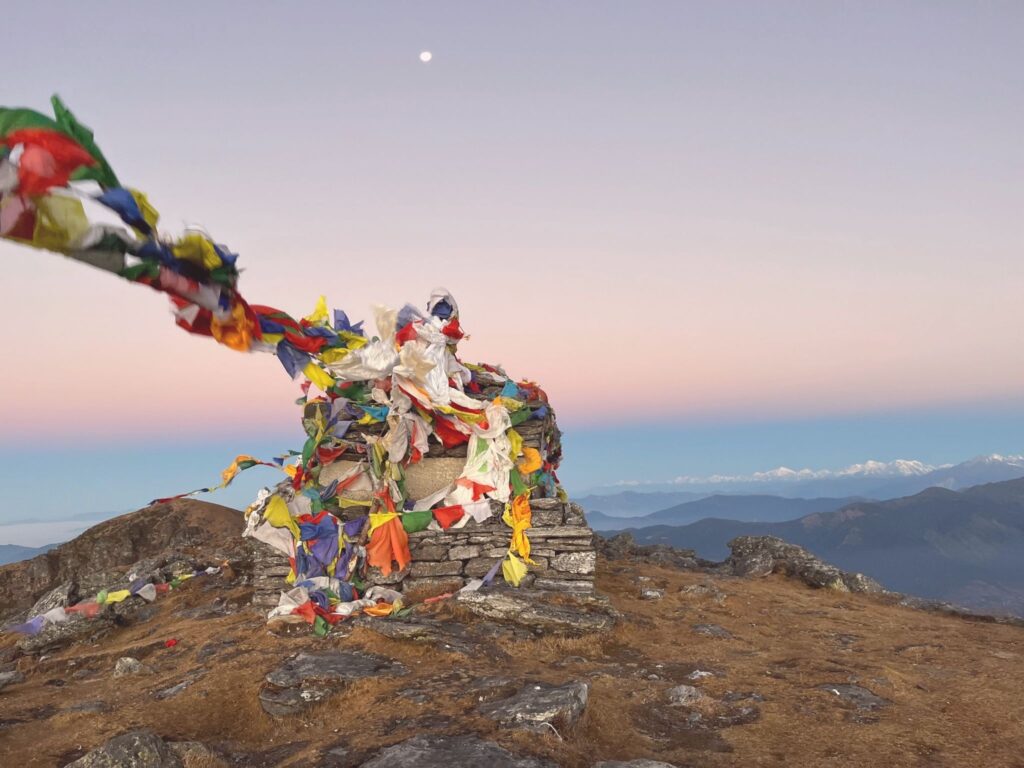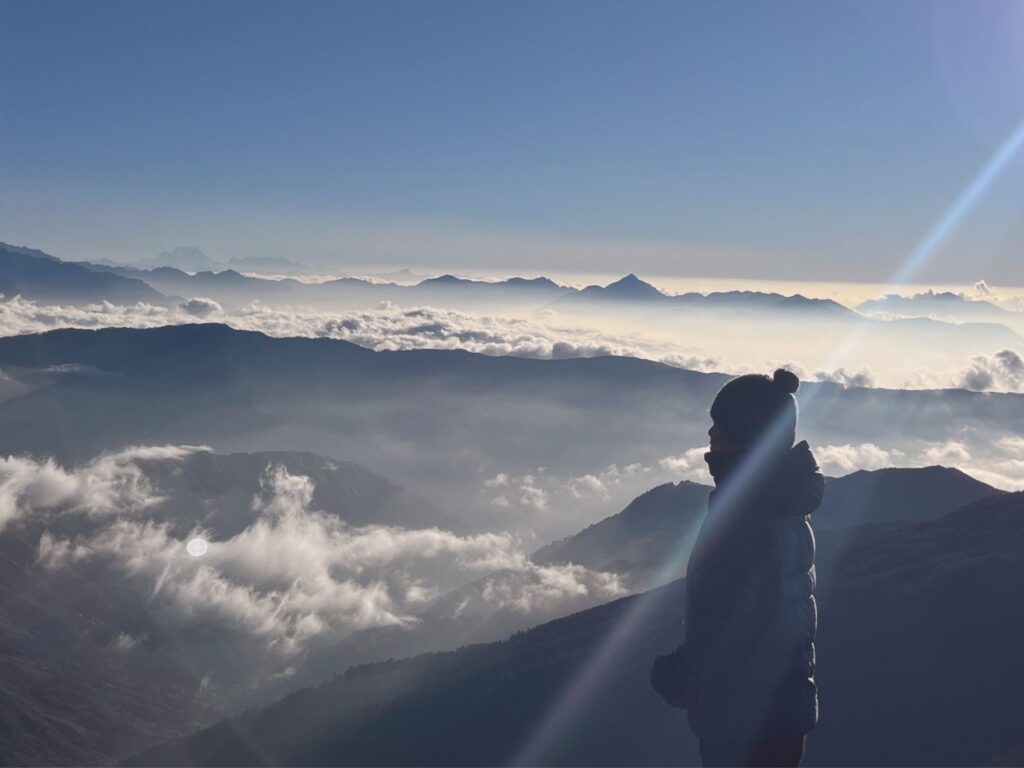 A full Pikey Peak trek itinerary
Getting into the nitty-gritty of this trek, you could either make it a short four-day hike or expand it up to ten days.
Most trekkers start from Dhap or Phaplu, both of which are pretty much a full day's drive from Kathmandu. You can also start from Jiri Shivalaya which is also a day on the road from Kathmandu and the start of the Classic Everest Base Camp Trek route. I prefer to save a bit of time and energy and fly to Phaplu airport. You could either fly in and out or fly one way only, depending on your time and budget.
Let me explain the most popular circuit itinerary for this trek:
Day 1 – Kathmandu to Phaplu
The first time I did this trek I drove from Kathmandu to Phaplu for the experience, particularly as most trekkers go by road. It takes around 8 hours to reach there passing the Sunkoshi River and terraced farmland, with a few rest stops and photo opportunities on the way. This is also the first night in a teahouse, which is what trekking lodges are known as in Nepal.
Day 2 – Phaplu to Ringmo
Trekking through pine and rhododendron forests it takes 5 or 6 hours to reach Ringmo village. Ringmo is actually located not in the Everest Region but in Dolpo District where the people are similar to the Sherpa in that they are of Tibetan ethnicity but differ as they are of the Bonpo faith. The village sits near the beautiful Phoksundo Lake. Made famous by the 1999 film, Himalaya, this lake sits around 3600 m and is one of the most beautiful in Nepal.
Day 3 – Ringmo to Junbesi
Again we trek through pine and rhododendron forests and across two rivers – the Ringmo Khola and Junbesi Khola. It takes around 6 hours to reach Junbesi with beautiful views of several mountains including Makalu (8481 m / 27841 ft) and Mount Everest.
Day 4 – Junbesi to Jasmane Bhanjyang (and a side trip to Thupten Choling Monastery)
Situated at 3020 m / 9900 ft I recommend a side trip to Thupten Choling Monastery. Lying a short walk (An hour or so) from Junbesi village the history of the monastery is interesting, dating back to just after the 1959 invasion of Tibet. Having been repaired a couple of time, most recently after the 2015 earthquake, the monastery is home to hundreds of monks and nuns.
Day 5 – Morning hike to Pikey and trek down to Loding
From Jasmane Bhanjyang follow the trail passed grazing yaks and yak houses. In fact, in this area, you can find a yak cheese factory, established by the Swiss some decades ago, which supplies a great deal of yak cheese to restaurants and shops in Kathmandu. Pikey Peak's summit lies at 4065 m / 13336 ft and from the viewpoint, there are amazing views of several towering mountains. These include Everest, Thamserku, Dhaulagiri, Manaslu, Kantega and many others! After taking in the views from Pikey Peak the trail leads down to Loding where tonight's teahouse lies.
Day 6 – Loding to Phaplu
This is the final day of the trek and quite a long day to get back to the road head for the jeep back to Kathmandu.
Day 7 – Phaplu to Kathmandu Drive
Leaving the mountains behind it takes around 7 or 8 hours to reach Kathmandu.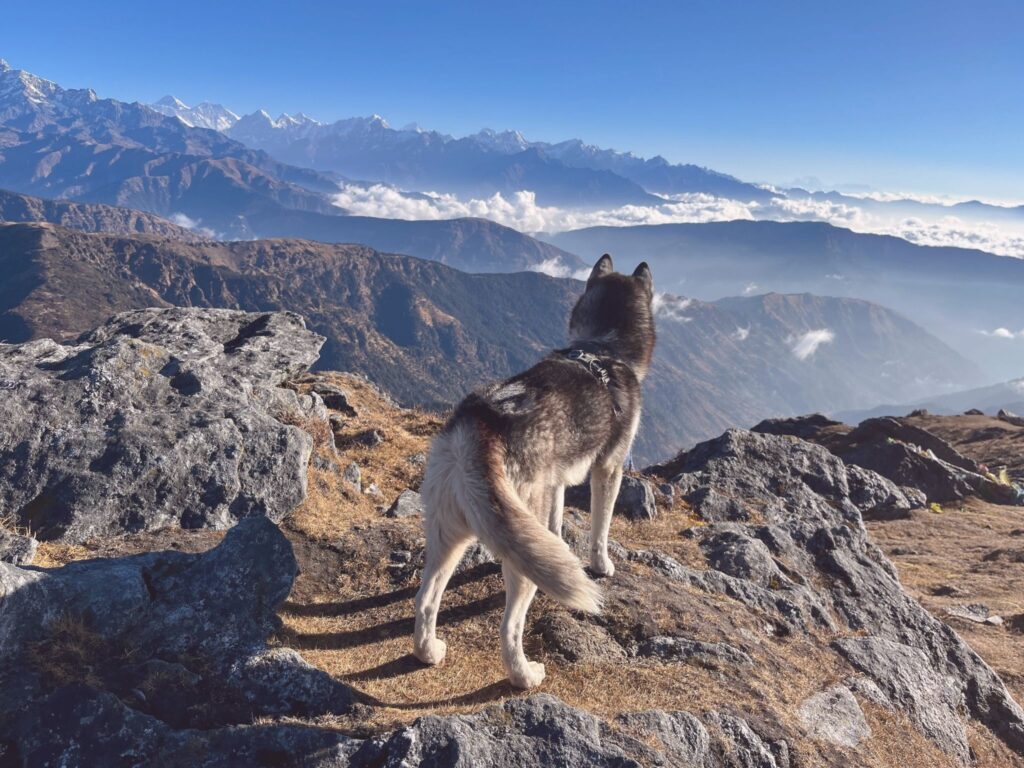 Everything you need to know about planning your Pikey Peak trek
Permits
There is no need to buy a permit for this trek as described above. Which is unlike other trekking routes in Nepal. However, if you change the route a bit you will need a Gaurishankar Conservation Area Permit if you start your trek from Shivalaya as it falls within the conservation area. Just bring a passport-sized photograph with you and pick up the permit in Shivalaya.
Food and Accommodation
Accommodation: Like most of the treks in Nepal, the Pikey Peak Trek has teahouses to provide overnight accommodation. These teahouses, or small lodges, on this trek are of a high standard, with hot showers and attached bathrooms. Do take note however that at Jasmine Bhanjyang there are only two teahouses and are quite basic with no electricity for charging gadgets.
Food: Again, as is normal in Nepal, the teahouses have a wide variety of food on the menu – both vegetarian and non-veg. For vegans, there are more limited options.
The cost of food and accommodation is around USD 25 to 30 per day. Please bring rupees with you and note the only ATM is in Phaplu.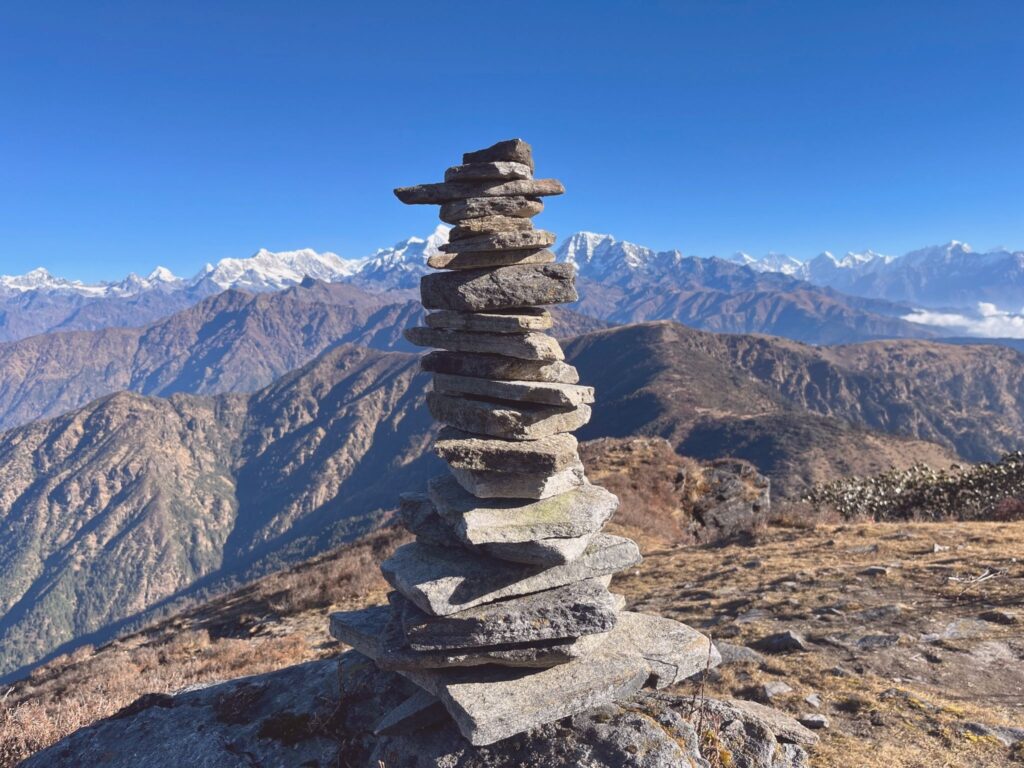 Should you take a guided trek or hike independently?
This is a question I am often asked – can I trek independently or should I take a guide? On many routes in the Himalayas, I would say for safety and logistic reasons to take a guide. The Pikey Peak Trek however can be done independently.
Thanks to the local community's initiative, the trail is marked out properly with signboards, making it harder to lose your way! I still check with the teahouse owners regarding the next day's trail though in case there have been any unmarked changes. Bringing a map along is always a good idea. Plan ahead!
Some of the lodges in Phaplu can help arrange local guides and porters for you. I would suggest a porter will make your trek more ' hands-free' and a guide will be able to point out things of interest you might otherwise miss.
Regardless of whether you hire a porter or guide or are going independently – always tell friends and/or local contacts exactly where you are going and when you expect to return. Yes, there is access to cell networks (NTC and NCELL) on the whole route and Wi-Fi in most of the teahouses but it's best to be cautious and safe.
Transport options to and from the Pikey Peak Trek
There are a few options:
Flight: Tara Air operates daily flights from Kathmandu to Phaplu Airport.
Local jeep: there is a good system of local jeeps travelling between Kathmandu and Phaplu daily. Get a ticket from Chahabil (Near Bouddha) in Kathmandu. Ask your hotel to help you with this or book the ticket yourself.
Private jeep: Obviously this will be more expensive than the local jeep but it will also be more comfortable! And you can choose where you stop for lunch, viewpoints etc. If there are 3 or 4 in your group it might be worth considering this option.
Trip Extensions
If you have time, I can suggest extending your trip by 3 or 4 days to include Dudh Kunda, a holy lake situated just north of Ringmo in the lap of Mt. Numbur. This small glacial lake sees hundreds of colourful devotees during the festival month of June or July (Depending on the moon and Nepali calendar).
How to get there?
The trail goes straight from Ringmo but please ask the teahouse keepers in Ringmo about the latest route, and about accommodation in the village of Beni. Beni is where you will overnight for a day trip to the lake, before returning to Beni for a second night.
There is another route to Junbesi from Ringmo but the trail is difficult to follow and should not be attempted alone during the winter. Actually, at any time it's advisable to take a guide on this route. One of the reasons it is best to take a guide is that if the hut at Beni is closed you need to be self-sufficient. For three days! This is why planning ahead is so important – you will need to add a small portable gas stove and food to your baggage. On the plus side… there are fabulous views of Everest on the trail from Ringmo to Dudh Khola lake.
Trip Difficulty
This trek's highest point of around 4100 m – but you will only be at that high point for an hour or so. You do not sleep any higher than 3700 m. Therefore, for the majority of people, there is little risk of altitude sickness. Additionally, starting at around 2000 m, and rising slowly, particularly if going via Ringmo and Junbesi villages, there is plenty of time for the body to acclimatize.
With the trail being well marked with new signboards it's easy to follow the trail. But pay attention to the signposts. Do not come off the main trail, especially in thick forest areas.
Accommodation and food are widely available at the end of the day, with food being available at different points during the day also.
Local SIM cards work pretty much on the whole trail.
When to ask the locals?
I suggest double-checking with the teahouse owners each night about the following day's trek. Plan ahead especially if you decide to add Dudh Kunda Lake to your trip. In particular, ask about the status of accommodation at Dudh Kunda.
If you wish to traverse to Jun Beshi from Dudh Kunda without doubling back to Ringmo, I highly recommend you hire a local guide for at least that part of the trip.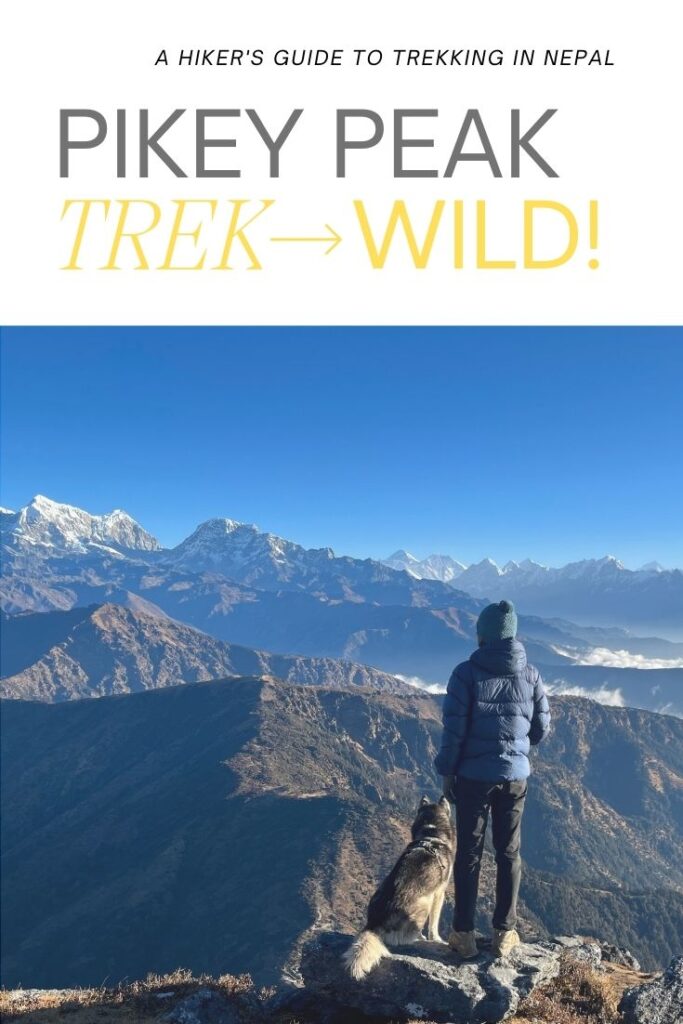 This is why you should trek Pikey Peak
It is said that Pikey Peak was the favourite viewpoint of Sir Edmund Hillary. That should give you an indication as to how beautiful the scenery is from there. As Pikey Pike's base camp is quite near to Mount Everest, you don't actually see Everest at that point because it is too close.
But Everest can be seen on the trail, along with all the other mountains that I have mentioned. Definitely, this trek provides stunning views of the east to west Himalaya ranges. This, along with being a very quiet trail, the exact opposite of more commercial trekking routes, makes me say this is one of the best one-week treks in Nepal.
READ MORE HIKING GUIDES FROM WANDERLUSTERS