Whether you are in San Francisco for a standalone visit or are perhaps there as part of a wider road trip, there has never been a better time to visit this iconic city.
From Alcatraz and the painted ladies to the twisting angles of Lombard Street and everything in-between, San Francisco has everything for everyone and is one of the most popular cities in the world, not just the USA
IT'S A FOODIE'S PARADISE

If you are visiting over a weekend, make sure that you check out the farmers' market at the city's iconic Ferry Building which takes places every Saturday morning.
Here you can try the most delicious selection of fruits, breads, vegetables and Chinese, Mexican and Vietnamese food. If you are a total foodie, a visit to the market is an absolute must!

YOU'LL LOVE ITS GOLDEN GAZE
What could be more representative of San Francisco than the Golden Gate Bridge?
Either hire a car and drive over it, ride a bike or even just take a stroll over to the other side. You could also take a walk over Crissy Field and take in the stunning views of the Bay and of course, Alcatraz.
Speaking of Alcatraz, despite it being a real mecca for tourists I would definitely recommend getting the boat over to see it. The tours are absolutely fascinating and sometimes you might even get to meet an ex-prisoner who can regale you with tales of what it was really like to be incarcerated inside this famous prison.
If you are feeling really active, you could head over to nearby Sausalito where you will find an array of restaurants and shops. If you want to cool off afterward you should definitely try some of the delicious ices at Lappert's Ice Cream on Main Street.
READ MY FAVOURITE USA TRAVEL GUIDES
YOU CAN EXPLORE THE CITY ON FOOT
America has always been deemed the land of opportunity and San Francisco has to be the pinnacle of this. This is evident amongst the incredible houses in the city. Why not take a stroll and look at the jaw dropping real estate? There are organised tours, but why not hire a car and explore the area for yourself?
From the cute Victoria houses known as 'painted ladies' to the awesome mansions down by the marina. However, real estate in San Francisco has rocketed in recent years and if you aspire to buy property in the area, you may need to have a financial strategy.
Even if the odds of being a billionaire in North America are only of 1 in 586, 206, apparently San Francisco and nearby Silicone Valley are renowned for producing some of the richest men and women of the continent!
THERE'S AN AWESOME ARTS SCENE
Love art and culture? Then a visit to SFMOMA is an absolute must! The San Francisco Museum of Modern Art is a sight to behold with seven floors full of contemporary works to peruse.
There is a floor entirely dedicated to photography and areas that are full of the likes of sculpture, German impressionism, and pop art to name but a few.
THE CITY HAS SOME SERIOUS BOTANICAL BEAUTY
If you love the great outdoors, head down to the Marina or take a cable car over to see the beautiful Botanical Gardens at the Golden Gate Park where you can see and smell plants from Japan, Australia and beyond.
There are also some beautiful redwoods too which have been cultivated since they were seeds.
THE RESTAURANT SCENE IS WORLD CLASS
One of the best things about San Francisco is the incredible array of restaurants – from brunch at the ever-popular Mama's on Washington Square in North Beach to delicious Mexican cuisine at La Taqueria in the Mission District.
If you love a steak dinner, then the Argentinian steakhouse Lolinda is certainly worth a visit. From Japanese and Chinese food through to Italian and Mexican, there are so many different restaurants to choose from.
San Francisco is an incredible city and holds a special place in people's hearts. Whether you want to explore the city, do some typically touristy things or live like a local, there is something for everyone.
INSPIRED? PIN THIS TO YOUR TRAVEL PINTEREST BOARD NOW!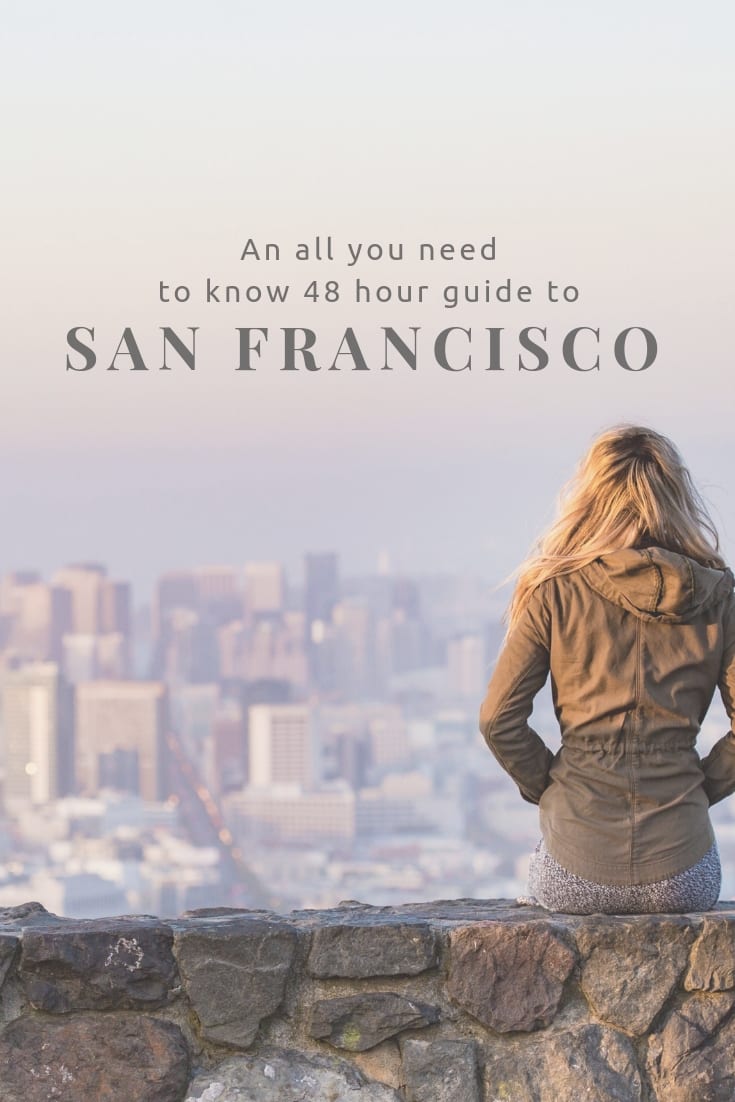 What is your favourite thing about San Francisco or what would you most like to see?