Not far from the maddening crowds of Florida's theme park epicentre Orlando, a natural world of hidden treasures awaits those with the desire to detour from the well-trodden tourist trail.
Defined by the mangrove laden tributaries of its namesake the Crystal River, during the chilly winter months (November to March), this unassuming coastal enclave plays host to the largest population of manatees anywhere in the state.
Nicknamed the 'Manatee Capital of the World', the gentle aquatic herbivores that inhabit the 70 or more natural springs which feed Crystal River's Kings Bay have become the region's main attraction for residents and visitors alike.
Planning a visit to Crystal River and looking for travel advice and itinerary suggestions?
Here's my guide to booking the best hotels and best manatee tours in Crystal River Florida; I can assure you that like me, you'll leave with manatee fever.
When to visit Crystal River to swim with manatees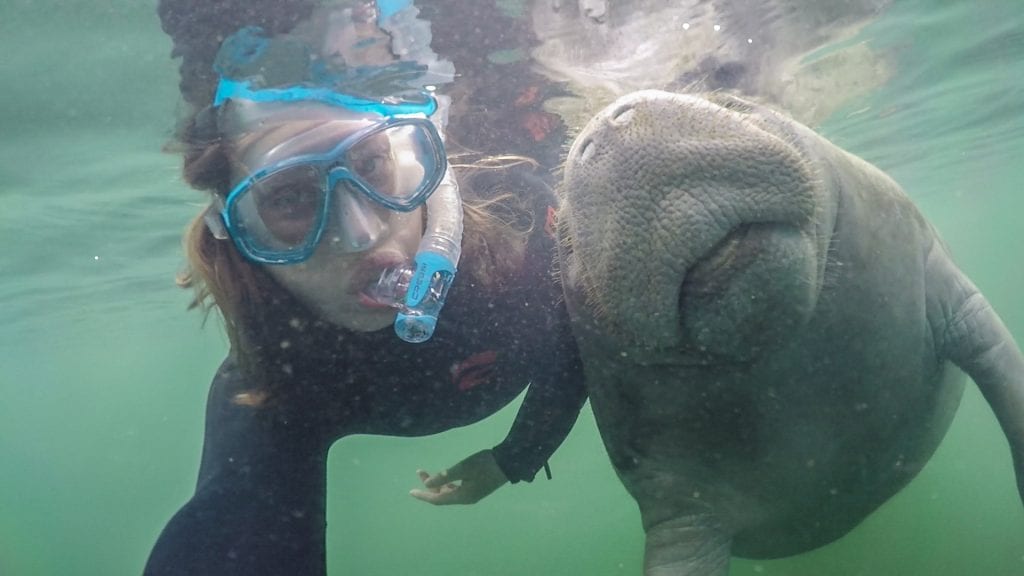 On the basis that most travellers who read this are planning to visit Crystal River to meet the wild manatee population I thought I'd better start with the best time of year to plan your trip.
Manatees actually much prefer to be out in the Mexican Gulf feeding on sea grass, however when the water temperature drops they have to seek shelter in warmer coastal waters. As such, the highest population of visiting manatees arrive during the winter months of November through until mid-March when they seek shelter in the warm water of natural springs like those in the Crystal River.
The best time to see manatees in Crystal River is late January/early February when the waters in the Mexican Gulf drop to their coldest all year.
The best manatee tours in Crystal River for active eco travellers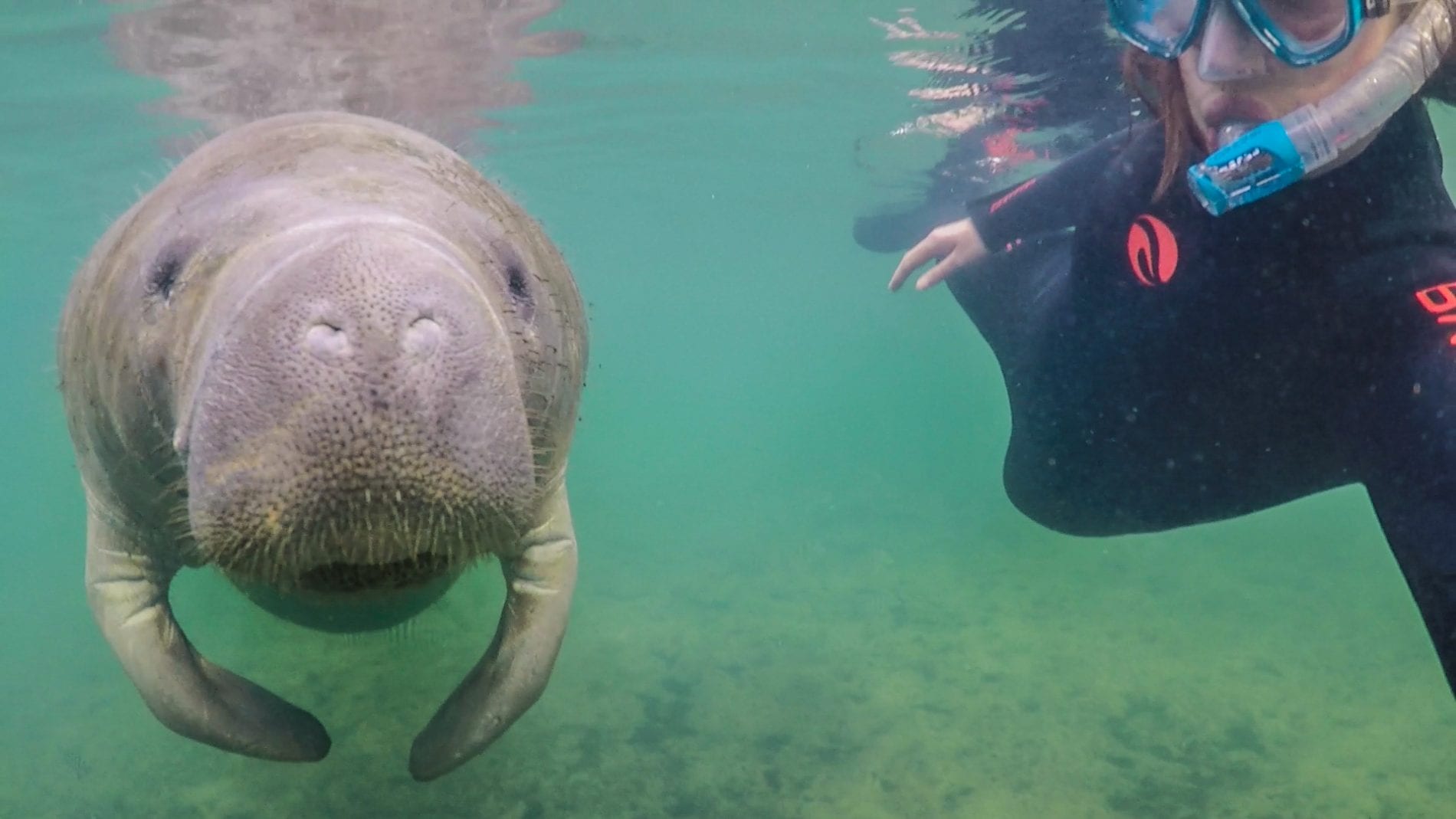 The main take-away from my time in Crystal River was the sensitive nature of manatee tourism.
Crystal River is the only region in Florida where you can legally be in the water with manatees, and as such, the local council and tour operators have an ongoing responsibility to make sure that tourism does not have a negative effect on the behaviour and well-being of the visiting manatee population.
With this in mind, here are a few things to consider when booking a manatee tour: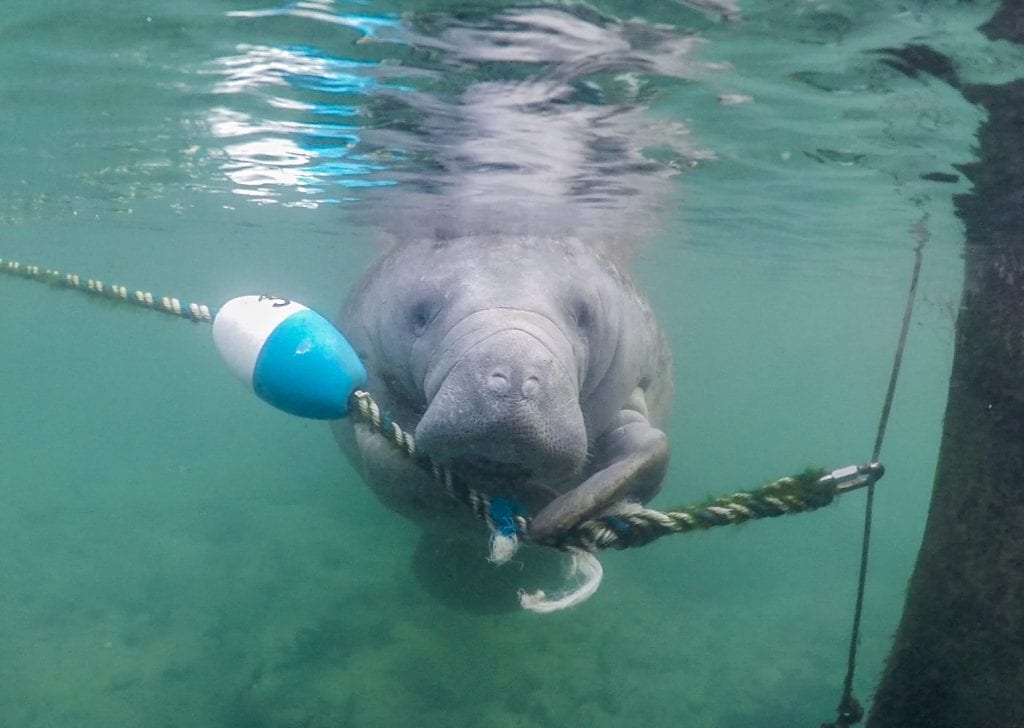 Read Tripadvisor reviews and check social media channels before booking. Make sure the reviews and images online reflect 'passive observation', not display images of people touching and harassing manatees.
All operators are required to show guests a video entitled 'manatee manners' which outlines the correct in-water behaviour to minimise the impact of your visit on the animals. Make sure you get to see this, and be mindful of these rules when in the water.
If you can, discuss with the tour operator which sites they plan to take you to. Some areas can become crowded at times and although less-popular, alternative locations with fewer people in the water can offer a more intimate experience.
If you have your own vehicle (I picked up a Hertz rental car from Orlando Airport on arrival), I would highly recommend booking your manatee tour on the neighbouring Homosassa River.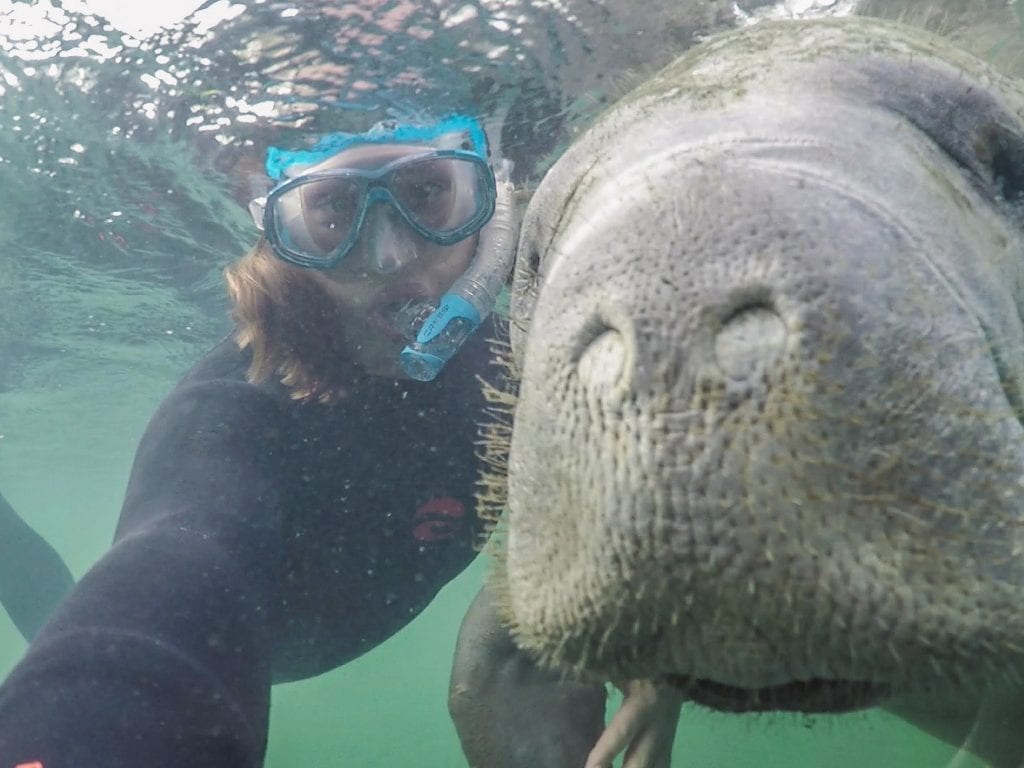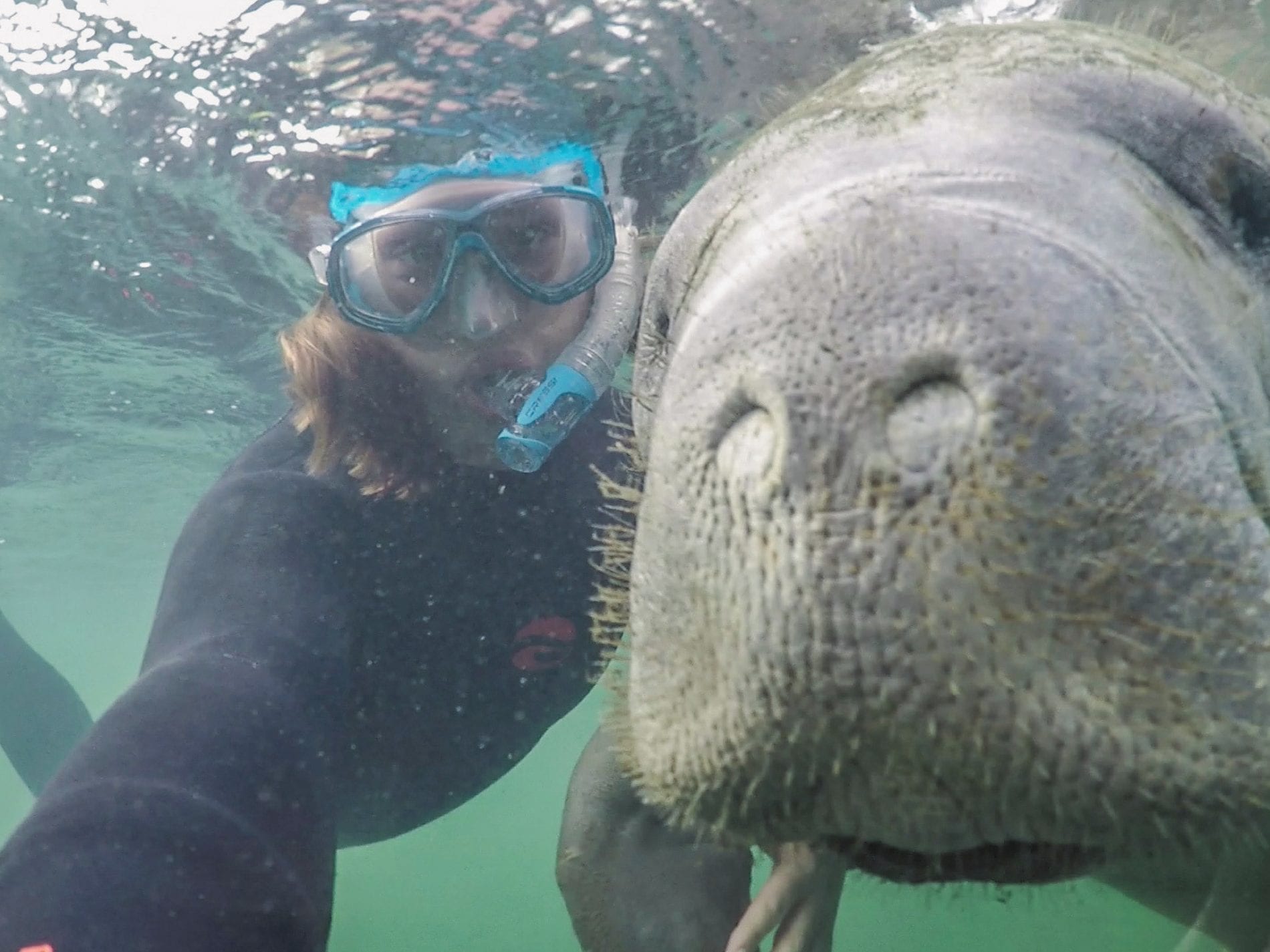 Just a few short miles from the Crystal River (and still part of the Crystal River region), the Homosassa is lesser known, and with fewer operators you'll find you're one of only a handful of people in the water at any one time.
Best manatee tour guide: review of Mellow Mangrove Charters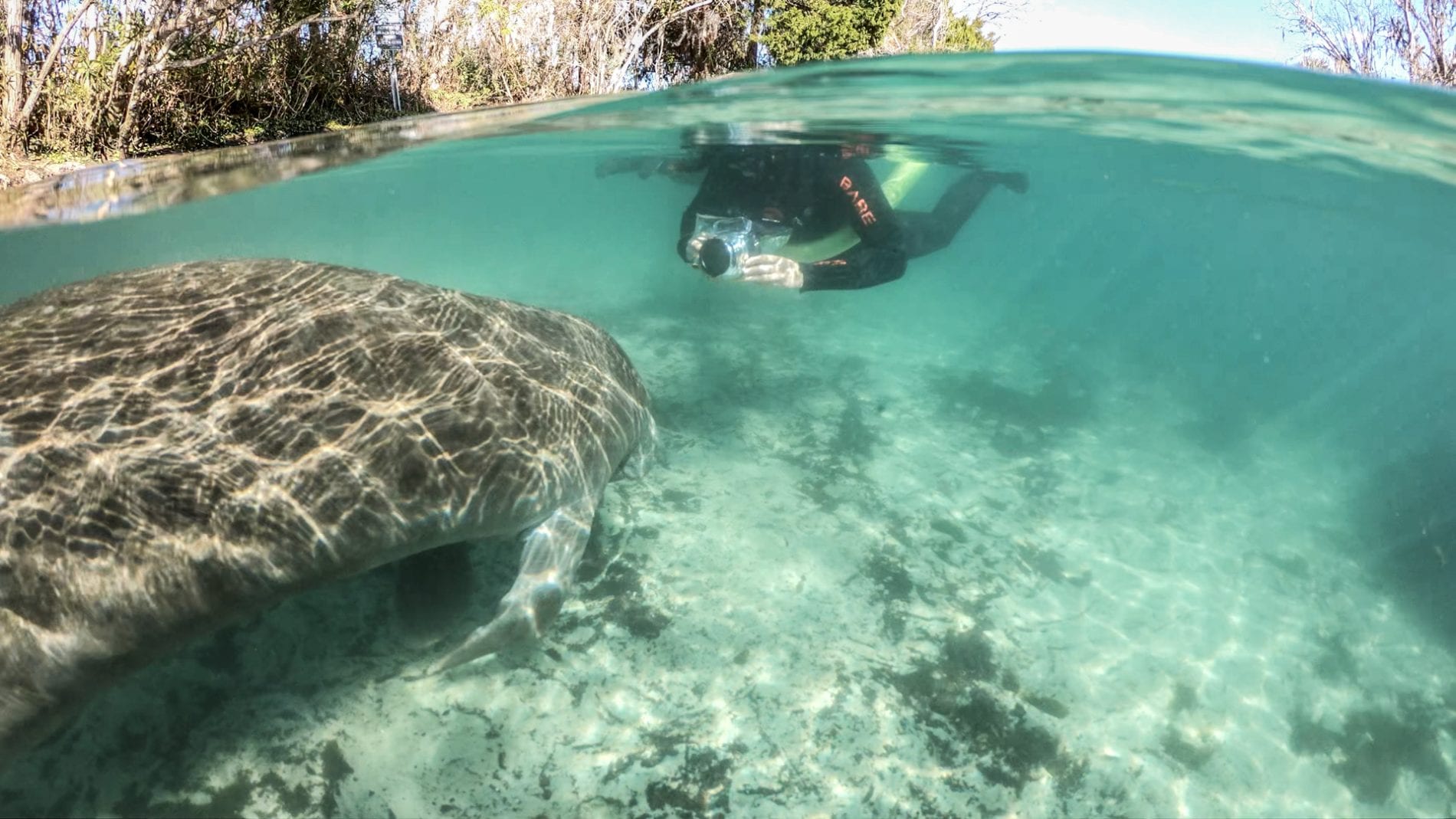 My best manatee tour experience was during a private tour with Captain Sean Daugherty of Mellow Mangrove Charters; setting out at around 7:15am one Sunday morning we were the only boat on the water for at least an hour. Slowly making our way to a secluded spring around a 15 minute ride from the dock, I spent 90 minutes in the company of five different manatees who seemed very happy to have me hang out with them in the shallows.
Captain Sean clearly knew the river like the back of his hand, and spoke passionately about his commitment to protecting the integrity of manatee tours on the Homosassa and Crystal Rivers. He impressed upon me the importance of remaining as still as possible when in the water, and ensuing that any interaction was initiated by the manatee, and not by me touching or stroking the animals.
Check out this video of one of the interactions I was lucky enough to experience. This was filmed on my GoPro 5 with a dome port lens attachment and a selfie stick.
Best hotels in Crystal River
Crystal River boasts a range of accommodation options with everything from budget to high-end. When planning my stay I knew that I wanted a comfortable option that offered value for money, and was close to most activities and a range of restaurants and eateries.
As such I chose the Plantation on Crystal River, and I wasn't disappointed.
Review of the Plantation on Crystal River
A relaxed waterside resort, the Plantation offers Floridian charm in abundance. Set aside the banks of the river and boasting a traditional elegance, the resort's amenities are second to none, and their restaurant serves up the best brunch buffet I've ever eaten.
With an onsite golf club, spa pool, and water sports team who offer manatee tours and sunset cruises, this is the ideal destination for a five day stay in Crystal River.
Check their latest availability now, then take a look at their river cam for a real time view of happenings at the Plantation.
Best adventure activities in Crystal River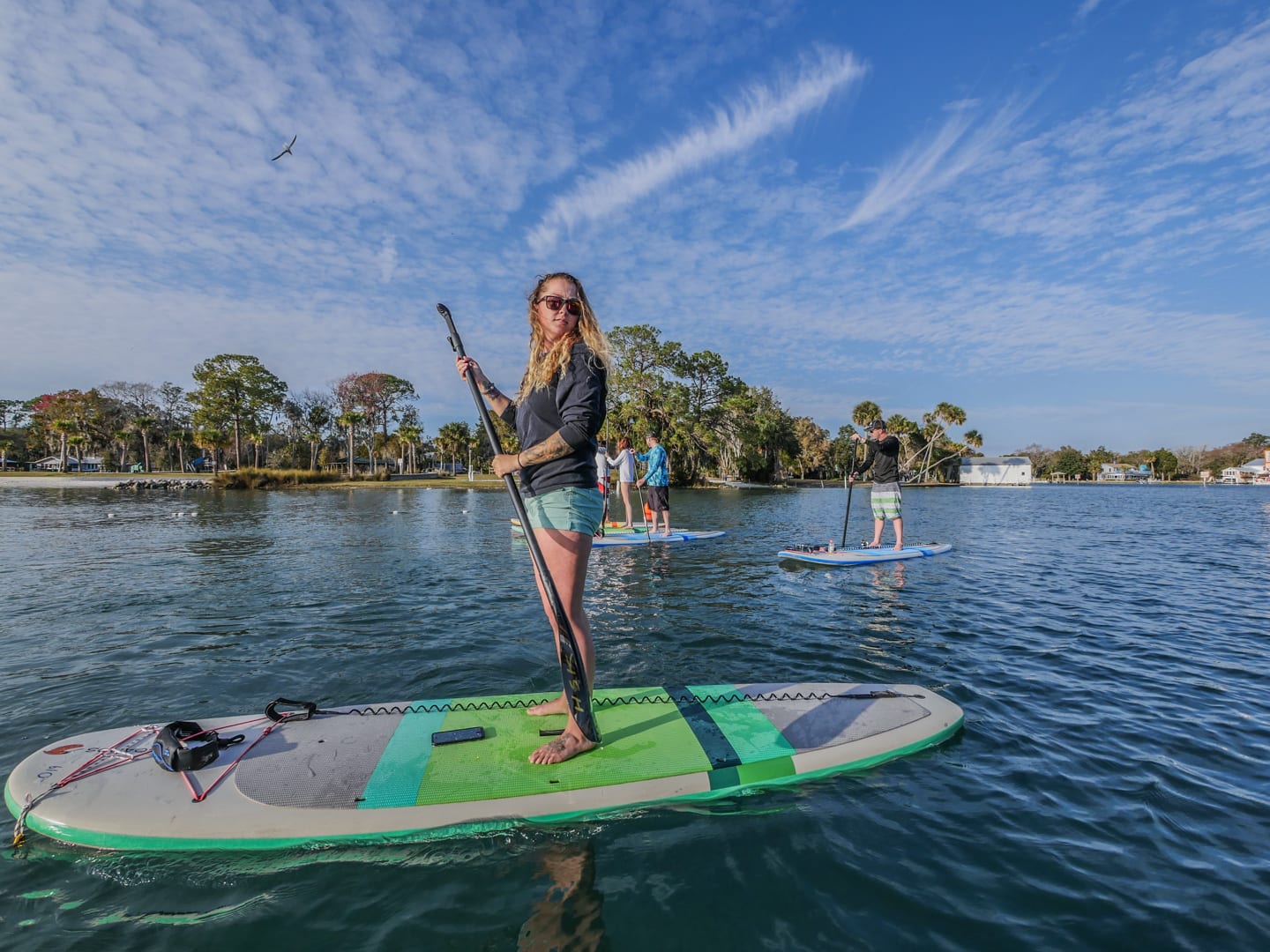 Although best known as the home of the Florida manatee, Crystal River boasts a varied array of outdoor activities, including kayaking, scuba diving, bird-watching, and fishing.
Having spent five days exploring the region, here are some suggestions for your itinerary:
Meet a manatee at the Three Sisters Springs boardwalk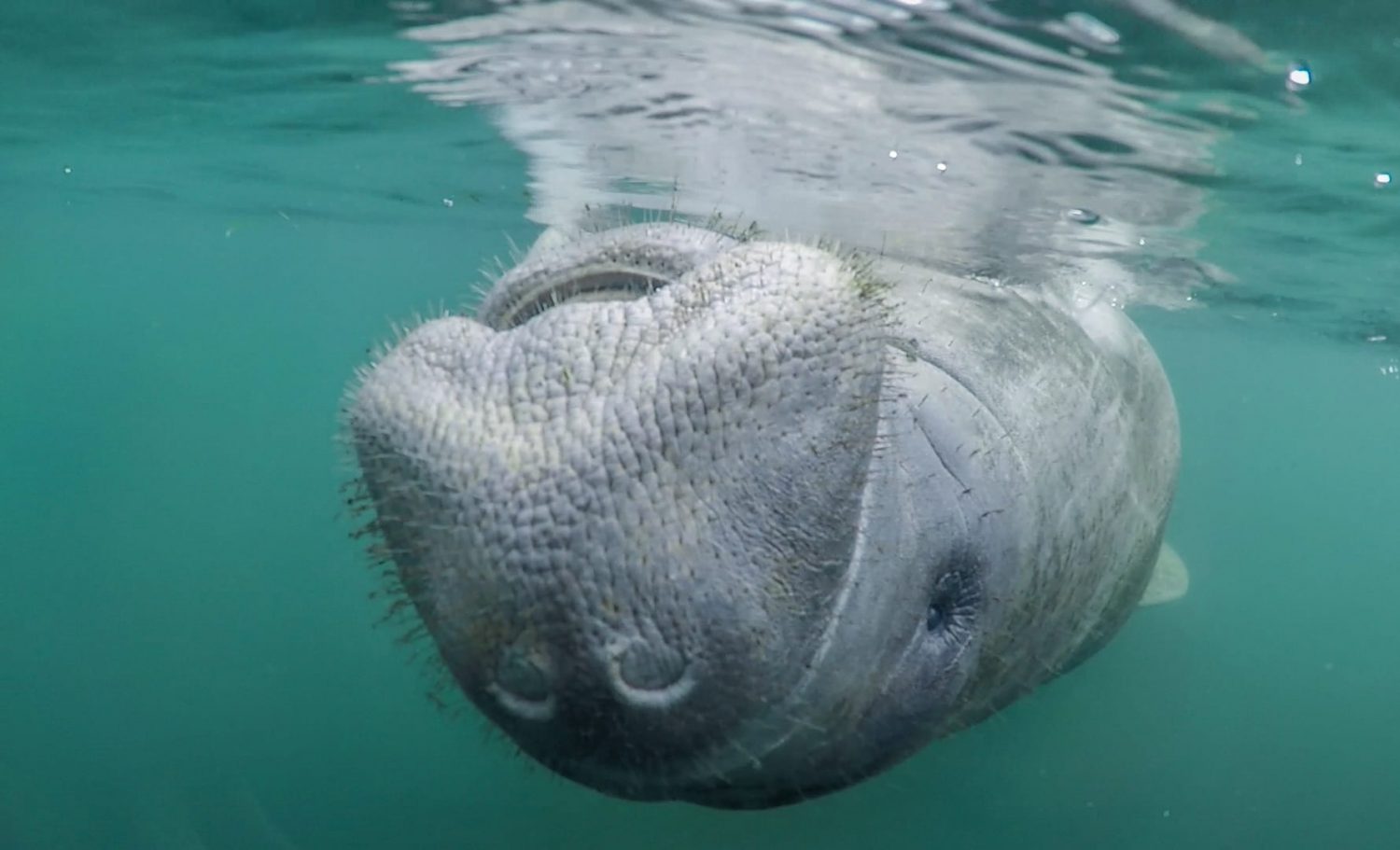 If you're not inclined to get in the water to meet a manatee, the Three Sisters Springs boardwalk is the place to go. Set around one of the most popular manatee hangouts in the Crystal River Region, Three Sisters is like the manatee equivalent of a day spa; they come here for a little rest and relaxation.
During the peak manatee season you're guaranteed to find a least a handful of manatee chilling out here, and thanks to the gin-clear water of the spring, you get a great view of them from above the waterline.
Go Kayaking on the Chassahowitzka River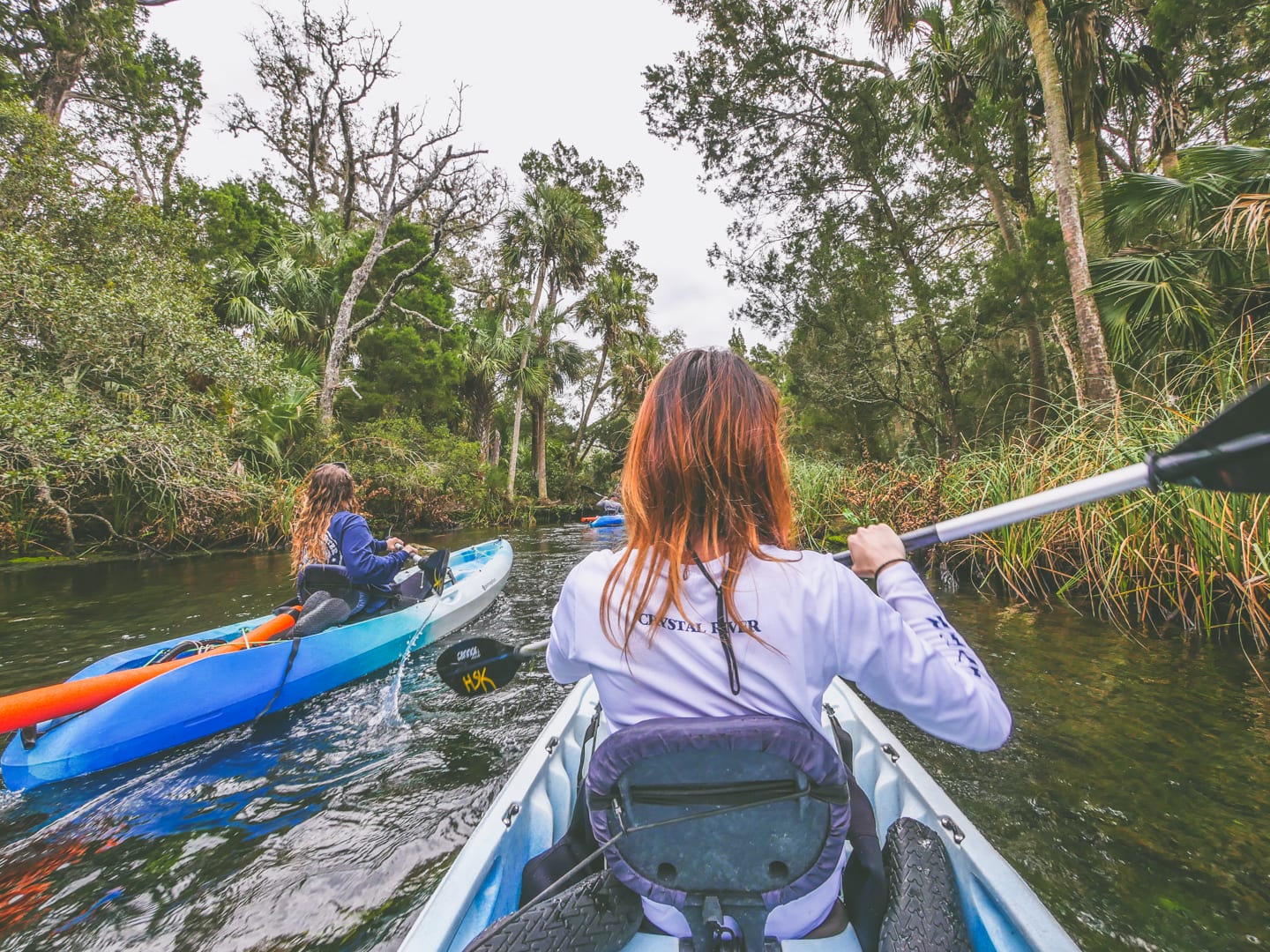 Affectionately known as 'The Chaz' the Chassahowitzka is a spring-fed river that wends its way through five miles of Citrus County's most unfettered terrain, and for those with an active interest in the natural world a kayaking excursion is a must.
Offering the opportunity to catch sight of a veritable menagerie of species, the headliners of which are the bald eagle, the manatee, and the iridescent kingfisher, a day on the Chaz is full of unexpected surprises.
I booked a three-hour guided kayaking tour with the team at Hunter Springs Kayaks and highly recommend their chilled-out, eco-friendly approach.
Try paddle boarding in Kings Bay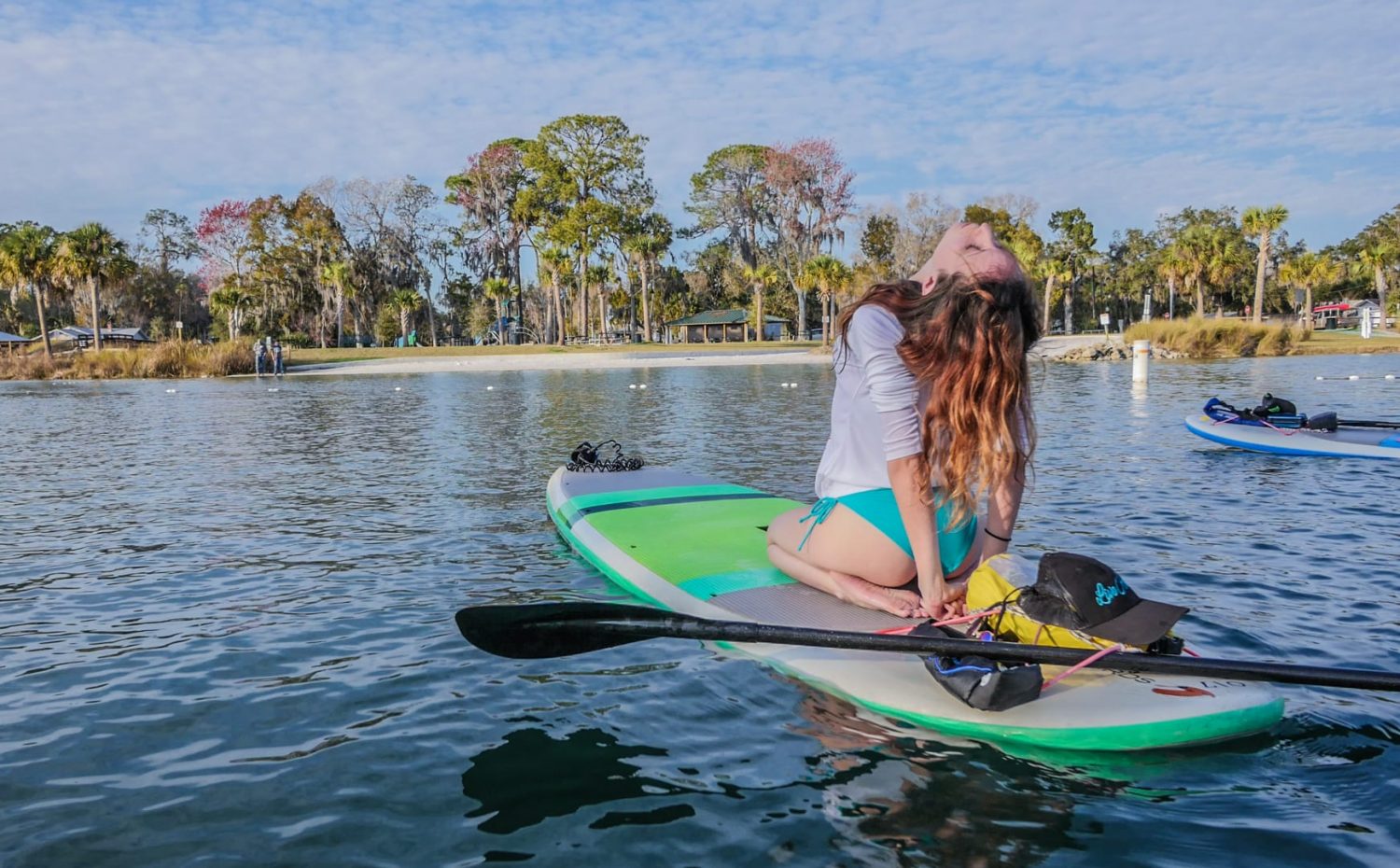 Perfect for those who prefer to explore at their own pace, a paddle board rental offers the opportunity to avoid the main river traffic and head to some of the more secluded spots in the bay.
I launched my board at Hunter Springs Park and during my two hours on the water I saw lots of manatees including a manatee mummy and her baby, and a pod of dolphins who came into the bay to feed just before sunset.
Take a sunset cruise to the Gulf of Mexico
As part of their activity suite the Plantation on Crystal River offer a sunset cruise which offers the opportunity to see some of Florida's outstanding Nature Coast, and an uninterrupted view of the sun setting into the oceanic horizon of the Gulf of Mexico.
Meet Lu the hippo at Homosassa Springs Wildlife State Park
Lucifer, or Lu as he is known, is the Crystal River resident hippo that you simply have to meet. The only hippo in the world to be granted Floridian citizenship, yes you read that correctly, Lu lives in the Homosassa Springs Wildlife State Park just a short drive from Crystal River.
Although not native to Florida, the residents of Crystal River petitioned for him to remain in the park after the state decide to house only endemic species at the facility. He's actually become one of the park's main attractions!
Visitors can also enjoy the park's underwater manatee viewing station, as well as the opportunity to visit a whole host of endemic Florida wildlife such as black bears, snakes, alligators, and crocodiles.
How to get to Crystal River, Florida from the UK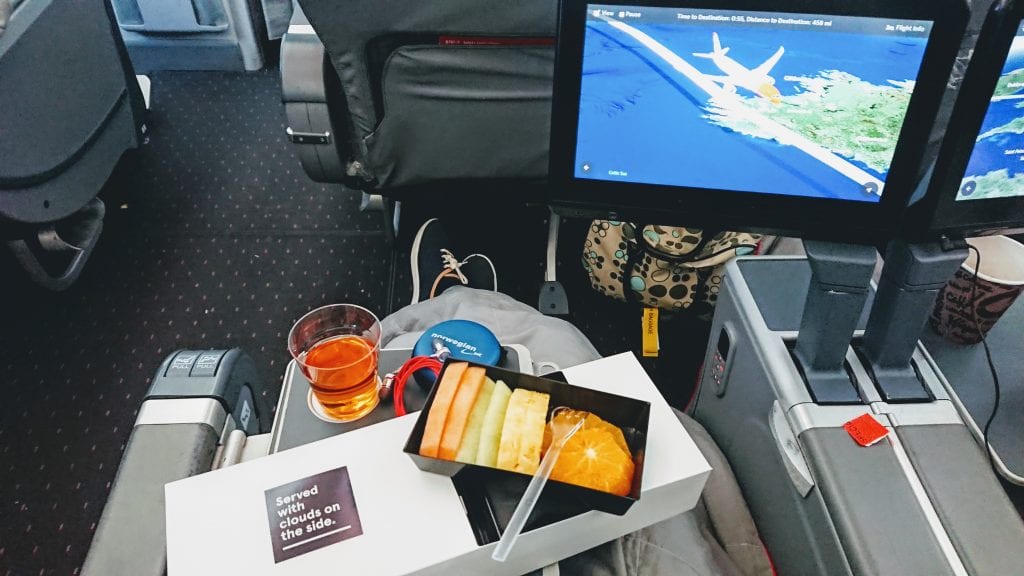 By far the quickest route from the UK to Crystal River is to fly from London Gatwick to Orlando, and then pick up a rental car and drive the two or so hours on to Citrus County. I flew Premium with Norwegian and can highly recommend their service.
Over one metre of legroom, a premium meal service, and two checked bags of 20kg come as standard with the ticket price. Not only that, their new state-of-the-art aircraft are faster, greener and help reduce the effects of jet lag.
QUICK FACTS
Norwegian fly a year round direct service between London Gatwick and Orlando International Airport
Flights are operated by a fleet of brand new Boeing 787 Dreamliner aircraft with two cabins – Premium and economy
To book visit www.norwegian.com/uk or call 0330 828 0854
Planning a self drive Crystal River itinerary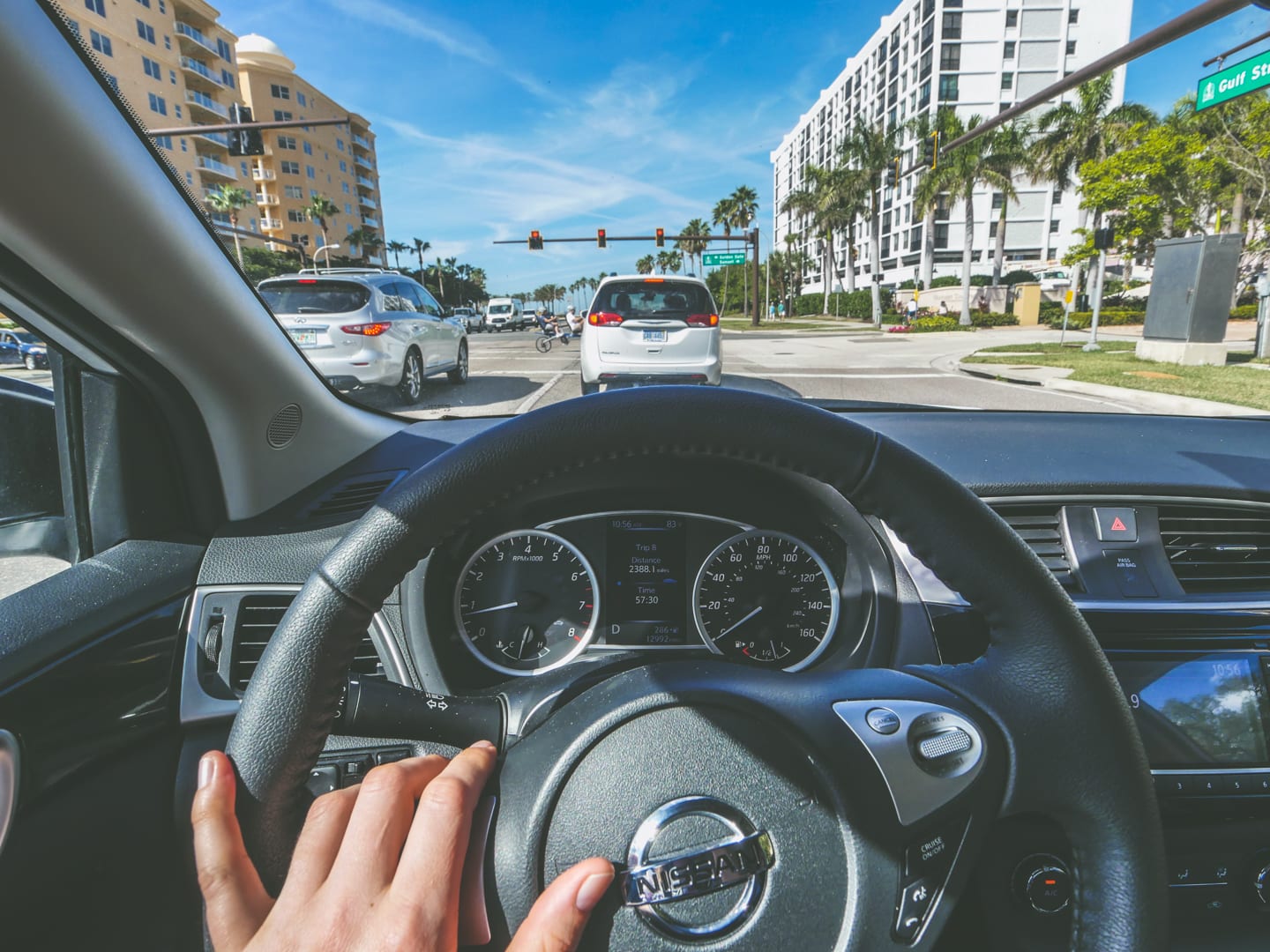 Regardless of where you're visiting from, a self drive Crystal River itinerary is ideal for the active and adventurous traveller. I was able to book a comfortable rental car with Hertz for just 37USD per day and it gave me the freedom to explore the region at my own pace.
It also meant that I could book a private manatee tour and be out on the water before anyone else, something which afforded me the opportunity to have a more intimate encounter on the Homosassa River.
QUICK FACTS
You can pick up a Hertz rental car from both Orlando Airport and from a depot in Homosassa (a five minute drive from Crystal River).
A large selection of vehicles are offered at all locations – check options here
Bookings can be amended up to 48 hours before collection
Rental helpline is open 7 days a week
To book visit www.hertz.co.uk/rentacar/reservation/
INSPIRED?? PIN THIS POST TO YOUR TRAVEL PINTEREST BOARDS!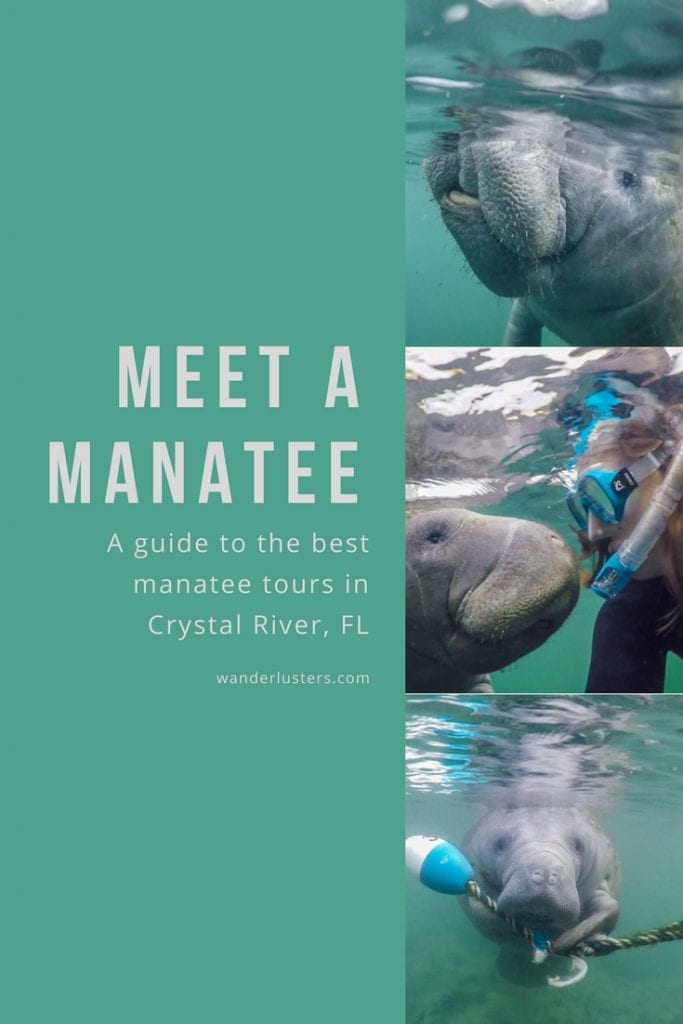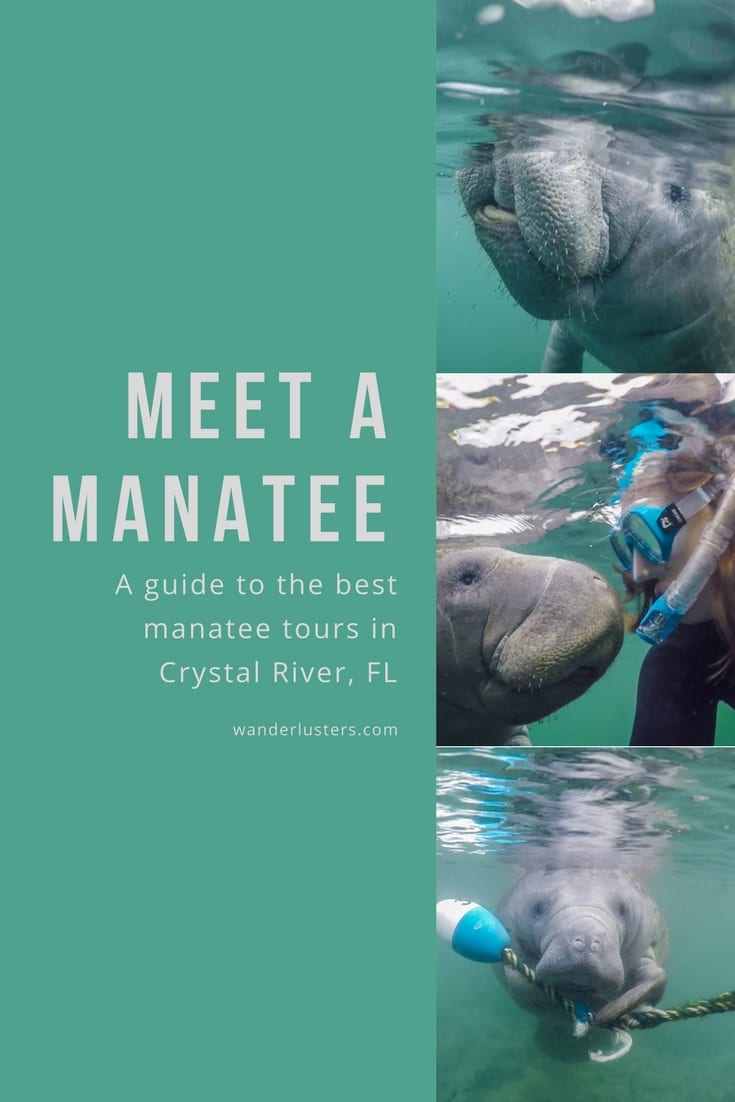 ✈ ✈ ✈
Have any questions about booking the best manatee tours in Crystal River, Florida? Leave a comment below!