We love exploring the natural world and when a location displays examples of Mother nature's inspiring natural design, it gets our hearts all a-flutter.
It's not often that we feature locations that neither of us have been to. Today however, we make an exception.
With all the recent posts released into the blogesphere covering 2014 goals, hopes and travel itinerary ideas, we've had to extend our bucket list!
I'm never one for following suit and submitting my own top 10 list of bloggers, locations or travel tips so I've compiled a list with a difference…
One that I hope will make your heart miss a beat and your head explode with sheer wanderlust delight.
#1 Red Beach, Panjan, China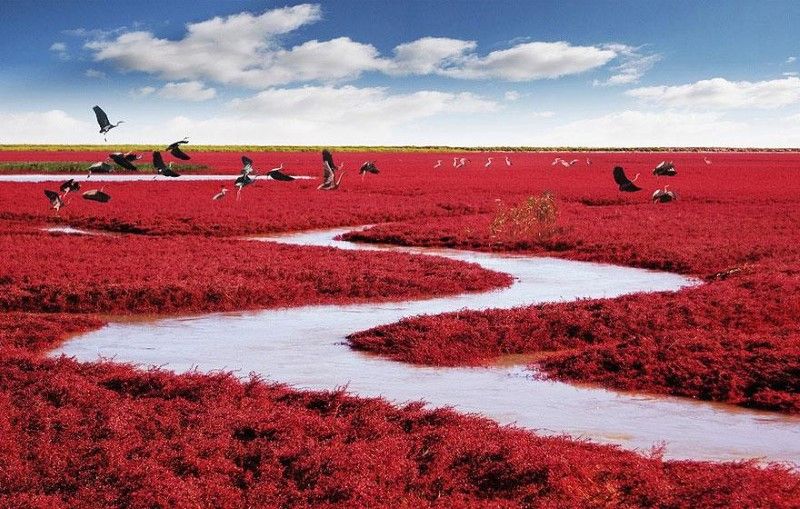 While sand is usually the first thing associated with a day at the beach this is not true for Panjin Beach in China, which is, yes you guessed it, red. Blanketed by Sueda, a species of seaweed which is deep red in colour, it blooms in April and May each year turning the coastline into a vivid sea of colour.
Located within the largest wetland and reed marsh in the world it hosts a complex ecosystem of over 500 types of bird and mammal, some of which are endemic and endangered.
#2 Hitachi Seaside Park, Hitachinaka, Japan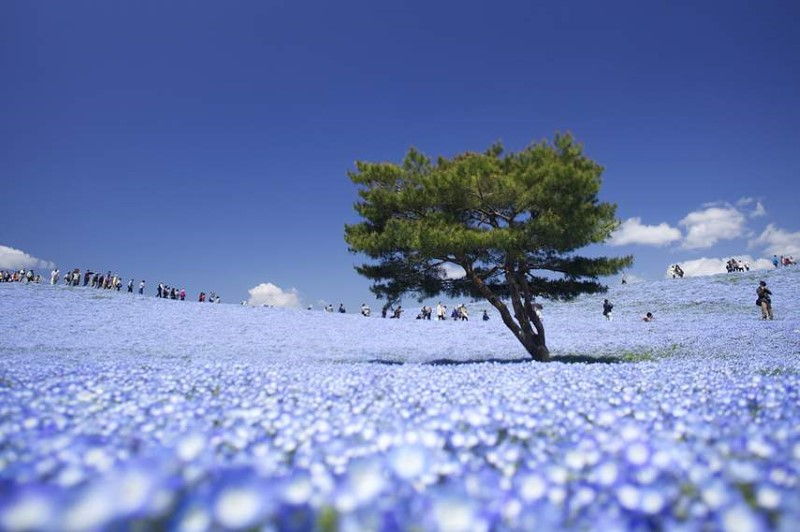 ​​A 3.5 hectare flower park Hitachi Seaside Park is a public garden on the most grand of scales. Thousands of blooms carpet the ground year round offering a unique view of seasonal colour and form.
Particularly famous for blue nemophilas these little blue flowers with transparent petals bloom in abundance during Spring. Over 4.5 million buds come together in what has been dubbed Nemophilia Harmony.
#3 Wai-O-Tapu, Rotorua, New Zealand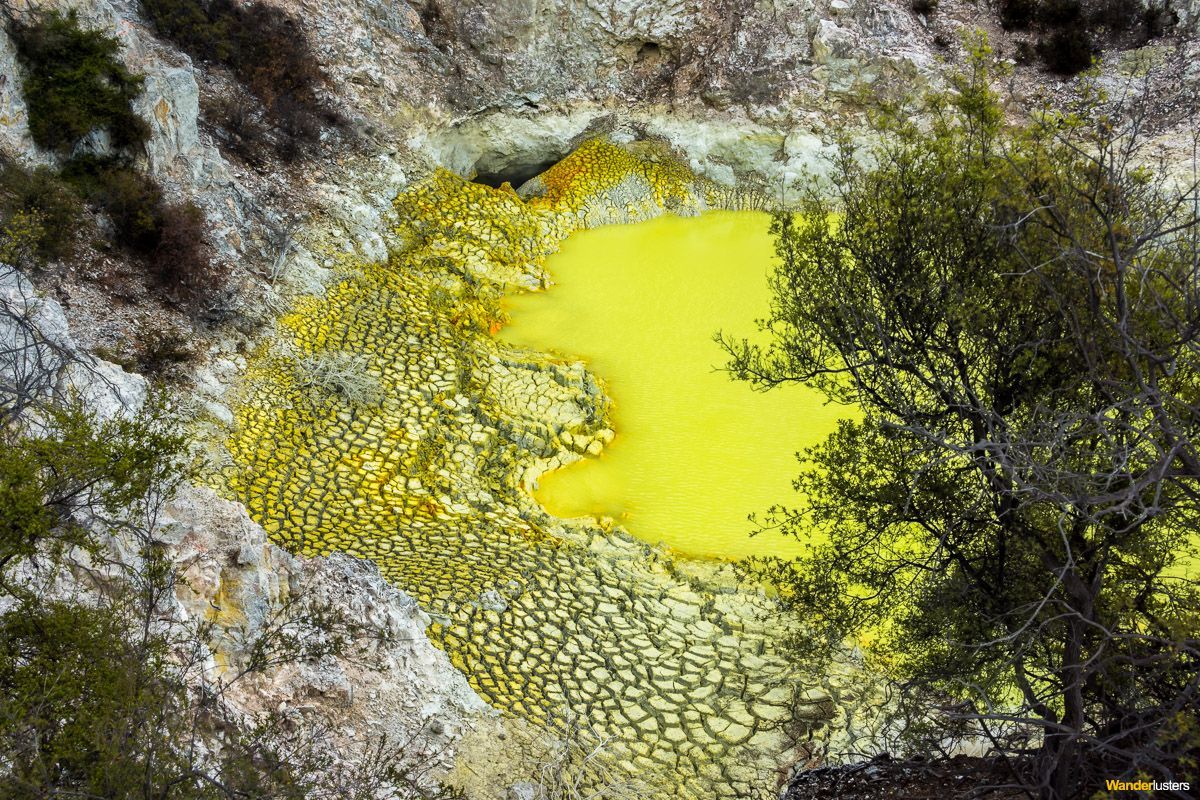 Located in the Taupo Volcanic Zone in the heart of New Zealand's North Island Wai-O-Tapu is a vibrant geothermal wonderland. The primordial product of geothermal activity taking place deep beneath the earth the reserve is a hot bed of colour, shape and sound.
If the noxious gases and boiling steam don't put you off you can visit year round and walk the 3km track which encompasses over 25 examples of Mother Nature's natural design.
#4 Travertines, Turkey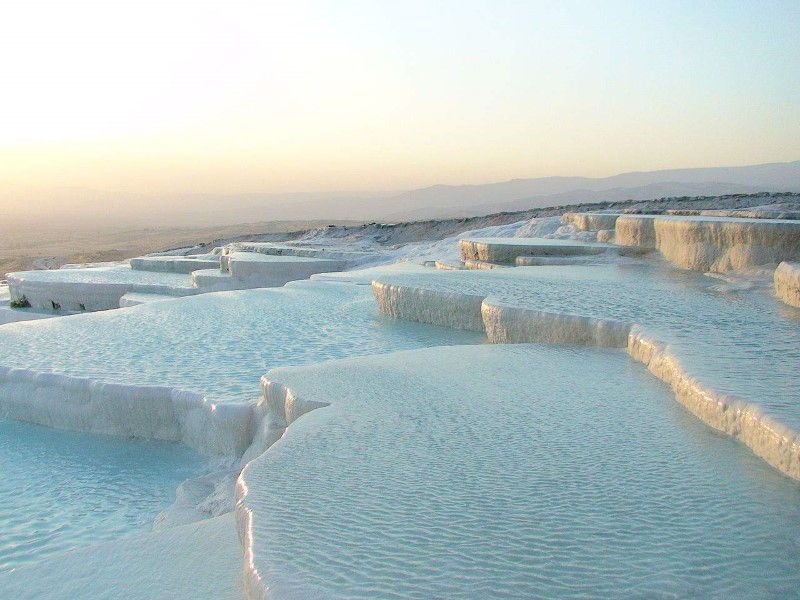 Located in Denizli Province in southwestern Turkey Pamukkale, meaning 'cotton castle' in Turkish is home to hot springs and white cascade of travertine terraces.
Carbonate minerals left by the boiling waters bubbling up from beneath the earth and spilling down the hillside below have formed terraces of oyster shaped pools.
Those with the desire to soothe their aching muscles in one of these natural thermal pools can visit year round as Pamukkale is a world heritage site open to the public.
#5 The Wave, Arizona, U.S.A.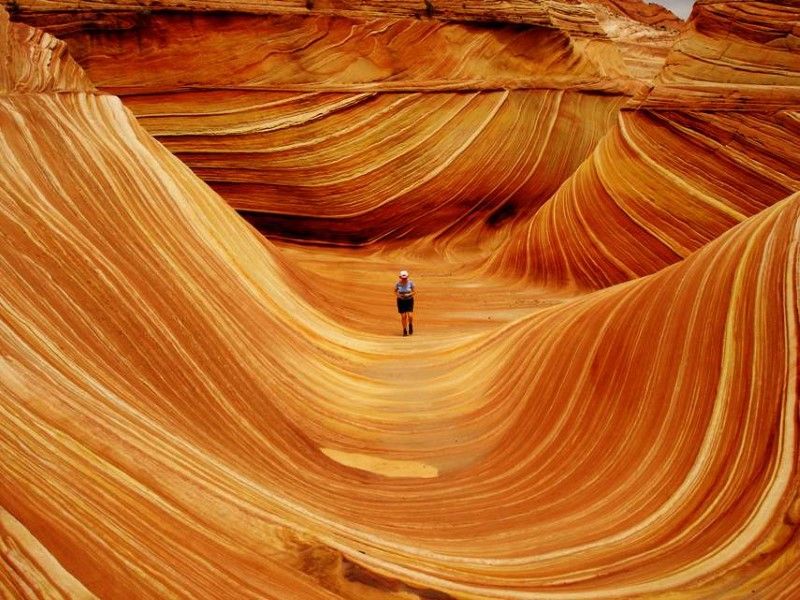 Located on the Arizona-Utah border, in the Paria Canyon-Vermilion Cliffs Wilderness, on the Colorado Plateau, The Wave is a natural rock formation like no other.
A product of erosion both from rain runoff and wind, The Wave is best photographed around midday when there are no shadows, although these do add dramtic effect when visible over the multitude of stone ribbons.
The Bureau of Land Management restricts access to the North Coyote Buttes Wilderness Area to just 20 permits per day so plan ahead and enter their online lottery if you want to see this awesome display of natural design.
#6 Tunnel of Love, Klevan, Ukraine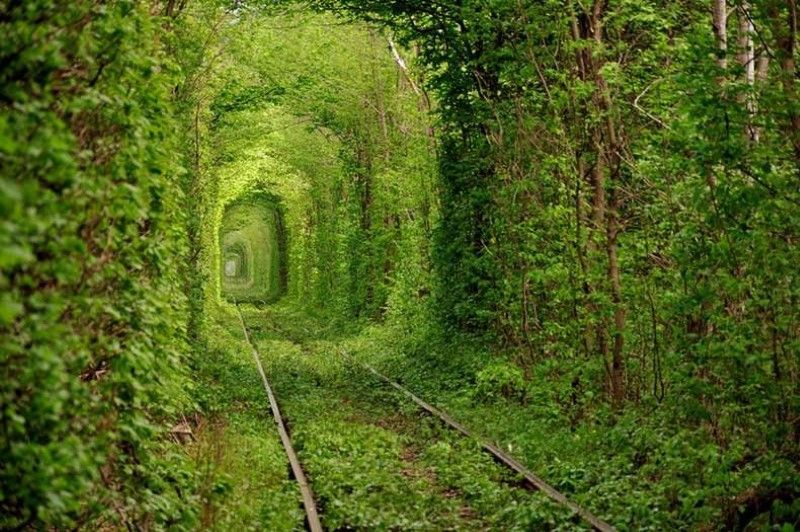 It is said that one wish will be granted to those couples in love who walk through this emerald tunnel but the little else is known about the Ukrainian Tunnel of love.
Located around 7 miles from the city of Klevan the railroad is used regularly…and that's about all I know!
#7 Salar de Uyuni, Bolivia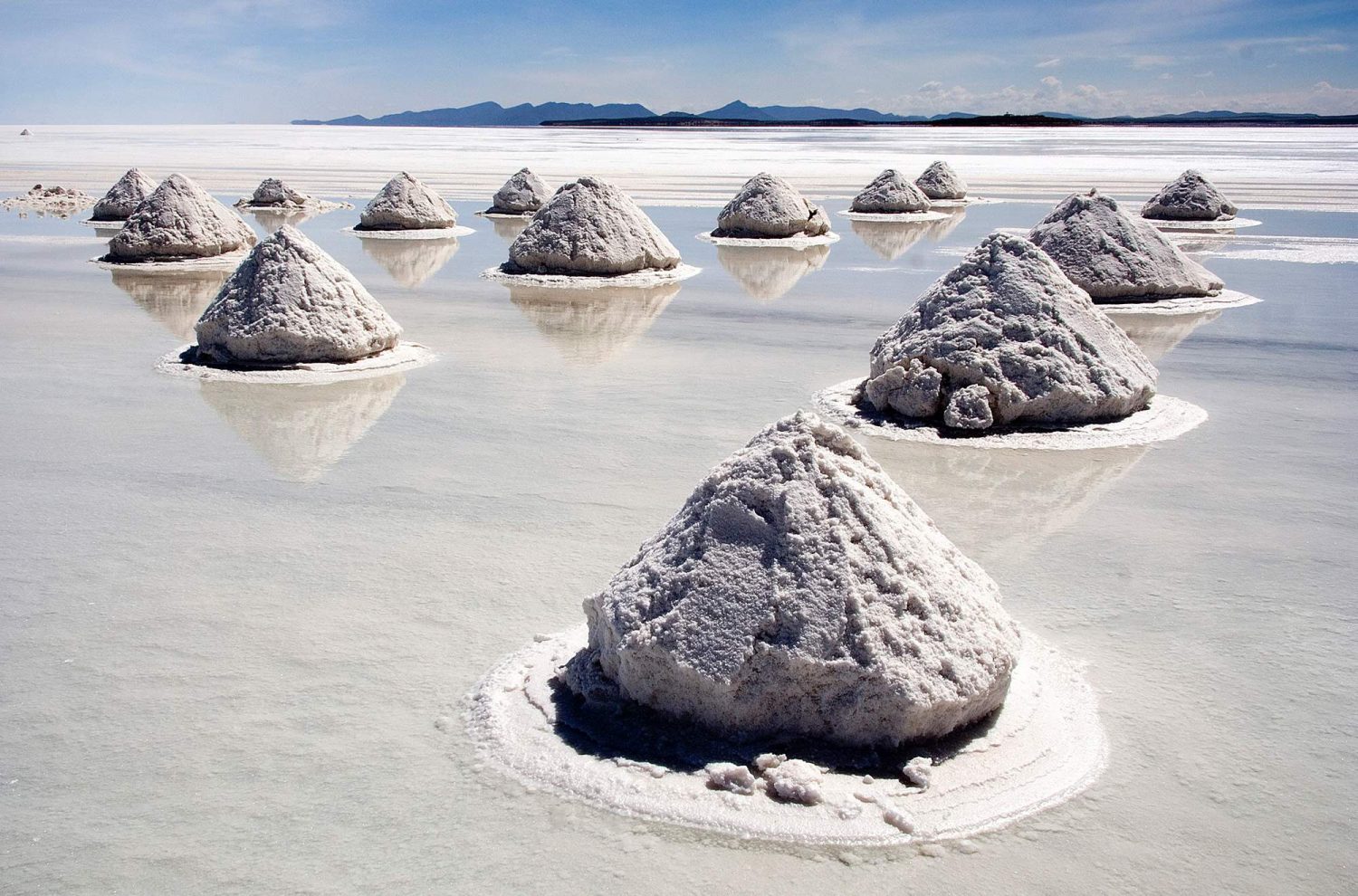 At 10,582 square kilometres Bolivia's Salar de Uyuni is the largest salt flat in the world. Formed as a result of a series of transformations between a number of prehistoric lakes the area is so flat that the elevation varies no more than a meter across the entire plain.
Holding 50% – 70% of the world's Lithium reserve in the brine pool beneath its surface the salt flats are a remarkable anomaly and provide photographers with a truly astonishing and ever changing backdrop.
#8 Cappadocia, Turkey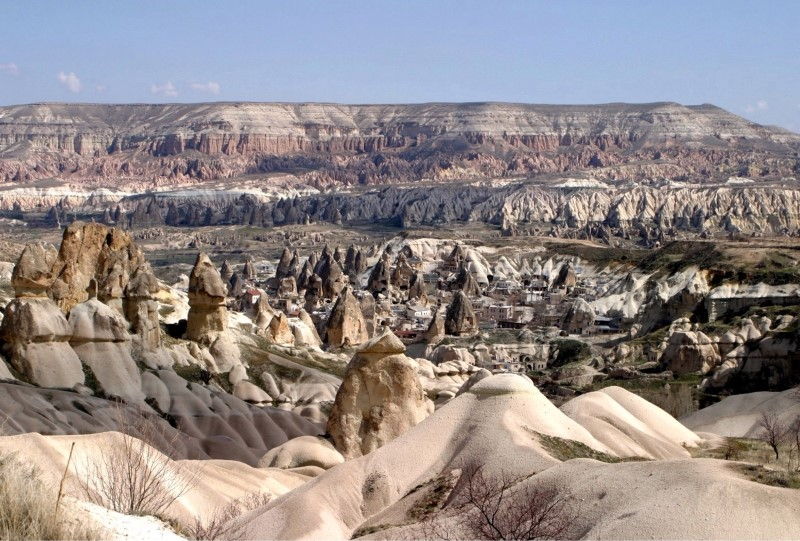 The history of Cappadocia reads like the chapter page in an ancient history textbook. Mentioned in the biblical account given in the book of Acts 2:9, it was once part of the Persian Empire.
1,000m above sea level ,the Cappadocia plateau is pierced by volcanic peaks which have forged a unique and remarkable landscape. Underneath the ground Cappadocia plays host to a network of underground cities, the origins of which have escaped archaeologists and scientists thus far.
#9 Door to Hell, Turkmenistan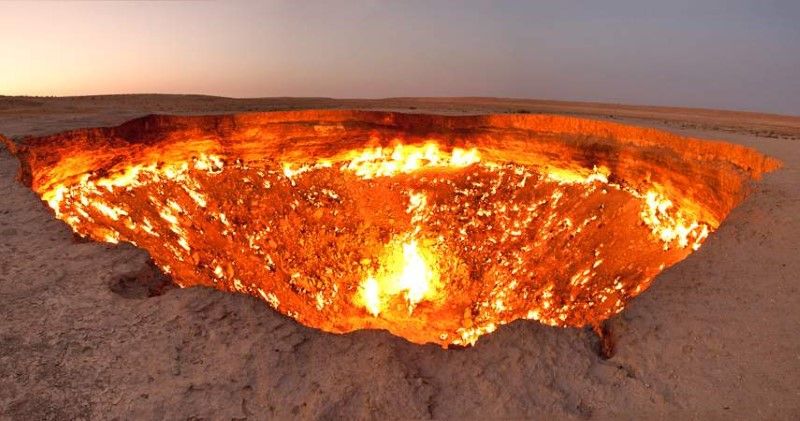 A natural gas field the Door to Hell has been burning continuously since it was lit by Soviet petrochemical scientists in 1971. Located near the Derweze village in the Karakum Desert that gas reserve found here is one of the largest in the world.
Named by the locals after they saw the extent of the orange flames, boling mud and surrounding noxious atmosphere the ground is hot to the touch up to 60m from the crater's edge.
#10 Thrombolites, Lake Clifton, Australia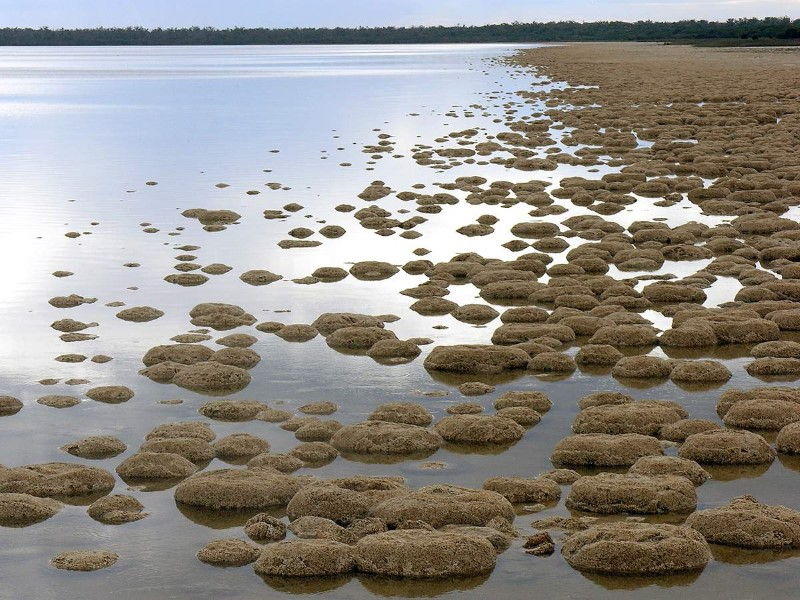 You could be forgiven for thinking these cylindrical forms were made from a mould but in fact the thrombolites of Western Australia's Lake Clifton are living rocks believed to be amongst the earliest forms of life on earth.
Those who visit can get close the thrombolites via a tailor made walkway within the Yalgorup National Park and if they listen very carefully they might hear the thrombolites growing…just joking.
Happy New Year fellow Wanderlusters. What's on your bucket list for 2019?