Having spent the best part of a month with our eyes glued to internet search engines I feel that I'm well versed in the attributes of various brands of camper, and as is always the case, I want to share my new found knowledge with you.
Travelling by camper should be considered for those looking to explore Australia on a budget.
If you are planning a trip of more than a few weeks then buying a campervan is more affordable than renting, as long as you have the initial capital available.
With rental costs not even worth considering for a ten month journey I knew my only option was to try and find the best deal possible on the camper of my dreams.
Most of the tips below can be applied to purchasing a camper all over the world, however be sure to check local registration requirements and vehicle compliance laws.
PRE PURCHASE CONSIDERATIONS
Go and inspect the vehicle during the hours of daylight – Trying to determine the health of an engine by torchlight is not a smart idea.
ELECTRICAL & MECHANICAL CHECKS
There should be both a crank and a deep cycle house battery, ensure they are in good working order and holding their charge.
Find out how you can change the 12v from the house battery into 240v to charge your appliances. The easiest way is to use an inverter but each camper is different and may use a different set up.
If you are not a mechanic take the vehicle to a reputable garage and ask them to give it a full mechanical inspection. Explain that you are considering buying the vehicle and you should get an honest opinion.
MAKE SURE YOU MAKE THESE PRE-SALE CHECKS
Check the VIN number with the local authorities, enquire about the vehicles history and all look over all available paperwork regarding recent mechanical work and new parts.
Is the seller also the named owner? If not, ask 'why not?'
Consider the age of the vehicle and the availability/cost of new parts. Remember the further out into the bush you get the harder it will be to find parts for obscure makes and models.
Contact some insurance companies to get a rough idea of coverage costs, remember you will need to add this to the sale price of the vehicle when considering your budget. Find out if you will have any excesses to pay and if the cost includes contents insurance, we had all our electrical items, laptops, phones etc covered within our policy agreement.
READ MORE OF MY AUSTRALIA TRAVEL GUIDES
GET FAMILIAR WITH AUSTRALIAN REGO
How much longer is left on the rego and what will the cost be to renew.
Was the previous owner on a concession fee, if so you will have an additional fee to pay when you register the vehicle in your name.
In which state is the vehicle registered. Note there are different requirements in each state when buying, selling and renewing rego on a vehicle.
Note that to register the vehicle in your name in the same or any other state you must have a rental receipt as proof of residency in that state. (We used a camp site receipt)
WHAT TO DO AFTER YOU'VE AGREED THE SALE
A fee of 3% of the sale value will be payable to the wonderful government when you transfer into your name at the RTA. Consider this extra cost when agreeing a price.
Always get a written receipt signed by the seller, if possible write 'paid in full subject to mechanical inspection' to cover yourself if the result of the inspection are not as expected.
READ // Wanderlust Guide: Selling a Vehicle
FOUND THIS POST HELPFUL? PIN IT TO YOUR PINTEREST BOARDS!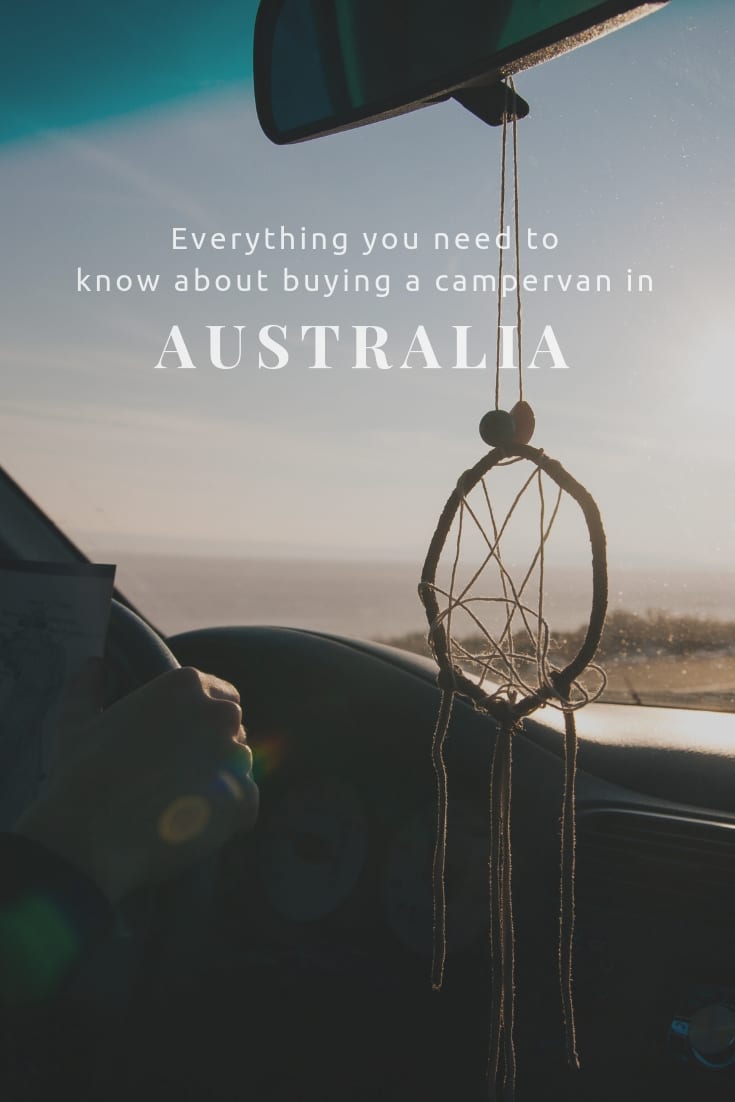 ✈ ✈ ✈
Happy Camping to all – If you have any further tips or advice on camping and camper-vans I would love to hear from you.