After ten months and an incredible journey around much of Australia's coast the time has come to say goodbye to Winifred my much loved Winnebago.
Having previously shared details of how I came to buy her on social media I thought it might be an idea to post a guide to how I have ensured I retained my initial investment and got the best price possible when selling a vehicle here in Australia.
THE BEST THING TO DO FIRST IS ADVERTISE
Start by listing the vehicle for sale online.
In Australia I found that the cheapest forums for this were Gumtree and Ebay. There are a number of specialist motorhome and caravan sales websites that charge a fee to list an advert, however I decided to use these as a last resort due to the large listing fee.
Make your advert as comprehensive as possible.
List all attributes down to the last item. Detail any mechanical work you or previous owners have had done. The more information you can post on your advert the more it will appeal to potential buyers.
Look for local vehicle markets.
We noticed a few in major cities around Australia. Taking your vehicle to a market means buyers can check it out first hand and even get the vehicle checked on site by a reputable mechanic. You may get a quick sale here.
Advertise in local hostels, community halls and local notice boards.Consider placing an advert in the local newspaper.
ADVERTISE IN ADVANCE
Get your adverts online early.
Give yourself at least two months to sell your vehicle. You can state a collection date on your advert, interested buyers will wait for you if they are keen. Don't leave it too late, if you do you may have to reduce your asking price for a quick sale.
GIVE YOUR VEHICLE A SPRING CLEAN
Take the time to clean your vehicle both inside and out, make sure that any odd jobs are completed. Something as small as replacing a piece of carpet at the entrance, or mending a broken handle can add value to the final sale price.
Investing time to prepare your vehicle for market will result in a higher sale price.
// Clean and polish the exterior.
// Vacuum and wipe over the interior.
// Make sure the glove box and ashtrays are cleared out.
// Shampoo the carpet and upholstery if necessary.
// If you have had smokers or pets in your car its a good idea to deodorise the inside.
// Replace any lights or fuses that don't work.
// Clean the windows inside and out.
// Blacken the tyres – this can make such a difference to the look of a vehicle.
// Clean the engine bay, wipe up oil and radiator spills with a damp cloth and use an engine degreaser (available at any auto shop) to rid the engine itself of excess grease and dirt.
// Present any documentation in an ordered folder, making information about the vehicle history readily available to a buyer promotes a feeling of honesty and transparency.
// Be sure to detail any broken elements or damage, most buyers are very thorough and will catch you out.
READ MY AUSTRALIA TRAVEL GUIDES
MAKE SURE YOUR VEHICLE COMPLIES WITH LOCAL REGULATIONS
Be aware of the state regulations.
Some states require the vehicle to under go an inspection prior to sale, others insist on yearly services, others have little in the way of requirements. Know the rules yourself because the buyers likely will.
GET THE PRICE JUST RIGHT
Initially advertise at a price higher than your preferred sale price. People expect to barter a little before agreeing on a price.
Consider psychological price barriers – $3, 990 is much more appealing to a buyers subconscious than $4,300. Price your vehicle accordingly.
PRETEND YOU'RE A CAR SALESMAN
When prospective buyers arrive to view your vehicle show it off, take them through every element and highlight its positive features. Talk about the great experience you have had while owning it and answer any questions as thoroughly as possible.
Barter respectfully, if a buyer makes a low offer explain why you can't let the vehicle sell for that much and then give them your lowest price.
Make sure your insurance policy covers prospective buyers taking a test drive.
CLOSE THE DEAL
// Put it down in writing, make up a receipt for any money that changes hands, detail exactly what has been paid and the terms of the sale.
// Always write 'Sold as is, where is' on the receipt and make sure the buyer is aware of this agreement.
// Be sure to sign the registration document and retain the buyers section to send to the local traffic authority.
// Remember to cancel any insurance and roadside assistance plans.
We I was fortunate enough to find Winifred a lovely new owner down in Adelaide, leaving me time to enjoy a week in the Whitsundays before my visa expired.
Selling a vehicle abroad can be tricky, however I hope these helpful tips will enable you to secure a swift sale at the price you want.
FOUND THIS POST HELPFUL? PIN THIS POST TO YOUR PINTEREST BOARDS!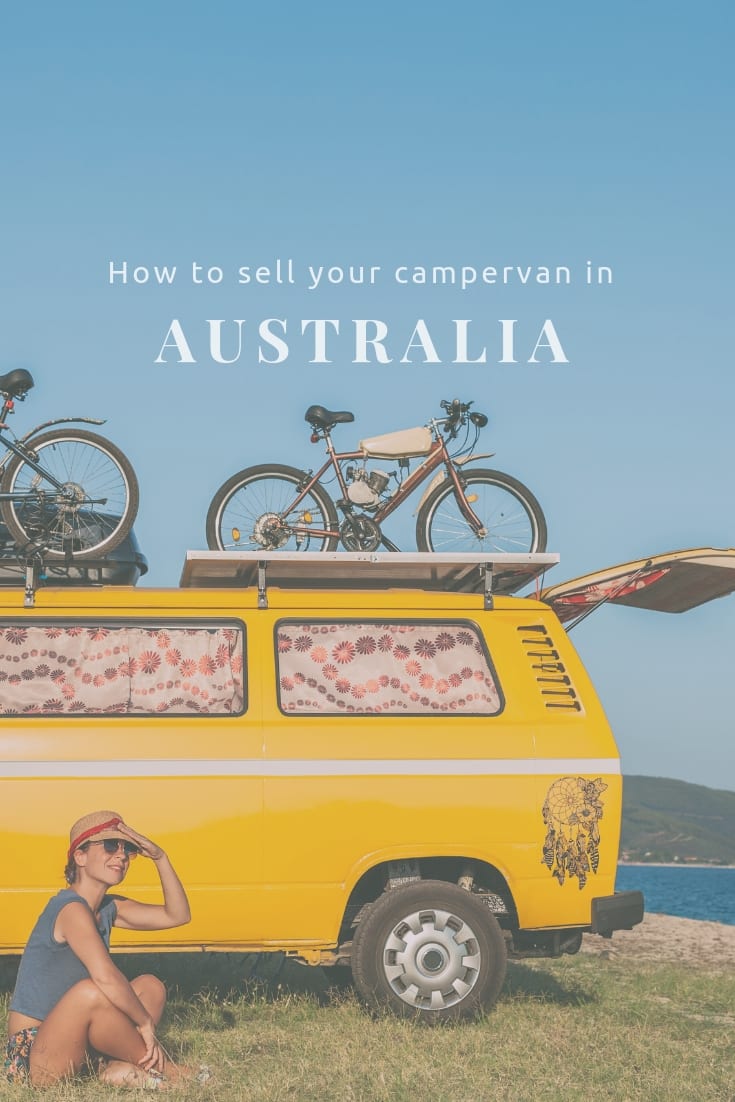 ✈ ✈ ✈
Share your vehicle selling advice with me below.