Aquamarine coastlines, reed-lined waterways, and idyllic lakes, Britain has a wealth of exhilarating aquatic environments ideal for adventure by kayak or canoe.
Choose a route and if you find you can't rent a boat on-site, consider investing in your own paddling kit and make the most of the glorious British summer to explore. Other than a vessel, a lifejacket, and some basic supplies there's very little you require for a few hours of fun on the water.
If you're looking for an alternative to hiking and cycling why not consider a paddle excursion? Here's my guide to the very best British paddling routes.
THE BROADS
Extending 188 miles across Norfolk and Suffolk the Broads are a series of man-made waterways that have served as a holiday destination enchanting visitors since the early 19th century.
Having grown up in this part of the world I've spent countless hours navigating the overgrown riverbanks that meander their way inward from the coast and can tell you you'll struggle to find a more tranquil location to paddle.
Rent a canoe from Wayford Bridge and explore the enchanting landscapes that border the River Ant. Paddle silently along the water and you'll likely see otters, kingfishers, and herons.
LOCH LOMOND, SCOTLAND
With its staggering scenery and remote wildernesses Scotland is a paradise for paddlers, and there's no location more perfect for paddling than Loch Lomond.
Book a safari-style adventure on mainland Britain's largest body of fresh water and explore the volcanic island landscapes that have made this part of the UK a haven for active travellers. You'll spot everything from old ruined castles and remnants of medieval communities to birds of prey such as Osprey and buzzards, as well as roe deer, otter, and wild cats.
DERWENTWATER, LAKE DISTRICT
Amid the iconic and undulating landscapes of the Lake District there are plenty of opportunities to take to the water, the most popular of which is on Derwentwater.
From Nichol End on the mainland you can paddle out to the Lingholm Islands and St Hubert's Island where the remains of a cottage lay abandoned. Pack a picnic and paddle all day, there's just so much to see.
SALCOMBE ESTUARY, DEVON
A coastline of sandy cliffs, hidden coves, and verdant meadows defines the terrain that hugs the Salcombe Estuary. Classed as an Area of Outstanding Natural Beauty the bay is popular with yachts, paddle boards, and paddlers alike, and is bordered by pockets of pristine sand that offers respite from the water.
Note that the estuary is tidal so all paddle trips need careful planning. I'd advise consulting one of the local rental outfits if you're at all unsure as to which routes to take out and back. This guide also offers some great insights.
STRANGFORD LOUCH, NORTHERN IRELAND
Although not technically in Britain (it is set in Northern Ireland's County Down), Strangford Louch deserves a mention as it is the largest sea inlet in the United Kingdom and it provides exceptional variety to paddlers and epic views to boot.
The entrance to the Loch, nicknamed the narrows, offers experienced paddlers high octane, fast flowing waters to ride, whereas those after a more sedate experience can paddle out to the shallow Lough Cuan which sits in the northern tip of the basin. Here unique views of Northern Ireland's beautiful landscapes are aplenty.
READ MORE BOATING TRAVEL GUIDES
INSPIRED? PIN THIS TO YOUR TRAVEL PINTEREST BOARD!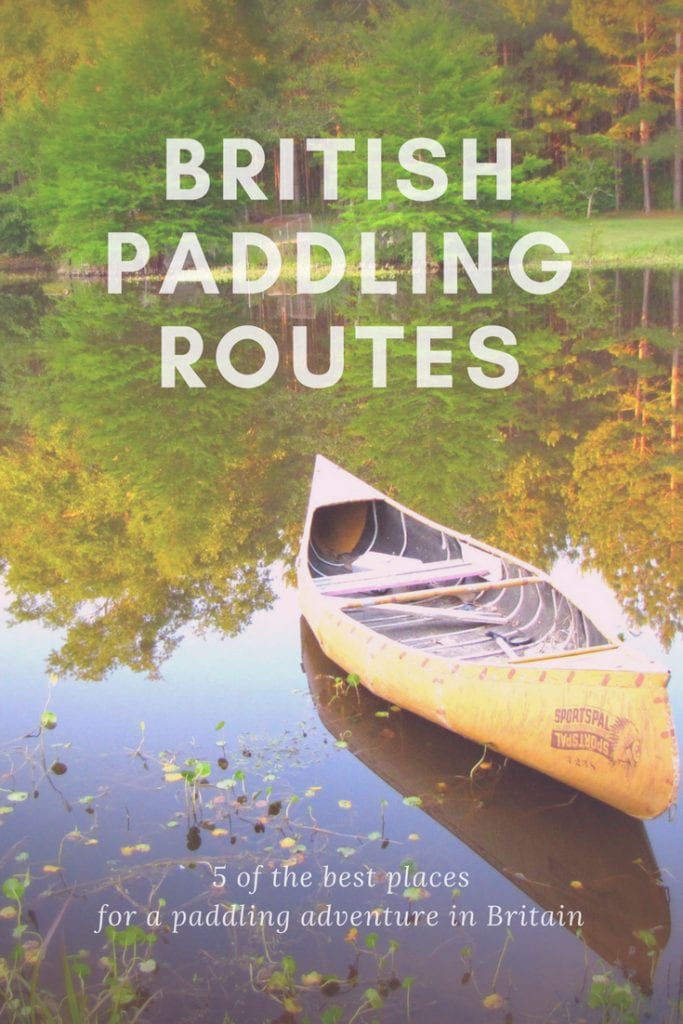 If you've a favourite British paddling route and want to share details so that others can paddle it too, leave a comment below!