There are 33 London Boroughs in total, each one a tiny town with its own unique character and identity. Encircled by the M25 there's reason to visit every borough in the city, however, if you're planning to visit London for the first time we recommend that you focus your attention on the iconic central Boroughs.
From Hammersmith to Hackney, here's our 5-minute guide to the 7 Central London Boroughs.
Hammersmith & Fulham
Brimming with history the borough of Hammersmith and Fulham is home to Tudor courtyards, 18th-century walled gardens, an impressive botanical garden, and Kelmscott House (the home of famous 19th- century poet and artist William Morris).
The most noted part of the borough is the famed Shepherds Bush; taking its name from its not so distant past when the area was common land used by shepherds to graze their flock en route to London's Smithfield Market.
The fictional home of Steptoe & Son, and the childhood home of two of Britain's most influential bands; The Who and the Sex Pistols, Shepherds Bush still packs punch.
If you don't fancy exploring the famed Shepherds Bush Market, why not party in a public convenience? Ginglik, an events company utilising a converted Edwardian toilet beneath Shepherds Bush Green, offers a unique brand of entertainment.
Once a year the borough hosts the world-famous Oxford and Cambridge Boat Race, so book one of the remarkable serviced apartments in London to avoid disappointment and grab a spot at one of these pubs along the route for a thoroughly enjoyable afternoon.
City of London
Often referred to as 'The Square Mile' the borough known as the City of London sits on the site of what was Medieval London.
Now the nation's financial centre, the city is home to an ever-evolving mix of tradition and change. The mighty St Paul's Cathedral sits at the heart of the borough while surrounding it iconic nightclubs and some of the city's best classical and contemporary music, and theatre can be found.
If you've time on your hands to walk through the borough from Monument to Tower Hill, this self-guided tour of the capital offers insight into some of the oldest and most modern parts of London.
Kensington & Chelsea
One of London's most well-heeled boroughs, Kensington and Chelsea is synonymous with sophisticated style and elegance. Home to Harrods, high-end designer brands, and independent boutiques, there's also a big café culture and plenty of places to brunch, lunch, and dine.
Royal patronage was given to the borough of Kensington in 1901 in memory of Queen Victoria who was born in Kensington Palace, and when Kensington and Chelsea amalgamated in 1965 the title was also transferred.
Home to London's museum district South Kensington (the most noted of which are the Victoria & Albert Museum, the Science Museum, and the Natural History Museum), the area also hosts many of the city's European embassies.
Stay at the London Premier Notting Hill Hotel and shop till you drop on the King's Road, in Knightsbridge, or on Kensington High Street. Take a self-guided tour of the locations used in Hollywood favourite Notting Hill or celebrate with thousands of revellers at Europe's biggest street festival, Notting Hill Carnival.
CHECK OUT SOME OF MY OTHER UK TRAVEL GUIDES
Westminister
Despite being one of the UK's smallest boroughs, Westminster is densely populated and hosts almost one million commuters and tourists each day. The only borough that holds true city status, the area offers visitors a snapshot of the quintessential London so many come to see.
From Hyde Park to Leicester Square the borough encompasses some of London's most iconic attractions and actually extends as far north as Paddington and Maida Vale.
Tourist favourites such as Buckingham Palace, St James' and Trafalgar Square, as well as the National Portrait Gallery, the Tate Britain, and the London Transport Museum all reside in Westminster. However, the borough is probably most recognised as the seat of Government, with Parliament Square and Whitehall two notable tourist sights.
Home to Europe's largest nighttime economy, Soho's vibrant club culture and the West End's eclectic mix of entertainment make Westminster the perfect base for those in search of a heavy cultural hit.
Islington
Offering inspiration to beloved author Charles Dickens, Islington started life as a Middlesex village on the side of what was referred to as the Great North Road (an old coaching route from London to York).
Today vast imposing school buildings are one of the few reminders of times past, offering insight into Victorian Britain many serve as residential housing in this genteel district of inner London.
Stretching from Farringdon to Highgate, Islington offers an eclectic mix of antique markets, retro cinemas, farmers markets, and riverside walks.
Hidden treasures such as Camden Passage (a pedestrian-only side street packed with wooden wheeled stalls, independent boutiques, and an antique market – trading on Saturdays – that first opened its doors in the 1960s), Screen on the Green, and the Hen & Chickens Theatre Bar are a must for first-timers to the borough.
Hackney
A rich mix of cultures and traditions make Hackney a popular destination for those visiting London. Heritage attractions such as Petticoat Lane, Brick Lane and Ridley Road offer insight into the many faces of London and its eclectic mix of inhabitants.
Described as having a village feel, the borough offers green public spaces, Victorian architecture, and an underground feel evident in the hipster hangouts that have exploded onto the scene in super trendy Shoreditch in recent years.
If you choose to stay in Hackney head to Stoke Newington Church Street and sample its eclectic array of specialist shops, cafes and ethnic restaurants. Or follow in the footsteps of comedy greats Charlie Chaplin and Stan Laurel (of Laurel and Hardy) and take in a show at the historic Hackney Empire.
Southwark
The historical home of London's thriving arts and entertainment industry, Southwark borders a section of the River Thames' Southbank.
Southwark offers a wealth of top attractions, although the Southbank's Globe Theatre (where Shakespeare first debuted Julius Caesar) and neighbouring Tate Modern have stolen the limelight with their unique blend of heritage, reclamation, and modern art.
After taking in the sights and sounds of the Southbank (a traffic-free riverside path that wends its way from Blackfriars Bridge to Tower Bridge), visit the gothic Southwark Catherdral and London's modern City Hall for a complete snapshot of almost five centuries of London's architectural achievements.
Stay in up-and-coming Bermondsey, Camberwell or Peckham (home to comedy legends Del Boy and Rodney Trotter), and head to Bankside and nearby Borough Market for organic produce, artesian foods, and a thriving craft movement.
Discover more of London's inspiring sights by checking out Where to Stay in London: The Ultimate Sightseeing Guide by HotelsCombined.
INSPIRED? PIN THIS POST TO YOUR TRAVEL PINTEREST BOARDS ↓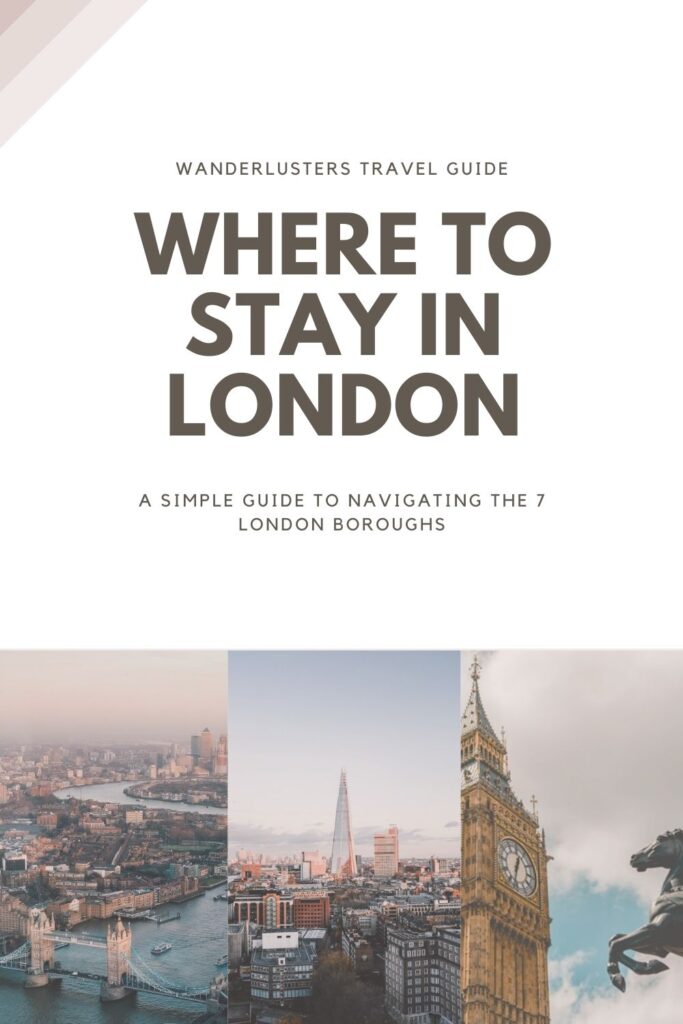 Have you explored the 7 Central London Boroughs? Share your travel tips below.