New Zealand's Tongariro Alpine Crossing wends its way 19.4km through the country's oldest National Park and a dual World Heritage Area.
Featuring extending volcanic terrain, unique and dramatic landforms and a range of endemic flora and fauna this world renowned day hike is full of extremes and surprises.
A veritable playground for avid hikers the Tongariro has made a name for itself as one of the quintessential Kiwi experiences. But how does the average visitor, who is keen to complete the challenging track but has no experience of hiking volcanic terrain set about completing the trail?
Having recently completed the full 19.4km day hike, and being a lowly average Joe with a keen sense of adventure myself, I've compiled my fail safe guide to completing the Tongariro Alpine Crossing.
Preparing to hike to Tonagariro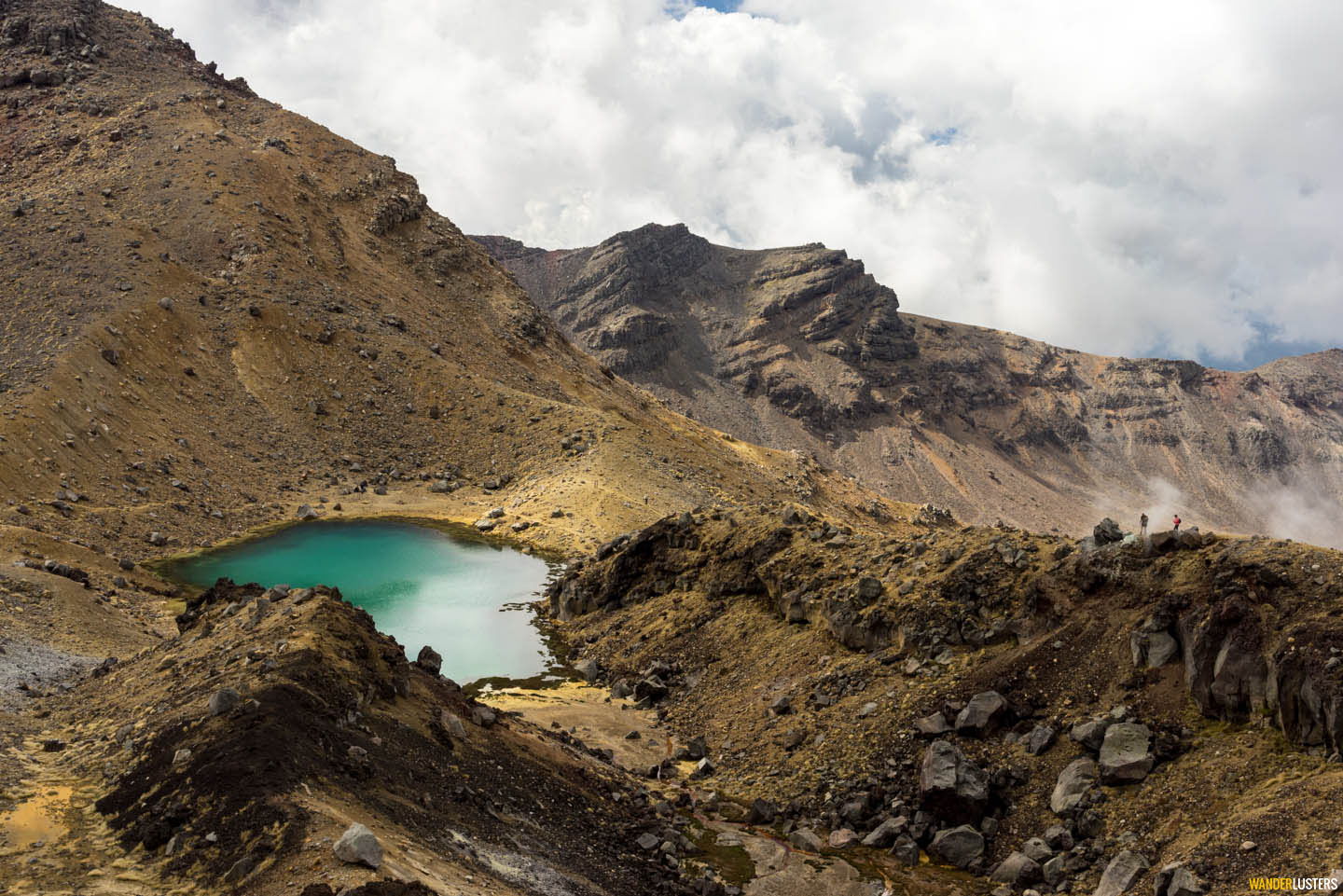 There's no getting away from the fact that the Tongariro is a challenging hike for most, and a near impossible feet for some. The rising gradient and uneven terrain put additional strain on the body and it's important not to underestimate the energy zapping might of the track.
My first recommendation is to honestly asses your level of fitness. The Tongariro is a six to eight hour endurance test packed full of challenging climbs and equally taxing descents.
If you incorporate a few sessions of aerobic exercise into your week and don't have any major aches and pains/illness, then in all honesty you shouldn't have too much trouble walking the track.
However if you rarely engage in exercise and find yourself out of breath walking up a couple of flights of stairs, or have an injury/medical condition, I'd recommend taking the time to prepare your body for the high intensity activity ahead.
Outdoor writer, speaker, and adventurer Philip Werner has some great advice for those who want to take on some basic strengthening training here.
Making plans to hike the Tongariro Alpine Crossing
Once you've prepared your mind and body you'll need to plan your stay in the Ruapahu region.
There are accommodation options to suit every taste and budget and they are all equipped to cater for adventurous guests keen to hike the crossing.
Your main areas of concern when planning your hike are what to take in your day pack, possible weather and eruption hazards, and transportation to and from the crossing.
You can hike the Tongariro at any time of year. Children as young as 5 have completed the crossing and it is said that the oldest hiker to reach the finish was 94.
Arguably the best time of year to plan your trip is in the spring or autumn. You can't attempt the crossing in winter without crampons and a knowledgeable guide, and it's unlikely you'll avoid the crowds that pour in during the summer.
Summer temperatures vary between 5 and 35 degrees centigrade and between -5 and 10 degrees in the winter.
For an up to the minute weather forecast for the Tongariro region check in with New Zealand's Met Service.
To check the current levels of volcanic activity visit Geonet.org.nz, the official source for geological hazard information in New Zealand.
If you plan to incorporate either of the two side tracks to the summit of Mt Ngauruhoe or Mt Tongariro, make sure you research the distance and time you can anticipate adding to your route.
How to get to the start of the route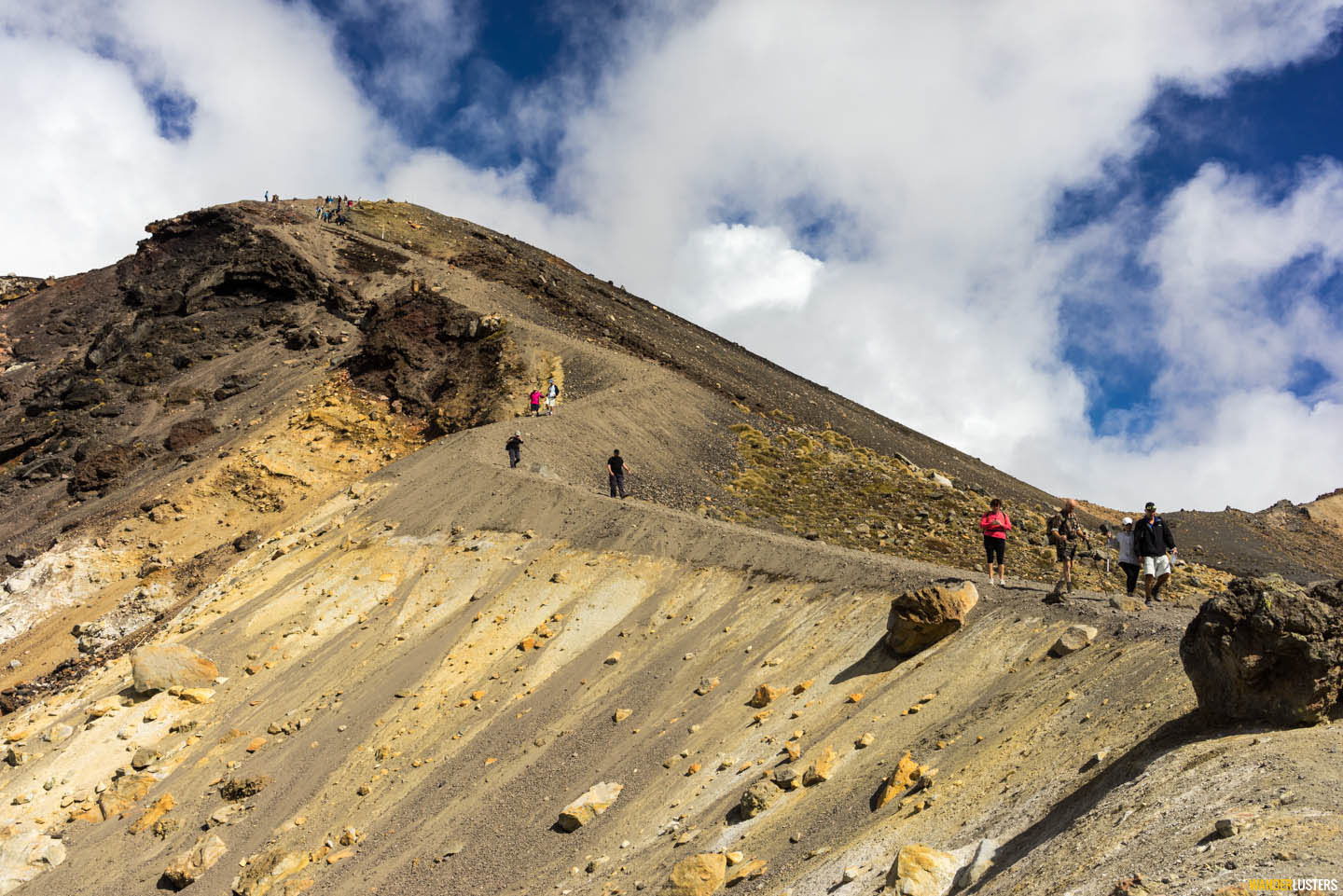 From your base in either Ohakune, Turangi or Whakapapa Village you can book a shuttle which will collect you from your accommodation, ferry you to the start of the track and pick you up once you've completed the crossing.
We opted to stay in Turangi and booked a place on the Turangi Alpine Mountain Transport Service, which although did seem a little arduous as we made the rounds to every hotel and hostel in the town prior to our departure, was a hassle free way to ensure safe passage to and from the track.
One of the benefits of this kind of service is that each hiker is counted on and off the trail, eliminating concern that you and your party could be left on the trail overnight in the event you lose your way.
Don't forget to leave details of your trip with a friend or relative and inform them once you've returned from the hike.
Tongariro Alpine Crossing packing list
Prior to your hike you should prepare your equipment and pack supplies.
Hiking shoes or boots are recommended but sturdy trainers will suffice. Note – We found that the scree – tiny fragments of rock – at the base of parts of the climb ruined the grip on our Vibram soles.
In your day pack you should put:
A roll of toilet paper or tissue. Pop it in a zip lock bag and keep it handy. There are long drop toilets at Mangatepopo Springs, Soda Springs and Ketetahi Hut. Take something like a metal spoon to dig a shallow hole for your excrement en route if you get caught short.
Camera, GoPro and waterproof case/cover. There's no doubt you'll want to capture some images of your journey, as you can see from our photographs the landscape is awe inspiring. Just remember that the harsh volcanic environment isn't just harsh on your body. Your kit will be subjected to dust, debris and possibly rain, so make sure you protect it.
Sunscreen, sunglasses, hat, bug spray. On a clear day the sun is strong at altitude so be sun smart. Don't be fooled by clouds that linger in the early morning either, chances are they'll have burnt off by lunch.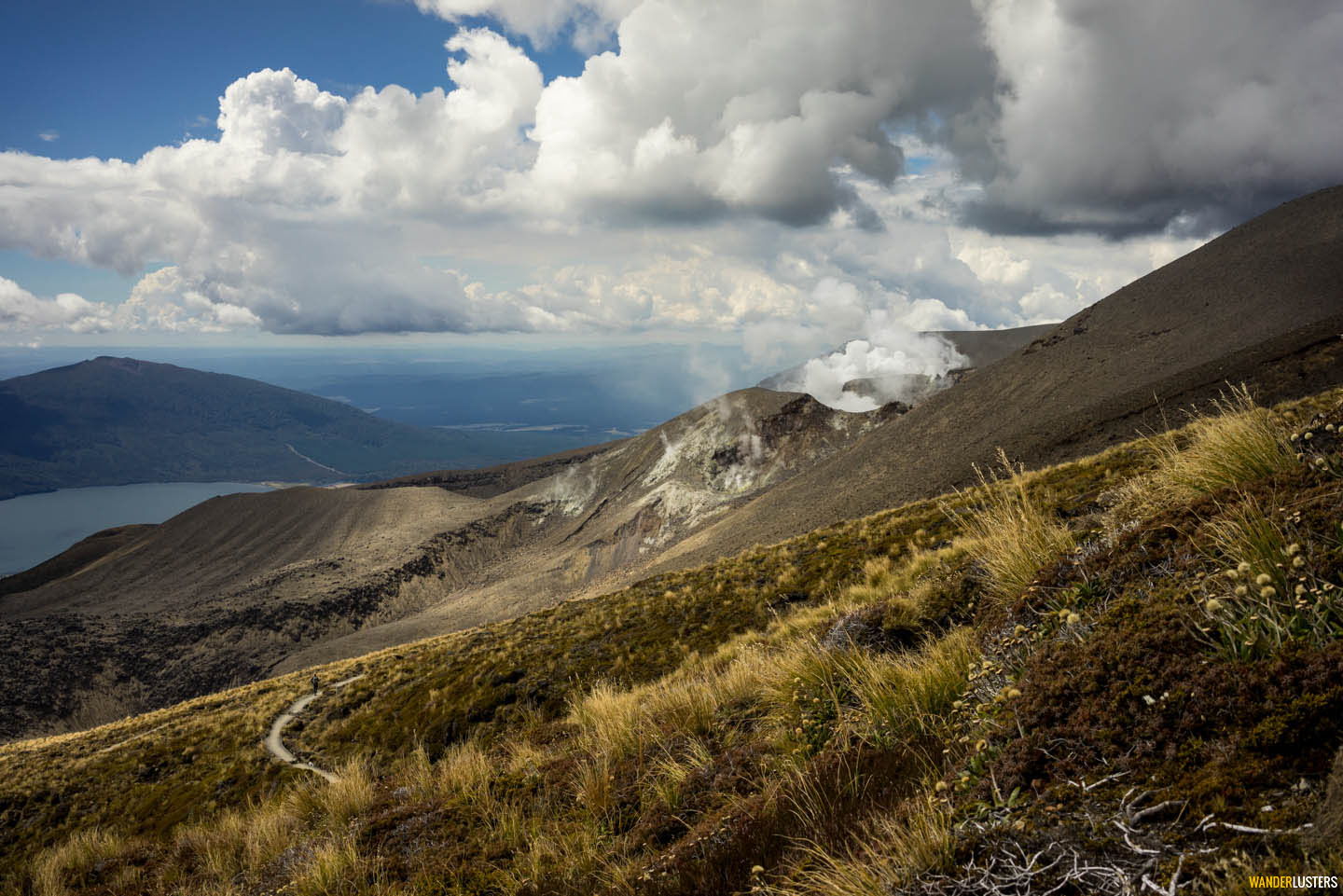 Pack all weather clothing. It's advisable to wear layers that you can mix and match during the trip. The temperature can change quite dramatically and even at short notice. You don't want to find yourself freezing cold half way through.
Small medical kit. Pack for the most likely ailments, cuts, scraps and blisters. I took a tumble near the Emerald Lakes and sliced a hole in my hiking trousers and my antiseptic cream came in very handy – as did my rain jacket as I tied it round my waist to conceal the gaping hole in the rear of my trousers.
Food and water. Pack a lunch of high energy foods such as protein bars, dried fruit and nuts and complex carbohydrates. Take at least 2 litres of water. Yes it's heavy but trust me you'll need it and there's nowhere to fill your water bottle on the trail.
Map of the trail. You'll find these available at no cost all over the Ruapahu region. Take one in your pack just in case. It'll also be handy to keep you informed as to the surrounding topography and give you an estimated time to the next major way marker.
Take your mobile phone with you in case you need to dial 111 in an emergency. Surprisingly reception is pretty good throughout most sections of the trail.
Need a little more convincing? Watch the video below by the guys over at Stocked 4 Saturday.
How to deal with bad weather while hiking the Tongariro
You are advised to check predicted weather conditions prior to beginning the route. Should you find yourself in bad weather prior to reaching Red Crater, it is advised that you turn around and return to the Mangatepopo car park.
Check out this handy Pocket Ranger App for more information about the track and the Tongariro National Park
INSPIRED? PIN THIS POST TO YOUR TRAVEL PINTEREST BOARDS NOW!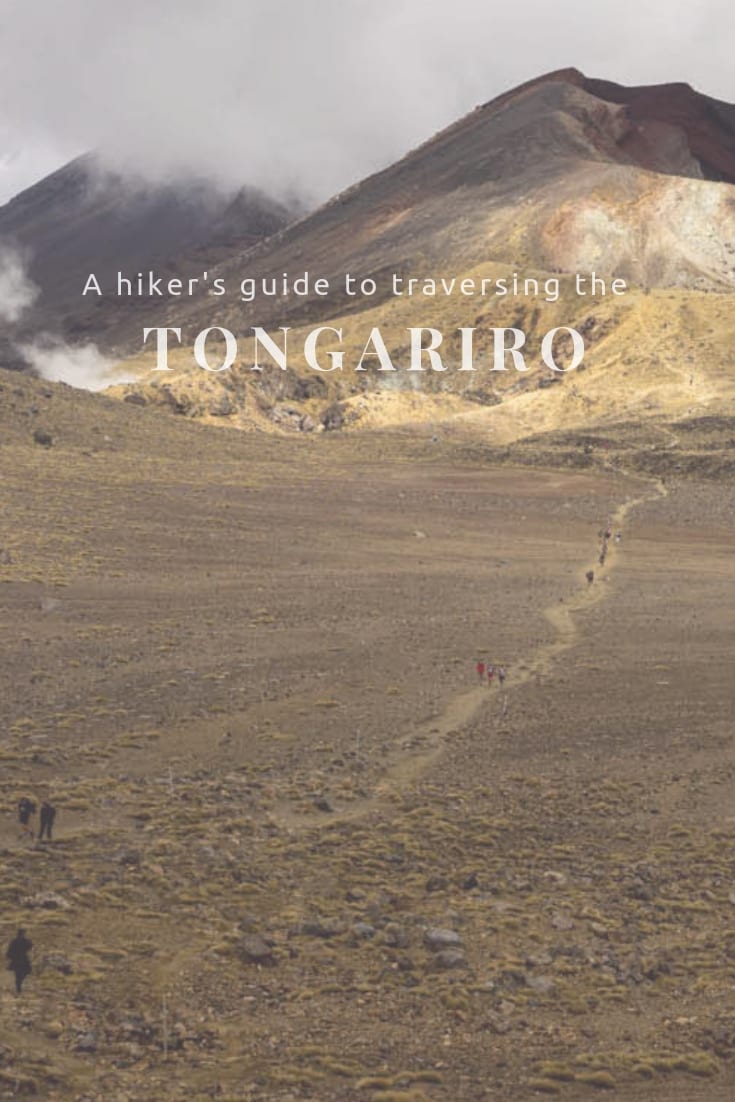 Have you hiked the Tongariro Alpine Crossing? What are your top tips for safely completing the trail?