The Whitsunday Islands are some of the most accessible examples of Queensland's vast expanse of colourful coral reefs. Now synonymous with the working holiday traveller and backpacker mini vans, the islands are penned in to many road trip itineraries.
However, are they the ideal island getaway for those for whom beach parties are not on the agenda? Here is our guide to getting the most from your own Whitsunday adventure.
The best Whitsunday travel guide
BY AIR //
If you're going to be flying into the area there are two airports within the locale. Hamilton Island (HTI) and Proserpine (PPP). Check fares in and out of both. We found it cheaper to book two single fares and fly into Hamilton and out of Proserpine.
Note if you're flying into Proserpine you'll need to catch a taxi down to Airlie Beach. Standard fare is around $15 pp and it is likely you can pick one up when you land however if you're feeling super organised you can book in advance here.
BY LAND //
Greyhound, Premier and Oz Experience are the three coach companies that call into Proserpine and if you're in either Brisbane or Cairns you can negotiate a good deal with most backpack or tour desks for a ride to paradise.
The Aussie rail network services Proserpine and as with flights and buses you'll require a taxi transfer down to Airlie Beach.
Airlie Beach accommodation options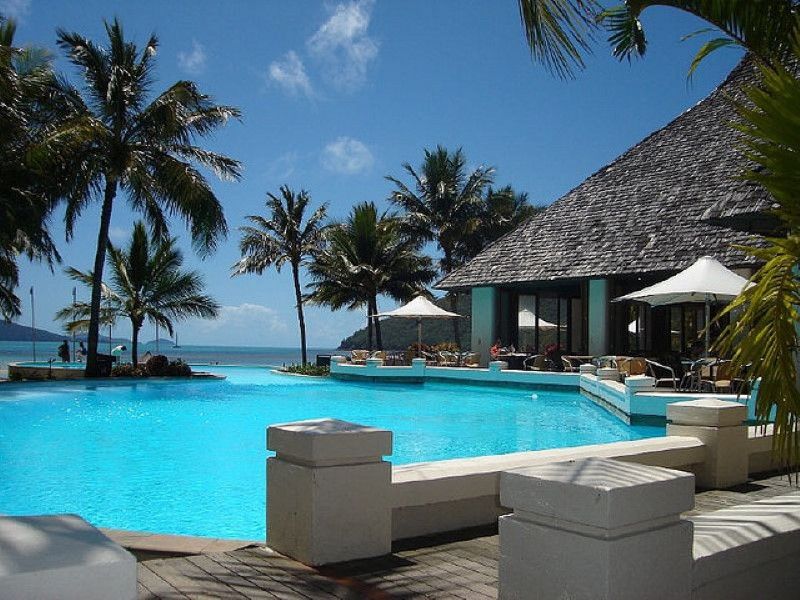 Image | kevgibbo CC Flickr
FOR CAMPERS //
While there are a number of campsites in Airlie Beach they are, in our opinion, very overpriced and if you love your camps book prepare to find a blank page covering the Whitsunday region.
No free camping here my friend.
If you're planning to road trip and are travelling in a small vehicle it is worth calling into some of the backpacker places in town. A few offer camping on their grounds for around $10/$15 pp/n.
Enjoy wilderness camping with a paradisical twist? Then check out Scamper, the water island taxi that ferries explorers out to the islands. Check their site for information on camp passes, facilities and camp etiquette.
ON A BUDGET //
In terms of low budget accommodation we suggest looking at the range of self-catering apartments in Jubilee Pocket. This mini village just 2km from the centre of Airlie beach offers more affordable options away from the noisy main street. Buses do run into the town but we found it just as enjoyable to save ourselves $4 and walk.
We stayed at Mango House and paid a little under $100/n for a studio apartment with full kitchen, balcony and pool access. A steal in comparison to some of the other accommodation on offer.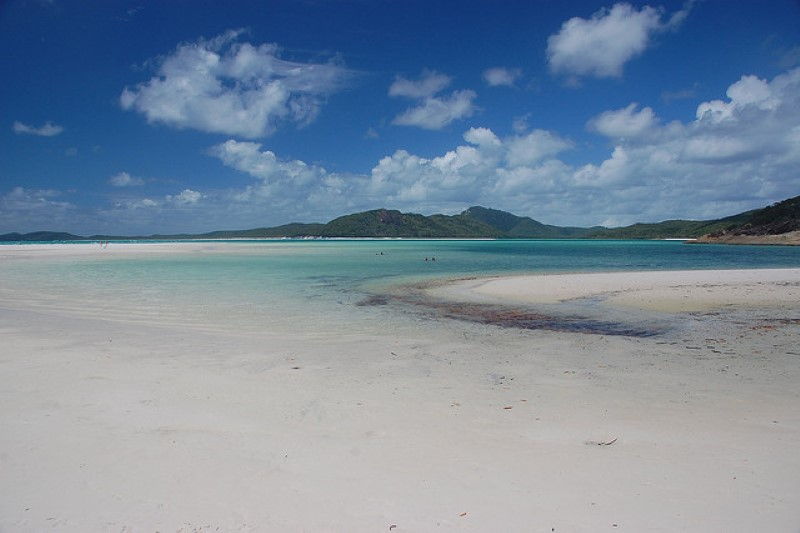 Image | Pierre Roudier CC Flickr
ON A BLOW OUT //
For those with a little spare cash there are so many mid to high range places to suit every taste. From hotels to luxury apartments and all-inclusive resorts take your pick and relax to the max.
If you're not on a budget check out the rental properties and resorts on some of the islands themselves. Hamilton, Daydream, Hayman and Long island offer a unique escape
An Airlie Beach restaurant guide
ON A BUDGET //
For a low cost alternative to cooking up a storm in your accommodation we recommend Beagle Pizza. In our opinion this is the best option for a low cost, relatively nutritious meal. There are a number of small sushi places but they are pretty expensive and are only open during the day.
ON A BLOW OUT //
If you're after a culinary treat then Airlie offers quite a selection of high end dining. We sampled Shipwrecked Seafood Bar & Grill on our last night in town and found their freshly caught offerings to be well worth the price tag. For a more laid back vibe head over to Mr Bones for some delicious rustic fare with a view of the esplanade.
AFTER A NIGHT ON THE TOWN //
Although Airlie has become a heaven for the party loving backpacker there are very few late night eateries offering anything that can be consumed in order to avoid that ill-advised next day hangover. Take note, if you're planning a heavy night pre purchase something to munch on your return home. Least you find yourself in MacDonald's at 2am.
Of course we here at Wanderlusters HQ advise you to moderate your alcohol intake thereby negating your need for such additional calories.
Remember late night fridge pickers wear big knickers.
Whitsunday Island activities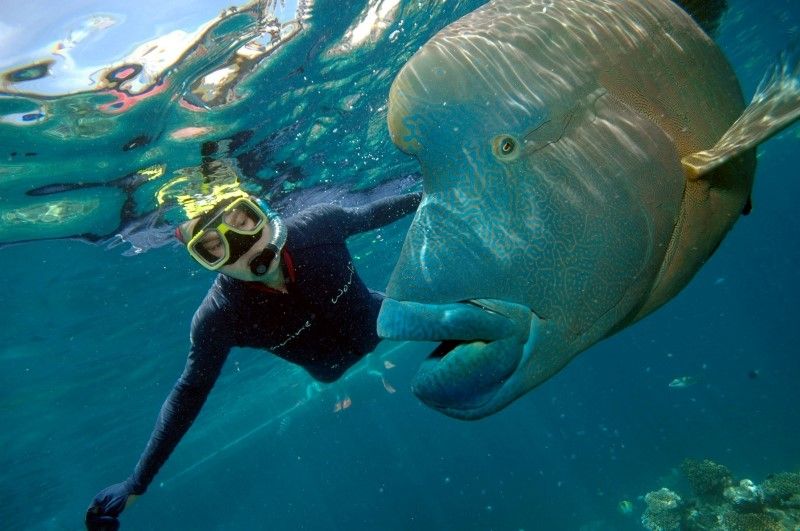 Image | CC fotopedia
ON A BUDGET //
If money is tight and tours are not an affordable option we suggest:
// Soaking up some sun by the lagoon – the beach in Airlie is not like those out at the islands and is often rather unappealing with muddy sands and clouded shallows. Head over to the man made lagoon just metres from the ocean and relax in the clear waters and on the grassy knolls.
// Taking a walk up the Airlie Creek Track – accessed via Waterson Way this 1km long track offers the chance to get up close to some of the areas native flora and fauna along with a stunning view over the islands closest to the shore.
// Grabbing your fishing rod and catching your supper at Peter Faust Dam – around 30 minutes from Airlie Beach this lake is home to some sizeable barramundi and if you've got the patience and skill you'll save yourself forking out for supper later on that day!
// Exploring the huge Saturday morning farmers market – each week local producers and artisans sell their wares on the esplanade. Great for re stocking your fridge on a budget and finding unique gifts for those back home.
// Packing a lunch and taking the ferry over to Hamilton Island – tickets are $45 each way and the ferry does pass some of the other islands giving you a taste of the Whitsundays. Once on Hamilton you can explore the many routes and resorts that litter the island. Most resorts have a pool for residential guests and day visitors to enjoy.
// Bartering with the various tour operators to secure the best price possible – depending on the time of year you visit you may have a little negotiating power. Don't be afraid to ask for discount or additional add ons before paying rack rate.
ON A BLOW OUT //
We've catergorised all of the tours in our 'Blow Out' section because for the average budget traveller they are, in our opinion, expensive. However if you've saved your pennies to spend in this little piece of paradise then you've got a number of options which will get you up close to the white sandy beaches and crystal clear waters of this famous island chain.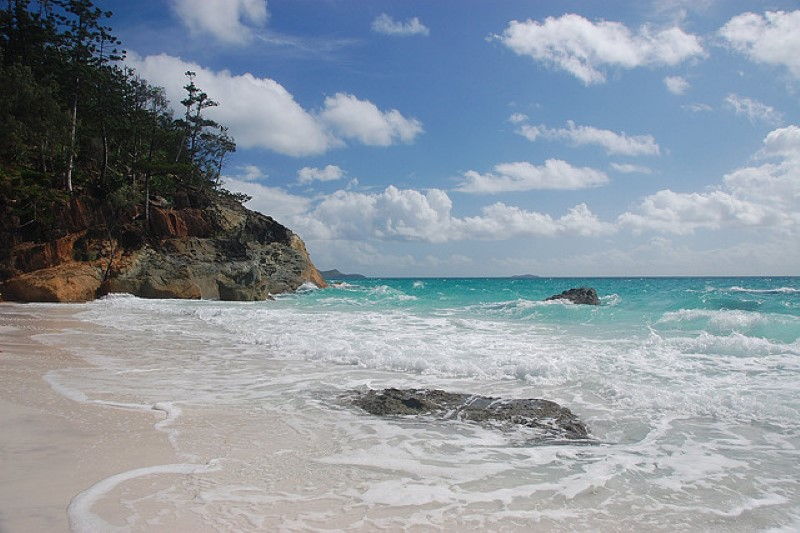 Image | Pierre Roudier CC Flickr
ON THE WATER //
In our opinion the best way to immerse yourself in the Whitsundays is on the water. Not only will you enjoy a view of the many islands but you can hop in the ocean at any time to cool off and explore the world below the waterline.
Most tours include a trip to the world famous Whitehaven Beach. An anomaly amongst its kind this beach is cool to the touch even on the most scorching of summer days. Unlike traditional sandy beaches the grains that get stuck in your toes and find their way into your sandwiches are actually formed of 98% silica.
Sailing, snorkelling and scuba diving are all viable activities and there are a wealth of operators offering tours tailored to your needs. From day trips to week long excursions choose your price range, time frame and activity and then find a tour that fulfils all three.
UNDER THE WATER //
For the scuba nuts amongst you we recommend doing a little research into how to make diving the Whitsundays an enjoyable experience. While aboard our charter boat we saw far too many operators ferrying 'noob' divers out to uninspiring dive sites.
While there is nothing wrong with being a noob diver – go noobs – the expectations of an experienced scuba nut and a scuba newbie are poles apart.
We chose to hire tanks from the marina and plan our own diving excursions. If you have the available finance to charter your own boat then consult this list of Whitsunday dive sites and plan your own itinerary.
If joining a commercial tour talk to the operator about exactly what level of diving they offer and what freedom you will have to plan your own dives throughout the trip. Most are eager to accommodate more proficient divers however it is advisable to check.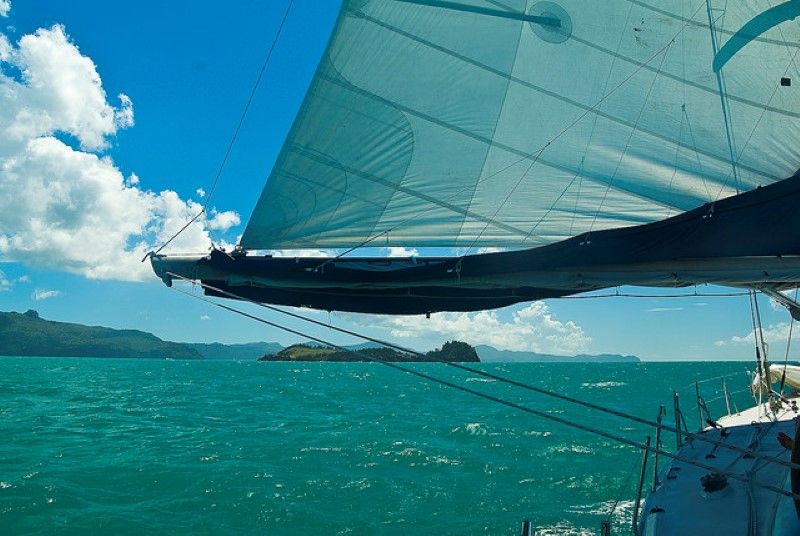 Image | dinaiz CC Flickr
IN THE AIR //
When you see the Great Barrier Reef from above it's easy to understand why it is classed as one of the seven natural wonders of the world. Add in a view of 74 palm tree covered islands and you can't get much closer to a picture of perfect paradise.
There are a range of air tours available from Airlie Beach incorporating a flight, island landing and if you're feeling so inclined the chance to throw yourself from a moving plane and soak in the sights as you glide gracefully back down to earth.
ON THE LAND //
From waterfalls and lagoons to crocodile safaris and Koala cuddles there's a lot to see on the shores of Airlie Beach and the Whitsunday Islands. Check out the local tourist information for the seasonal walking tours available or head off in search of adventure on a self-guided hike.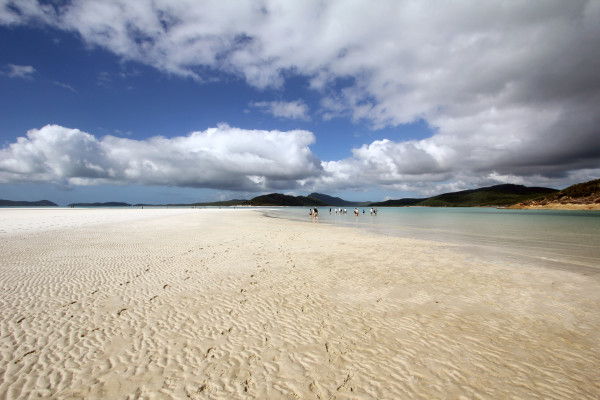 Image | CC fotopedia
While we were rather underwhelmed with Airlie Beach finding the over priced goods and services to merely irritate rather than enthral, we highly recommend a trip out to explore the Whitsunday Islands.
Whatever your budget and time constraint there will be a viable option which will allow you to soak up some tropical sun and soothe your soul on the white sandy beaches.
✈ ✈ ✈
Share your top tips for Whitsunday travel in the comments below.