Both first-time and experienced travellers are aware that they need multiple documents if they want to travel internationally. Everyone knows that they will need a valid passport with at least six months left before renewal is required, but is that all? The short answer is: no. Even though some countries do allow certain nationalities to visit their territory visa-free, dozens of others still require you to have an approved visa upon arrival.
This leaves us with the questions; what is a visa, how does it differ to an e-visa, and how can you get one?
What is a visa?
A travel visa is a permit for a traveller to visit a certain country, usually in the form of a stamp or a sticker attached to a passport page. It is a document that shows that you have permission to enter a country for a certain length of time. It contains the dates you can enter the country, the duration you are allowed to stay, and what kind of activities can you engage in (depending on the visa type selected).
E-Visas vs traditional paper visas
A modified form of visa is becoming more popular with travellers as it makes the process of obtaining a visa much quicker. E-Visas offer an advanced means of verification and was brought into use due to the rising number of identity frauds.
Use an Electronic Visa Service to get your travel authorization document in the most effortless way possible. Choose any of the dozens available destinations and apply online within minutes from home to receive the approved document via e-mail! Read on for more information on e-Visas and their application process.
What is an e-Visa?
An e-Visa or electronic visa is an electronic alternative to a regular visa. It is an online medium that leads an applicant towards an online application to obtain a visa.
The e-Visa documents are advanced forms of traditional documents introduced to enhance the security structure and limit fraudulent cases.
E-passports and e-Visas are used to verify the identity of a traveller through digital means, using a unique identification number, digital signature, and other.
READ MORE PRACTICAL TRAVEL GUIDES FROM WANDERLUSTERS
How can I apply for an e-Visa?
Each country has its own visa policy. You can find specific visa requirements on the internet by selecting your destination country and then searching for entry requirements.
But the whole e-Visa application process is easier than you might think. You only have to follow three simple steps:
Since the process is completed entirely online, you have to fill the online e-Visa application form online as well.
Next, you'll have to cover the e-Visa issuing fees. Choose any online payment method and complete this step within minutes. Once that's done, make sure to check if you have received a confirmation number at your email address.
The last step is to wait after doing your part and completing the first two steps for the visa approval. The processed document will be delivered straight to your email inbox in the form of a PDF file.
Keep in mind that the amount of time for approval of an e-Visa varies from country to country. Some countries provide visas sooner than others. However, the whole process usually takes a maximum of 72 hours (3 business days).
What documents do I need for an e-Visa?
You will usually need only an original passport, with a minimum validity of six months. Some countries also require you to have some blank pages in your travel document.
Additional documents may also be required, including:
One recent passport-sized photograph showing your full face; (the applicant's face photo can be taken using a phone or a PC camera before applying online)
Documents that prove your financial stability;
Invitation letters, company's ID card; (for business trips)
Proof of residence, i.e., a copy of your National ID Card;
Return ticket;
Hotel reservations.
The additional documents are rarely required and depend on the pre-established rules by the country you're visiting.
READ MORE INSPIRING TRAVEL GUIDES FROM WANDERLUSTERS
Why is e-Visa better than regular visa?
Besides being quicker and easier to obtain, the e-Visa system has many benefits for the applicant and the government authorities alike, such as:
· There's no need to visit an embassy
The e-Visa requests are submitted through a safe and secure application gateway that can be accessed 24/7. The major difference between regular and e-Visas is that the e-Visa saves you from wasting time and money on useless, long-hauled, and frustrating paper-based processes.
A visa applicant has to fill out the necessary paperwork and then physically take it to the Embassy of the selected destination. The Embassy will then process the request and move on with the procedure; e-Visas save you from all that hassle!
· They make travel more accessible
In a report, the World Travel and Tourism Council stated that an increase of about 15% in overseas tourist arrivals was noticed as a result of the implementation of the e-Visa process. This resulted in generating up to a 20% increase in traveller spending in the respective country.
Because the legislation enables the collection of additional processing fees for e-Visas, e-Visas allow the authorities to get more fees, which lead to more visits and, in turn, more jobs. This makes the whole tourism industry benefit from incoming visitors in the future.
· They reduce administration costs
The electronic form of the visa offers massive cost savings during the process. Because it is an online process, the processing is smooth-running and much simplified.
There's no need for face-to-face appointments or going back and forth between your home or office and visa offices.
According to the World Bank, over six months in 2014, Embassies were able to save between 12 and 14% of working time as a result of e-Visa implementation. Authorities also benefit financially and save time by not having to deal with the mess of visa stickers.
· You can apply online
The e-Visa online application process helps to encourage tourism by making traveller data digitized. This also helps in improving security, as this information can be screened against international databases to prevent incidents and any risks.
The online application forms of e-Visas are also proving to be simpler and quicker as compared to consular visa applications. Also, e-Visas eliminate the unnecessary and potentially stressful hoop of going through interviews with the applicants. The applicants can fulfill almost all the requirements from home or office using any working device within just a few minutes!
INSPIRED? PIN THIS TO YOUR TRAVEL PINTEREST BOARD NOW!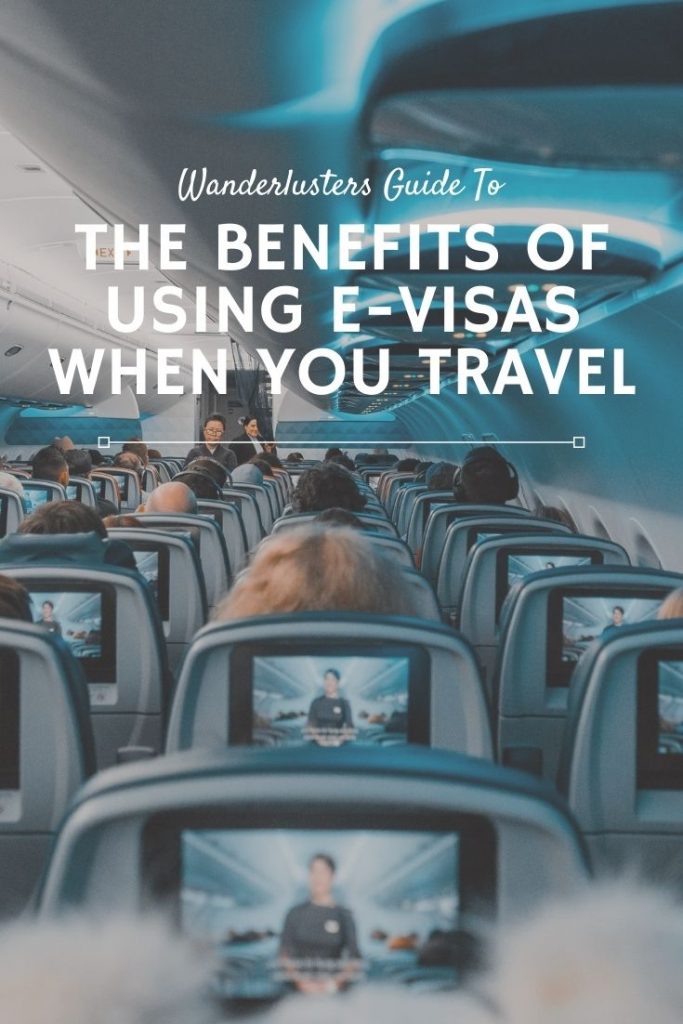 Due to numerous benefits, fast, simple, and economic e-Visas supersede traditional visas. Save your money, time, and energy and apply for an e-Visa for your next trip abroad!