First appearing on the Spanish map in 1511, Barbados has long been a destination for those in search of a paradisiacal escape. Just 21 miles in length and 14 in width, it is the eastern most island in the Lesser Antilles and sits just outside the Caribbean's famed 'Hurricane Belt' (which makes it a great destination for sun and sand year round).
With a wealth of activities to entertain, and countless stretches of sand on which to laze…how can you make sure that you see the real Barbados?
Read on for a snapshot of the must see, and absolutely must do's for those looking for a quintessential Barbados escape.
CARIBBEAN TRAVEL GUIDES ON WANDERLUSTERS
Craving an island escape? You'll find travel tips and inspiration in my Caribbean travel guides.
SUP AND SNORKEL THE SHORELINE OF BARBADOS' SOUTH COAST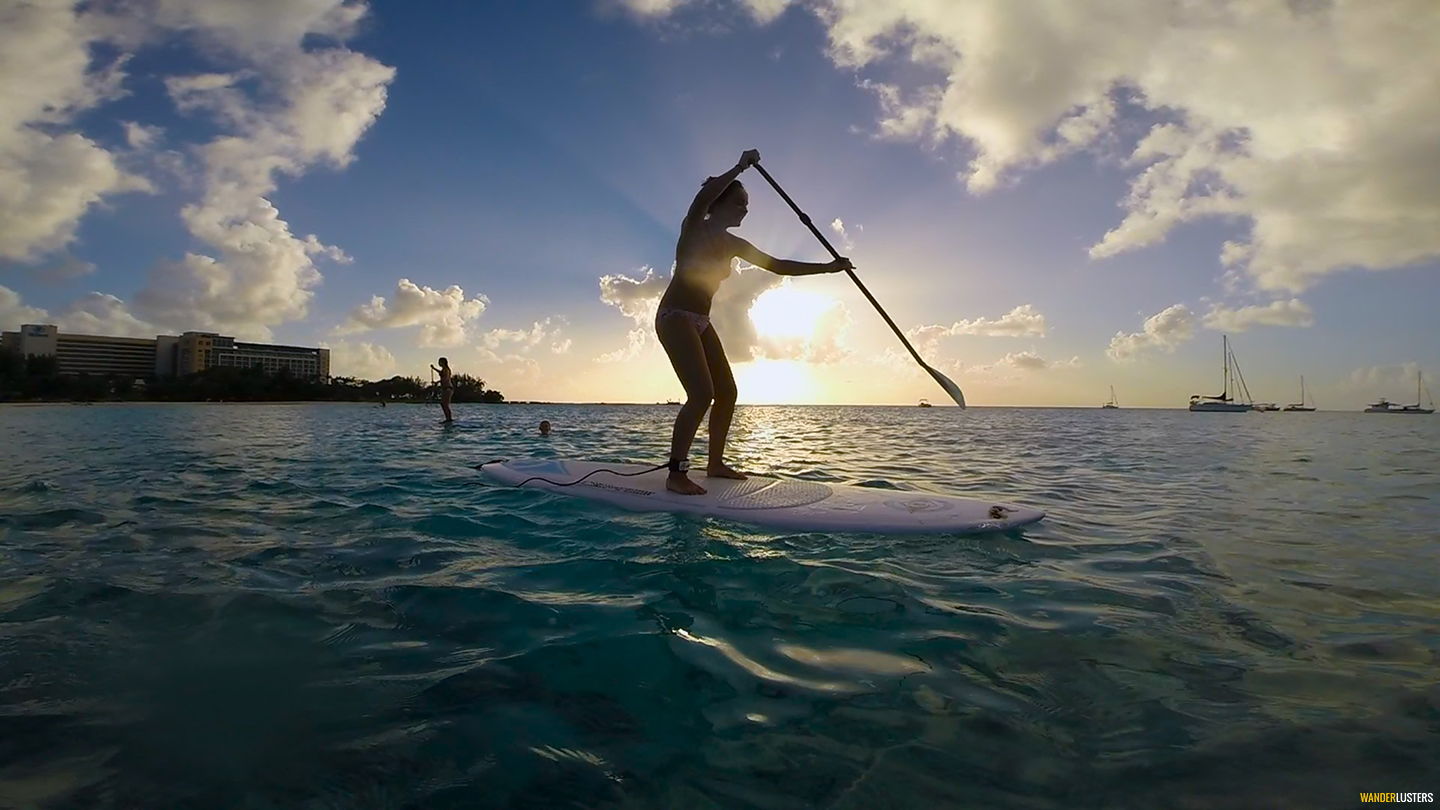 If you're keen to get out on the water but don't fancy a full day catamaran cruise, consider renting a stand up paddle board for an afternoon of leisurely fun.
We rented boards from the team at Paddle Barbados and SUPed out into Carlisle Bay. Although our first time SUPing we soon got the hang of everything thanks to owner Jay who put us through our paces on land before letting us loose on the water.
If you're keen to experience Barbados' wealth of marine life, rent a snorkel with your paddle board and SUP out over the shallow wrecks that sit between 6 and 15m beneath Carlisle Bay. Home to soft and hard corals, countless species of vibrant reef fish, moray eels, and even some friendly turtles, snorkelling here is like looking through a window into a parallel world.
EXPLORE BARBADOS' BEACHES
Across the island of Barbados no two beaches are alike. From wide stretches of idyllic white sand to sheltered coral coves, the island's coastline is diverse and able to keep even the most adventurous beach lovers entertained.
The west coast boasts some of the island's most notable stretches of sand. Bordered by calm azure water, shallow coral reefs, and a bounty of swaying palms, the Platinum Coast is ideal for those looking to soak up some sun and unwind.
Across the northern coast, coral and sandstone cliffs rise from the seabed and offer a number of dramatic ocean views. Definitely not the place to go if you're keen to cool off in the water, however Animal Flower Cave offers the opportunity to swim in a network of underground coral galleries carved into the cliffs by millennia of pounding waves.
Along the popular south coast you'll find flawless expanses of soft white sand and an abundance of water sports such as kitesurfing, SUPing, windsurfing, and snorkelling tours.
In complete contrast to much of Barbados shoreline, the beaches that hug the east coast are wide, wind blown, and covered in kelp. Ideal for those looking to escape the sometimes crowded sands of the south and west coast, rent a car and drive up to local's favourites like Bathsheba and the Soup Bowl to watch adventurous surfers ride the waves.
STAY IN A HERITAGE PLANTATION PROPERTY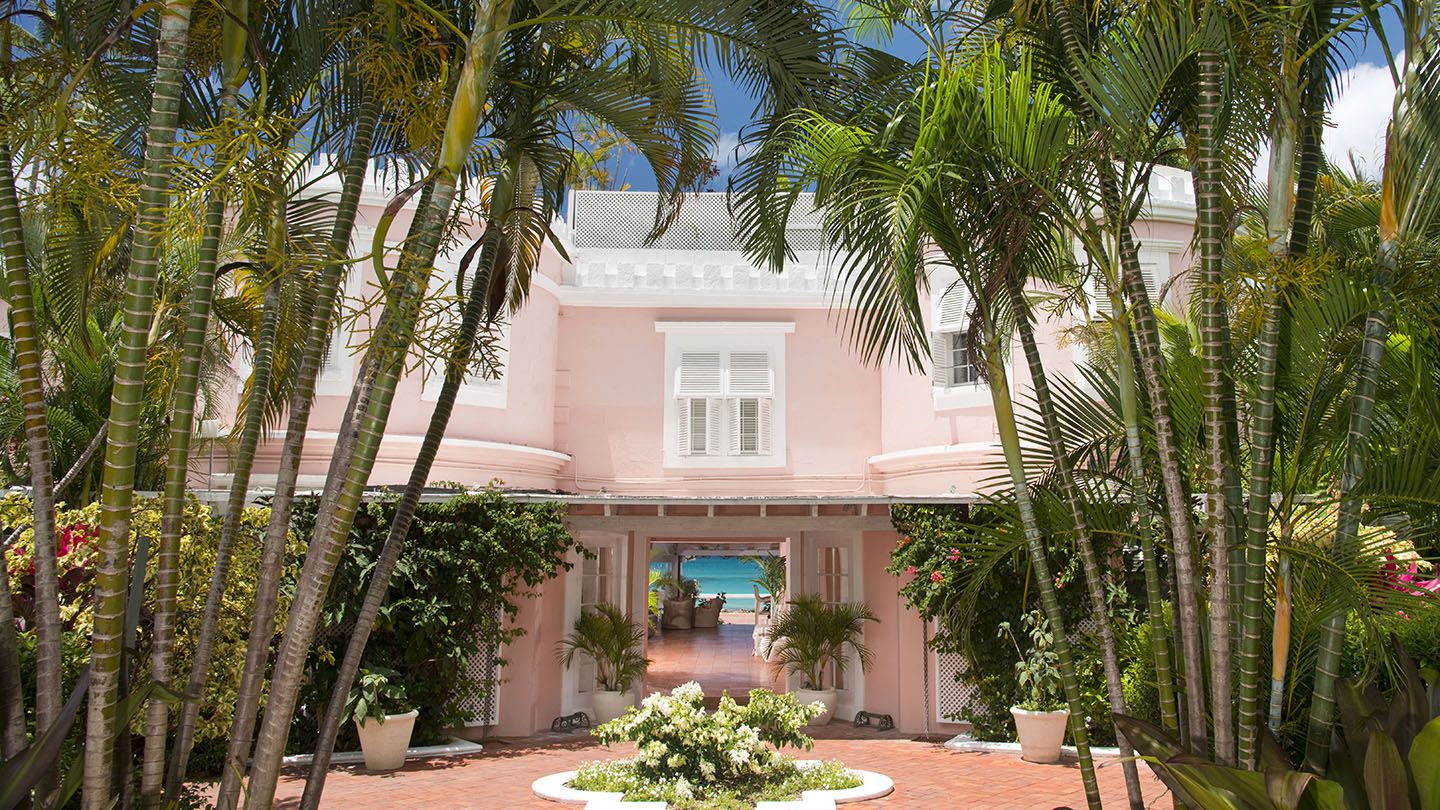 Boasting a blend of Caribbean charm and English elegance, Cobblers Cove Hotel is a historic plantation property set aside the azure waters of the beautiful Platinum Coast.
Built by the Hayes family who were some of the first to capitalise on the island's growing sugar cane industry, the property was originally a weekend beach retreat to offer respite from life on the wild and windswept east coast.
With 40 suits, each decorated with luxurious furnishings and boasting panoramic views of the Caribbean Sea and the property's lush tropical gardens, Cobblers is the perfect place for a paradisical island escape.
From the balcony of our ocean view suite we watched the sun set into the ocean and each evening the sound of crashing waves gently rocked us to sleep.
Being rather adventurous travellers we spent hours snorkelling the thriving reefs in front of the hotel, and had a blast with the water sports team who offer complimentary water skiing lessons to guests.
MEET THE LOCAL GREEN MONKEY POPULATION
Although Barbados' Green Monkeys roam wild on the island, the majority return to the Barbados Wildlife Reserve each afternoon to feast on fruits offered up by the staff.
Located in a natural mahogany wood in the northern parish of St. Peter, the reserve is home to a range of other colourful critters including flamingos, parrots, pelicans, turtles, iguanas, and snakes.
While you're likely to see the monkeys making their way through gardens and across perfectly manicured lawns across the island, the reserve offers insight into the diverse mix of wildlife that call Barbados home.
SIP RUM SOURS AND WATCH SUNSET AT THE LONE STAR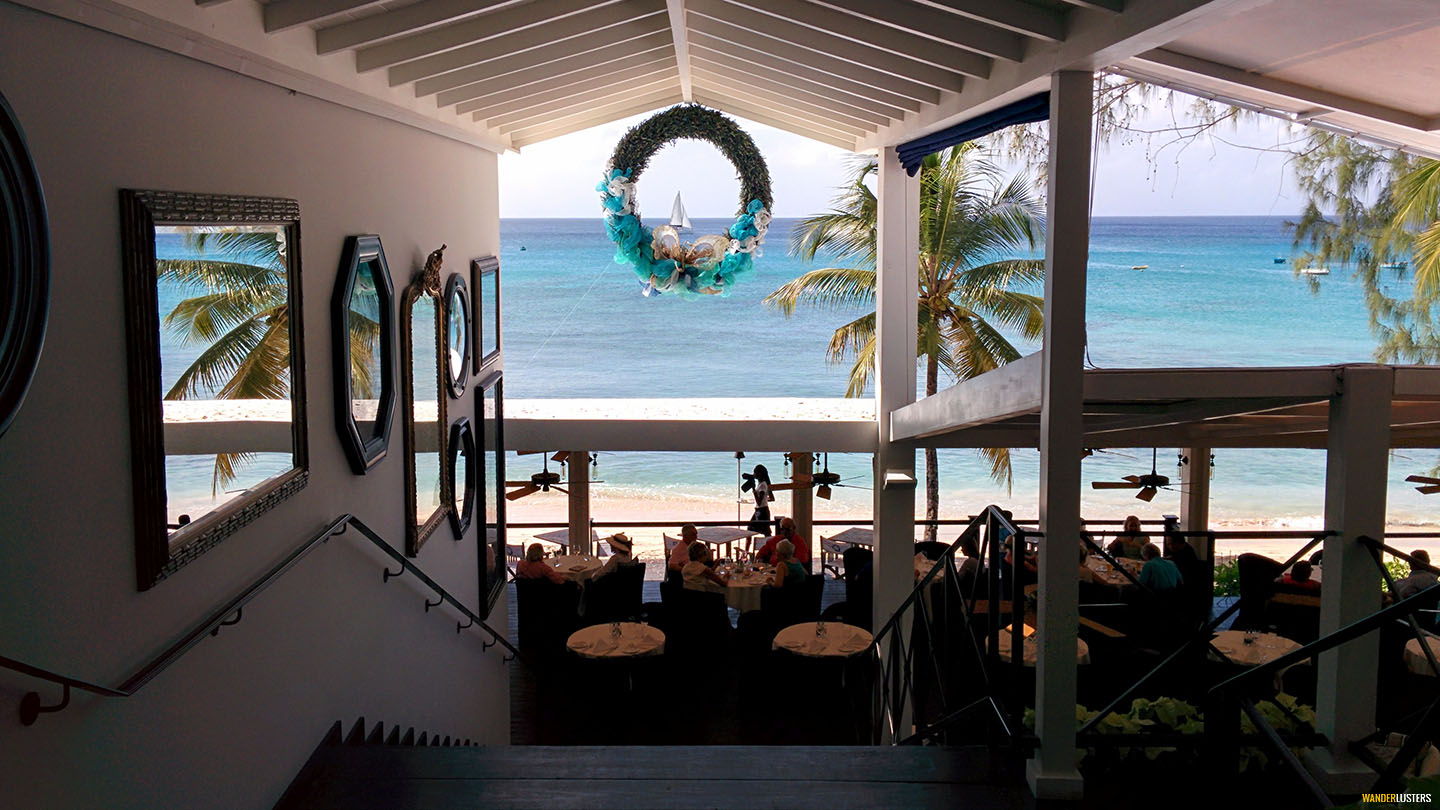 If you're looking for the quintessential Caribbean experience, head to The Lone Star and spend an afternoon (and even evening too) indulging in one or two cocktails as you soak up some sun in this island hot spot.
The décor of blue and white compliments the Caribbean Sea which laps gently on the sand close by, and palm trees frame the view out over the water.
It is picture perfect and the food is fabulous too.
RIDE A REGGAE BUS
Regardless of whether you've hired a car, you simply must take a ride on a reggae bus during your stay on Barbados.
I would direct you to a bus timetable….but there'd be little point….the island's public transport system runs to the beat of it's own drum. And don't worry about getting yourself lost, each bus stop gives passengers one of two options…… 'To City'……or 'From City'…..evidently there's few other places you might want to go.
Placing your life in the hands of the animated drivers who blast their favourite tunes from the open windows of their vehicles, choose either a yellow bus; privately owned and therefore often seen racing at speed along the highway in a big to collect additional passengers (the drivers get a percentage of every fare), or a blue bus; government owned and slightly more sedate.
Have your fare of two Barbados dollars ready and waiting, and pick a bus pumping out a tune you love.
DRINK A BANKS BEER AND EAT AT A LOCAL RUM SHOP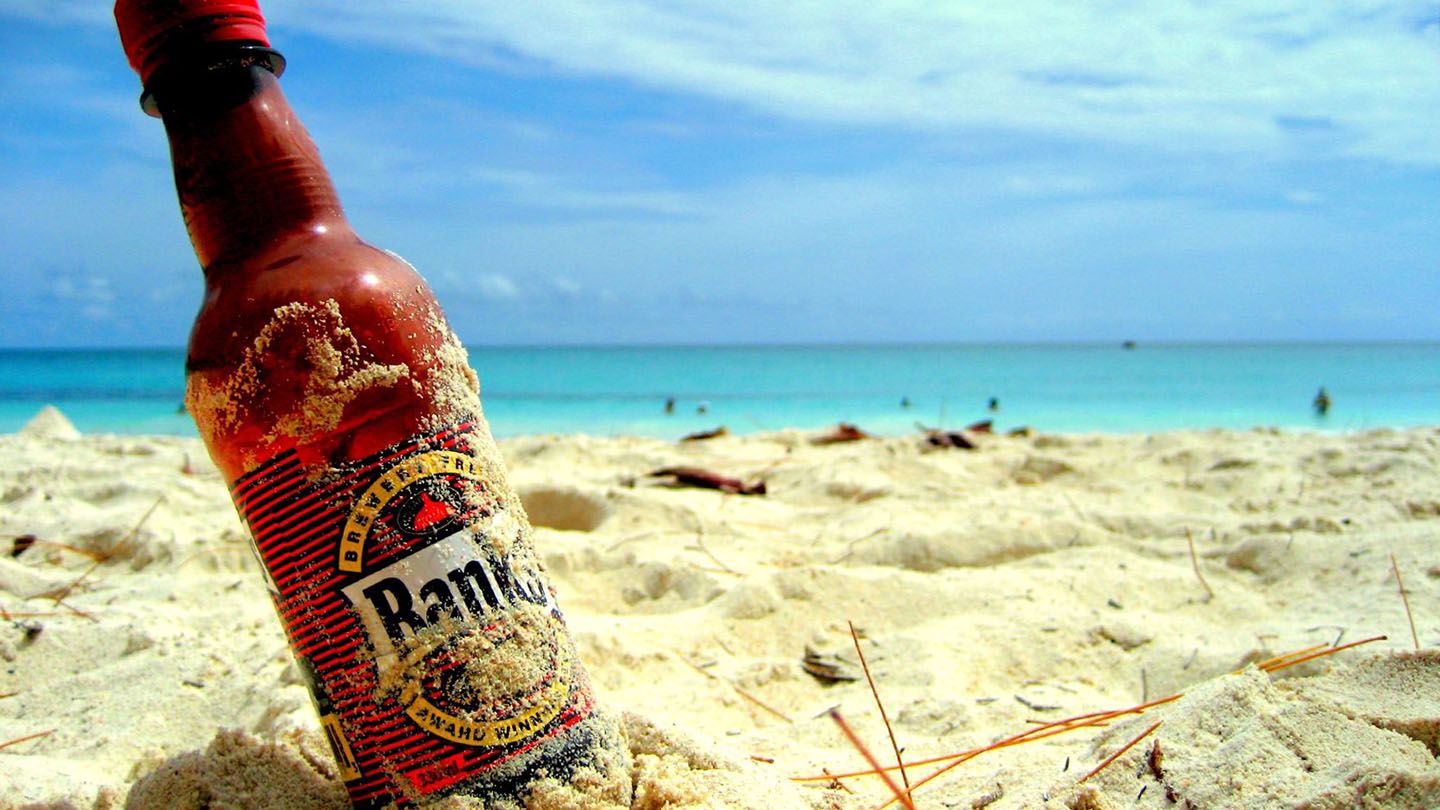 Barbados is known for its rum.
Steeped in a rich maritime heritage the production of rum on Barbados began some 400 years ago and still continues today. Entwined with daily life on the island, locals socialise at what are known as 'rum shops', and it is here that you'll find the true flavours of Bajan life.
Rock up to island favourites The Golden Anchor, Ju Ju's, John Moore Bar, and the Souse factory and order yourself a cold banks beer, a bottle of dark rum and a portion of macaroni pie and pickled pork, then indulge.
Try a Bajan fish cutter, (fried fish and salad in a salt bread bun) the best example of which can be found in the car park near the Hilton Hotel on the south coast.
Better yet, head to Oistins Fish Fry on a Friday night and join the party atmosphere that fills the air. Around 50 vendors cook up a storm, and locals and visitors dance the night away to a mix of Bajan classics and current chart toppers.
INSPIRED? PIN THIS GUIDE TO YOUR TRAVEL PINTEREST BOARDS
✈ ✈ ✈
Have you been to Barbados? Share your top tips below!