I have to confess, I rarely travel by train. My overland trips to date have all been road trips and take inspiration from my destination bucket list; I never seem to consider the option to ride the rails.
With this in mind I'm hoping to make 2019 the year I book a rail road adventure. At the moment I'm looking at destinations in Europe, however my research has led me somewhat off the beaten path and I'm finding routes across India, Australia, and Canada have made their way onto my bucket list.
Looking for an offbeat rail journey that offers an unforgettable multi-destination escape? Here's what my sense of wanderlust rates highly right now.
The Bernina Express, Switzerland & Italy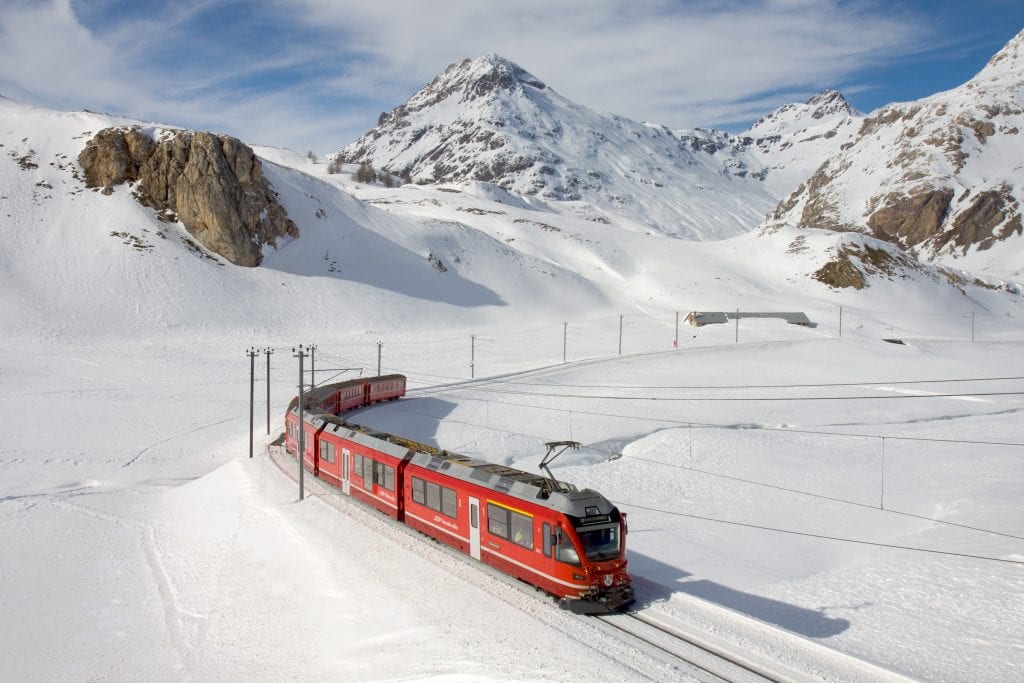 Chugging along at just 20mph, the Bernina Express is one of the greatest rail journeys on earth, but one of the slowest trains in operation. However, it travels at such a glacial pace in order to safely navigate the 196 bridges, vast chasms and 55 mountain tunnels that make up the route as it wends its way over the Southern Alps, that it offers spectacular views that linger in frame much longer.
With staggering views overhead via the glass roofed panorama car that take in the surrounding landscape recently named a Unesco World Heritage Site, this sounds like a journey for the adventurous rail enthusiast. Not only that, but when you arrive in Italy you can take the time to visit some of the country's most iconic sites.
If you're considering a tailor made rail holiday to Switzerland, like these, the Bernina Express can't be beat.
Coastal Pacific Route, South Island, New Zealand
Read my best New Zealand travel guides below.
One of New Zealand's great overland journeys the Coastal Pacific Route wends its way from Picton (the port town that connects the north and south islands via ferry), to Christchurch; taking in epic views of the Kaikoura mountains and rugged Pacifc coastline. Here the tempestuous ocean waves meet verdant bush-clad mountains.
Want to combine your trip with a visit to the north island? Hop aboard the Interislander ferry and continue your journey from Wellington.
The Paris to Moscow Express
Paris, Berlin, Moscow. This express service connects three of the world's cultural centres in under 40 hours. The second longest rail route in Europe covering a distance of 3483km and travelling through five countries; France, Germany, Poland, Belarus, and Russia, the route takes in some of the more rural scenery on the continent.
Considering this rail adventure? Travel journalist Simon Horsford recounts his experience here and it's well worth a read.
London to Fort William, UK
The Caledonian sleeper train is one of the UK's most iconic rail lines. Connecting the hubbub of London's Euston station with the scenic Scottish Highlands, the train flies north overnight making it ideal for those keen to make the most of their stay in Scotland.
Witness dramatic coastlines framed by long rolling beaches, peaked mountains standing tall between fast flowing rivers, an abundance of distilleries, castles and history; you can enjoy an authentic Scottish adventure regardless of the season.
Golden Chariot, Southern India
Note: This service is currently closed for renovation and is expected to re-open in October 2019.
One of the best ways to explore some of southern India's most offbeat destinations, the Golden Chariot offers a luxurious rail experience quite unlike any other.
Opulent interiors and sumptuous quarters await and the itinerary is also enviable; journey through the magnificent World Heritage Sites at Hampi & Pattadakkal, the exquisite temples at Belur & and Halebid, Golden beaches of Goa & Wildlife Reserve at Nagarhole.
JR Nemuro Main Line, Hokkaido, Japan
Looking for Japan travel advice? Read my Hokkaido visitor's guides below.
If you're craving a trip to Japan put Hokkaido firmly at the top of your Japanese itinerary. I was fortunate enough to visit in autumn last year and I was blown away by the region's spectacular landscapes and wealth of biodiversity.
While there are many opportunities to hike, canoe, and drive across Japan's northernmost island, Hokkaido's rail network offers an appealing alternative.
Connecting Takikawa and Kushiro, the JR Nemuro Main Line is said to be the longest in Japan; serving 56 stations it takes a whopping 8 hours and 27 minutes to travel the entire route! Despite this (or perhaps purely for this) it is a hugely popular line with train fans, sometimes even so popular that there is only standing room left in the carriages!
Tren Macho, Peru
Planning a trip to South America? If you're after an offbeat and authentic rail adventure consider hopping aboard the Macho Train and discover the forgotten, the culturally enriching and absolutely breath-taking central mountain range of the Andes.
Be warned, the train isn't heated and it's not the most luxurious, however the views of the regions mountainous landscape will distract you from any discomfort.
A treat for the palate also, during the five-hour journey from Chilca de Huancayo station in Huancayo, the train stops at the following stations: Tellería, Izcuchaca, La Mejorada, Acoria, and Yauli, to pick up passengers. At each stop, the carriages are invaded by vendors offering various local delicacies like corn with cheese, chicharrones, bread, and sweet biscuits.
La Ligne Des Causses, Beziers–Neussargues, France
Few railways line venture as far into La France profonde as La Ligne des Causses; nicknamed as such thanks to the limestone rich landscapes it traverses.
Explore the limestone caves near Tournemire-Roquefort from which cheeses have been dispatched since the time of Roman emperors and soak in the views along the Tarn Valley as the train passes beneath the ruined castle of Séverac-le-Château before descending into the Lot Valley. Near the end of the line one of Eiffel's most impressive structures, the Garabit Viaduct, provides a worthy climax to the trip.
Cumbres and Toltec Scenic Railroad, USA
America's most historic scenic railroad, the Cumbres & Toltec runs a coal-fired steam engine that tugs Victorian coaches through rocky mountain canyons, high desert, and lush meadows as it zig zags between the Colorado and New Mexico border.
One of the things that makes the Cumbres & Toltec Scenic Railroad unique is that many of its original buildings remain along the route. Cruising at a top speed of 12 miles an hour the train travels at a sedate pace to allow passengers to soak in the spectacular views of rural ranches, rushing creeks, and native wildlife like elk and bear.
INSPIRED? PIN THIS POST TO YOUR TRAVEL PINTEREST BOARDS NOW!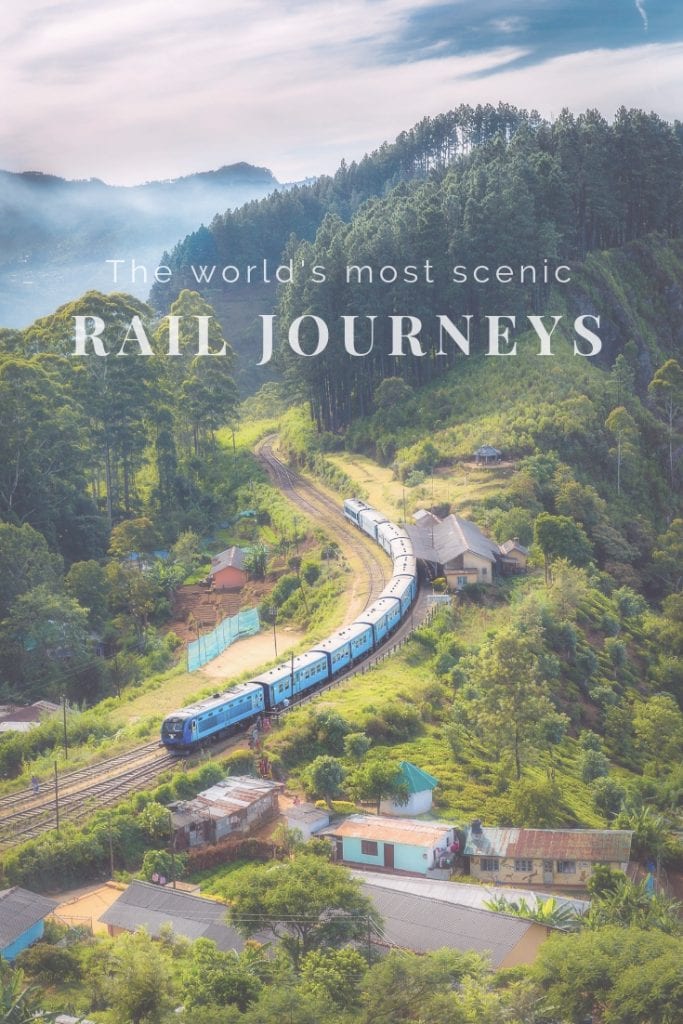 Have you spotted any offbeat rail journeys you think should be listed here? Share your recommendations in the comments below.