Italy is among the most popular destinations for US citizens looking for a second passport. It offers a little bit of everything, from a peaceful lifestyle to incredible weather, beautiful landscapes, and rich culture and heritage. Beyond this, Italy also provides a host of financial opportunities for entrepreneurs and professionals.
The country is one of the best destinations for ex-pats because of myriad citizenship options. There are three different routes to acquire Italian citizenship depending on your eligibility and circumstances. It is vital to understand all of them and choose the one that is just right for you. Even better, you can seek professional guidance to help you pick the best route and complete the process. Let us explain the three Italian citizenship routes in detail.
Route 1- Citizenship by descent (Jure Sanguinis)
Citizenship by descent lets you reclaim your ancestral roots in the country, making it ideal for those with a lineage here. Statistics indicate that millions of people in the US identify themselves as Italian American. It makes Jure Sanguinis one of the most popular options. Once you get the right, it will pass on automatically to your next generations. It is worth the effort because a one-time process empowers you and your family with several benefits. You can travel visa-free across the EU, live and work anywhere in the country, and realize your European dream.
Eligibility criteria: Before going ahead with the process, you must determine your eligibility based on the law of the country. Individuals born in any country are eligible to apply if either of their parents was an Italian citizen. You can also apply if your paternal or maternal grandfather or great-grandfather were Italian citizens at the time of your birth. However, the eligibility norms can get confusing if you apply through the maternal bloodline. If your ancestor was a woman, you get to claim the right only if she gave birth after 1st January 1948.
Application process: Once you are sure of your eligibility for citizenship by descent, you can go ahead with the application process. You will need to start with gathering the paperwork. These include the official documents from your ancestor's hometown to prove their citizenship status. Additionally, you will need your ID proofs and other documents to validate your relationship with them. You will also have to get non-Italian documents translated and apostilled. Next, you will have to file your application through your local Italian embassy or consulate. You will need to be there for an appointment to present your documents in person. Expect the process to take three months to three years to complete, depending on the waiting period at the consulate and the complexity of the case.
The 1948 Rule: Even as the Jure Sanguinis process is relatively straightforward, a female bloodline can complicate things for you. Fortunately, the Italian government has done its bit to do away with the discrimination. You can still claim citizenship but will have to do it through the court rather than the administrative process. It sounds daunting, but the court process is speedy and simple, provided you have an expert lawyer representing you.
READ MORE EUROPEAN TRAVEL GUIDES FROM WANDERLUSTERS
Route 2- Citizenship by Marriage
If you do not have an ancestral connection in Italy, you still have an easy route provided you marry an Italian. The process even works for same-sex relationships for those entering a civil partnership with an Italian. You only need to wait for a few years to claim the right, and you can join your new family in the country.
Eligibility criteria: Before understanding the process, you need to know about the waiting period. If you live in Italy with your spouse, you can apply for citizenship after two years of marriage. The period is for three years for couples residing elsewhere. The waiting time is halved for couples having biological or adopted children together. Further, you will not be eligible if you have a criminal record or the country considers you a security threat. An Italian language certification attesting B1 level of proficiency is an additional requirement to apply for citizenship by marriage.
Application process: Before initiating the process, you must make sure that your Italian spouse is registered with the AIRE if you reside abroad. You must also have a valid record of the marriage or legalized same-sex civil union. You will need all the paperwork during the process, so ensure you are ready with it. Translations and apostille are a must for documents originating outside Italy. Like the descent route, you can apply at the local Italian consulate in your place of residence. Couples living in Italy can file at the local "Prefettura". After the application, you will get a final appointment for providing your documents at the consulate/Prefettura. The process may take up to three years, depending on the timing of the appointment.
Route 3- Citizenship by Naturalization
The third route is citizenship through naturalization, which is apt if you have no ancestral or marital ties in Italy. The process is the longest, but it is the only option if you cannot claim by the other two routes. A great explanation is provided by Bersani Law Firm and you can use it for basic insights into the process. But it is best to discuss this with an expert because you will have to navigate complex visa and residence laws to complete the process.
Eligibility criteria: If you are an EU citizen, you do not require a visa to enter Italy. You only need to register for residency to live and work here. Once you complete five years in the country, you get your permanent residence card. You get eligible for Italian citizenship after another four years. The process is longer and more complicated for non-EU citizens, whether it is about entry requirements or the length of stay in the country to be eligible for citizenship through naturalization.
Application process: As a non-EU citizen, you will have to start the process by obtaining a long-stay visa for entry into the country. You may consider the option of the Golden Visa if you can invest a massive sum in Italy. It can speed up the process and get you a step closer to living and working in the country until you become eligible for citizenship through naturalization. After entering Italy with a long-stay visa, you can apply for a residence permit within eight days. The validity of the permit is up to two years, depending on your reason for moving here. You can renew the current permit before it expires to continue living in the country. Further, you can get a permanent residence card after five years of living here with a temporary residence permit. Another ten years with a permanent residence permit, and you can apply for citizenship through naturalization.
READ MORE EUROPEAN TRAVEL GUIDES FROM WANDERLUSTERS
Advantages of hiring a specialized Italian citizenship professional
Now that you know all about different routes for Italian citizenship, you will understand that they are complex. From eligibility to documentation, process, and timelines, everything requires good research and understanding. While you may handle things on your own, it always makes sense to collaborate with an expert. Here are some advantages of hiring a specialized Italian citizenship professional to assist you from start to end.
Determining your eligibility for a specific route according to your circumstances can get challenging. For example, you may not qualify for the conventional descent route if you have a maternal lineage in Italy. An expert can help you navigate these loopholes and determine the perfect option for you.
Depending on the route you choose, different immigration documents are necessary to take the process ahead. Gathering them is complex enough, and it can be even more challenging if you need documents in Italy and reside elsewhere. A local professional can ease the process for you by using their contacts.
You will definitely need a specialist to simplify the steps of the process, regardless of the route you take. The 1948 Cases are specifically tricky because the court is involved. Similarly, citizenship through naturalization requires an in-depth understanding of visa laws, and only an expert can provide the best guidance.
Professional assistance minimizes the chances of errors and omissions in the process and documentation. Even the slightest ones can slow down the process and, sometimes, lead to rejection. It is the last thing you will want to face when you want to realize your immigration dreams.
INSPIRED? PIN THIS TO YOUR TRAVEL PINTEREST BOARD NOW!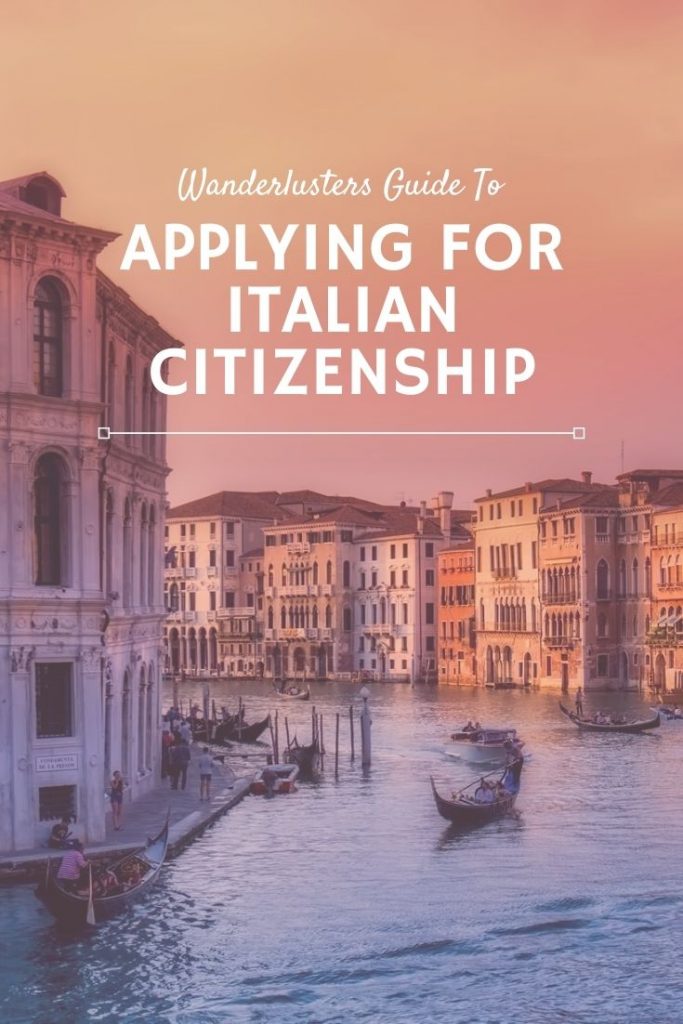 Italian citizenship routes open diverse opportunities for immigration aspirants, but everything boils down to good knowledge. A proper understanding of eligibility requirements gives you a great start, while readiness with documentation takes you a step ahead.