A great Australian road trip is a rite of passage for many adventurous travellers.
With an ever changing coastal landscape and an adjacent network of highways that navigate some 25,000 kilometres around the circumference of the continent, you'll never be short of inspiration for your self-guided Aussie itinerary or a Greyhound Australia Bus itinerary.
From Ayers Rock to The Great Ocean Road, the country offers a wealth of scenic highways and byways that wend their way through everything from vast desert plains to humid rain forests.
So once you've made the decision to head Down Under, and searched the market for the best deal on holidays to Australia, you'll need to decide what part of this vast continent you'd like to explore.
Here's my guide to five of Australia's most inspiring wilderness campsites.
GRAMPIANS NATIONAL PARK VICTORIA
WHEN TO GO – Spectacular summits and awe inspiring lookouts draw avid outdoor enthusiasts October through April.
HOW TO GET THERE – Located just south of the Halls Gap township (around a three hour drive North West of Melbourne). Download this free map which offers an overview of the entire national park.
An adventure lover's paradise, Grampians National Park is the perfect place to make camp when exploring the rural landscapes of the state of Victoria.
A network of more than 30 trails offer visitors the opportunity to penetrate deep into the wilds of the region, meaning you could think about leaving your camper behind for a day or two and heading out with just a sleeping bag and tent, or a Swag (a combination of both used widely in Australia and New Zealand).
For envy inducing road trip snapshots make time to hike the trails to Briggs Bluff (6 hours), Tilwinda Falls (45 minutes from Troopers Creek campground), and Reed Lookout (45 min from Reed Lookout carpark).
MITCHELL FALLS NORTH WESTERN AUSTRALIA
(Note only 4 wheel drive camper trailers can access Mitchell Falls Campsite)
WHEN TO GO – May through October is the dry season and the most popular time for visitors.
HOW TO GET THERE – Allow two days for the drive from Kununurra to the Mitchell Plateau. After you pass the Drysdale Homestead on the Kalumburu road you'll need to be self sufficient and have all the supplies you need for your stay.
One of the most noted natural attractions in the scenic Kimberley region of Western Australia, the impressive four tiered Mitchell Falls sit deep in the heart of the similarly named Mitchell Plateau.
A 16 hour drive from Kununurra, head out onto the plateau for a few days at least (after stocking up with supplies) and base yourself at the Mitchel Falls Camping Area from which you can explore the network of trails, clear water pools and the cave underneath the falls during your stay.
You can even book a scenic helicopter flight from the office on site.
With large campfires, toilets, and water available from neighbouring Mertens Creek, this is the perfect place to unplug from the outside world.
CAPE TRIBULATION QUEENSLAND
WHEN TO GO – September offers some of the best weather in the region and the summer crowds are dying down.
HOW TO GET THERE – Allow just over two hours to drive north from Cairns to the Daintree region.
If the thought of spending the night surrounded by rainforest clad mountains and sweeping stretches of sand appeals, then head to Queensland and to Cape Tribulation.
Noah Beach in Queensland's Daintreee National Park is a heaven for a diverse mix of curious Australian critters and is perfect for those looking to immerse themselves in the Tropical Far North's appeal. Situated between reef and rainforest this campsite is ideal for a quintessential Queensland escape.
Head out on a rainforest walk, or try one of the numerous adventure activities on offer in the area. Book in before you arrive on site and set up your camper (unless you plan on using a mummy one of these), as you'll likely be here for a few days.
CAPE LE GRAND NATIONAL PARK SOUTHERN WESTERN AUSTRALIA
WHEN TO GO – September through May as the winter months can be cold and wet
HOW TO GET THERE – Allow eight hours to drive from Perth, or call in en route as you cross the Nullarbor Plain
Home to Australia's whitest beach, the country's best bush walks, and some sun loving kangaroos that can often be seen hopping along the sand, Cape Le Grand will give you a natural high.
With massive granite and gneiss peaks rising from the coastal plain, those with adventure coursing through their veins can literally get high rock climbing at Frenchman's Peak and Mount Le Grand.
Accessible from Esperance, the gateway to the indomitable Nullarbor Plain, the National Park is the perfect retreat for anyone seeking a coastal escape.
Check into the Lucky Bay campsite for ocean views from your campervan. Walk the length of the beach, interact with the local kangaroo population, and explore the rugged camping trails that traverse the coast.
JERVIS BAY NEW SOUTH WALES
WHEN TO GO – From June through November you could catch sight of humpbacks and southern right whales migrating along the coast
HOW TO GET THERE – Allow three hours to drive south from Sydney
Pitch up at the Green Path Camping Area in Jervis Bay and enjoy the surrounding Booderee National Park.
Owned by the Wreck Bay Aboriginal Community the park has an active Aboriginal cultural program that includes bush tucker walks and campfire yearns; both will offer you an insight into the country's rich history.
Sit on the blinding white sands of the bay and (June, July, and September through November) watch migrating humpback whales cross the oceanic horizon en route to and from the warmer waters off the coast of Neighbouring Queensland.
INSPIRED? PIN THESE TO YOUR TRAVEL PINTEREST BOARDS ↓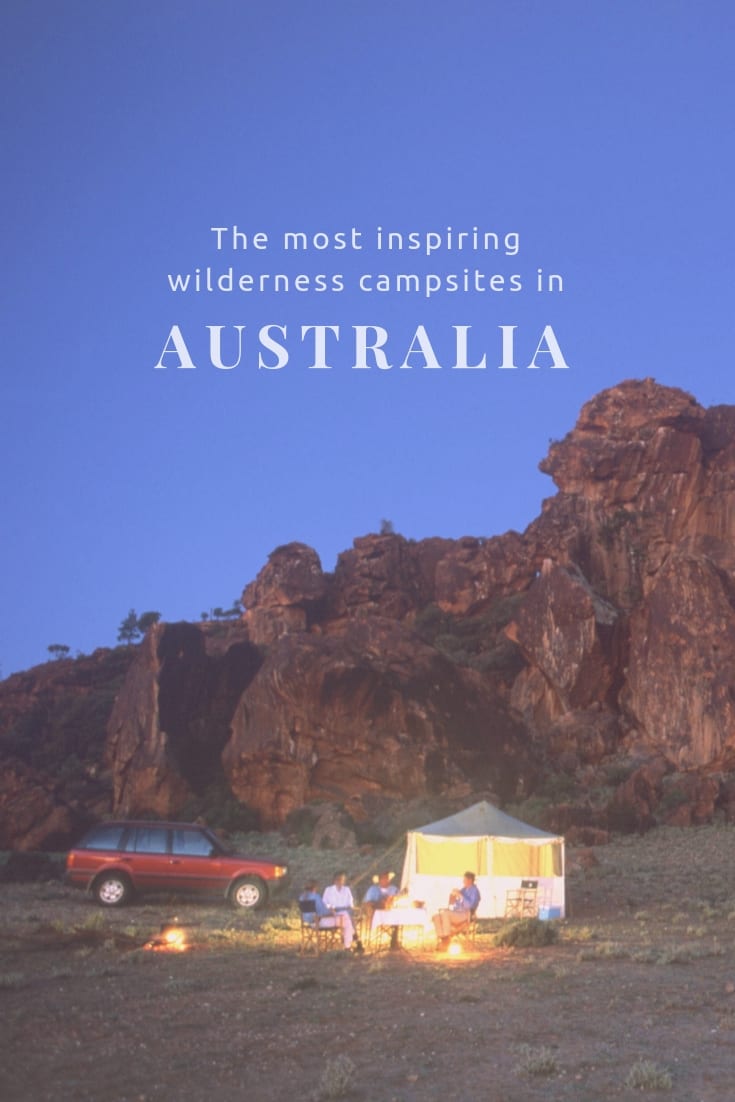 Looking for more information to help you plan your adventure in Australia? Check out other articles I've written covering my travels!
✈ ✈ ✈
Have you explored some of Australia's most inspiring Wilderness campsites?