If you're failing to find a reason to road trip around Australia – unlikely I know – then how about plotting your route to incorporate 'Australia's Big Things'?
Built largely to attract tourists there are estimated to be over one hundred and fifty sculptures across the country each highlighting an attribute of the local area. From giant sapphire rings to crabs, ants, lambs and windmills they stick out – like a sore thumb – and most warrant a detour to visit if you're close by.
Now a cult phenomenon the craze started in 1963 when The Big Scottsman was built in Medindie, an inner suburb of Adelaide, and interestingly was designed by the same fellow as the Big Lobster in Kingston SE.
Here are a few that we saw on our Aussie road trip.
Bowen was once home to a thriving horse trade between Queensland and India and it was the seafaring traders who first brought the exotic mango to the area.
Grown initially by a few select farmers the most successful trees were carefully cultivated to produce the sweet fleshy Bowen mango the town is now famous for. At a cost of almost $90,000 the mango was $60,000 over budget and unfortunately some say it sits upside-down.
Opps.
This 'Big Thing' is hard to miss as it sits on the Bruce Highway that runs the length of the Queensland coast.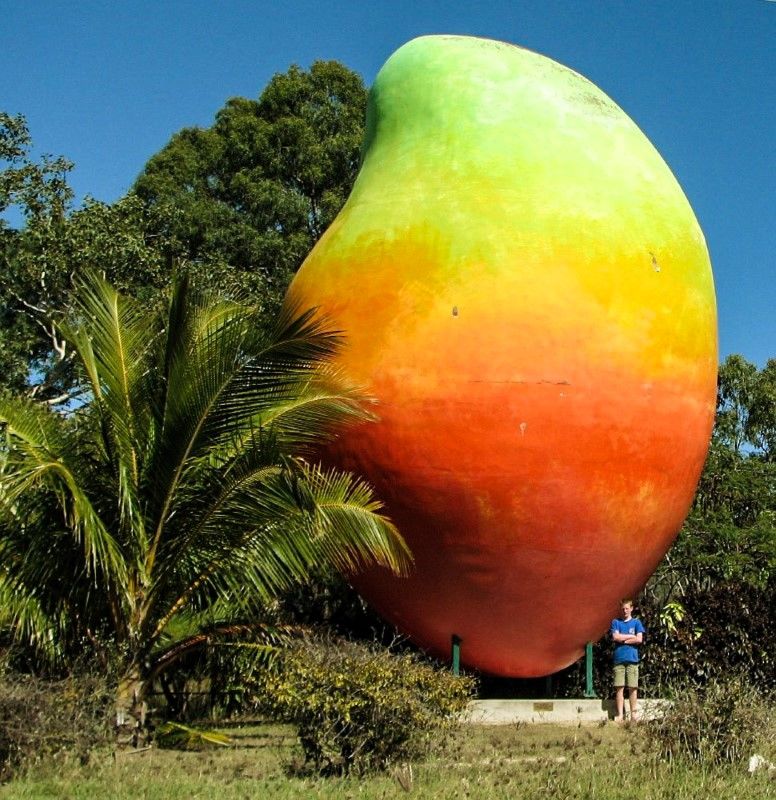 Credit: Creative Commons Amos T Fairchild
Conceived while on vacation in the USA by a local fisherman the lobster – known locally as Larry – was originally intended to serve as a visitors centre for the area.
The initial design depicted the lobster rearing up over the building below, however this was immediately protested by the local council who cited various regulatory breaches, so the Lobster found a home in front of the centre.
Now a seafood restaurant the sculpture is still regarded as one of Australia's most impressive 'Big Things' – quite a title.
Did you manage to spot Charli under the Lobster?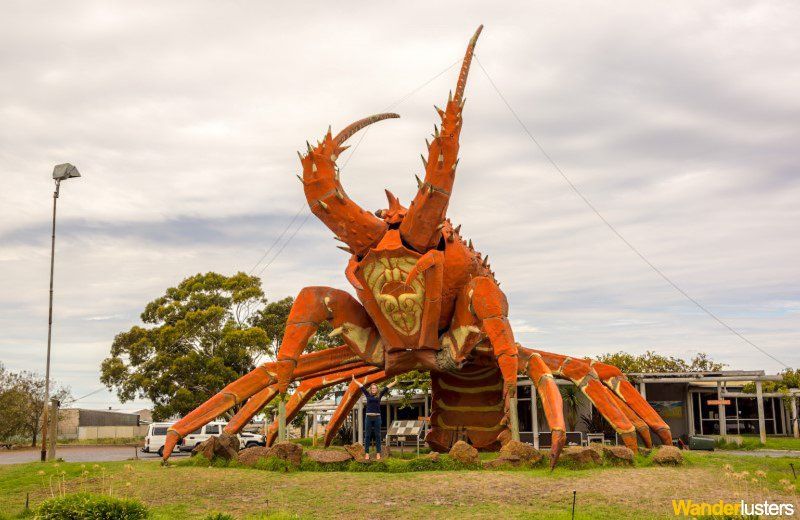 THE MISSION BEACH CASSOWARY
Mission Beach is known for it's population of Cassawories, a large flightless bird of prehistoric origin.
We don't know a great deal about these unusual creatures however it is believed that they are descended from primitive Emu-like birds that once roamed the tropical forests of New Guinea.
They have been known to attack humans when threatened and at almost six feet tall they have very sharps claws which can cause rather a lot of damage.
This addition to the 'Big Things' collection can be found in a local shopping centre – obviously – and stands 5 metres tall.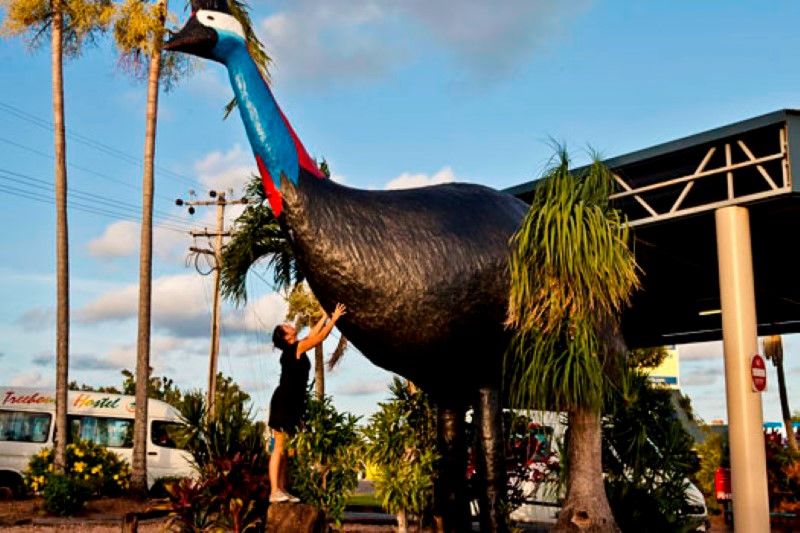 Image | cheapflights.co.uk
Kimba is a rural service town on the Eyre Highway that lies mid way between the shores of the east and west coast of Australia.
With a population of under one thousand the town's most notable feature is this galah that is a whopping seven metres tall. The word 'Kimba' comes for the aboriginal word for bushfire and adequately describes the arid surrounds.
We passed through Kimba on our way back to Sydney from Perth and couldn't resist taking this stereotypical tourist snap!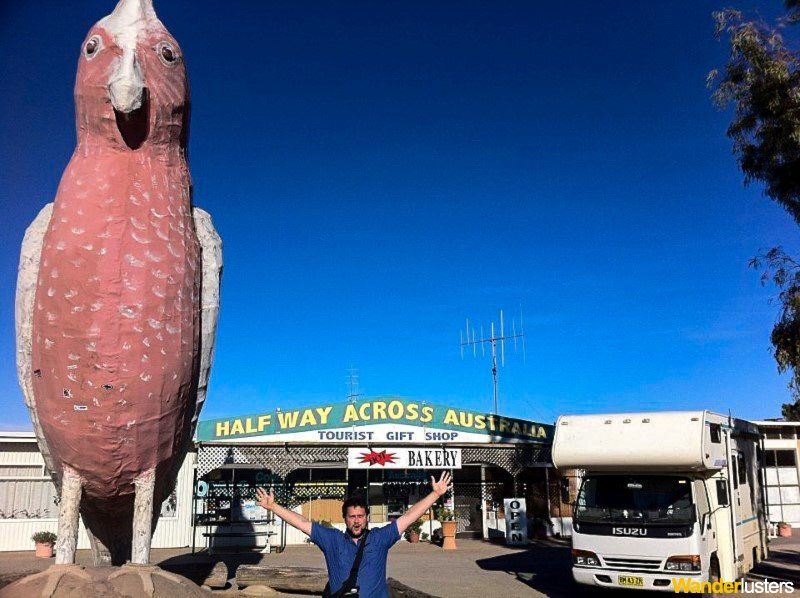 This giant Kronosaurus is not technically listed as one of 'Australia's Big Things' however it's a dinosaur and it's pretty big so we're featuring it on our list.
Although the town of Richmond currently sits over five hundred kilometres from the coast long ago the area was underwater and formed part of an ancient seabed.
In recent years many marine fossils have been unearthed in the land surrounding the town leading to the discovery of what has been named Australia's Dinosaur Trail.
Stopping in Richmond for fuel on our way back from Darwin, Charli took the opportunity to pose inside the Kronosaurus's mouth.
As you do.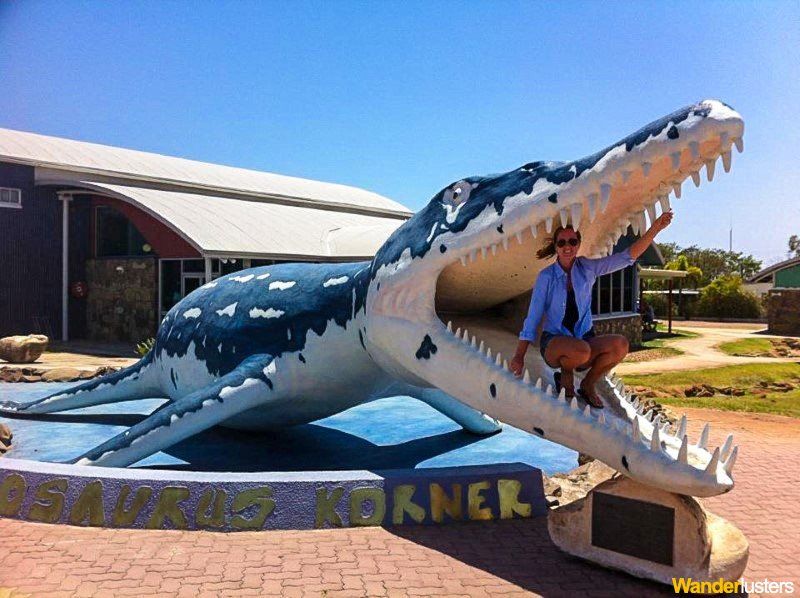 Opened in 1971 the big pineapple is located on Queensland's Sunshine Coast and boasts … wait for it … two rides!
The Nut Mobile and The Pineapple Express both take visitors on tours of the property allowing them to hop on and off to visit the various attractions along the route.
The sculpture has suffered damage both in 1978 during an attempted robbery and again in 1991 during a mini tornado that caused substantial damage to part of the property.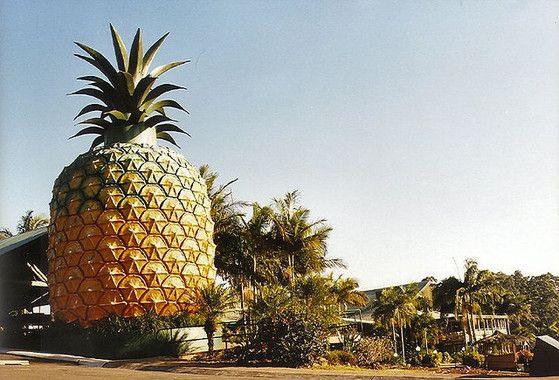 Image | atlasobscura.com
If you're looking for a good route to follow check out this itinerary devised by a family who toured all the big things on their trike.
Sadly we didn't make it to every one of Australia's Big Things however we'd love to hear from you if you have!