[dropcap size=big]T[/dropcap]here were a number of early Christian saints named Valentinus or Valentine, however the Valentines honoured on February 14 are Valentine of Rome and Valentine of Terni.
Imprisoned for marrying soldiers – who were forbidden to marry – and for ministering to Christians, who were persecuted under the Roman Empire, Valentine of Rome is believed to have penned a letter signed "Your Valentine" as a farewell to a loved one just moments before his execution.
An embellishment to the story of that particular Valentine perhaps, yet it marks the beginning of our association with romance and just one date within February each year.
My intention this February 14th was to highlight the varied ways in which my nomadic compadres have celebrated their love amid their exploration of our beautiful planet.
[divider] REMEMBERING A SPECIAL VALENTINE [/divider]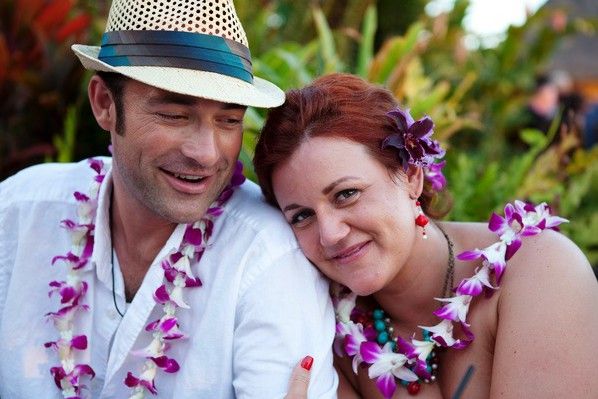 However, before we delve into the valentine tales below I would like to take a moment to honour a friend and colleague, who tragically lost her life just one week ago today.
A bright spark within the world of travel, Kimmy Hayes was due to share with us her tale of celebrating Valentines Day on the open road.
Instead she is looking down at me as I type, erase, and then construct entirely new sentences, because nothing seems to portray how unjust her passing truly was.
Kimmy left behind her husband who is currently fighting for his life in intensive care, and a young daughter now facing the impossible task of coming to terms with the loss of her mother.
If you feel that you would like to support this family in their time of crisis, please join us in donating to Kimmy's Memorial Fund.
Thank you.
[divider] MEGAN & MIKE | MAPPING MEGAN [/divider]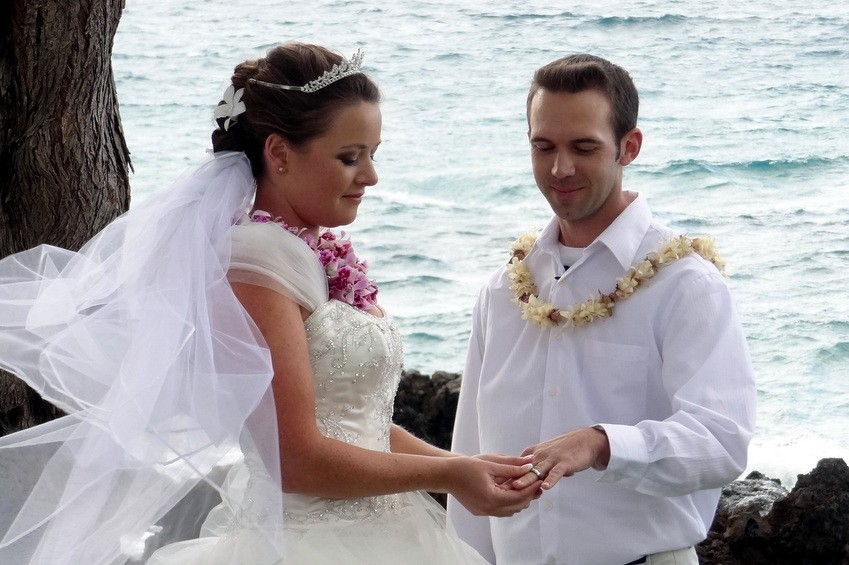 Of all the destinations we could have chosen for our destination wedding, we chose Hawaii.
We chose Hawaii and we chose Valentine's Day!
Nothing compares to the natural beauty of the island of Maui. The sun set over the water leaving bright yellow and pink streaks across the sky.
The whales with their young played in the sapphire blue waters just metres from the shore. The waves lapped gently and the torches glowed around friends and family gathered on the cliff overlooking the water.
It was a beautiful tropical evening when we said our vows. I walked down a grass isle with the slopes of Hawaii's largest dormant volcano in the background. We professed our love to each other on a cliff overlooking the rocky lava shoreline and sandy beaches of the Pacific Ocean.
It was truly a Valentine's Day to remember. It was the happiest day of my life.
Follow @mappingmegan
[divider] SAM & AUDRY | BACKPACKING TRAVEL BLOG [/divider]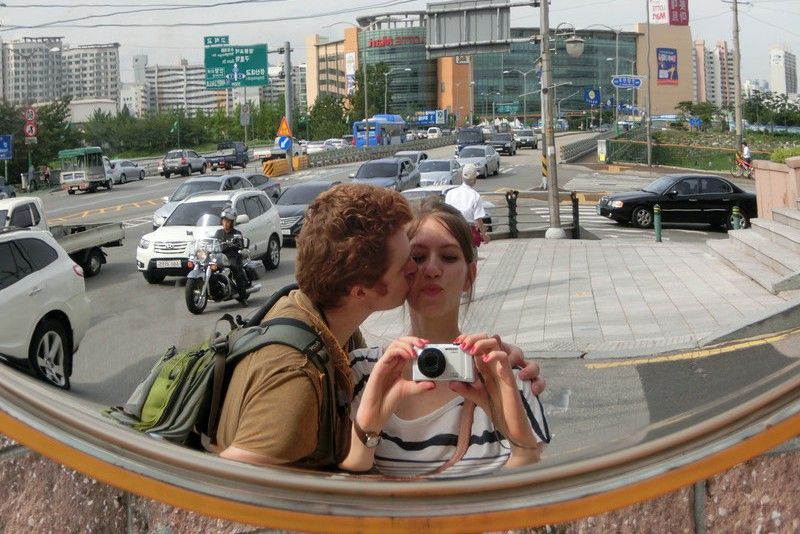 If you're looking for a unique romantic destination, I don't think it gets any better than South Korea.Having lived there for a year, I got to spend Valentine's Day and a few rather unusual celebrations with my beau Sam, and this included romantic holidays that I don't think exist anywhere else in the world!
Don't believe me?
January 14th ushered in "Diary Day", which is when couples buy each other little day planners; after all, you want to make sure you can keep track of each other's birthdays and your anniversary!
Then February 14th rolled around with "Valentine's Day", however, in Korea this is a holiday that puts the ball in the ladies' court. Yup, this is when the girls bravely declare their love for that special boy with a box of chocolates.
A whole month later on March 14th, also known as "White Day", the boys finally reciprocated their feelings for the girls with flowers, jewellery and perhaps a special dinner reservation.
And if you had been unlucky in love until April 14th, there was "Black Day" – a day when singles console themselves with a bowl of black noodles.
Korea is a country that surprised me with a new holiday every month. Just when I thought we had celebrated love in every possible way, my Korean friends would inform me it was "Rose Day", "Kiss Day", and even "Hug Day". And that, to me, makes Korea possible the most romantic country in the world.
Follow @BackpackingTB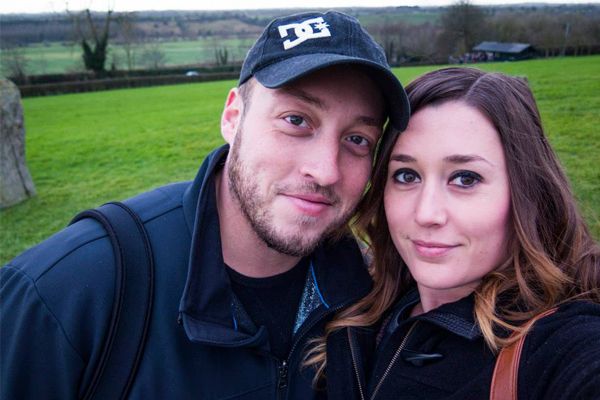 For Marina and I, Valentine's Day 2013 was nothing more than a blur of moving boxes, excited emails, Google searches and day dreaming.
It was not only our 1st anniversary but also only a month before our big move abroad from Los Angeles to Phuket, Thailand where Marina had never even been before.
We found a certain romance in leaving our jobs, selling all of our belongings and heading out on the road together into the sunset. Now, almost a year later, we are a couple days away from anniversary numero dos, and have been absolutely all over the world since we started.
Together, we have travelled to 5 continents in total and already in 2014 we have visited 7 countries, flown on 8 airlines, both got awful sick and are still smiling through it all.
Next week we will celebrate Valentine's Day in Venice, Italy where we will be experiencing and celebrating Carnival, a city and festival we have always wanted to celebrate and we are extremely lucky to be able to experience it together – another Valentine's Day we won't forget!
Follow @Lat34Travel
[divider] DAVE & DEB | THE PLANET D [/divider]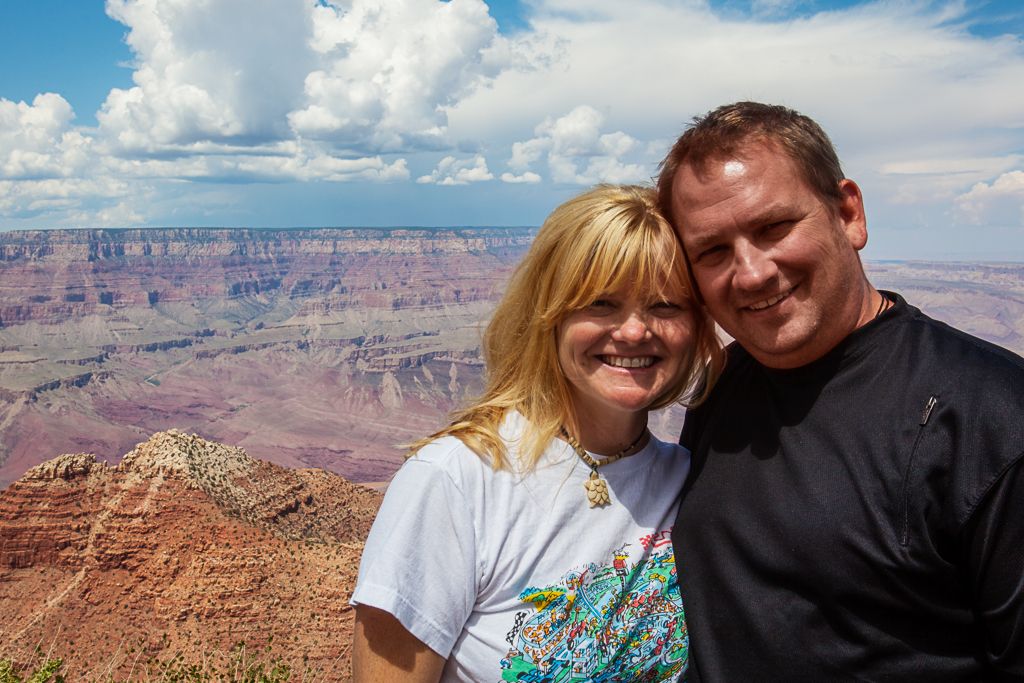 One of our least romantic, but most memorable Valentine's Day celebrations happened in Ethiopia.
We were cycling Africa and the country was really taking its toll on our bodies and our minds. We spent 23 of our 120 days on the continent cycling in Ethiopia, and it proved to be the most challenging of all places.
It was hot and dry and very mountainous. The roads were more like rocky trails and the entire time was spent dodging rocks thrown at us by over zealous children.
On Valentine's Day we had two rest days from cycling in the small town of Bahar Dar. Instead of exploring the Blue Nile during those two days, Dave spent his time throwing up and stuck in bed. It was supposed to be a time for us to recover from cycling through the sands of Sudan and the mountains of Ethiopia before heading South, but instead it was spent suffering in a hot and stuffy room.
Two days later we were back on the road getting ready to tackle the hardest climb of the tour The Blue Nile Gorge, stunning view but brutal on a bike. It may not have been a romantic trip, but cycling Africa brought us closer together than we had ever been in our relationship and it truly changed our lives.
Follow @ThePlanetD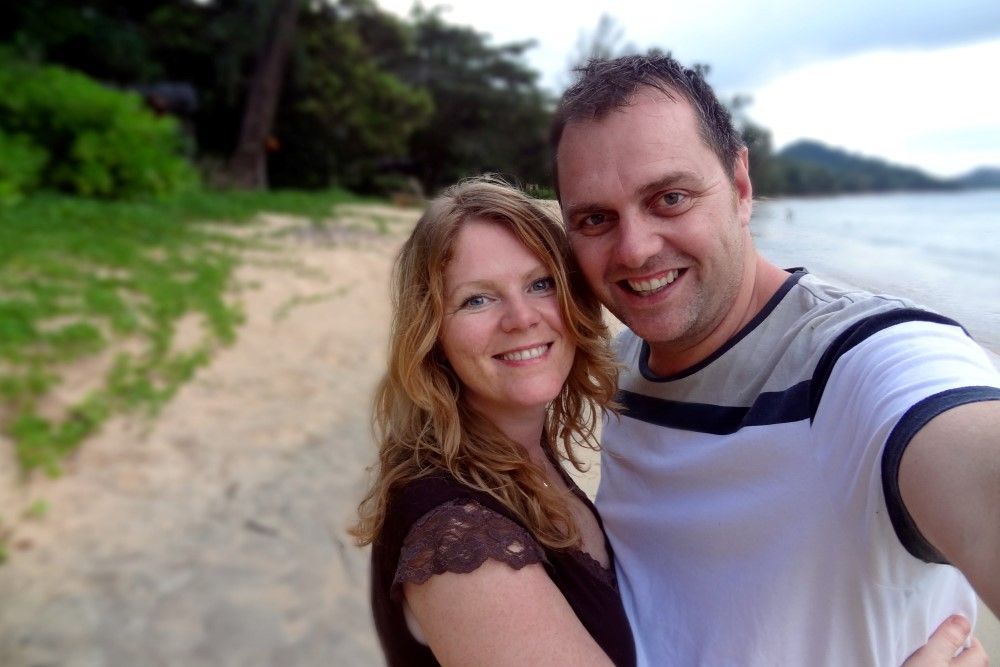 For me, it's the little things which can hold a huge romantic gesture.  Two years ago while on the road in Thailand my partner, Andy surprised me on Valentine's Day with the one thing I had been dreaming of…..
We were in between house sits having travelled from France where we had enjoyed a house sit over New Year on the French Riviera – a lovely home overlooking the azure sea and the cutest dog to hang out with.  From there we travelled to Thailand a month prior to our next house sit on a little Island called Koh Phayam.
We stayed in a basic hut on the beach – it was idyllic.  Andy and I love to go back to nature and this was the perfect place amidst travelling and working.  However, with house sitting you can get a little spoiled with all the home comforts and as a result I was starting to miss having hot water to shower and wash my hair.
On Valentine's morning I woke up to a collection of beautiful shells he had beach-combed for me earlier, such a beautiful gift from him and nature.  Later that day he told me to pack an overnight bag as we were going to take a mini break from our holiday!
Jumping on the back of the moped we ended up on the other more expensive side of the island, where he had booked us into a new little hotel with the sacred hot water – a luxury for such a little island.
Spending Valentine's day on the road without the obvious commercial side means that the little things in life really do count. While we don't need a day to remind us of our love, this day will be remembered forever.
Follow @Housesitting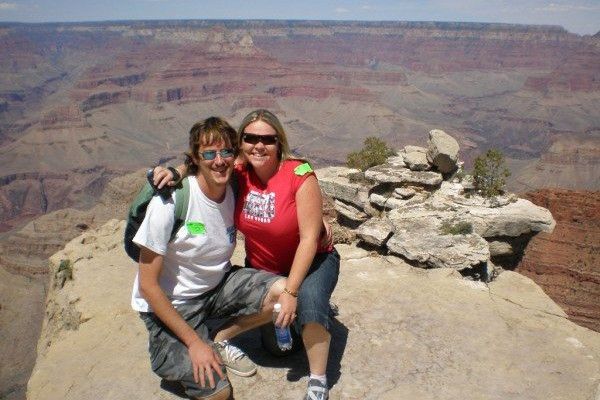 Valentine's Day. Oh how hard it is to celebrate when you travel the world with two kids.
No one to babysit, no way to gain a moment alone. But we have found some ways that work. Visiting family members, foreign day cares offering language immersion or putting the kids to bed early.
Our favourite way to steal time to be a couple, however, is to do a cruise. Cruises have the most amazing kids clubs that our kids absolutely adore. They never want to come out and all of a sudden we find ourselves from 9am – 10pm with a child minding service that is both fun, exciting and essentially free (included in the price of the cruise).
Cruises have allowed Josh and I to zipline in St Lucia, cruise in Barbados, water-slide in Atlantis, take a romantic lunch in Crete, Greece or enjoy a 3 course meal in the middle of the ocean.
Josh & I find great importance in still dating even after 16 years together. And while travelling with kids may make those moments rarer and harder to find, there are definitely ways that my Valentine and I discover to keep the flame alive.
Follow @TravelwitBender
[divider] CLAY & KIM | WEIRS WORLD [/divider]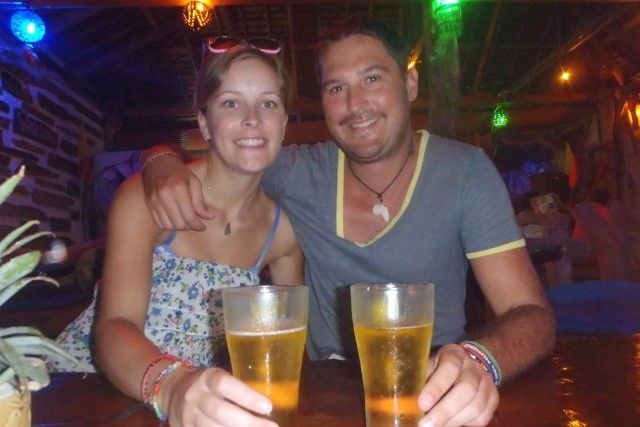 2012 brought us possibly the coolest (and arguably the cheesiest) Valentine's Day ever as it happened to be the day we set off on one very big adventure!
We started off our year long round the world trip by flying from the UK and spending Valentine's day in New York City!
In only a few hours we tried to cram in as much as possible to make the most of our stopover. After navigating our way on the subway (pretty easily actually), we walked through Battery Park and ended up at the pier for ferry rides to the Statue of Liberty. It was absolutely freezing and the thought of sitting on a ferry wasn't the most appealing thing to do, also we didn't have a lot of time, so we just admired her from the shore. We aren't the first and I'm sure we won't be the last to think how she seems so much bigger in the movies!
Next up- The Empire State building! Lit up in pink and red especially for the occasion! And, oh yes, of course we had to go to the top! The view is amazing and New York at night is truly spectacular – what a way to start our trip! But, we were definitely expecting to see a proposal at the top and not one happened!! Maybe it is just too cliché?! haha
We were typical tourists in Times Square, dumb struck by the big lights, chaos and 'Americaness' of this famous street and couldn't help stopping every few meters to snap a few pics. We stopped in the Disney Store, Clay had to have a 'New York Dawg' from the street food carts and we harassed Elmo for some photo's!
Finally we went for some Valentine's celebratory cocktails in the Hard Rock Cafe before heading back to our hotel to get some rest before flying off to Rio!!
Follow @WeirsWorld4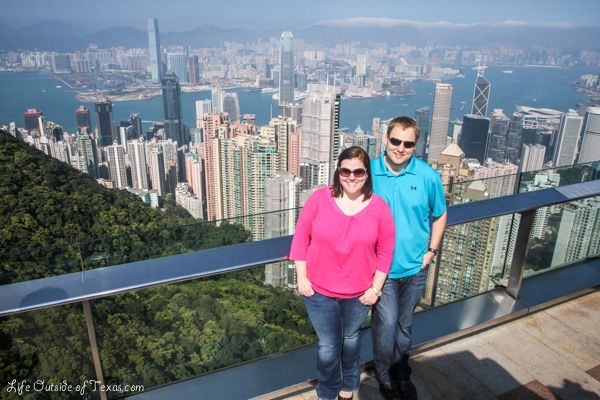 I'm from Texas, Dave is from Western Australia and we met in South Korea. Valentine's Day in Korea is a bit unique.
The tradition is that on February 14th, the girls are the ones that give gifts. It isn't until March 14th (White Day) that the men reciprocate.
If you're single, there's no need to mope on those two days because you'll get your own holiday. April 14th is Black Day. On this day all the sad singles are meant to eat jjajangmyeon, Chinese pasta with black bean sauce.
When I first came to Korea three years ago I was really looking forward to celebrating Black Day with my single friends, but none of my friends shared my enthusiasm. I'm not sure if it was the idea of celebrating their singleness or the thought of eating black bean sauce on noodles.
By the next year I was with Dave and I ended up getting showered with gifts on both Valentine's Day and White Day because Dave is a romantic and couldn't stop himself. And wouldn't you know… just as I found love, my friends decided they would celebrate Black Day… without me!
Follow @LifeOutsideofTX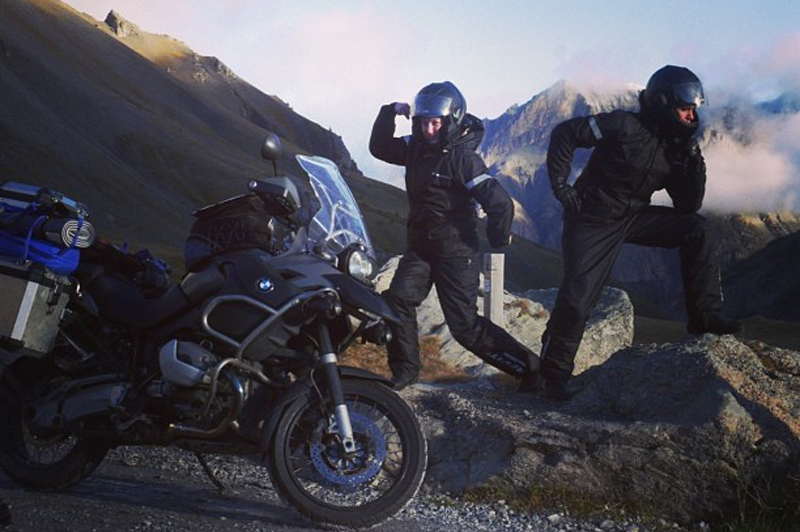 Valentine's Day is my favourite day of the year, always has been, and it also happens to be our anniversary.
Last year, we spent Valentine's Day in Burma. It was a bit of a hike from Beijing, where we were living, but it was a country neither of us had been to.
We are normally drawn in by places a bit off the beaten track and we were not disappointed. Joel and I rarely give gifts, but choose experiences instead; it keeps life exciting.
We spent the morning bicycling around Inle Lake. We stumbled upon a little hut on the lake where a nice man came out and treated us to tea. He offered us a ride across the lake on his motorboat and I'm really glad we accepted.
He took us around the lake and down a few hidden streams to where we saw several homes on stilts and experienced a bit of the local life. Once making it to the other side, we couldn't resist the beautiful vineyard, conveniently placed at the end of the trail. After sampling a few bottles of Burmese wine, we pedalled down to the main street for a delicious curry.
Sadly, the evening did not go as well as the day had. We both fell victim to terrible food poisoning and spent the evening tending to that. I'll leave out the details, but let's just say it was a Valentine's Day to remember.
Follow @ShortRoad2Happy
[divider] BEN & CHARLI | WANDERLUSTERS [/divider]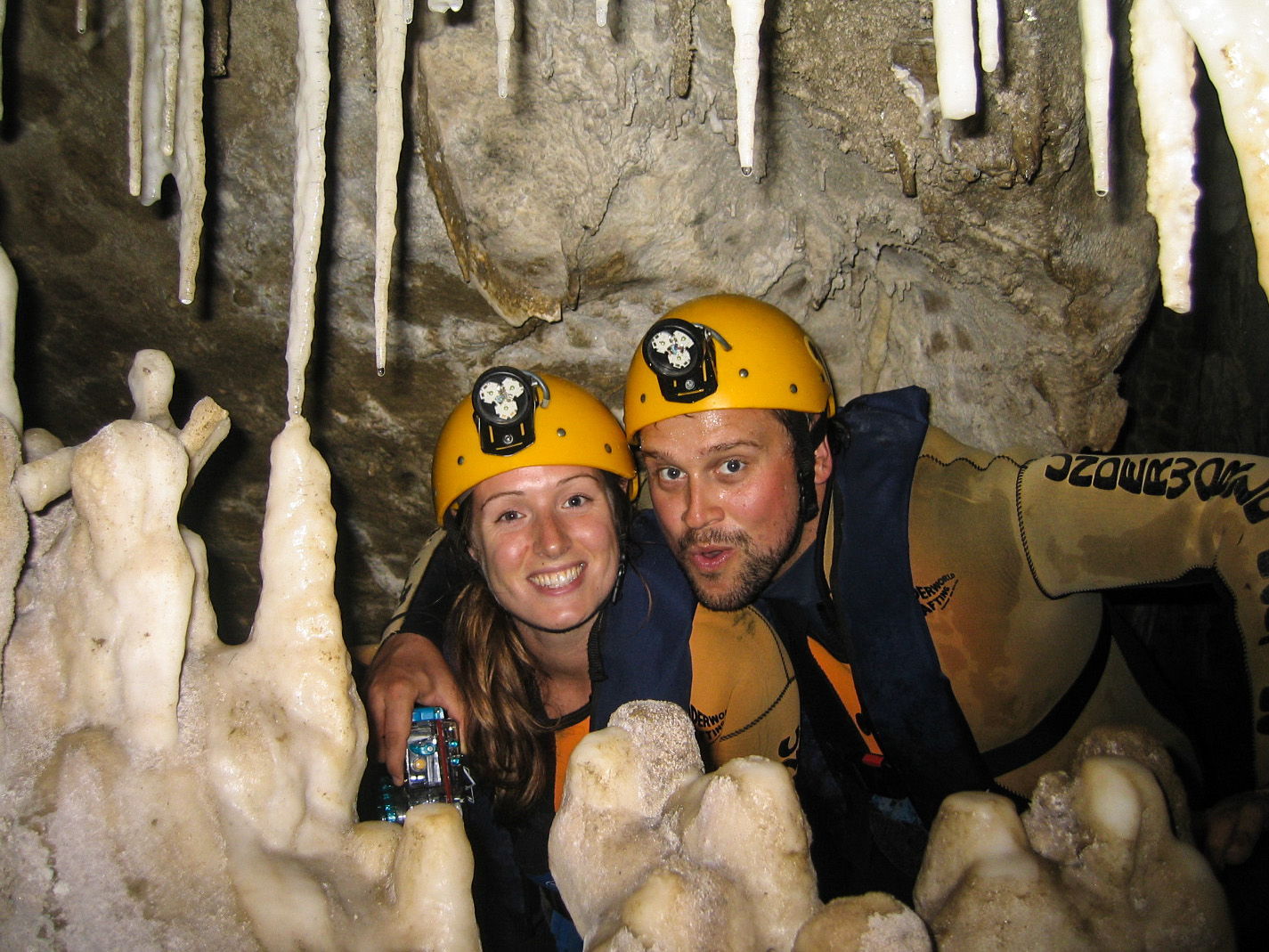 Today will mark our 8th Valentines Day as wanderlusting travel buddies.
To celebrate, we joined the team at Underworld Adventures here in Charelston on New Zealand's West Coast, for a little adrenaline inducing adventure deep underground.
Never a couple who conform to the accepted norm, Ben and I rarely participate in the obligatory chocolate and teddy bear fest that is Valentines Day in the UK.
Despite the bleak forecast and grey skies overhead, we squeezed ourselves into some very fetching wetsuits and hiked out into the Nile River Canyon and down into the depths of the enormous Nile River Cave System.
A 2km route down through the first 3 tiers of the cave, we passed a calcitic paradise of stalactites and stalagmites. We ducked and crawled and marvelled at the size of the cavernous openings that led us deeper underground.
Not quite your usual caving experience, we were instructed to carry an inflated truck tyre with us throughout our exploration. Just 30 minutes before the end of the trip it became apparent why. We had joined up with the Nile River and were to utilise it to find our way out of the cave.
Floating silently in the darkness we navigated using the light from the thousands of glow worms who lit up the cave.
One of the most intimate insights into a world which exists away from the light of day, it offered an adventurous Valentines Day I'll never forget.
Follow @WanderlustersUK
[divider]✈ ✈ ✈[/divider]
Do you have a Valentine tale to tell? Share your comments with us below.