Our favourite area of Toronto is at the cities' creative heart, filled with over three hundred galleries, designs houses, boutique hotels, shops and restaurants Queen Street West has been lovingly regenerated since the recent rise in rent throughout the surrounding area. Over the last ten years it appears that the 'creative types' have made the area their home and in doing so given it a much needed facelift. Walking through the district on our way to catch a bus to Niagara Falls we were instantly taken with the vibrancy and soulful surroundings, there is so much art vying for attention on the streets, in shop windows and plastered on the sides of the buildings, to take it all in was a visual trip of colour.
The Museum of Modern Canadian Art is a large and lively art space owned by the City of Toronto and features shows of contemporary art in a crisp and unassuming environment. Sitting at the beginning of the Queen West district it casts its eye over the creative out pour in the streets to the west with approval and in keeping with the surrounding freedom of expression the exhibits are free to enter.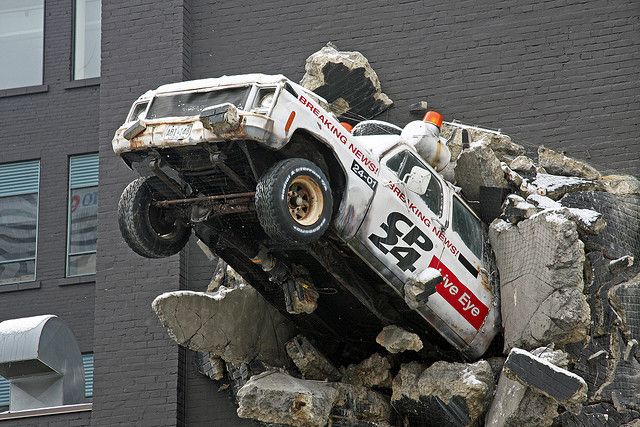 Half way down the street you will come face to face with some clever marketing, the Toronto Cable News Channel have created their own addition to the mellay in the form of what appears at first to be an impossible car crash. Resting at serious height a car branded with their logo appears to be crashing through the brick wall, one assumes to deliver breaking news to the residents of Toronto. This Hollywood style display would normally look some what out of place in a suburban scene yet in the middle of the playful district of Queen West it only adds to the appeal.
Banksy made a recent visit to the city and left a gift in the form of a seven pieces of street art. There was initial confusion over the authenticity of the works, with some being painted over just hours after the work was completed. The image below suffered a number of later additions, the legitimacy of these are also questioned however as a stand alone image the appeal is much the same. Banksy's social and political messages are as evident as ever, something that has endeared many to his work.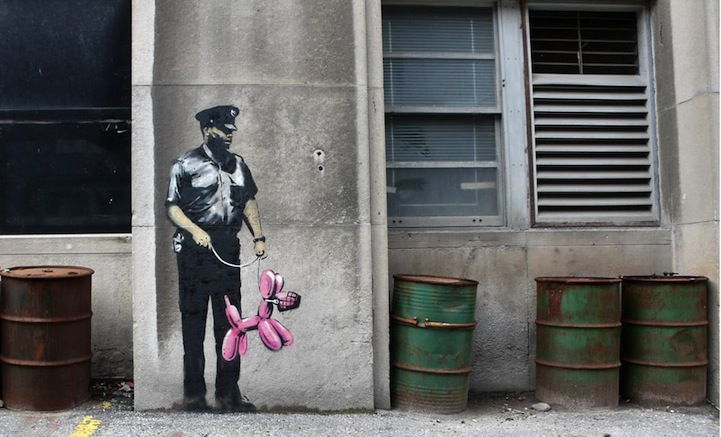 One of my favourite works is by a local artist who's series  of portrait-based works combine the abrasive charm of the distressed surfaces of modern cities with the intimate familiarity of the human face. The natural element within this piece is what I  find most pleasing, it seems to capture the vibe of the community and their effort to bring life to a once tired area of the city. "As the walls and surfaces of the city define its physical character and spatial identity, the faces of its inhabitants provide the city with its personality, disposition and magnetism," says Fauxreel. "The fusion of the two explores the idea that beauty truly lies in the scars, wrinkles and blemishes of places we live and people we meet."