You might think that you've been oh so sensible with your travel insurance, and while you've definitely done one of the best things for travelling, it's also important to know the catches when it comes to your policy too.
Insurance policies almost always include terms and conditions in the small print that you have the potential to breach without even knowing that you've done so. This means that your insurer might declare your insurance void and refuse to pay out.
Insurers Columbus Direct have done some research into what the most likely claims are for Brits, but how many more claims where there that were invalidated through unknown terms and conditions?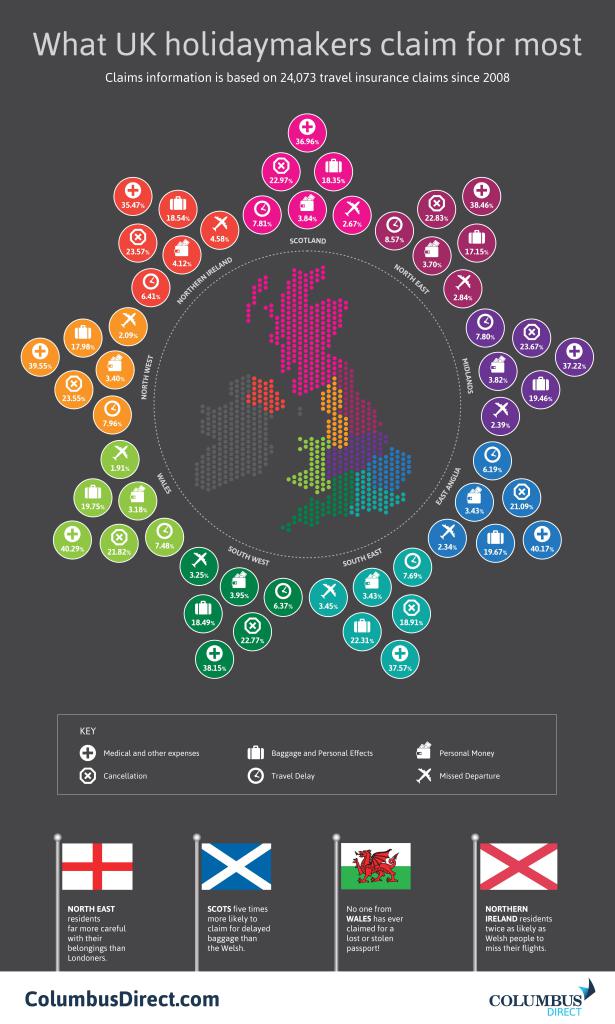 Here are some common travel insurance traps to avoid.
PROVIDING PROOF OF OWNERSHIP
If something gets stolen and you want to claim it back on your insurance, then you'll probably need to prove that you owned it in the first place. Check your policy to see if you need to provide a receipt showing proof of purchase, regardless of when you bought it. if you don't have a receipt, take a picture as proof before you travel.
REPORTING THE CRIME
If you're making a claim for lost or stolen items, then you'll need to get a crime reference number from the local police.
Your insurer will usually reject any claim if you can't get the police report to support it. Check your policy to see if you need to report it within a particular time period too, as this could also invalidate your claim. If you can't report the crime immediately, then your insurer will expect you to do it at the earliest opportunity, for example, if it's a Sunday or a national holiday.
GETTING PROOF OF TRAVEL DELAYS
To make a claim because of a delay or cancellation, then you'll need proof it actually happened. A letter from your airline detailing the delay or cancellation will usually ensure your claim is accepted. If it was public transport that meant that you missed your flight, you will need proof of this too.
PROVING YOUR WEREN'T NEGLIGENT
Most of us drink while we're on holiday, but doing so could make your claim void, especially if you're claiming for medical expenses or for theft. Claims are considered case-by-case, but many are rejected if they've been drinking. You have to prove that you were in control of your actions, and if you've been drinking this could be hard to prove.
Have you ever claimed on your travel insurance?