The Niagara Falls are the most powerful waterfalls in North America, straddling the border between Canada and the USA I can see why they are renowned for their beauty and as a valuable source of hydro-electric power. With more than 6 million cubic feet (168,000 m3) of water falling over the crest line every minute, in high flow they produce enough power to sustain a city twice the size of Niagara.
Being in Toronto we thought it silly not to take the opportunity to visit the world famous falls, so on Friday we set out on our first OAP style day trip! Having looked at a number of transport options we found the cheapest to be a rather bizarre Chinese tour bus company offering free transport to the Falls View Casino Resort for gold card players, but they also advertised a fare of $30CAD for guests without a card. This was $10 cheaper than any other transport we had found, so we thought we would make our way over to their China Town bus stop and see if we could convince the driver we were blackjack enthusiasts! However having spoken to the bus driver it was clear that he wasn't convinced of our intentions to visit the casino, he checked our ID's (only over 19's allowed to travel) charged us $30 and said we would be free to leave the casino once we arrived. Bonus!
For anyone thinking of doing the same, the company is called Safeway Tours.
Sat on the bus leaving Toronto we were slightly unsure as to what lay ahead, I had read that the casino was located right next to the falls but now that we were on a bus full of ageing Chinese gamblers with clearly no interest in anything other than Pai Gow, I wasn't so sure. Thankfully just over an hour later we pulled into the casino car park which overlooked the horse shoe falls.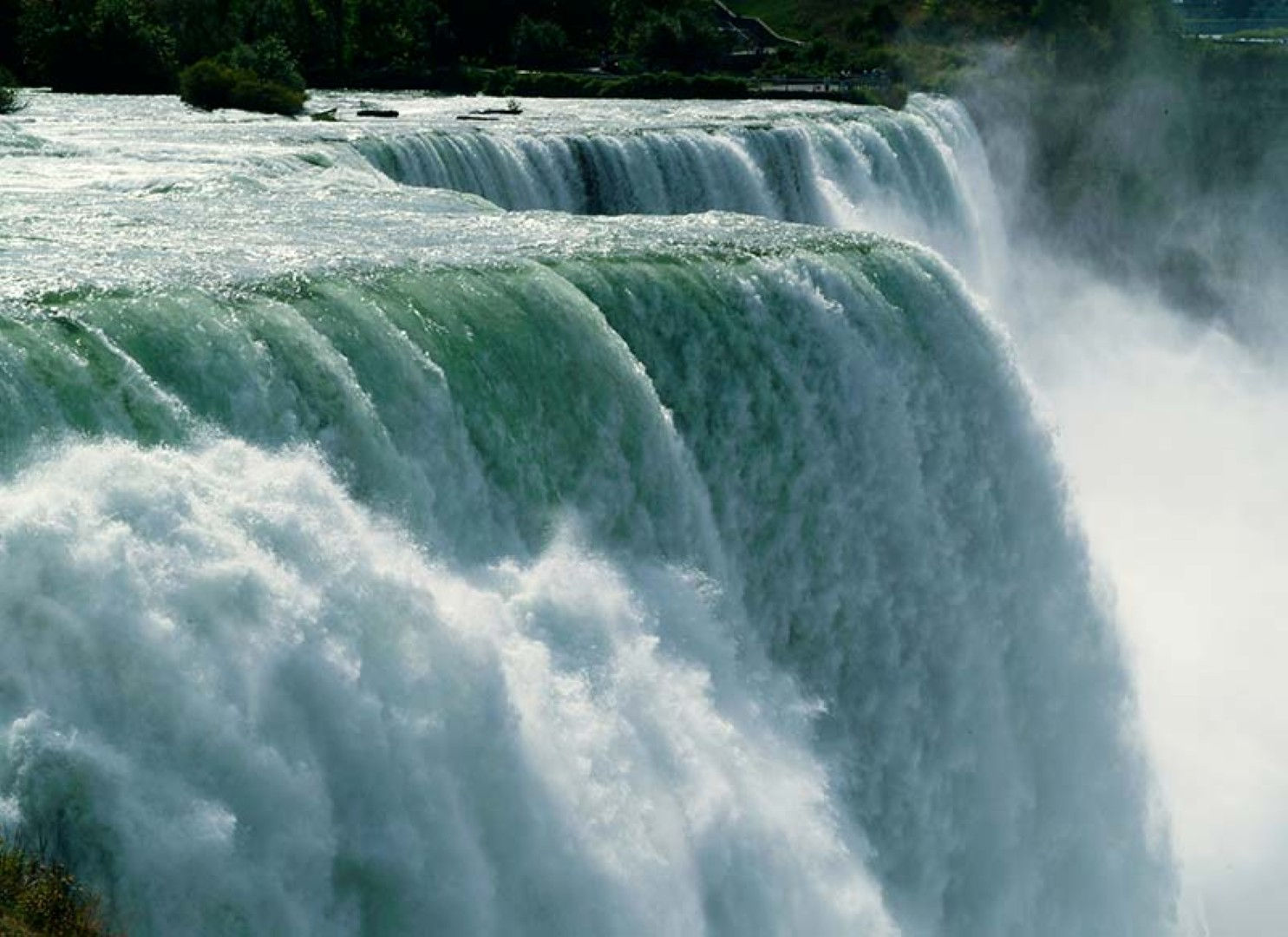 The falls themselves are stunning; the volume of water rushing over the edge and smashing down onto the rocks below is a humbling sight. The air close to the edge of the viewing paths is thick with water droplets (something Ben and his camera lenses were none too happy about!) and most of our photos involve one or both of us looking as though we have taken a shower fully clothed. However the sky was a brilliant shade of blue and Ben managed to get some superb pictures that any landscape photographer would be rather chuffed with. (See image below!)
After walking the length of the falls we found ourselves in an area of such contrast it was unreal. Opposite the bridge that crosses the Niagara River to the USA began what can only be described as an extremely un-natural area. The Blackpool of Canada. Imagine either of these places only 10 x worse and you will almost be close to the monstrosity that we encountered. The scale of development amazed us both. Name a tacky American burger or fast food chain they had a restaurant there, countless arcades, haunted houses, pirate themed crazy golf, the whole shebang. We walked around for what seemed like an age trying to find something that didn't look inedible, or cost as much as our return bus fare. It wasn't to be.
Our top tip when visiting Niagara Falls – Take a picnic!!