In my mind snowboarding has always been reserved for those who've already learnt the basic skills required from a youth spent skate boarding, body boarding or surfing.
I decided long ago that I was a skier.
Two of something i.e. available limbs, in this case legs, are always going to be better than one i.e. two legs strapped securely to one board.
While house sitting just outside Vancouver we decided to make the most of the British Colombian winter and head to the slopes like so many of our neighbours. Although a lifelong skier I had tentatively decided to join Ben and learn to snowboard…stay tuned for our first lesson report below.
Of course being just two hours from Whistler we immediately set about researching the costs of gear hire, lift passes and lessons at one of the world's most famous ski resorts. However our findings sent us back to the drawing board, bottom lip in full pout.
Now as you've probably gathered we like to think of ourselves as savvy travellers, and as such searched high and low for the best deal before hitting the slopes.
While the allure of the world famous Whistler Backcomb tempted us to forfeit our habitual money saving tactics, we remained steadfast and true to form ended up saving over 400%.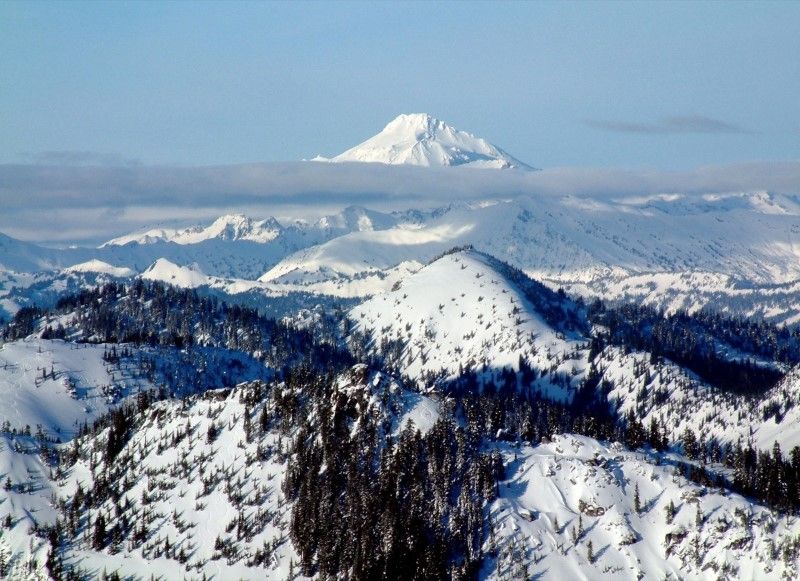 Credit: Photopedia, Image Courtesy of Eldan
An hour south of the US/Canadian border in the state of Washington sits Mount Baker. Follow Washington State Highway 542, it leads there and nowhere else.
An anomaly in the world of ski resorts this little known club pioneered the art of snowboarding along with a few select others and paved the way for boarders to hone their skills. When the sport first took off many other resorts closed their doors to anyone strapping their legs onto a board, thus Mount Baker became a Mecca for anyone wanting the chance to ride 'super gnarly terrain with their balls deep in powder'.
FYI – I pinched the above quote from a snowboarding article – can you tell?
A bare bones set-up there is just a basic club house serving hot drinks, wholesome food and a cold beer. While the resort has avoided selling its land for property development – you'll find no overnight accommodation or après ski entertainment – it has attracted a following so loyal that some of the world's best pro boarders can be found tearing down its slopes in a bid to claim a prized duct tape trophy!
The winner of the Banked Slalom race receives the wad of tape and makes history as a winner of a race legendary amongst the snowboarding elite. Billed as an annual return to the purest form of the sport boarders collect to ride the white wave with good friends. While many spend hours honing the technical elements of their skill and equipment the competition is anyone's to win. Speed and agility reign supreme.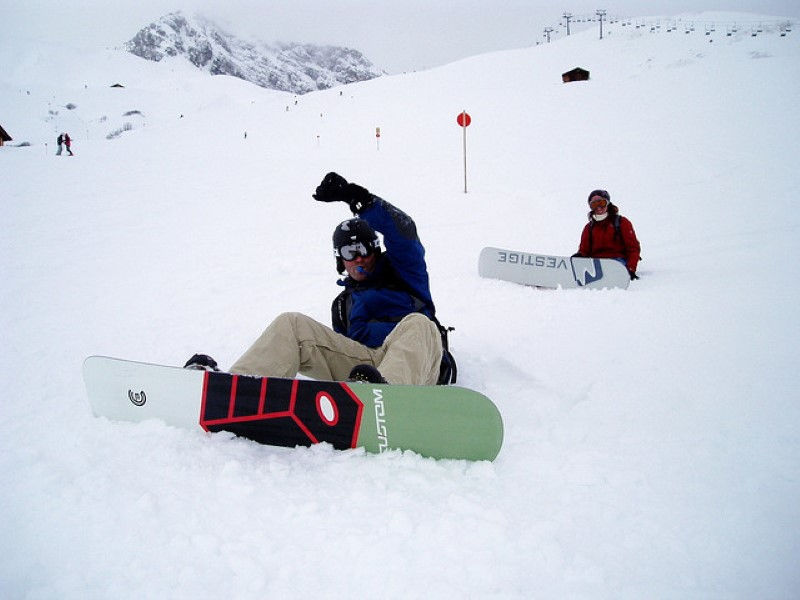 Credit: CC Flikr, Image Courtesy of Boggin
Now Ben and I were not partaking in the Legendary Banked Slalom snowboard race – I think perhaps we may need a bit more experience – we were there to take our first snowboarding lesson. Popping our snowboarding cherry proved an exhilarating experience and after just an hour we were sitting on the lift with our instructor heading up to the top of our first green run.
While the theory of snowboarding is relatively simple – weight distribution and balance dictate direction and speed – the practise takes … well … practise!
As we came to the top of the lift I prepared to make my exit. The instructor had described a graceful departure and as my board twisted underneath me and my face planted itself firmly in the snow, I caught a glimpse of Ben demonstrating the correct technique.
Drat.
My 'better' half had succeeded in dismounting the lift with relative ease and was attempting to warn the occupants of the chair behind that their path was littered by a noob boarder.
Oh the shame.
As I lay on the clearway attempting to right myself my peers glided past and glanced down at me in pity.
'You'll soon get the hang of it' one shouted over her shoulder.
With one almighty heave I was back on my feet and shuffled over to Ben and the instructor.
Moving at a glacial pace we began our descent of the run. With each turn my thighs begged me to relieve them of the torturous pain. It turns out most people recommend a rigorous schedule of squats and lunges to prepare for a day on the piste. In our haste to hit the slopes we had negated this pre ski prep and were beginning to regret it.
Twenty minutes later we made it back to the club and took the opportunity to rest our weary limbs before another attempt at exhibiting our pro snowboarding skills.
I think it's fair to say we still need a little more practise!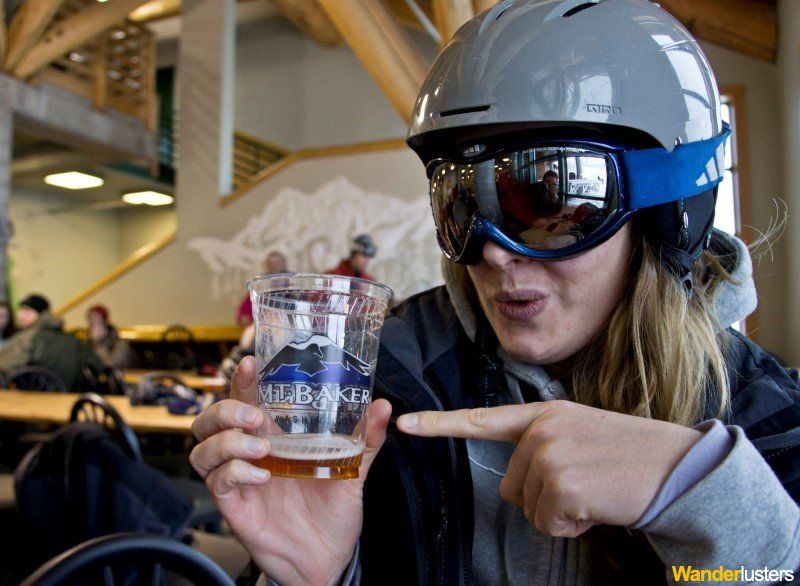 We thoroughly enjoyed our lessons with the crew at Mount Baker and think the location is a great alternative to the crowded slopes of larger resorts.
So why not treat yourself to a ride through a pristine environment and save yourself some hard earned cash at the same time.
FACTS //
Mount Baker is two hours drive from Vancouver and two and a half from Seattle.
We opted for the 'Best For Beginners' package which gives you a one and a half hour lesson, full gear hire and one all-day lift pass for US$49.
For those who do not require instruction an all-day adult lift pass is US$54
Mount Baker consistently enjoys one of the highest average annual snowfalls of any resort in the world and consequently fresh powder is always in abundance.
Due to its location crowds are rare and you'll often feel as though you have the slopes to yourself. Ben and I were always the only students in our lessons.
Twenty miles from the nearest recognisable civilisation the area has an incredibly laid back vibe. Newcomers are welcomed and learners treated with respect. You won't find any snooty ski bunnies here.
It has intentionally avoided becoming another package holiday location with heated pavements and après ski lounges, and is admired by hard core fans of the sport for its unspoilt terrain and pristine powder.
If you are contemplating avoiding the crowds and utilising the opportunity to explore some spectacular back country Mount Baker is a tempting option.
Now I know you'll all be thinking 'well were am I going to stay?' Here's your answer, the Mount Baker website lists available accommodation and shuttle transport times to the club house.
Have you experienced the unspoilt beauty of Mount Baker? Share your snowboarding stories with us in the comments below.