There are no strangers here; only friends you haven't yet met – William Butler Yeats
Travel broadens our horizons, it opens our eyes to cultures unlike our own and enables us to better comprehend the planet on which we live. Strangers are no longer unfamiliar; they become as integral to our experience of a destination as the scenic mountain views and paradisical beaches.
'Fear makes strangers of people who would be friends.' – Shirley MacLaine
The modern world is a complex labyrinth of unfamiliar corridors and dangerous dead ends that we navigate with varying degrees of success each time we step out of our front door.
I occasionally hear of individuals who've taken a wrong turn and found themselves at the mercy of the Minotaur, hearing this dilutes my desire to engage with anyone unfamiliar and leaves me anxious that I myself may become lost in the maze.
THE KINDNESS OF STRANGERS
Technology has opened up the world so that we can readily communicate with almost anyone we choose. We interact with strangers all over the globe on a daily basis through platforms such as email, social media and forums, yet it appears that in our exchanges on a basic level we are becoming more reserved.
How often do you offer assistance to someone struggling with a heavy load in the street? Would you accept a lift from a stranger? Do you find it unnerving and a little odd when someone strikes up a conversation with you while travelling on public transport?
If you're anything like the average modern citizen your answers will probably depict an image of a reserved individual who often avoids interaction with those who are unfamiliar.
While we are willing to share our lives and personal thoughts with strangers via social media I fear we are beginning to shy away from forming meaningful relationships outside the online ether. After all these occur organically and are difficult to control; there isn't the option to de-friend or un-follow someone you meet out in the real world.
During the last two years of our nomadic existence we've been in a few situations where we have relied on assistance from complete strangers:
When we found ourselves with a flat tyre on our six wheeled Winnebago in a remote area of the NSW outback we were aided by one of the few people who passed us on the road.
Sat at a bus stop in Costa Rica an hour after the bus was due and in the pouring rain, we were offered a lift to our destination by a friendly chap in a pick-up truck.
After being marooned in the remote mining town of Gove in Australia's Northern Territory a complete stranger offered us free accommodation and loaned us a car in which to travel the 1100km to our final destination, Darwin.
I'm the first to admit that I feel uneasy when someone offers to help us without apparent motive. I've been brought up in a society that preaches 'good will to thy neighbour', but only if thy neighbour is vetted and approved beforehand.
Yet by accepting assistance you allow yourself to connect with that individual on a much more personal level than a chance meeting in a coffee shop or a random friend request on Facebook.
I believe interacting with locals is as important to your experience of travel as seeing the iconic tourist spots, learning the language and sampling the cuisine.
So why should you decline when someone unfamiliar extends a helping hand?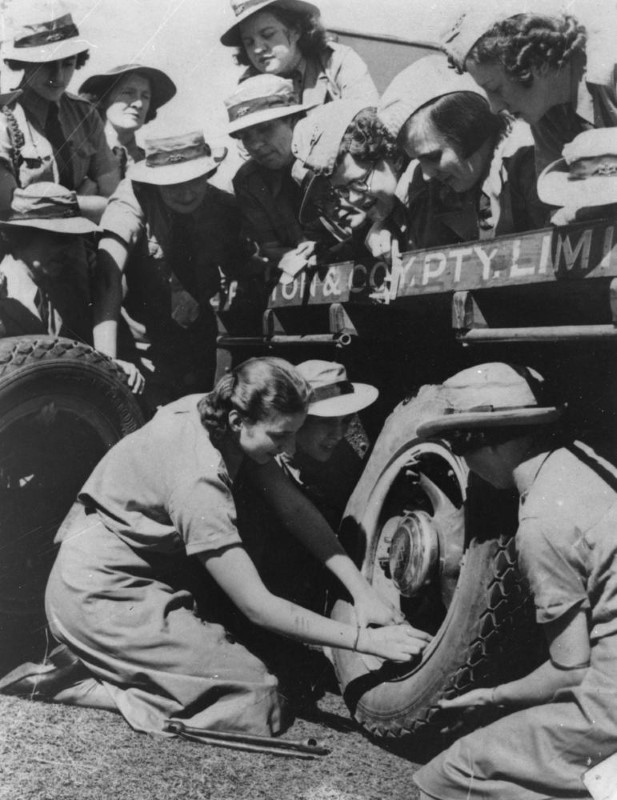 Credit: CC Courtesy of John Oxley Library, State Library of Queensland
From an early age we are taught not to converse with strangers. Walking home from school one rainy afternoon I recall running from a woman in a car who'd stopped to offer me a lift. This fear of strangers was justified as a child but should it continue to direct my choices as an adult?
Are we really any better equipped to deal with a threatening situation now that we are all grown up?
Travel allows you to engage with unfamiliar people in every destination you visit and very often these relationships enrich your experience, but when should you decline a kind offer of assistance?
When does the risk outweigh the reward?
Thanks to a select few who choose to mistreat others our society has become one of mistrust and uncertainty. We're becoming disconnected from those around us fearing interaction may lead to deception, fraud, theft and perhaps worse. Insecurity is beginning to breed anxiety and consequently when help is offered we feel accepting it may leave us vulnerable to attack.
In my opinion reading into a situation before jumping in head first is an essential tool when interacting with someone unfamiliar. I tend to follow my gut instincts and use common sense to ensure I remain in control over my destiny as much as possible.
I know that my cautious attitude towards strangers is not totally unjustified however I want to allow the organic nature of human interaction to benefit my experience of the world in which we live. So I ask you…
Do you think my cautious attitude is unnecessary?
Do you feel anxious about accepting assistance from strangers?
Share your comments below.