Some of us are content only to explore our own backyard, others enjoy hoping aboard a plane and flying off to exotic locations. A handful of wanderlusting individuals need more, they enjoy the challenges that accompany realising extreme dreams.
If you've a sense of adventure and the desire to push yourself to the limit then this could be your lucky day!
NEW OCEAN WAVE PACIFIC CROSSING
Just a few hours ago adventurer Alastair Humphreys posted a call for crew to join a team rowing a 2,100 nautical mile course across the Pacific Ocean from California to Hawaii. Having famously cycled around the World, canoed the Yukon and walked through India this guy knows a thing or two about adventure.
In 2012 Alastair rowed across the Atlantic and declined to repeat the experience stating that crossing one ocean was 'enough' for him. He has however extended the invite on behalf of Philip Cavanagh who is planning to lead a team in the New Ocean Wave challenge.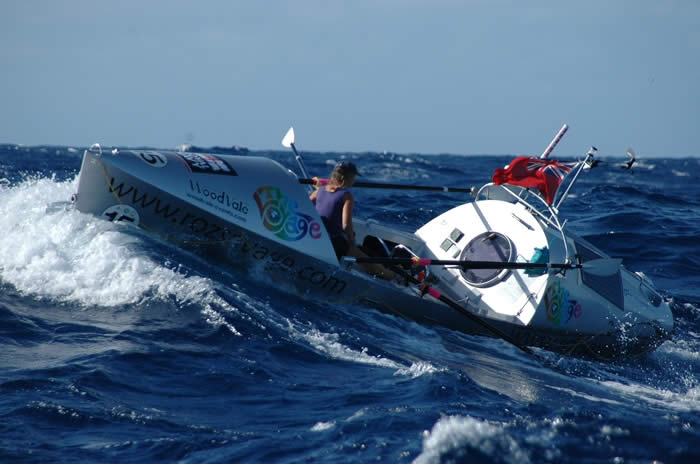 Ocean Rowing – Image credit oceanriver.org
Although the crossing has famously been attempted by rowers who chose to island hop to recuperate and re fuel, this will be the first time the route has been rowed competitively.
Each team will be competing for:
The ________ Trophy – this trophy will be named after the 1st four to complete the route.
The Fairfax-Cook Trophy for the fastest pair.
The Pete Bird Trophy for the fastest single.
The current record for rowing this route is held by Mick Bird, who rowed it single-handed in 1997 in a time of 64 days.
Alastair's invite reads…
Philip will be participating in the first Pacific Ocean row in June 2014, and is looking for crewmates. The race is a 2,100 nautical mile row from California to Hawaii, and the boat will be powered by human strength alone. Everything needed for the row will be onboard, and the crew will receive no assistance during the race. To join the crew, you do not need rowing experience!  All we want is a sense of adventure, a desire to succeed and the will to do something extraordinary!
The shift pattern will be a demanding 2 hours on 2 hours off for the duration of the race. (Which means you'll be able to sleep 50% of the time… glass half full!)
If you'd like to express an interest, or would like more information, contact Philip at philip.cavanagh3@gmail.com
We salute all you wanderlusters who push the boundaries of exploration.
Would you be willing to take part in an epic adventure such as this? Let us know your thoughts in the comments below.