[dropcap size=big]I[/dropcap]t's not often that the title of our posts begins with the phrase 'How To…'.
We're not bloggers who blog about blogging, or bloggers who blog with informative content for other bloggers – have I just discovered a new elocution tongue twister?! I think so.
Our content is focused on adventure travel because we live for adventure. We've spent the last three years travelling through eight different countries, planning our travels on the fly using travel blogs and forums for inspiration and advice.
Leaving the UK with just a 55L backpack and a small daypack crammed full of the possessions we thought we'd need for our planned twelve months of travel, we'd little room left over for our passports never mind cumbersome guidebooks.
Losing that tangible connection to the advice we had relied on throughout so many of our previous travels was a little daunting. However we couldn't carry another kilo between us for love nor money, so we resigned ourselves to the fact that we'd no longer have travel advice and helpful images of the local area in our back pocket.
Sure Google was our friend when we needed it, but to find insights and snapshots from locals we had to spend time sifting out the high ranking business pages and tourism websites.
That is until we were introduced to Trover.
[divider] TRAVELLING WITH TROVER THE NEW TRAVEL AND PHOTOGRAPHY APP [/divider]
Over the last three years we've looked to applications like Instagram and Pintrest to provide us with inspiring destination ideas. And while we've enjoyed curating our feed and providing insight into the locations we've explored, we've often felt as though we received little inspiration in return.
Great, another photo of your spaghetti bolognese….Awesome, another selfie of you on a beach in Thailand….YAY! ANOTHER travel quote superimposed over a pretty picture.
Our list of social media pet hates is lengthy.
Having been active on Trover for the last few months we've realised that the social platform has fused together the best bits of its rivals and honed them into a lean mean inspiration machine. No longer are we subjected to inane updates, selfies and locationless photography – don't you just hate it when people pin images with no title or notation?
…TELL US WHERE THE IMAGE WAS TAKEN, WE WANT TO GO THERE.
Instead of frustrating updates our Trover feed is bursting with vibrant photography from destinations across the globe.
Snippets of insider info accompany each colourful image detailing helpful insights for those wishing to visit the area themselves. The updates are even geo tagged so you can pin point exactly where the user was when they took the photo.
At last, a social media platform designed for travel.
[divider] WHAT IS TROVER AND WHY IS IT DIFFERENT TO OTHER SOCIAL PLATFORMS? [/divider]
Trover is a website and APP which allows its users to post 'discoveries' in the form of a photograph coupled with an informative snippet detailing any knowledge they gained on site, and/or external links they feel will be beneficial to travellers following in their footsteps.
For example here's one of our recent updates from Tongariro National Park.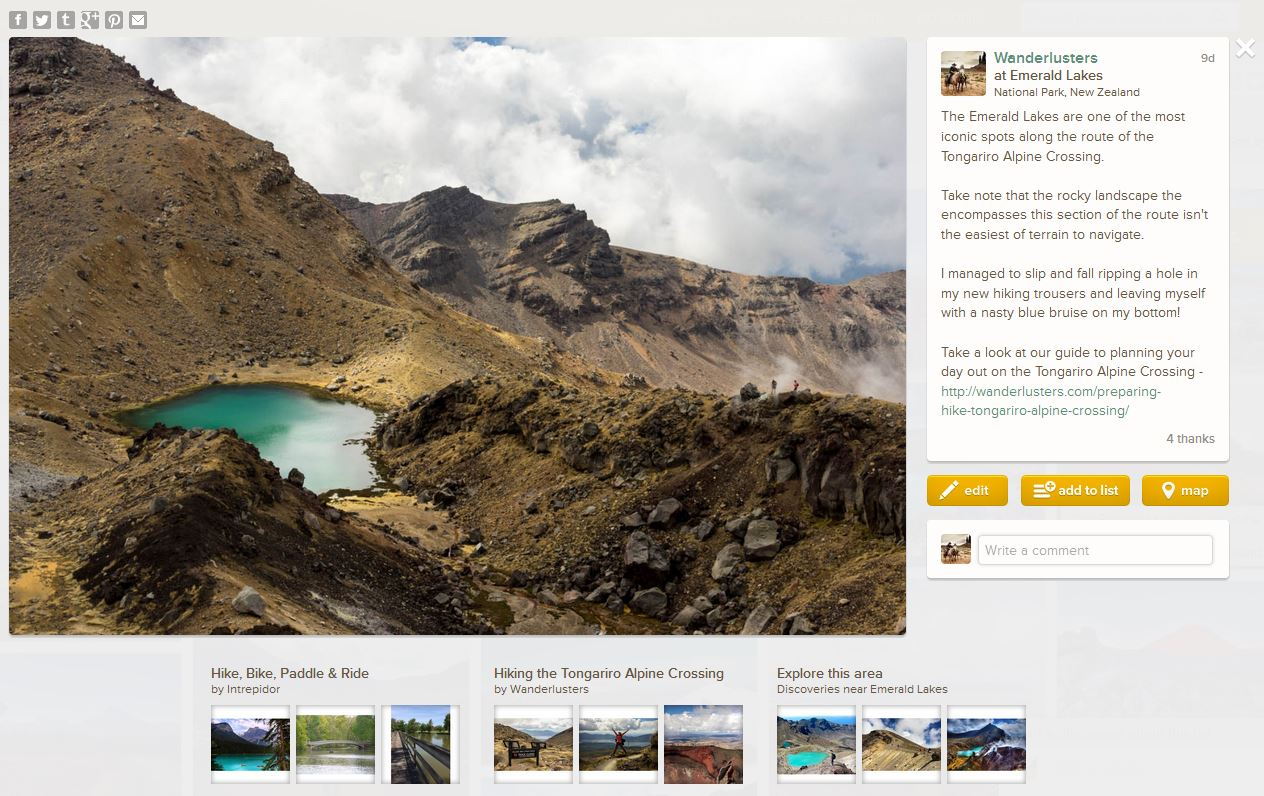 In our opinion it is this aspect of the platform which makes Trover unique and so exciting for travellers like us who enjoy planning their adventures with the help of inspiring visual aids.
Over the last few weeks we've found ourselves curating travel inspiration for future trips using Trover.
Collating photography from the locations we hope to visit we've found some great local insights from the Trover users who've already been out exploring the world.
Take a peek at our #TroveOn travel guide for our forthcoming visit to Costa Rica.
A #TroveOn Guide to Costa Rica by our fellow Trovers – a photo list by Wanderlusters
By searching through the wealth of travel Troves we've picked out the best Costa Rica content and curated it into our own unique #TroveOn travel guide.
Each image is from an original source so when you find something that catches your eye, you'll click through to find information from the author of the photographer. You're even able to interact with the author asking further questions about their experience.
How incredibly awesome is that?!
Accessible at any time through our profile on the Trover APP this guide will see us through our entire two month trip around the country and most importantly it won't weight our backpack down!
[divider] HOW TO CREATE YOUR OWN UNIQUE #TROVEON TRAVEL GUIDE [/divider]
To start your journey to inspiration curation you should first download the Trover APP to your Apple or Android device. This will enable you to #TroveOn on the move and feed your recommendations into your profile as you go.
Next you can either sign up on your smart phone/tablet or head over to your laptop and set about creating your profile. Both the download and the sign-up are free.
We highly recommend that you search for inspiration from the featured Top Trovers and follow the users who inspire your sense of wanderlust. Don't forget to follow us on Trover and take a look at our #TroveOn travel guides too!
Finally you can start to curate your own lists of discoveries which will become your guide to the locations you plan to visit. And once you've collated the best travel moments from your trips why not create a guide others can use to explore?! Take a look at our #TroveOn travel guide to scuba diving in New Zealand…
Our #TroveOn Guide to Aquatic Aotearoa – a photo list by Wanderlusters
[divider] TOP TROVER LISTS AND #TROVEON TRAVEL GUIDES TO FOLLOW [/divider]
Now that we've inspired you to make Trover your new travel APP of choice check out these awesome Trover users spearheading the way with their vibrant travel curations.
[column size=one_quarter position=first ][divider]TOM PAGE[/divider]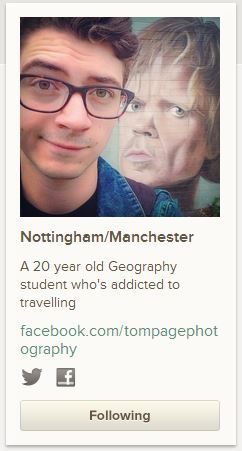 [/column] [column size=three_quarter position=last ]Europe – a photo list by Tom Page[/column] Tom's Trover profile is likely to cause a serve case of wanderlust. His landscape photography in particular caught our eye and his shots from Madagascar have put the island firmly at the top of our bucket list.
[column size=one_quarter position=first ][divider]MARK RENTZ[/divider]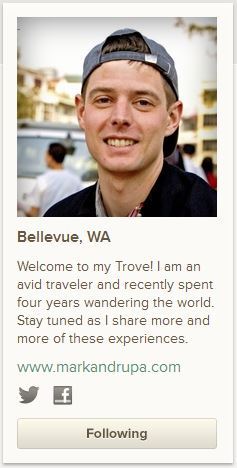 [/column] [column size=three_quarter position=last ]Impossible Views – a photo list by Mark Rentz[/column] Mark's discoveries are vibrant and varied and we love his dedication to compiling inspiring lists from his 4+ years of travel across the globe.
[column size=one_quarter position=first ][divider]KATE STELLA[/divider]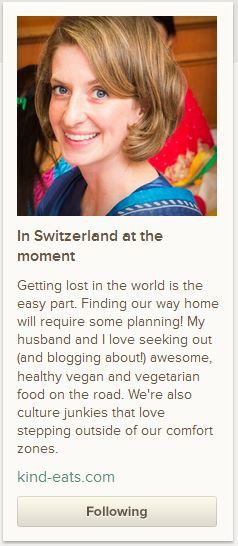 [/column] [column size=three_quarter position=last ]Traveling the world for vegan food! – a photo list by Kate Stella[/column]
Kate's healthy vegan and vegetarian Troves have us craving green veggies and colourful fruits. Yes we know we complained earlier about messy meal updates but these pictures are of edible art works!
[divider] FEEDING YOUR TROVER ADDICTION [/divider]
Trust us, in just a few weeks from now you'll find yourself with more Trove discoveries than you know what to do with. From inspring landscapes to recommendations for festivals and 'can't miss' cultural experiences.
We're already discovering new places we want to visit and thanks to the search function we've uncovered some hidden hot spots close by.
So what are you waiting for, become a Trover today and share your travel stories with the world. We can't wait to discover your travel Troves!
[divider]✈ ✈ ✈[/divider]
This branded content details our honest review of this awesome new travel APP and is brought to you in partnership with the team at Trover.