Wikipedia informs me that 'Pura vida' literally means Pura = pure and vida = life, but "Pure life" in Spanish would be "Vida pura" instead, so the real meaning is closer to "plenty of life", "full of life", "this is living!", "going great", "real living", or "cool!"' Having spent only four days in this magical country I can completely comprehend why the locals live by this mantra. The landscape is literally bursting with life, since arriving we have seen the most amazing species of bird and bug, and the foliage that permanently surrounds you is full of lush greens and brightly coloured flower petals. I am already in love.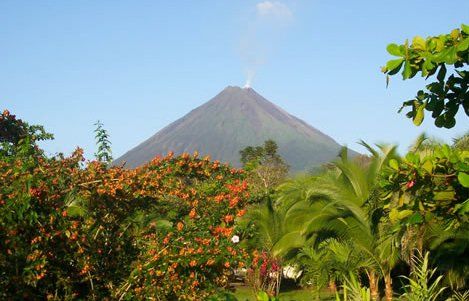 After our weather delays in Chicago and our unexpected midnight preview of Stephen Spielberg's 'Super 8' in Texas, we arrived in Liberia, Costa Rica on Friday. In ten days we are house sitting for a family in Liberia for just over two months and had arranged to visit them and familiarise ourselves with their home and Liberia before exploring until the house sit began. Jorge kindly picked us up at the airport and we spent 2 days in their stunning home (of which they have designed and built themselves) before getting a number of buses south to la Fortuna, Arenal.
So here we are at the base of Arenal Volcano, currently laid in a hammock on the balcony of our rain forest cabin. I am in heaven.