Home to over one quarter of new Zealand's population, Auckland is a central hub of culture despite not being the nation's capital.
Having spent the last few months mooching about and house sitting in it's suburbs we've grown to love New Zealand's answer to a metropolis.
Continue below for our guide to blending in Aucklander style …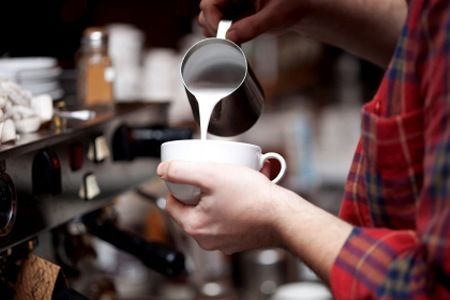 We're fast realising that New Zealanders have a penchant for a frothy flat white. Although they claim to have invented the drink back in the 1980's this is widely discredited by the Australian's who will tell you it is of their own design. Café culture is the social heart of the city.
Aucklanders use coffee shops as social venues just as the British might pubs, for business meetings, to catch up with friends or simply read the paper. I warn you now they take their coffee very seriously. Dubbed by many as one of the best places in the world to drink the velvety black liquid it is hard to find a bad cup in even the most mundane of places.
If you're after that perfect roast there are a few coffee houses in Auckland that have elevated themselves to a whole new level of coffee bean geekery. The creation of a perfectly steamed and extracted flat white or short black is rightfully regarded as an art in New Zealand. Combined with the quirky sense of urban style that has regenerated much of the city over the past few years Auckland's coffee habit has got us buzzing.
Our favourite place to get your buzz is Espresso Workshop – 19 Falcon St, Parnell.
VISIT // Espresso Workshop
So you've got a caffeine buzz and you're in Auckland CBD.
Why not use that additional energy coursing through your veins to throw yourself from a skyscraper? New Zealanders are well known for their love of adrenaline sports so it comes as no surprise that they've incorporated getting your adrenaline fix with urban living.
The tallest man made structure in New Zealand the Sky City Tower is a prominent feature of the cityscape. If you're so inclined you can hop in the elevator and once you reach the top leap from a height of 192 metres, then fall very fast (approximately 85kph) for around 11 seconds before landing at the base of the tower.
Where else in the world can you leap from a skyscraper during your lunch hour?
VISIT // Sky Jump
We had heard that New Zealand humour often centres around the rivalries between the various regions of the country as well as mocking the Australian's. Aucklanders seem to receive a lot of stick for their soft city lifestyle while those in more rural towns are the butt of jokes about limited gene pools, so we were interested to see what comedic content was on offer in the city.
Just before our Auckland house sitting assignment came to an end we spent an evening in the city at the Town Hall to watch British comedian Alan Davies preform live stand up. We know him best from his television work as a panellist on QI and his staring role in Jonathan Creek, however he has returned to comedy after a break of nine years and we were eager to see if his comic style that we had come to adore on QI was echoed in his stand up.
Throughout the night Davies only touched very briefly on the Australia/New Zealand fray, utilising some hecklers in the front row it was evident his scripted routine was abandoned after about ten minutes as he spent the majority of the evening interacting with the audience. His hilarious banter poked fun at the British and recounted the joys of parenthood touching on tales from his own youth and foray into comedy.
Auckland is hosting one half of the New Zealand International Comedy Festival in May and is set to provide belly wobbling giggling for everyone. Showcasing stand up, sketch, improv, theatre, children's and musical comedy there's something that will tickle everyone's funny bone. We would have loved to see some Kiwi comedians and will be looking for tickets to some of the regional events held in partnership with the festival.
VISIT //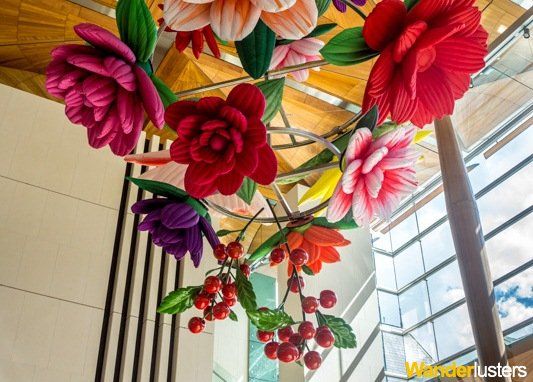 Named 'Tāmaki Makau Rau' and settled by Māori in 1350 Auckland has seen a lot of changes throughout it's short history. In recent years much of the Wynyard Quarter has been regenerated to provide a cultural centre for the city.
Unlike much of the city the architecture designed for the regeneration does not detract from the natural beauty of the surrounding environment. Nearing completion the headquarters for Australian owned bank ASB has been designed to mirror the volcanic landscape of New Zealand and proudly overlooks the viaduct basin.
We visited the Auckland Art Gallery to see 'Who Shot Rock And Roll' 173 photographs of rock, pop and hip hop, captured by the men and women who gave the music its image, and were impressed by the collection of modern and more tradition New Zealand art. The building itself is well designed and stands in a picturesque spot on the corner of Albert Park.
The most striking piece in the gallery was a giant sculpture in the main atrium. Its bold floral forms bloom and wilt in an organic ballet that mesmerised us for a few moments as we entered the foyer.
VISIT // Auckland Art Gallery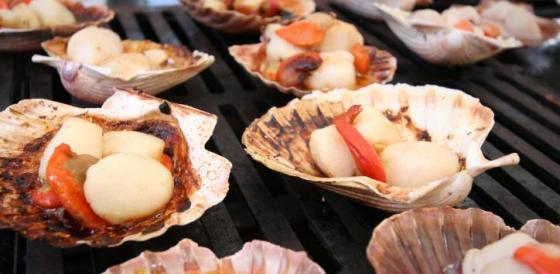 New Zealanders proudly cultivate and farm the countries rich soil and utilise the fruit of the surrounding oceans to provide for their families.
We had a view of the local beach from our first Kiwi house sitting assignment on Waihekie Island and would often catch sight of local Māori families catching fish in the bay using traditional netting techniques. It came as no surprise to learn that an annual Seafood festival is held in the Wynyard Quarter each year and fortunately our Auckland house sit coincided with the event.
We love good food and enjoy sampling local produce and culinary techniques as we travel around the world. The seafood festival provided the opportunity to try a rather more unusual daily catch with sea urchins and sea cucumbers on the menu for adventurous diners. Our favourite dish was fired whole baby snapper. Served with a wedge of lemon, a fork and a smile the white meat was deliciously moist and lasted no more than a few minutes on our plate before it had vanished!
Combining fish themed games with gourmet delights this event received a score of 10/10 from us both.
VISIT // Auckland Seafood Festival
Have you visited Auckland? Share your favourite things about the city with us below.